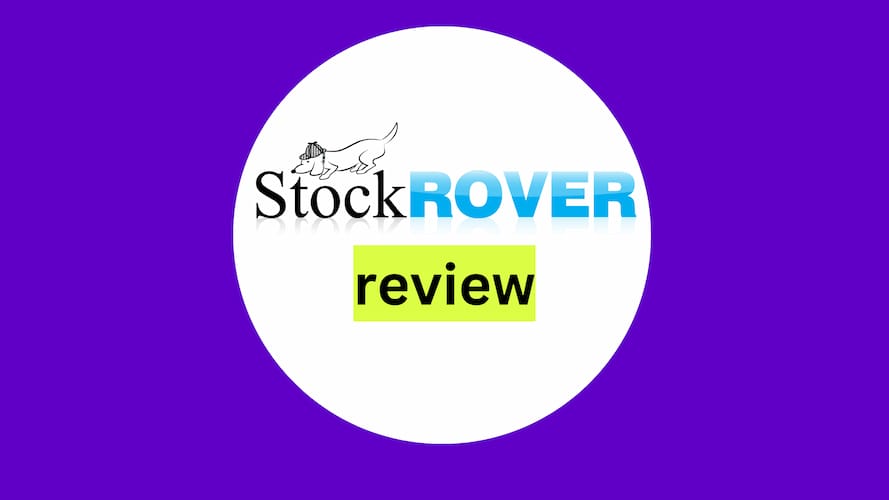 Moneywise / Stock Rover
🗓️
Updated: December 01, 2022
We adhere to strict standards of editorial integrity to help you make decisions with confidence. Please be aware that some (or all) products and services linked in this article are from our sponsors.
We adhere to strict standards of editorial integrity to help you make decisions with confidence. Please be aware that some (or all) products and services linked in this article are from our sponsors.
Stock Rover is a robust investment screening and analysis website. Members have access to various tools, including investment data, charts, research reports, ratings, customizable screeners and custom alerts. The research focuses on stocks, ETFs and mutual funds.
It offers users a suite of investment screeners and analysis tools. And with a premium account, you can quickly create customized screeners, analysis tables, advanced charts and fine-tuned alerts to keep you tuned to the most important details of your portfolio and potential investments. Check out our Stock Rover review for a more detailed look at how it works so you can decide if it's right for your investment goals.
What is Stock Rover?

Stock Rover is an investment analysis and screening platform that is best for intermediate and professional investors. Its tools help investors discover, track and analyze stocks, exchange-traded funds (ETFs) and mutual funds. And the nature of the tools makes it a good choice for both long-term portfolios and short-term active trading.
The core features at Stock Rover are focused on investment screening, comparison, research, portfolios and charting. There's a free version available, but you'll get the best information and tools with one of the paid plans.
Use Stock Rover to understand your current portfolio better, find new investments and make adjustments to keep your assets in line with your goals.
What does Stock Rover offer?
Stock Rover offers its tools through a free plan and three paid plans. The free version gives you information on 8,500 stocks, 4,000 ETFs and 40,000 mutual funds. You can sync your existing brokerage account for quick navigation through your current investments. And you can aggregate dashboards showing your portfolio metrics.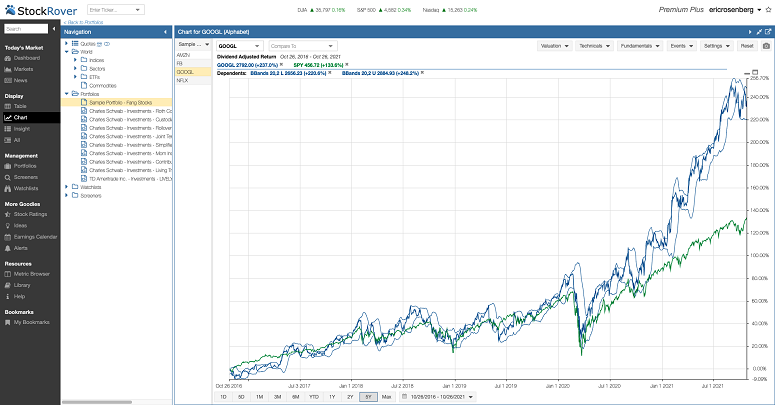 Premium plans unlock additional investment metrics, screeners, charting tools and ratings. They also come with a more extended period of historical data, more research reports and data, stock ratings, investor warnings, customized alerts and other advanced features.
How does Stock Rover work?
Stock Rover works through your web browser. The site officially supports the latest versions of Chrome, Firefox, Safari, Internet Explorer and Microsoft Edge. But there are no mobile versions available.
The best experience comes from using a large computer monitor or even two. Stock Rover recommends a monitor resolution of 1266 x 768 or higher. On a tablet, you can use a resolution as small as 1024 x 768.
New users start with a 14-day free trial of all premium features. So you can test it out with no risk to ensure it's the right fit for your needs.
Try Stock Rover For Free For 14 Days
Main features
Investment screeners
Investment screeners let you quickly sift through the markets to find stocks or funds that meet specific criteria. And Stock Rover goes far beyond the typical free screeners on large investment data websites. Stock Rover equips you with 140 prebuilt screeners and features to build customized screeners based on over 500 different criteria.
Not sure how to read a stock screener? Check out our advanced stock screeners guide.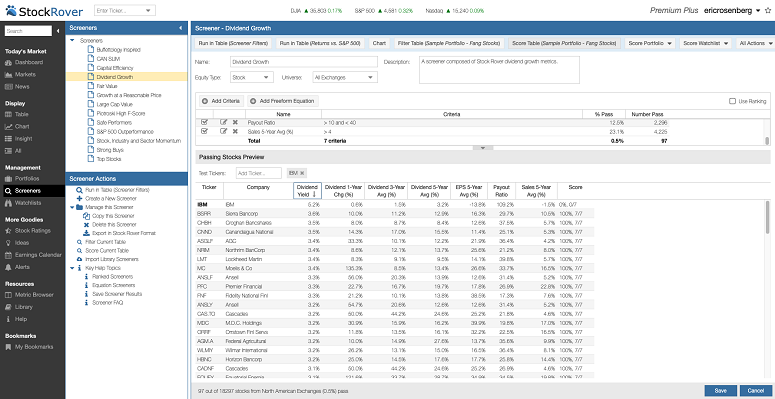 The customized screeners let you find stocks using your own rules. And criteria can be as precise as you want so you can zero in on the best investments for your strategy.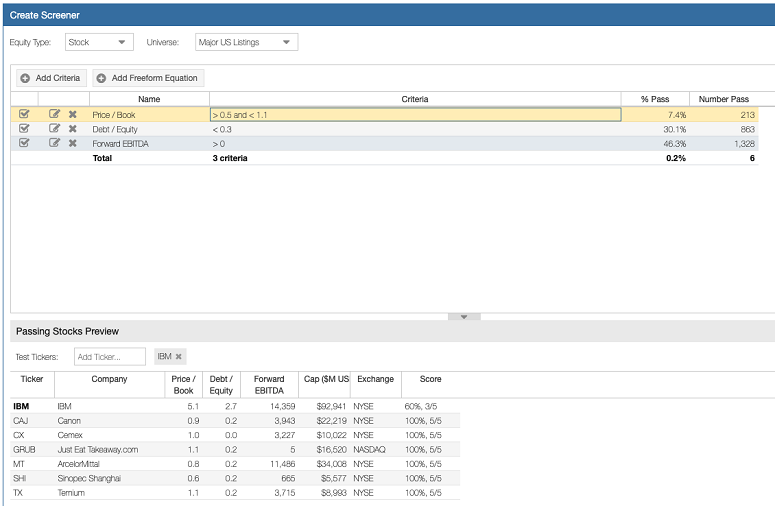 Pre-built screeners include Buttetology Inspired, CAN SLIM, Capital Efficiency, Growth at a Reasonable Price, S&P 500 Outperformers, and Strong Buys. Custom fields include fundamental and technical analysis metrics, ratios, analyst ratings and custom-calculated fields.
Comparison
Investment comparison tools give you insights into how investments stack up against each other. And these use many of the same options as the screeners. Options include fundamentals, technical criteria, analyst ratings, analyst estimates, Stock Rover ratings and dividend analysis.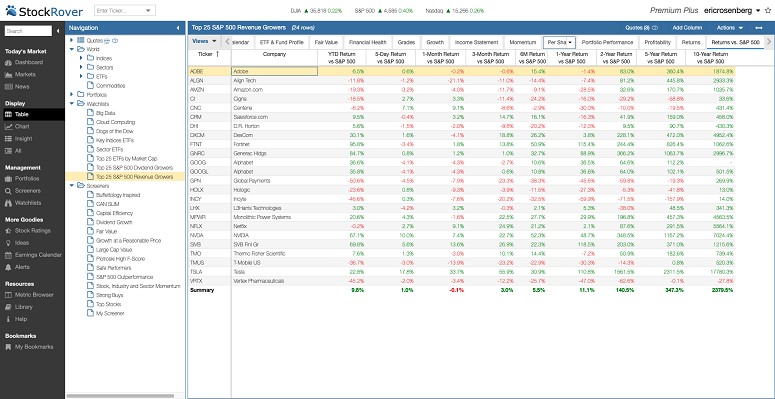 You can open tables based on your portfolio, watchlists and screeners. And as with other areas, Stock Rover provides a good list of examples to get you started.
Research reports
Stock Rover research reports are generated on demand and include details on a company's latest financial results, financial analysis, ratings and peer comparisons, dividend data and investment warnings.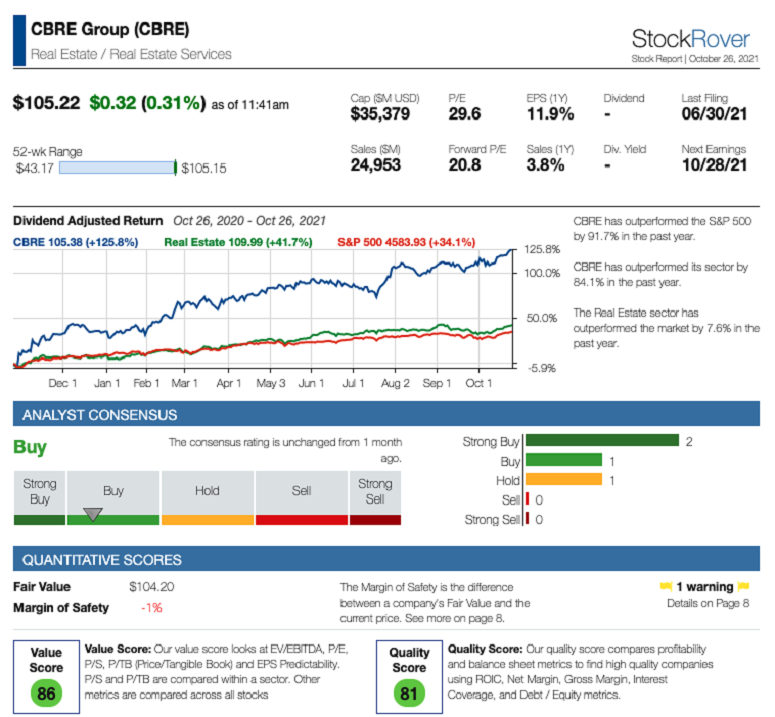 You can view reports through your web browser, print them or download them as a PDF. And if you export the report as a PDF, it can be read easily on nearly any device.
Portfolios
Stock Rover's tools give you instant up-to-date portfolio analysis comparable to what professional analysts use to build client portfolios and manage investment funds. You can create portfolios manually, view them based on screening or watchlist criteria, or connect with your brokerage account.
The portfolio features are helpful for accurately tracking multiple accounts — even at numerous brokerages — with essential data just a few clicks away.
Charting
Stock Rover's active charting tools include everything most traders could ask for. Advanced and professional traders will likely find their needs met with the charting tool options, including valuation, technicals, fundamentals, events and different chart types.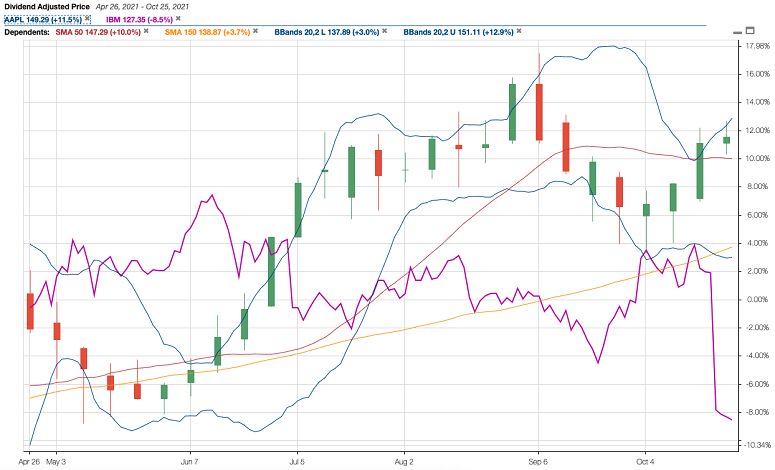 Future simulations (in BETA)
A recent Stock Rover feature, future simulations let you forecast the performance of your portfolio using with Monte Carlo simulations based on historical stock returns and rules for withdrawals and rebalancing.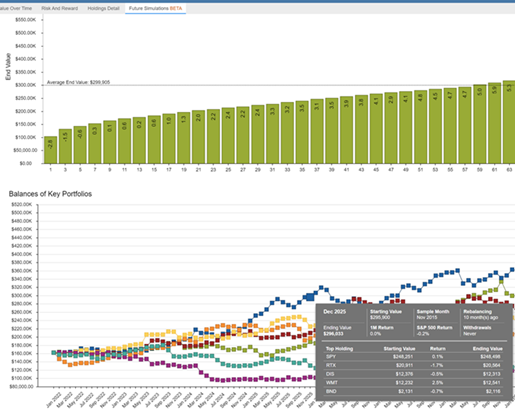 Fees and limits
Stock Rover offers four plans, including the free plan. The list of features is similar among plans, with higher limits and a handful of advanced features available only with the higher-end plans. Because you can start with a free trial, it's best to get a feel for how everything works before deciding on the best paid option for your needs.
And it has a strict no-refund policy. So make sure you're happy with the service before you subscribe.
Here's a snapshot of plans and pricing:
| Options | Free | Essentials | Premium | Premium plus |
| --- | --- | --- | --- | --- |
| Monthly cost | $0 | $7.99 | $17.99 | $27.99 |
| Annual cost | $0 | $79.99 | $179.99 | $279.99 |
| Two-year cost | $0 | $139.99 | $319.99 | $479.99 |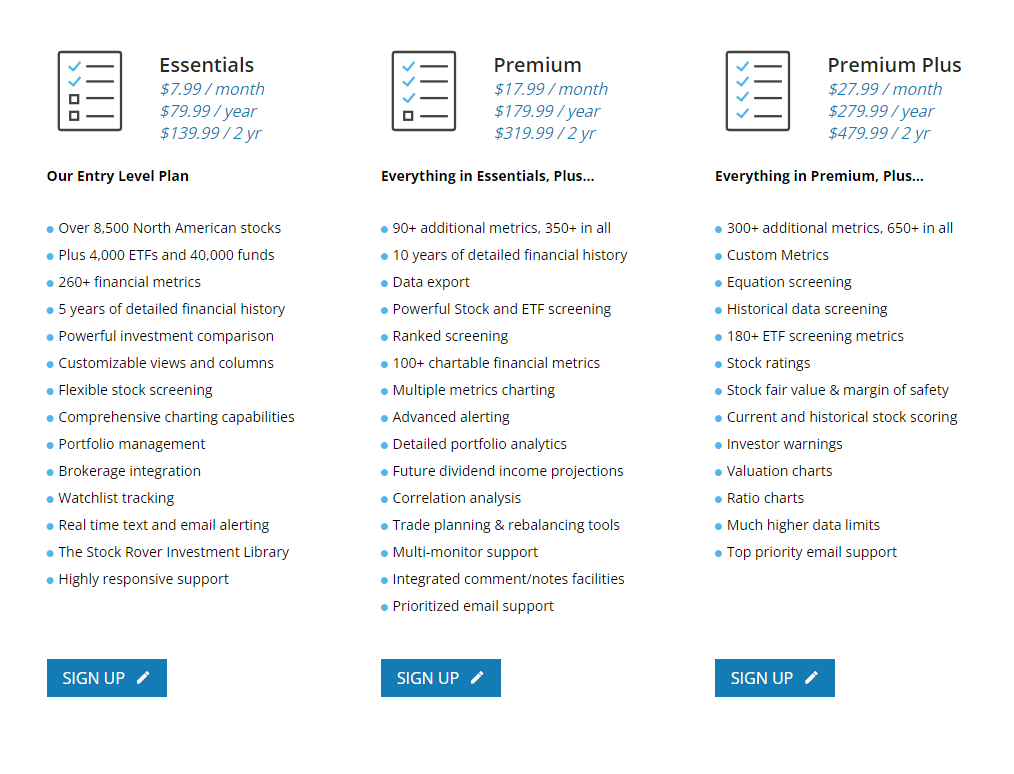 Who is Stock Rover for?
Stock Rover is best for intermediate to expert individual investors as well as investment professionals. Paid accounts are suitable for any serious investor with a large or growing portfolio.
Investment beginners are likely to find the tools and options overwhelming. But a free account may be helpful for newer investors looking to learn the ropes.
How do I open an account?
You open an account through Stock Rover's free signup link. Simply choose a username and password and supply a valid email address. The email address has to be confirmed to open an account.
Once confirmed, you get 14-day access to all Premium Plus features with no credit card required. If you pay by the end of the trial, you can continue to use all features. If not, your account simply converts to a free account after the first two weeks.
It's not an investment account. So you don't have to provide additional personal details for a new account.
Try Stock Rover For Free For 14 Days
How's the customer service?
Free members have access to a series of getting-started resources, help videos and articles and documentation on how the metrics work.
Paid members have access to email support. Phone support is available for premium members as an add-on for $50 per year.
Is Stock Rover safe?
Stock Rover is an encrypted website that doesn't store a whole lot of your personal information or any of your money. So you should consider it generally safe to use.
Connections to outside investment accounts are handled through financial data company Yodlee, an industry veteran with a strong track record for security.
Pros and cons of Stock Rover
Pros
Extensive research: Get access to lots of in-depth analysis of most North American stocks, ETFs and mutual funds
Lots of chartings tools: Stock Rover offers lots of advanced data, charting and comparison tools
Customizable: You can customize your own stock screeners
Free option: There is a free account available although it has fewer features than the paid version
Cons
High cost: It is somewhat pricey for highest-level premium accounts
No mobile app support: There is no mobile app or smartphone support
Not for beginners: The platform may be difficult to use for newer investors
No refunds: Stock Rover has a strict no-refund policy
Best alternatives
Morningstar

MorningStar is a well-known leader in investment data. It includes in-depth data and investment ratings on most stocks, ETFs and mutual funds. And MorningStar ratings are widely used for fund investments. Premium membership includes extensive features for a reasonable cost.
Find out more about MorningStar in our review.
Motley Fool

Motley Fool is a stock picking service that helps you understand the analysis and reasoning behind stocks in a diverse, long-term portfolio recommended by Motley Fool founders and analysts. It offers several membership plans with a focus on different types of stocks and investment goals.
Find out more about Motley Fool in our review.
Seeking Alpha

Seeking Alpha Basic is free and includes price charts and real-time email news updates. For more advanced analysis, subscribers can upgrade to Seeking Alpha Premium or Pro. These plans unlock a suite of proprietary stock picking tools that you won't anywhere else like Stock Quant ratings, author ratings, and performance ratings. And with Pro, you'll also get access to exclusive content and newsletters.
Bottom line
Stock Rover offers an exciting mix of features that make it a valuable investment analysis tool for serious investors. The stock screeners and investment data stand out from competitors as high-quality, useful tools that have the potential to level up your investment strategy and results. And with a free trial — no credit card required — there's no harm in signing up and giving it a try.
Try Stock Rover for free for 14 days?