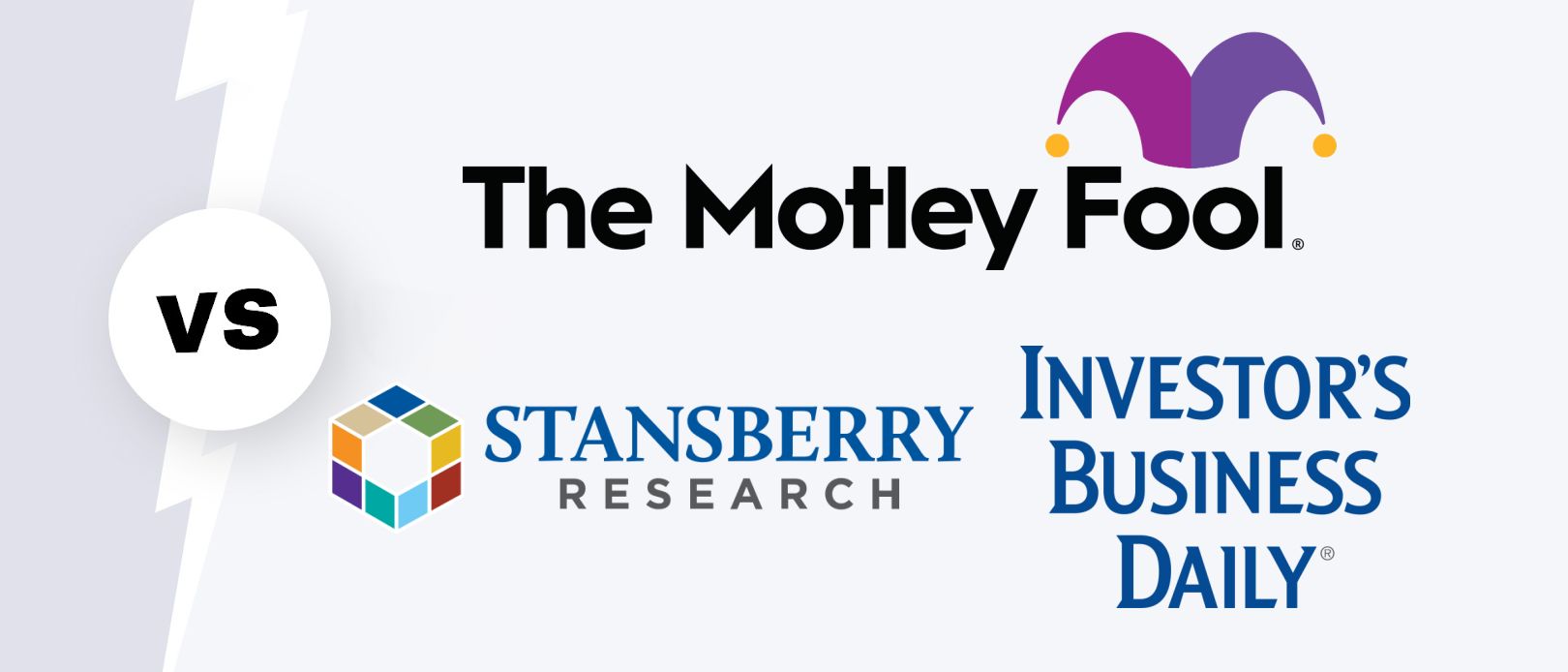 Motley Fool vs. Stansberry vs. IBD comparison review 2023
Moneywise.com / Moneywise.com
We adhere to strict standards of editorial integrity to help you make decisions with confidence. Please be aware that some (or all) products and services linked in this article are from our sponsors.
We adhere to strict standards of editorial integrity to help you make decisions with confidence. Please be aware that some (or all) products and services linked in this article are from our sponsors.
Few companies have mastered online investment branding quite like The Motley Fool. With a plethora of free and subscription content, this platform with the memorable moniker is considered one of the most trusted names in the online investment industry. However, it may not prove all things to all investors. Read on to compare The Motley Fool to Stansberry and Investor's Business Daily (IBD) — two publications with a substantial history — to see which one best suits your investing needs and style.
Few words on each service
About The Motley Fool

Brothers David and Tom Gardner founded The Motley Fool back in 1993. The name derives from Elizabethan drama: If you recall your Shakespeare, the fool was the character who could both entertain and speak truth to power. That is the spirit of this stock and investment website.Although the brothers have no formal financial training, their entrepreneurial and stock picking instincts are generally sound. As of Feb. 24, 2021, the average stock pick over the past 18 years inside their flagship Stock Advisor subscription is up 592.88.5%, compared to 119% for the S&P. The Motley Fool's investing philosophy is straightforward: For best results, buy at least 15 stocks and hold them for at least five years.
Arriving in your inbox or via text each Thursday, a Stock Advisor subscription offers:
◦ Two new stock picks every month
◦ Best Buys Now: A recommendation of 10 stocks to buy now
◦ Starter Stocks: Foundational stock recommendations for both new and seasoned investors
◦ Community and investing resources
About Stansberry Research

Stansberry Research is a subscription-based publisher of financial information and software. As its tagline proclaims, Stansberry has been "delivering world-class financial research since 1999." Stansberry Research has over 500,000 worldwide subscribers and more than 70,000-lifetime subscribers.
Founded by Porter Stansberry, the publication prides itself on the exhaustive amount of research done by its editors and analysts. That includes visiting hundreds of publicly traded companies so that its subscribers receive profitable, and relatively safe, investment ideas.
The Stansberry Investment Advisory subscription includes:
◦Stansberry Digest, a daily e-newsletter
◦ Readers-only reports
◦ Email updates as needed
About Investor's Business Daily
Founded in 1984 as Investor's Daily, Investor's Business Daily is a top financial news and research organization. It has a strong track record of identifying emerging stock leaders.
The IBD 50 Index benchmark appears each Monday and lists the 50 growth stocks in U.S. exchanges. IBD's Leaderboard is designed with technical traders in mind. This stock chart is an essential feature of IBD's MarketSmith investment research platform.
How each platform works
The Motley Fool's Stock Advisor — With The Motley Fool's Stock Advisor, new stock pick recommendations arrive in your inbox or via text each Thursday. The Gardner brothers take turns every other week sharing lists of best stocks to purchase. One caveat: You can expect constant sales messaging regarding subscribing to its other services.
Stansberry Investment Advisory — Stansberry Investment Advisory subscribers receive their newsletter on the first Friday of every month, with email updates as necessary. New investors need only $1,000 to get started, which makes Stansberry a good tool for new investors and people planning for retirement.
IBD — IBD Leaderboard picks the best stocks in the market, providing between 10 to 15 equities it considers ready for a big price jump. A trading plan with buy and sell points accompanies each stock pick. When the stock hits its buy point, traders receive an alert.
Unique features
Unlike many competitors, Investor's Business Daily is available in both online and print formats. Still, times have changed, and the newspaper arrives just once a week rather than daily.
IBD is powered by the CAN SLIM Investing System, which was created by investor IBD founder William O'Neil. It is based on the seven characteristics winning stocks share prior to making big price gains, as well as a combination of fundamental and technical factors.
Stansberry Research's specialized investment research products include the Cannabis Capitalist, information on cryptocurrencies, and many other reports on subjects including innovation, and gold and silver.
How are Motley Fool, IBD, and Stansberry similar?
All three platforms are designed for the long-term investor and are based on fundamental rather than technical analysis.
Tom and Dave Gardner's investing approach is similar to that of Porter Stansberry. Both flagship newsletters advocate investing in promising companies and staying the course as they grow.
Each also offers various types of specialized investment research options with greater depth.
How are the platforms different?
One of the big differences between IBD vs.The Motley Fool and Stansberry is the newsletter timeframe. Investor's Business Daily arrives each business day, while the Fool arrives weekly and Stansberry monthly.
Yet pricing doesn't necessarily reflect those timeframes. Stansberry Research's monthly publication is comparatively expensive to the daily IBD.
Performance matters, and here is a vital difference. While The Motley Fool is transparent about its performance dating back to its 2002 founding, Stansberry Research does not publish this information.
Pricing and plans
The Motley Fool's stock advisor fees
For $99 the first year, new members receive one year's access to The Motley Fool's Stock Advisor, the service's classic newsletter. After that initial year, the annual cost rises to $199. Other plans include Rule Breakers ($299 annually), which features recommendations for high-growth stocks personally chosen by Gardner.
Discovery: Everlasting Stocks is a new service for $299 annually, and features members-only access to a proprietary model portfolio allocation guidance tool. Rule Your Retirement ($149 annually) focuses on all things retirement — from model portfolios to Social Security tips. The Motley Fool has plans costing up to $14,000 annually for the true heavy hitters.
Stansberry Research fees
In addition to its free material, Stansberry offers two plans.
1.

The Investor Basic plan provides core tools and stock pick recommendations for $19 per month. It includes access to the company's digest, newswire, Daily Wealth Premium, and Altimetry Daily Authority newsletters.

2.

The Investor Advantage plan ($65 per month) is designed for professionals with features such as exclusive investment analysis and recommendations across a broad range of investment categories. None of Stansberry's plans offer a free trial, but there is a 30-day money-back guarantee if you're unsatisfied.
IBD fees
You can try an introductory run of IBD Digital for just $20 for two months. You are then charged $34.95 per month thereafter but can cancel at any time. If you want the print and digital combination, you'll pay $36.95 per month or $349 for an annual membership.
IBD Leaderboard offers a free two-week trial, which will automatically renew each month for $69. Users may cancel at any time. Spring for an annual membership and pay $699.
Customer service
None of the plans should require much interaction with customer service unless you experience billing or login issues.
Along with a help center, The Motley Fool's customer service center is available by email or phone during regular business hours Monday through Friday, EST.
Reach Stansberry Research's customer service center by phone or email between 9 a.m. and 5 p.m. EST.
IBD calls its service the Customer Success Team and is also available during standard business hours by phone, email or chat.
Who are they best for?
There is considerable overlap among IDB, Motley Fool, and Stansberry. Investors may even want to subscribe to more than one service to achieve the highest stock market returns.
The Motley Fool has long been geared toward new investors or those seeking the ease of following portfolio recommendations. As noted, it is geared toward the buy-and-hold rather than short-term investor. It is suitable for those interested in picking individual stocks rather than relying on mutual funds or exchange-traded funds (ETFs).
Stansberry Research is a solid research firm best for those who want a detailed analysis behind each stock recommendation.
When considering Investor's Business Daily vs.The Motley Fool, keep in mind that while both home in on fundamentals, they use completely different methodologies in making their determinations. IBD users should familiarize themselves with the CAN-SLIM System.
Alternatives to The Motley Fool, IBD and Stansberry Research
Since the flagship newsletters of these three sites focus on long-term growth strategies, short-term investors and those more interested in acquiring the tools for their own stock choices may seek alternatives.
One solid choice is Zack's Premium, a stock and financial research service with a $249 annual subscription. Like the popular Motley Fool, IBD and Stansberry Research, Zack's offers a great deal of free investing news articles. Zack's Premium supplies investors with professional tools for short-term and long-term trading.
Other comparison we've made:
Bottom line: Which service is the best?
While all of these platforms provide valuable insight on market trends, The Motley Fool best serves the needs of the lay investor. It also offers the lowest subscription price.
Stansberry Research's basic approach is much like that of The Motley Fool, advocating investment in promising companies and staying the course as they grow. Those wanting to delve into alternative assets, ranging from cannabis to commodities, may prefer one of the company's other newsletters. The Stansberry Research subscription price, among the highest in the industry, puts it at a disadvantage.