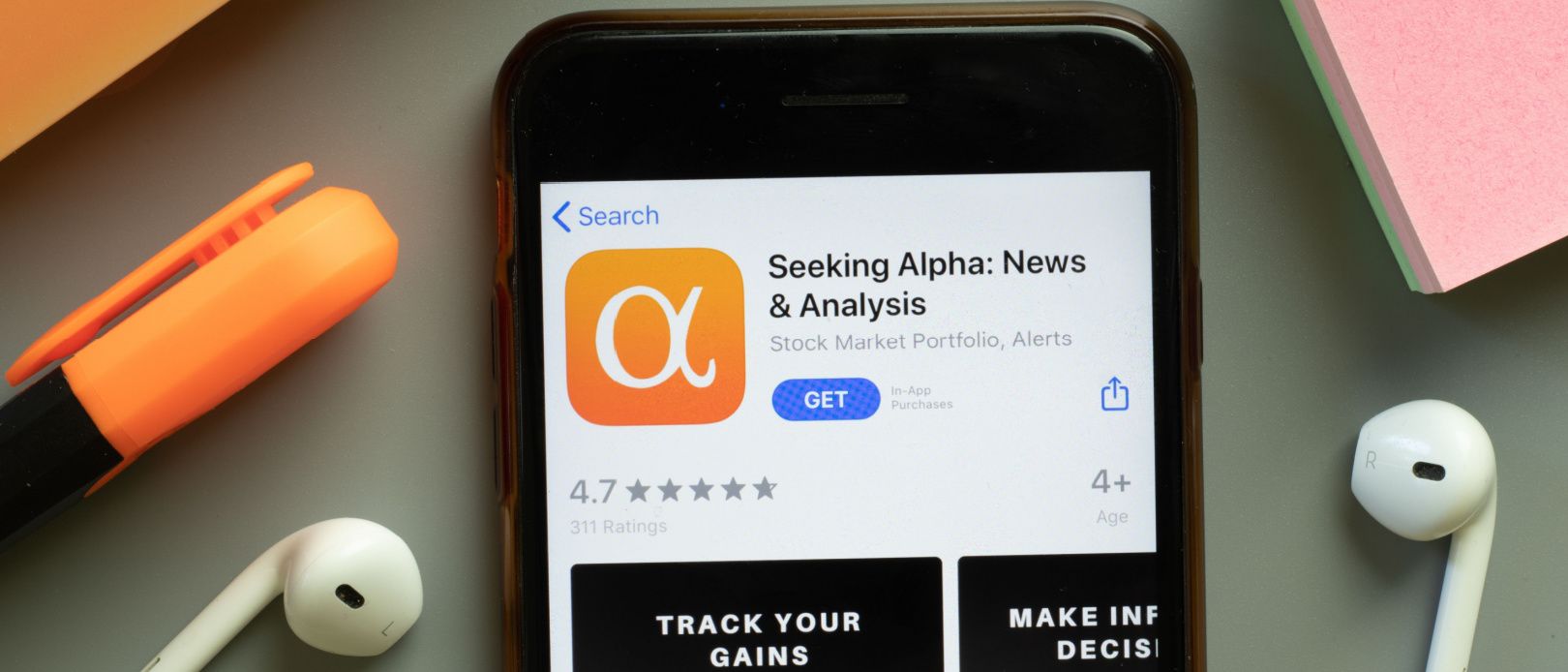 Postmodern Studio / Shutterstock
We adhere to strict standards of editorial integrity to help you make decisions with confidence. Please be aware that some (or all) products and services linked in this article are from our sponsors.
We adhere to strict standards of editorial integrity to help you make decisions with confidence. Please be aware that some (or all) products and services linked in this article are from our sponsors.
Seeking Alpha

CHECK IT OUT ►
Quick Facts
Seeking Alpha is a research platform for investors with insight from thousands of analysts, access to stocks and charts, ratings, and more.
Seeking Alpha offers investors access to advanced investment information, tools and resources from one of the top investment information sources in the financial industry. The company offers three different plan levels, including a free plan for newer investors to gain deeper access to the basic website.
But if you're a more experienced investor, Seeking Alpha also offers two premium subscriptions plans, Seeking Alpha Premium and PRO. This Seeking Alpha review focuses most heavily on the two premium services, which represent the "secret sauce" of the Seeking Alpha program.
What is Seeking Alpha?
Seeking Alpha is one of the most respected financial information sources in the investment industry. It was founded in 2004 and has grown to become a frequently quoted authority within the investment sector.
As a crowd-sourced content service for investors, Seeking Alpha has a free access website that includes financial information as well as a large number of articles and informational resources. Like many investment-related websites, it also includes extensive tracking of markets, individual stocks, sectors, and funds.
Thousands of contributors publish investing ideas each month, with each investment thesis subject to rigorous editorial review to maintain the highest quality standards of information.
Seeking Alpha aims to put exclusive investment tools — once available only to investment professionals — at the disposal of individual investors. That includes advanced charting, data visualizations, and technical and fundamental analyses.
How does it work?
The Seeking Alpha website provides a wealth of information for investors. The top bar of the site includes interesting topics, such as top picks and stock ideas, though clicking through these pages provides only very limited information.
To get the more actionable information, you'll need to sign up for one of Seeking Alpha's three subscription services. Each subscription service will offer a progressively deeper level of access to the tools and information available on those pages.
Other pages provide free access to the many articles offered on the platform. However, you can expand your access to those services by signing up for the free basic subscription plan, which we'll detail below.
What do they offer?
Seeking Alpha offers three different subscription plans: Basic, Premium and PRO. Fees for each will be presented later in this review, but summaries of each plan are presented below. A detailed description of some of the more important features will also be provided a bit later in this review.
Seeking Alpha Basic
This is the free Seeking Alpha subscription service that will provide you with limited access to the features and benefits of the company.
When you sign up, you'll have access to the following services:
Stock analysis email alerts
Real-time news updates
Investing newsletters, up to 15 by email
Access to stock prices and charts
Wall Street Ratings for every stock
Limited access to in-depth news and analysis
With the Basic plan, you'll be able to follow your favorite financial authors and get new articles as they're published. You'll also be able to read, post and track comments with those articles, giving you the benefit of additional insight from other participating investors.
Even though Basic is a free program, there are advanced features including limited Quant Ratings and underlying metrics, as well as the ability to review financial statements, compare stocks side by side and sync your stockbroker portfolio with Seeking Alpha. You'll be able to manage your portfolio of stocks or exchange-traded funds (ETFs), and use the Seeking Alpha calendar to see when stock reports will be released.
Since the Basic plan is a free subscription, you will receive advertisements.
Seeking Alpha Premium
Seeking Alpha Premium comes with all the various features of the Basic plan, in addition to the following benefits:
Unlimited access to Premium content and investing ideas
Stock Quant ratings
Seeking Alpha author ratings
Seeking Alpha performance ratings
Unlimited Stock Quant ratings
Stock dividend grades
Listen to earnings and conference call recordings
Screen for top-rated stocks with the ratings screener
Download and print financials, earnings and company presentations
Three types of ratings for each stock in your portfolio
Alerts on upgrades and downgrades on securities in your portfolio
Even though the Seeking Alpha Premium plan is a paid subscription, you will still experience ads on the site. However, this is a reduced number of ads compared to the Basic plan. This is referred to as "ad-lite."
Seeking Alpha PRO
The PRO plan is Seeking Alpha's top-of-the-line subscription service. It offers all the features and benefits of the Basic and Premium plans, but adds the following:
Top Ideas
PRO content and newsletters
Short Ideas portal
Idea screener/filter
VIP service
The PRO plan is the one subscription that has no ads at all.
Main features
Below are some of the more noteworthy features offered within the three Seeking Alpha subscription plans:
Short Ideas: A page of bearish/short selling ideas.
Top Ideas: Available only with the PRO plan, this is exclusive access to handpicked, high conviction investment theses selected by the PRO editorial team.
Author and performance ratings: Ratings provided by contributing authors, based on the author's opinion of the stock at the time and articles are written. Ratings can be very bullish, bullish, neutral, bearish or very bearish.
Dividend grades: Rates dividend paying companies based on dividend safety, growth, yield and consistency.
Stock Quant ratings: Quantitative ratings of stocks using more than 100 metrics and ranking each accordingly. Grades are provided based on value, growth, profitability, momentum and revisions. Current grades are presented, as well as those issued three and six months ago, to help you identify trends.
Ratings screener: Uses ratings to identify the strongest stocks in each investment sector.
Idea screener/filter: Enables PRO investors to filter investing ideas based on long or short opportunities, market capitalization, sector, ticker, date and country. It can also sort for growth, value and various specific qualifiers.
Fees and limits
Subscription fees for the three services — Basic, Premium and PRO — vary.
Basic: The Basic service is free and just requires you to register with the platform.
Premium: The monthly price for Premium is $29.99 which would cost you $359.88 per year. If you're willing to pay for a year in advance, then the annual cost drops to $239.
PRO: The PRO plan is $499.99 if you sign up for the full year. If you pay monthly, you'll be charged $69.99 a month.
Free trial: Each subscription starts with a 14-day free trial. You'll have access to the plan of your choice, and it will be charged automatically if you do not cancel before the end of the free trial. You'll also have the ability to switch from a monthly to an annual payment plan, or from an annual to a monthly plan, within the 14-day free trial.
Refunds: If you decide to cancel the service after the 14-day free trial, no refunds will be issued for payments made. For example, if you subscribe to a monthly payment plan, you'll continue to have access to the service until the end of the month you've paid for. If you subscribe to an annual payment plan, you can continue to use the service until the end of the year you've paid for.
Who is it for?
Seeking Alpha can be an asset for an investor at any level. The large volume of information and financial tools provided can help you at whatever stage of the investment process you're at.
But the level of information and tools available can be overwhelming for new and even intermediate investors. If that describes you, the best strategy may be to start with the free Basic plan, until you reach a point where you need more detailed information. At that point, you can trade up to the Seeking Alpha Premium or PRO plans, which come with subscription fees.
On balance, Seeking Alpha is an excellent resource for more experienced investors. That goes for long-term buy-and-hold investors, as well as shorter-term traders. The platform offers information and tools for investors at any level which, not coincidentally, is one of the biggest Seeking Alpha advantages.
How do I open an account?
To sign up for one of the three plans offered by Seeking Alpha you'll need to click the orange "Subscribe" button on the top bar of the site. It will bring you to a page that will show the features offered by the Basic, Premium and PRO plans, as well as the fees for the latter two.
Once there, you'll be presented with a one-page application. You can sign in with a Google account or go through the steps to set up an account.
That will include entering your email address and setting up a password, and providing your credit card information. Your street address and city are optional, but you must enter your country of residence, state or province, and zip or postal code.
You'll then need to click the box acknowledging that you have read and accepted the terms of use and privacy policy, as well as the acknowledgment that your credit card will only be billed after your 14-day trial, etc.
Click the "Start Free Trial" button and you'll be on your way.
For payment purposes, Seeking Alpha accepts all major credit cards as well as PayPal.
Once you sign up, you should be aware that your subscription will automatically be renewed at the end of whatever term you select — unless you cancel. It will also renew at the then current price, which may not be the one you'll pay at sign-up.
How's the customer service?
Seeking Alpha relies heavily on its library of instructions and articles for solving most user issues.
Seeking Alpha has a rating of 4.8 out of five stars among more than 100,000 reviews among iOS users on the App Store. More than 44,000 Android users have given the service 4.1 out of five stars on Google Play.
Pros and cons
Pros
Seeking Alpha is one of the most respected investment information sources in the industry, providing large amounts of free content
Multiple stock rating metrics, with complete explanations for each
Three different plans are offered to accommodate the level of information and service you need
Seeking Alpha is an effective information source for new and seasoned investors, as well as buy-and-hold investors and traders
All plans come with a 14-day free trial
Cons
The service does not provide specific stock recommendations. Instead, information and ratings on stocks are provided so you can make an informed decision
Seeking Alpha does not issue refunds for subscription fees paid, but you will have access to the service until the end of the period you've paid for
The platform provides a volume of information that can be overwhelming for new and intermediate investors
Best alternatives
If Seeking Alpha doesn't seem to be the right investment subscription service for you, there are several alternatives that have also proven the test of time in the investment industry.
Motley Fool is primarily a stock picking service, and one with a multi-decade track record of winning picks. The company claims its picks have easily outperformed the S&P 500 index over at least the past 17 years. If you sign up for the service, you'll get a weekly stock recommendation, including expert analysis.
As stock picking services go, Motley Fool is one of the better priced. The annual subscription fee is $199 but is available for just $99 for new members. They also offer several more specialized advisory subscriptions, some of which are available at higher prices. Read our full Motley Fool review.

Morningstar is a subscription service and one of the top stock rating services in the industry. It's perhaps best known for its five-star rating service for investment funds. Morningstar generally follows a stock investing strategy based on value investing, which means they're light on technical analysis. But you can use the service recommendations for mutual funds, ETFs and bonds, in addition to individual stocks. In fact, they provide coverage for more than 600,000 investments!
Though Morningstar offers a basic, free account, the Premium service is where the real information is. It offers several payment options, including a $199 annual fee, but if you purchase a three-year subscription, the cost is $449. That works out to be just under $150 per year. Read our full Morningstar review.
The bottom line: Is Seeking Alpha worth it?
Seeking Alpha is one of the better investment programs available for individual investors. New and intermediate investors can take advantage of the free Basic plan to access more information than is available to the general public.
But more advanced investors, including traders, can choose either the Seeking Alpha Premium or PRO plans. Either offers resources and tools formally available only to Wall Street professionals.