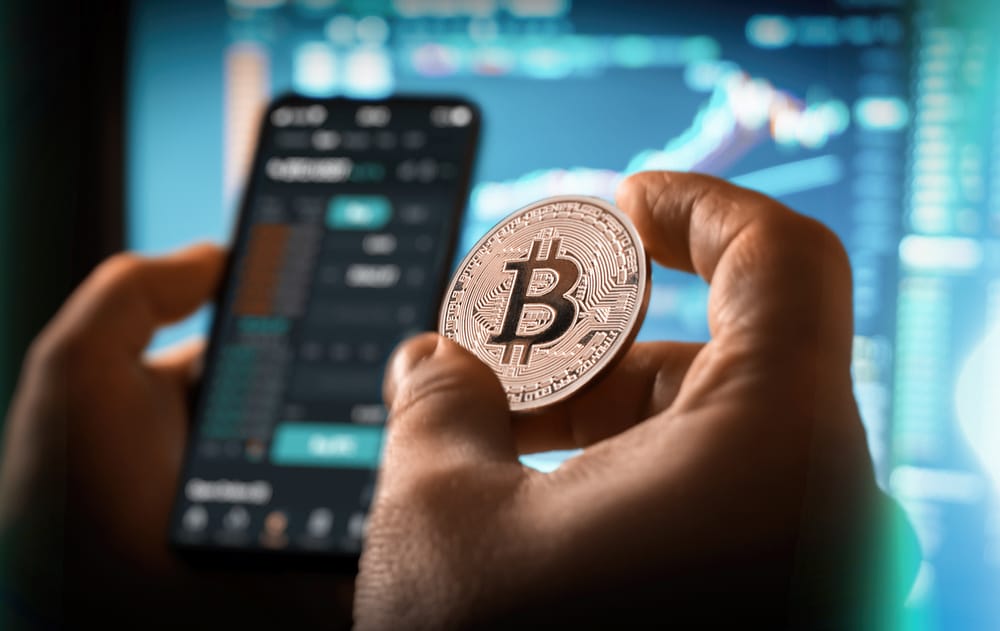 Creativan / Shutterstock
🗓️
Updated: July 27, 2023
We adhere to strict standards of editorial integrity to help you make decisions with confidence. Please be aware that some (or all) products and services linked in this article are from our sponsors.
We adhere to strict standards of editorial integrity to help you make decisions with confidence. Please be aware that some (or all) products and services linked in this article are from our sponsors.
If you want to invest in cryptocurrency, the process is pretty straightforward. These days, there are dozens of cryptocurrency exchanges you can use to trade digital assets with funds from your bank account. And even many brokers are getting in on the action.
But what about investing in crypto for your retirement?
That's where companies like Alto IRA come in handy. With the new Alto CryptoIRA, you can invest in 150+ coins and tokens using tax-advantaged retirement accounts. Here's how Alto CryptoIRA works and the important features investors should know.
Pros and cons
Pros
Invest in 150+ cryptos
No account management or setup fees
Easy sign-up process
Other alternative assets are available
Cons
No crypto staking rewards
Pay a 1% crypto trading fee
Who is Alto CryptoIRA for?
Alto's regular IRA product lets you invest in alternative assets like artwork, farmland, real estate, sports, and startups. But if you want a safe and simple way to invest in crypto with your IRA, Alto is one of the best providers amidst a crowded market.
What we like about Alto CryptoIRA
Between cryptocurrency exchanges and other crypto IRA providers, there are numerous ways to add crypto to your portfolio. But Alto CryptoIRA simplifies the process and avoids steep fees. Plus, there are numerous other advantages worth highlighting.
Cryptocurrency support
Alto CryptoIRA supports 150+ cryptocurrencies, including:
1inch
Cardano
EOS
Litecoin
Polygon
Shiba Inu
SushiSwap
Uniswap
USDC
USDT
The extensive list of altcoins and stablecoins keeps your options open. But you still have access to leading cryptos like BTC, ETH, and SOL.
Multiple account types
Alto supports multiple account types to let you plan for your retirement using tax advantages that make sense. Current account options include:
Alto doesn't support 401(k) accounts but for crypto IRA investing, it has you covered.
Simple trading process
Alto CryptoIRA uses Coinbase, a leading exchange, as its trading partner. This means you don't have to open an LLC or jump through complex regulatory hoops like you do with some crypto IRA companies. Rather, fund your Alto CryptoIRA account and access 24/7 crypto trading through Alto's dashboard.
The partnership with Coinbase is also why you have access to so many different cryptos. You can't take advantage of other Coinbase features like crypto staking or its rewards card through Alto, but you can always open a Coinbase account and explore those options with different funds.
There's even a free service that walks you through setting up and funding your account if you need assistance.
Low fees
Alto CryptoIRA doesn't currently charge account maintenance fees or setup fees. There isn't an account minimum either, which is ideal if you're only investing a small portion of your portfolio in crypto.
The only fee you pay is a 1% crypto trading fee. This is often comparible to trading in a stadalone Coinbase or Gemini account, so fees are quite reasonable.
Other Alto alternative investment options
Alto separates its regular IRA product and CryptoIRA into two different accounts. But nothing stops you from opening another Alto IRA account if you want to invest in more than just crypto.
Alto's regular IRA has 75+ investing partners, letting you invest in alternative asset classes like:
Artwork
Farmland
Fine wine
Music royalties
Sports
Startups
Private equity
Venture capital
This plan also has various crypto fund partners and blockchain startups you can invest in. For example, Alto IRA lets you invest in the Grayscale Bitcoin Trust or Ethereum Trust.
The main downside is that partners have different investment minimums. Many have a $5,000 to $25,000 minimum, so Alto's main IRA isn't as beginner-friendly as the CryptoIRA.
Where Alto CryptoIRA could improve
Crypto IRA investing is simple with Alto CryptoIRA. But there are some limitations with how you invest or leverage your crypto that are downsides.
No staking or lending rewards
Staking is a method of locking up your cryptocurrency to help validate blockchain transactions in exchange for crypto rewards. Similarly, you can use crypto lending platforms like BlockFi or Nexo to deposit your crypto and earn interest.
Coinbase also supports staking, and you can earn up to 5% APY with different coins. However, Alto CryptoIRA doesn't let you put your crypto to work to earn passive income.
More exchange partners
Coinbase is a leading exchange for its ease-of-use and extensive cryptocurrency support. However, Alto CryptoIRA could benefit from giving investors more choice over the exchange partner they use. Alternatively, it would be nice if you could transfer existing assets from your own crypto wallet to Alto, but these features aren't currently available.
On the bright side, Alto says it's going to let customers know when crypto transfers are possible, so this feature is coming.
Supported cryptocurrencies
Alto CryptoIRA supports 150+ cryptocurrencies and stablecoins. It lets you trade through its partnership with Coinbase, giving you access to plenty of coins.
Fees and limits
One advantage of Alto CryptoIRA over other crypto IRA providers is the fee structure. Currently, Alto is waiving account fees for its CryptoIRA. Here's how the fees breakdown:
Account fees: $0
Custody fee: $0
Trade fee: 1%
Account closure: $50
Outbound wire transfer: $25
For comparison, competitor crypto IRA providers like Bitcoin IRA charge a 5.99% set-up fee, 2% trading fee, and 0.08% monthly management fee. Alto's new CryptoIRA demolishes much of the competition when it comes to pricing, and this is one of the main selling points.
Account opening process
You sign up for Alto with your email and select if you want its regular IRA product or CryptoIRA. From there, you verify your identity by providing information like your name and SSN. Verification usually occurs instantly and Alto sends you an email if it requires more information.
The next step is to fund your account. You can make cash contributions via ACH, check, or wire. Alto also supports rollovers and IRA transfers.
Most funding methods take 7 to 8 business days, although rollovers and transfers can take up to 20 business days. But all-in-all, you should have a funded and active account within two weeks to a month.
Safety and security
Alto CryptoIRA is a safe and secure way to invest in crypto for your retirement. For starters, its partnership with Coinbase means Coinbase actually holds your crypto. The exchange carries crime insurance for up to $320 million and a cyber crime insurance policy. Coinbase also holds a large percentage of assets in cold wallets.
Alto also has errors and ommissions and cyber liability insurance. So, even though Alto isn't regulated by the SIPC, there are numerous layers of insurance to protect customers.
Finally, cash in your account is FDIC-insured up to $250,000.
Best alternatives
Alto CryptoIRA is one of the best crypto IRA providers because of its low fees and extensive list of supported assets. However, there are numerous alternatives you can consider depending on how much flexibility or simplicity you want.
Rocket Dollar
Rocket Dollar is another popular option for investing in alternative assets with your IRA. It also supports 80+ popular cryptocurrencies alongside asset classes like energy and real estate.
The main difference between Rocket Dollar and Alto CryptoIRA is that you open an LLC to invest with Rocket Dollar. This gives you more control, and you can invest with several crypto exchange partners. Rocket Dollar also lets you "bring your own deal" if there's an asset you want to invest in, and it supports Solo 401(k) accounts.
The downside is Rocket Dollar charges $15 or $30 per month depending on your plan and has a $360 or $600 setup fee. But for more control, it's superior to Alto CryptoIRA.
iTrustCapital
Like Alto and Rocket Dollar, iTrustCapital is another popular company that supports crypto IRA investing. You can invest in 25+ cryptos as well as precious metals. The company also uses Coinbase as its custodian and has a 1% trading fee and no account fees.
In short, iTrustCapital is almost identical to Alto CryptoIRA but supports far fewer assets. But if you want low fees and don't like Alto for whatever reason, try iTrustCapital.
Bitcoin IRA
Bitcoin IRA is one of the earlier companies in the crypto IRA space. And if you're willing to pay a premium for ease-of-use, it could be worth using.
As mentioned, the 5.99% set-up fee, 2% trading fee, and 0.08% monthly management fee pale in comparison to Alto CryptoIRA. But Bitcoin IRA has a very simple onboarding process. And its main advantage is its Bitcoin IRA Earn feature that lets you earn up to 6% APY on your crypto.
Depending on your portfolio, this 6% interest rate could justify the fees. Bitcoin IRA pays interest monthly and you don't have to lock-in your crypto either.
Bottom line
There are plenty of ways to add cypto to your portfolio. And if you want to do so with your IRA, you also have several options.
Alto CyptoIRA is one of the best because of low fees and ease-of-use. Plus, you can explore the many other alternative asset classes Alto supports if you want to invest in more than just stocks and ETFs.
Additionally, nothing stops you from using Alto for your IRA and dabbling in crypto with other accounts. Exchanges like Coinbase and Gemini are incredibly easy to use, so your options are open.