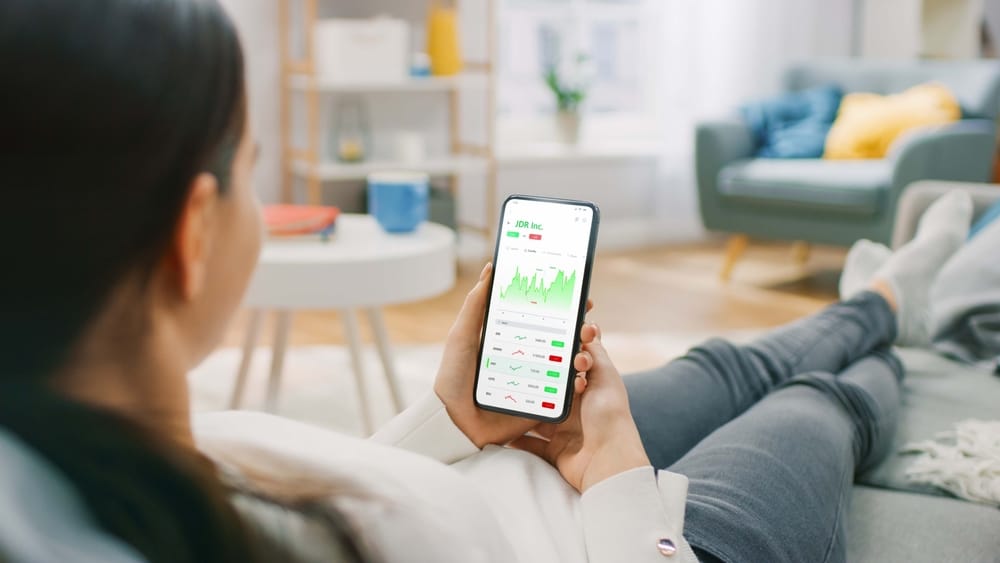 Alto IRA review: Alternative investments for skilled investors
Gorodenkoff / Shutterstock
We adhere to strict standards of editorial integrity to help you make decisions with confidence. Please be aware that some (or all) products and services linked in this article are from our sponsors.
We adhere to strict standards of editorial integrity to help you make decisions with confidence. Please be aware that some (or all) products and services linked in this article are from our sponsors.
What is Alto?
While many investors are content to keep traditional investments in their IRAs, those who want alternatives might want to try out Alto. With Alto, you can hold alternative investments such as crypto, real estate, startups, precious metals, and even livestock, all within a self-directed IRA.
What does Alto offer?
Alto offers two flexible platforms that allow you to invest in almost anything within an IRA: Alto IRA and CryptoIRA.
When we say you can buy almost anything with Alto, we mean it: you can purchase more than 150 cryptocurrencies through Alto's partnership with Coinbase. Additionally, you can choose from more than 75 alternative assets through Alto's investment partners, including:
FarmlandStartupsVenture capitalReal estatePrivate creditArtworkCrypto funds
Your options depend on various factors, including whether you are an accredited investor, your minimum investment threshold, and your per-investment fee.
How does it work?
When you first sign up you'll have to decide which type platform you want to use, Alto IRA or CryptoIRA. Next, you'll choose your account type. Alto offers traditional, Roth and SEP IRAs.
Then, you'll have to fund your account with cash, or with money you've already placed in another IRA. From there, you can start choosing your investments. You can choose from the list of more than 75 partners by searching Alto's list on the site. Filter by investor accreditation (accredited or for everyone), asset type (crowdfunding, crypto fund, music royalties, etc.) minimum investment, and the per-investment fee ($10 or $50) to find opportunities for your account.
Main features
As mentioned previously, Alto operates two separate platforms for its investment products and offers three kinds of retirement accounts.
Two IRA platforms
First, there is Alto CryptoIRA which lets you buy and sell Bitcoin and Ethereum and more than 150 other cryptocurrencies. Alto partners with the popular cryptocurrency platform to provide this option. You'll need at least $10 to start investing, and there is a 1% trading fee per transaction.
The other option to purchase alternative investments is a self-directed Alternative IRA, called simply Alto IRA,which lets you invest in a wide variety of alternative investments through more than 75 partners. You can also put together your own "deal" and invite potential inventors to support you with their IRA money if you use the Pro version.
Traditional, Roth, & SEP IRA accounts
When you sign up for Alto, you'll have the option to choose which type of IRA account you want to open. Choose between traditional, Roth, or SEP IRA accounts. You can also set up multiple types of accounts with Alto (for example, traditional and Roth), but you'll need to use different email addresses for each account. Alto IRA says they are working toward allowing multiple account types with the same email, but this feature isn't available yet.
Related: Coinbase review
Alto IRA pricing and fees
Alto IRA's fees depend on the platform you use. The fee structure has been criticized for being convoluted, but we'll walk you through it below.
For the Alto CryptoIRA, you'll pay a $10 investment minimum. This fee gives you access to 24/7 real-time trading through Coinbase and digital wallet storage at Coinbase. There is also a 1% trade fee automatically included in each transaction.
To close your Alto CryptoIRA, you'll pay $50, and outbound wire transfers incur a $25 fee.
You'll pay different fees if you're opening an Alto Alternative IRA. The Alto Alternative IRA has costs broken into two categories: Starter and Pro. If your portfolio includes private investments, you'll be automatically upgraded to the Pro plan. The Starter plan is sufficient if you only use Alto's investment partners.
Depending on your billing preferences, the Starter account fees cost $10 per month or $100 per year. Starter account holders will also pay partner investment fees between $10 and $50, depending on whether you invest with one of Alto's preferred partners. There is also a $50 fee to close your account and a $25 fee for an outbound wire transfer.
If your investment choices require a Pro account, you'll pay $25 per month or $250 per year. Your partner investment fee will be the same as the Starter plan, but you'll pay a $75 fee if you choose a private investment. There is also a $50 fee for account closures and a $25 fee for outbound wire transfers.
Who is Alto IRA for?
Alto IRA is ideal for investors who are comfortable managing a self-directed portfolio and are looking to diversify their holdings to include a wider variety of securities. Most brokers don't allow individuals to hold non-traditional securities in an IRA. However, Alto IRA will enable investors to hold assets such as cryptocurrency, fine art, land, and shares in startups. Alto IRA will even let you sponsor your deal if you can't find an asset class you're interested in from the more than 75 venture capital deals.
Alto IRA is not for everyone. To use the Alto IRA platform, you need to understand how to invest for long-term growth. And those who are still learning how to manage their investments may find Alto IRA's products beyond their skill level.
These non-traditional investments also come with more risk. Investors may find them too volatile for their risk tolerance, significantly closer to retirement.
If you've got a solid understanding of managing your portfolio and looking to expand beyond traditional investment products, Alto IRA could be a good fit.
Related: Long term investment strategies
How do I open an Alto IRA account?
You can sign up for either an Alto CryptoIRA or an Alto Alternative IRA account. You'll need to provide basic information like your name, email address, and phone number, and you'll need to sign Form 5305. After that, you'll have to add in your banking information to fund your Alto account, and then you'll need to wait seven days. Once the Internal Revenue Service (IRS) issued seven-day cool-down period elapses and your funds arrive in your account, you'll be ready to buy your alternative investments.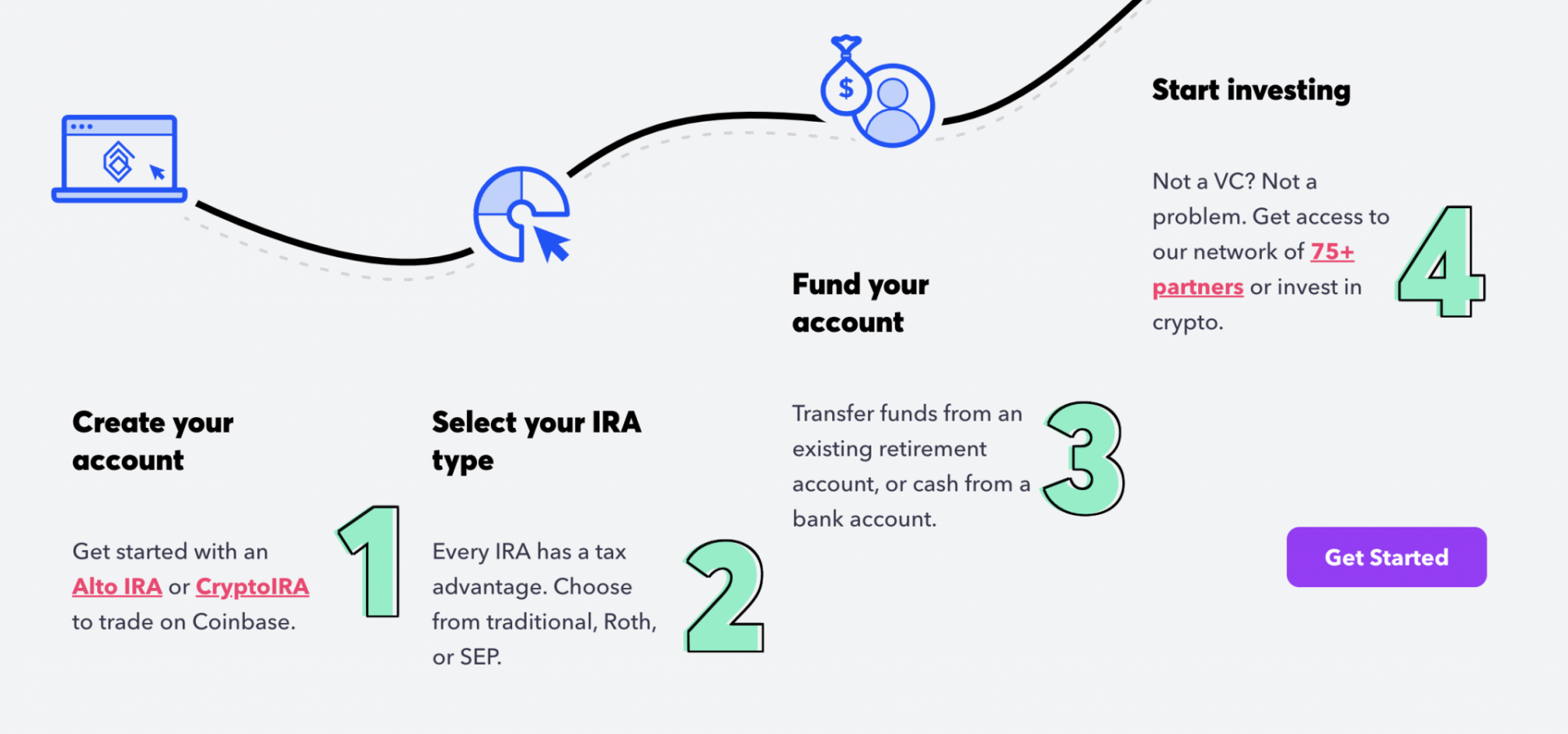 Opening an account with Alto IRA is quickly done from the company's website. Just look for the "Sign Up" button and click on it. You'll create an account by entering an email address and password. You'll need to verify your email address and select the type of IRA you'd like to open.
How's the customer service?
It's easy to get in touch with Alto IRA via its Contact page form. You can also call Alto from Monday to Friday, 8 am – 5 pm CT, at 1-877-673-1557. Alto has 812 ratings on Trustpilot, and 70% of those rated Alto as "excellent."
How safe is Alto IRA?
Alto IRA is fairly safe. Any cash you hold with Alto IRA is protected up to $250,000 by FDIC insurance. That said, funds invested with Alto are not protected by SIPC insurance. They aren't covered because of the class of assets that Alto offers. Cryptocurrency and other alternative investments tend to be riskier, and they have less liquidity than traditional stocks and bonds.
For the alternative investments, your money might be locked in for some time, depending on the investment, and you might not be able to sell your shares before the investment term ends.
If you plan to buy cryptocurrency, be aware that although Coinbase is one of the leading cryptocurrency exchanges, it is still vulnerable to hackers. Furthermore, the coins themselves tend to be volatile; the price can rise and fall dramatically from week to week.
Alto IRA pros and cons
Pros
Choose from more than 150 cryptocurrencies and 75 alternative investments
You can use Alto CryptoIRA to buy cryptocurrency or the alternative IRA to purchase alternative investments such as crypto, fine art, real estate, venture capital and private equities
You can choose between a traditional IRA, Roth IRA, or SEP IRA to house your investments
Cons
As a custodian, Alto does not provide investment advice, and users must do their due diligence
Some investments require accredited investor status
Alto representatives do not offer advice or financial planning to their customers
Best alternatives
There are numerous companies that let you open a self-directed IRA to invest in alternative asset classes. We like Alto because of its low fees and variety of assets. But other companies might be better options depending on your investing goals.
Rocket Dollar is one example. It also supports dozens of cryptocurrencies and numerous asset classes like farmland, energy, loans, and private equity.
The main difference is that you open an LLC when you open a Rocket Dollar account. This provides more flexibility and even lets you bring your own deal to the platform if there's an investing opportunity you want to take advantage of. The downside is there's a $360 or $600 one-time setup fee depending on your plan, which Alto doesnt charge.
If you're mostly looking for crypto investing, you can also consider Bitcoin IRA. This company is one of the leaders in the crypto-IRA space and supports 60+ coins. It's more expensive than Alto CryptoIRA and has a 5.99% set-up fee. But you can earn up to 6% APY with certain cryptos, which is a unique selling point.
Alto is still our favorite company of these three options. However, the best choice for you might vary depending on your portfolio's size and the assets you're most interested in.
The bottom line
For most investors, a portfolio of a diverse mix of stocks, bonds, or ETFs is sufficient to grow a nest egg enough to retire comfortably or become financially independent.
However, skilled real estate investors, angel investors, or crypto fans might wish they could choose higher-risk, higher-reward investments within their IRA. If this sounds like you, then Alto IRA is worth considering. Alternative assets don't belong in every investment portfolio, but they can be powerful resources in the right hands.
Further reading: