What's going on in real estate?
Since the collapse of Silicon Valley Bank in March, experts have raised concerns about debt default risk in the commercial property market.
Musk said he expects to see a wave of regional bank defaults due to their exposure to this bruised sector — a prediction supported by JPMorgan estimates that about $450 billion in commercial real-estate debt is due this year to default, according to a report in Business Insider.
The Fed's efforts to curb soaring inflation by hiking interest rates have bruised the sector by making it more expensive for borrowers to finance or refinance commercial real estate — leading to a precipitous drop in demand for properties.
This followed downward trends triggered by the pandemic, especially for office and retail properties, which have suffered a sharp drop in occupancy rates due to remote work trends and changes in how people shop.
A similar situation is now happening in the housing market.
Desmond Lachman, a senior fellow at the American Enterprise Institute and a former deputy director at the International Monetary Fund, told Insider he thinks house prices could plunge 15% to 20% due to "tighter credit conditions" and the possibility of a recession.
Most mortgages in the U.S. are loaned out by small and medium-sized regional banks. If tough economic conditions force those banks to introduce stricter lending conditions, this could cripple demand in the market, meaning home prices will also fall.
"Mortgage portfolios are at risk," Musk tweeted in March, "if housing prices drop significantly."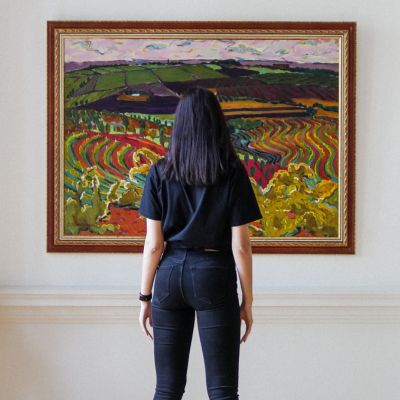 Contemporary art has outperformed the S&P 500 by 131% for the past 26 years. Join the exclusive platform to invest in million-dollar works by artists like Banksy, Basquiat, and more. Get started today and diversify your portfolio with art.
Learn More
3 assets to diversify your portfolio
Amid such uncertainty in the real estate market, investors may want to diversify their portfolios to hedge against these risks. Here are three other "real" assets you might want to consider.
Gold
Unlike the U.S. dollar, which has lost 98% of its purchasing power since 1971, gold's purchasing power remains more stable over time and it tends to yield less risk than other alternative investments.
The most direct way to invest in gold is to buy it in its physical form, whether that be bars, coins or jewelry.
With the help of any number of investing apps](https://moneywise.com/investing/investing-basics/the-best-investing-apps), you can also invest by purchasing shares of gold mining companies on the stock market — or even gold exchange-traded funds (ETFs) for those who are looking for more diverse exposure.
Another option is to open a gold IRA, an individual retirement account that allows you to invest in precious metals in physical forms, like coins, instead of stocks, mutual funds and other traditional investments.
Fine wine
People have been consuming wine for thousands of years. While most collect wine for enjoyment rather than investment, bottles of fine wine become rarer and potentially more valuable as time goes by.
Wine assets have enjoyed consistent double-digit growth in the past 10 years, comfortably beating inflation and outperforming many mainstream investment classes.
You can always invest in wine by purchasing individual bottles — but you'll need a place to store them properly. Residential wine cellars often cost tens of thousands of dollars. If not stored at the right temperature or humidity, the bottle could be compromised.
If you lack the time and space to curate and store your ideal wine portfolio, you can use a wine investing platform that does all the legwork for you — including choosing, storing and insuring your bottles — and they'll even let you know when it's the best time to sell.
Art
Art has been another high-performance "real" asset in recent years.
You might think that investing in fine art by the likes of Andy Warhol, Banksy or Pablo Picasso is only an option for the ultra-rich. That's because until recently, there was no way to invest in fine art unless you had millions to buy an entire painting — not even the best adviser could get you in on the action without dropping a fortune on one piece.
But there's another way to get involved. You can use an online art investment platform to get yourself a piece of the multi-billion dollar industry.
Using an investment platform allows you to bypass a lot of the drawbacks of physical art investing. For instance, you won't need to scour galleries for your art or worry about logistics like shipping, handling and securing a temperature-controlled storage space.
But be mindful that these platforms are still quite new, exclusive and typically only open to accredited investors.
Sponsored
Meet Your Retirement Goals Effortlessly
The road to retirement may seem long, but with WiserAdvisor, you can find a trusted partner to guide you every step of the way
WiserAdvisor matches you with vetted financial advisors that offer personalized advice to help you to make the right choices, invest wisely, and secure the retirement you've always dreamed of. Start planning early, and get your retirement mapped out today.