What is a bank failure?
A bank fails when it's unable to meet its financial obligations to its depositors (like you) or its creditors. If this happens, a federal or state regulator will close it.
If it's your bank that fails, what happens to your money?
If the bank is insured by the Federal Deposit Insurance Corporation (FDIC), your money is covered up to $250,000 per depositor (e.g., a joint account with your spouse would be covered up to $500,000). This includes checking accounts, savings accounts and money market accounts.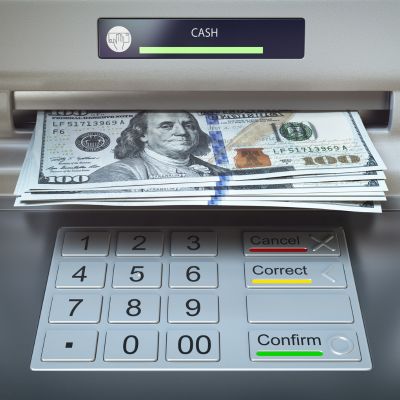 Don't let your money idle in low-interest accounts! Savvy savers are earning up to 10x more interest by keeping their hard-earned cash in a high-yield savings account. Find some of the best options here.
Get Started
Why a bank fails
A bank failure results from a bank not being able to meet their financial obligations. This could be due to losing too much money on investments and not having sufficient cash available to give to depositors who try to withdraw money.
When you deposit your money into the bank, they don't just lock it away in a giant safe somewhere. They turn around and loan it to bank customers and use it for other complicated, large-scale investments. That's how banks make their money.
The problem is that when these investments don't perform as expected because of, say, a pandemic — things start to go south.
What happens when a bank fails?
The good news is if your bank is insured by the FDIC, you have no reason to panic.
When banks close, the FDIC takes over the day-to-day operations. For bank customers, it should be business as usual.
There is generally no reason to run to the bank and try to withdraw all your money.
The FDIC will take care of everything, In many cases, your bank will simply be taken over by another bank.
If a bank closes, what happens to my money?
Most banks in the U.S. are FDIC-insured. This means you should be able to recover your bank deposits that are within the limit.
If you're holding over $250,000 in one bank and have different types of accounts (e.g., retirement, savings, checking), check the FDIC limits for each. If you exceed any of the limits, consider splitting it up among different banks to ensure coverage.
There are some investment products, like mutual funds and crypto assets, that the FDIC does not cover. Be sure to check the FDIC site for a complete list of products not covered.
In most cases, you shouldn't have anything to worry about.
In fact, you may not even notice much of a difference. When the FDIC takes over a bank's operations, you'll still have access to all your money, debit cards, and accounts.
In some cases, the bank will continue to be run federally. In other cases, the FDIC will sell a failed bank to another, more solvent bank. In this case, you will automatically become a customer of the new bank.
If you don't feel comfortable keeping your money in a failed bank, or with being a customer of the bank that took over, you can withdraw your money and change banks.
What if I deposited more than the FDIC-insured amount?
Since the FDIC insurance limits are $250,000 per person (per bank), there is no guarantee you will recuperate deposits exceeding that amount.
For anything beyond that, you'll need to file a legal claim against the failed bank and hope to be reimbursed when the bank's assets are sold.
It's best to avoid this situation if possible. You can do this by depositing the excess in your spouse's account, opening a retirement account with the bank (giving you an additional $250,000 of coverage), or spreading your deposits among multiple different banks.
What if my bank isn't FDIC insured?
If you're banking at an institution that is not FDIC-insured, you're taking a huge risk. This is especially true during recessions and economic shocks.
Your best bet is to move your money to an FDIC-insured bank as soon as possible. In these uncertain times, anything can happen. And each day you keep your money in an uninsured bank, you risk losing it all.
More: 10 best banks
Sponsored
A High-Yield Savings Account Is The Easiest Way To Make Passive Income In 2023
High-yield savings accounts are a great way to generate high interest and inflation-proof your savings over time. This option ensures your cash is at the ready when you need it, without forfeiting growth to do so.
You could earn 10x more interest by keeping your hard-earned cash in a high-yield savings account. Find some of the best options here.