Down payment assistance grant
Virginia Housing's Down Payment Assistance (DPA) grant helps eligible first-time homebuyers with the funds they need to make a down payment.
Some of the eligibility requirements include:
A minimum credit score of 620.
A maximum 45% debt-to-income ratio.
An income at or below the program's current limits.
Successful applicants will be granted up to 2.5% of the purchase price, based on the down payment required. These grants can only be used with eligible Virginia Housing loans.
More on the VA's grant requirements can be found on its website.
Mortgage credit certificates (MCC)
This program reduces the amount first-time homebuyers in Virginia owe in federal income tax.
It's not a mere tax deduction: It's a dollar-for-dollar credit against your taxes. You'll get a credit for 10% of your annual mortgage interest, and the other 90% can still be taken as a tax deduction.
The MCC is effective for the life of your loan, or as long as you live in the home.
To qualify, applicants must go through an approved lender, submit an MCC Homebuyer Application and Fact Sheet, confirm your request at loan application, fall within the maximum household income and loan brackets and intend to use the home as their principal residence.
Virginia Housing Conventional No Mortgage Insurance (No MI)
This program allows first-time homebuyers to put down just 3% on a home loan without having to sign up for mortgage insurance. Paired with a Virginia Housing DPA Grant, you could end up putting down as little as 1%.
By contrast, with a conventional loan, applicants need to put down 20% of the purchase price to receive the same terms. The program is also available for repeat buyers who are hoping to "move up."
To qualify, applicants must have at least a 660 credit score.
More: How much house can I afford calculator
The Best Lenders for First-Time Homebuyers
Click Here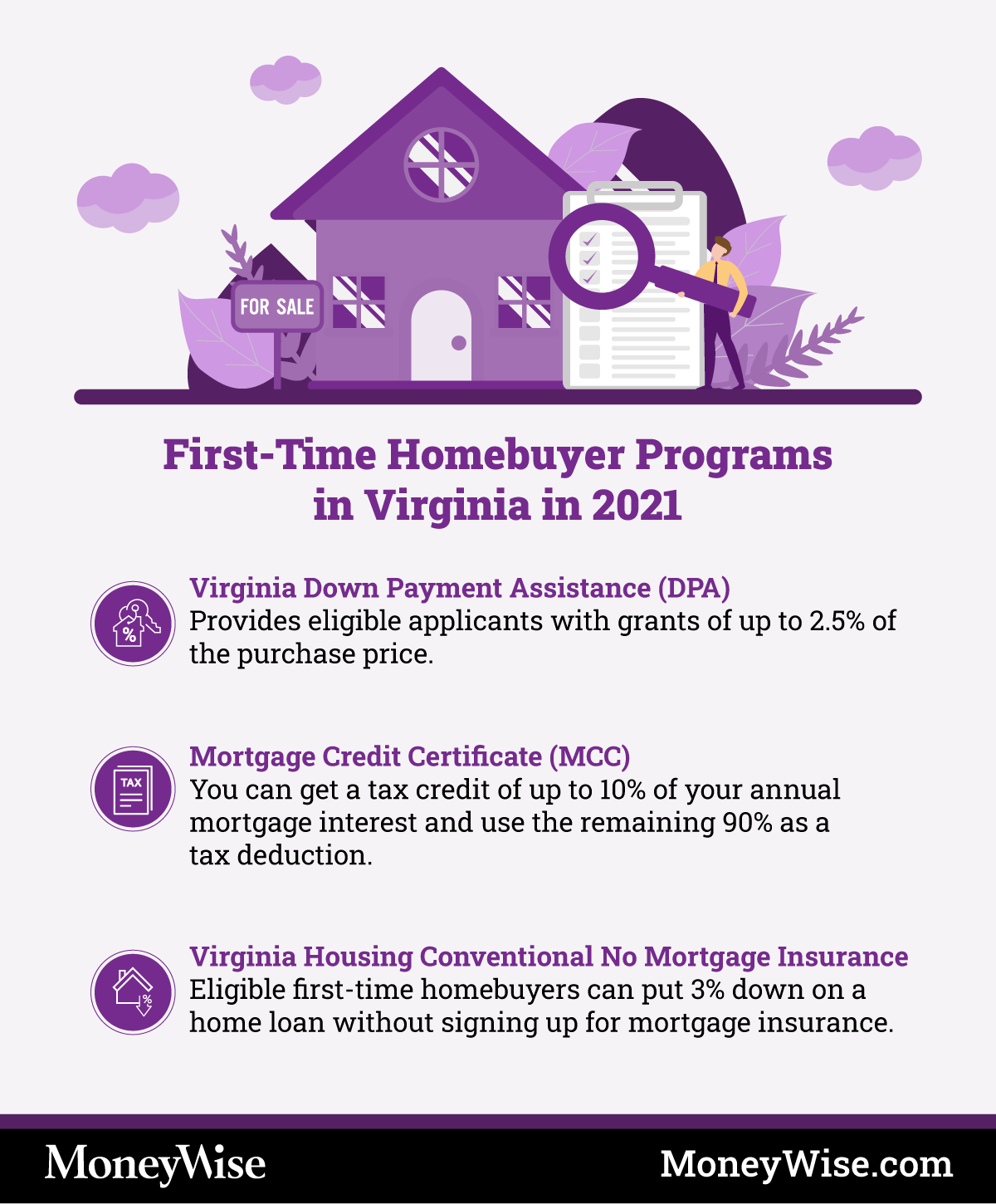 Qualifications for first-time homebuyers
If you're looking at buying a home in Virginia, you may qualify for a range of programs from Virginia Housing.
Some of the common eligibility requirements include:
A credit score of at least 620.
That the applicant has not owned a home in the last three years.
That the applicant takes Virginia Housing's free homeownership class.
That the applicant doesn't exceed the maximum income and loan limits set by Virginia Housing.
More: Get a free credit score and credit monitoring from Credit Sesame.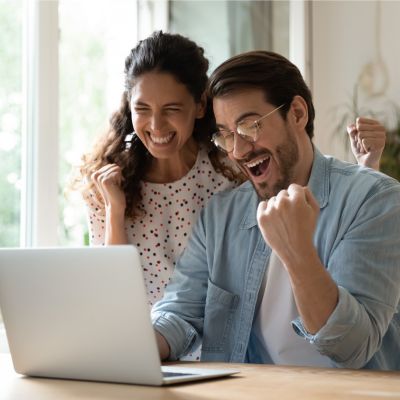 Compare current mortgage rates from top national lenders. Get the best rate for your purchase or mortgage refinance.
Compare Rates
Nationwide first-time homebuyer programs
The most common way to become a homeowner is to secure a "conventional" mortgage in the private market.
Generally, you'd need a credit score of at least 620 to attract a lender. Applicants often need to be able to put down at least 5% of the home's cost — though ideally, you'd have a 20% down payment so you don't have to pay for private mortgage insurance.
More: Use these savings accounts to build up your down payment.
If that sounds a bit steep, you should know the federal government offers a number of nonconventional loans that may be better for first-time buyers.
FHA loans
The Federal Housing Administration (FHA) is a division of the Department of Housing and Urban Development. The government introduced FHA loans in 1934 in response to the needs of the housing market. At the time, homeownership was inaccessible to many Americans, and only four out of 10 households owned their homes. Since its inception, the FHA has insured more than 46 million mortgages.
The terms of an FHA mortgage are less strict than those of conventional mortgages. The average credit score you'll need is 580, but if you have enough for a significant down payment, your score could be as low as 500. The minimum down payment for an FHA loan is 3.5%, but putting down less than 10% will mean you'll pay a mortgage insurance premium (MIP) along with your monthly payments.
While these loans are more accessible and have made it possible for more Americans to live the dream of home ownership, the associated fees can add up.
The FHA's Loan Requirements Explained.
A walkthrough of how to meet the FHA's requirements.
See Guide
VA loans
In 1944, Congress passed an act to increase benefits to eligible veterans. At the top of the list of priorities for veterans at the time was a loan guarantee program. And so now, the U.S. Department of Veterans Affairs (VA) is authorized to guarantee or insure home, farm and business loans made to veterans by lending institutions.
These loans are available to active service members, veterans and some surviving military spouses. They don't require a down payment or mortgage insurance, but borrowers do pay a funding fee.
USDA loans
USDA loans are mortgages for rural and suburban homeowners. They're guaranteed by the United States Department of Agriculture and require no down payment and no private mortgage insurance.
You will have to pay an upfront guarantee fee of 1% of the loan amount and an annual fee of 0.35%, but these costs are generally more affordable than paying for mortgage insurance.
There are income limits to qualify, so you won't be able to take out a USDA loan if your household earns too much. The current income limits in most parts of the U.S. are $86,850 for one- to four-member households and $114,650 for five- to eight-member households, but the thresholds may be higher if you live in a county with a steeper-than-average cost of living.
You can check your eligibility through the USDA's website.
What next?
Now that you know all about the national and state programs available to you, there are still a few things you can do to prepare before you apply for a mortgage.
First, look at your credit score: Do you meet the requirements for loans and support? If you don't already have your score handy, you can check it for free through Credit Sesame.
Is your score not going to cut it? A little help from Self credit repair can bring your score up and get you application-ready.
Next, make sure you've gathered all the documents you'll need to demonstrate your income and assets.
After that, you can think about getting pre-approved for a mortgage so you can get house hunting.
Sponsored
Secure your retirement with a reverse mortgage
If you're low on cash savings and investments but have wealth in your home, a reverse mortgage is a great option for covering retirement expenses.
Mutual of Omaha is a trusted insurance provider that helps you make the most of your home equity.