What type of loan is best for a first-time homebuyer?
Determining the kind of mortgage that's best for you is a deeply personal and somewhat subjective assessment.
Usually, your best choice is the loan you not only qualify for, but that also offers you the best mortgage interest rate and best terms.
Interest rates are how lenders make money from home borrowers. The lower your interest rate, the more your monthly payments will go towards paying down the principal of your loan, and the sooner you'll be clear of the debt.
WIth that in mind, when you buy a home there are a few aspects of your personal financial records that lenders will consider to formulate a rate for you:
Your credit score. Good credit will significantly open up your loan possibilities. On a scale of 300 to 850, good is considered anything above 690. But you can generally secure a loan with a score of 620. Some government-insured loan programs allow for even lower scores.
Your down payment. A solid down payment is 20% of your home's value. This is usually a pretty significant sum. For many first-time buyers, it's just not possible to put aside that amount of cash. Different loan types as well as different lenders will have their own standards, but with just 3.5% to 5% down, you'll still have plenty of loan options.
Your debts. A mortgage loan is really just another debt. (Albeit a really big one.) Lenders will want to see how you've historically managed your debts and also how much you currently owe, whether that's through a personal, auto or student loan, or from credit cards. For most people, it's some combination of all four. Lenders will want to confirm you have enough income to manage monthly mortgage payments on top of your other debts.
The better your standing on those three factors, the more options you'll have when it comes to selecting a loan.
Stop overpaying for home insurance
Home insurance is an essential expense – one that can often be pricey. You can lower your monthly recurring expenses by finding a more economical alternative for home insurance.
SmartFinancial can help you do just that. SmartFinancial's online marketplace of vetted home insurance providers allows you to quickly shop around for rates from the country's top insurance companies, and ensure you're paying the lowest price possible for your home insurance.
Explore better rates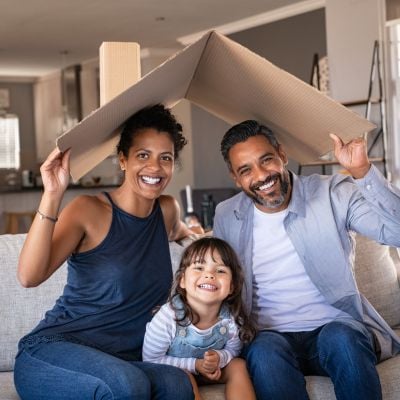 What if I have poor credit, minimal funds or lots of debt?
Few people have sterling financial histories. While it's easier to get a loan with good credit, a significant down payment and minimal debts, this isn't a pass/fail scenario.
There are different loan programs, particularly those sponsored by the federal government, that cater to helping low- to moderate-income individuals become homeowners.
These loans have helped thousands of Americans who didn't have the right credit score or enough funds for a down payment find affordable housing.
For example, FHA loans — backed by the Federal Housing Administration — are available to borrowers with credit scores as low as 580 and require only a 3.5% down payment. And if you can afford to put down 10%, the necessary score could drop as low as 500.
Just to compare, the most common type of home loan — conventional loans — generally require at least a credit score of 620 and a minimum 5% down.
But because FHA loans are protected by the government when borrowers default, lenders are more willing to take on risky loan applicants. You won't need a pristine credit record or as substantial a down payment to qualify for one of these loans.
Other government-backed loans, like USDA loans and VA loans (which are sponsored by the U.S. Department of Agriculture and the Department of Veterans Affairs) don't require down payments at all. But you will need a credit score of at least 640 or 620, respectively, to qualify.
They're also designed for a more narrow demographic than FHA loans. USDA loans are targeted to Americans who live in rural or suburban areas of the country. And VA loans are for active-duty members of the military and veterans.
What loans are available to first-time buyers?
None of these loan programs are designed specifically for first-time buyers.
But at the state level, there are a number of different grant, loan and down payment assistance programs just for first-time buyers, to help cover your down payment and closing costs.
If you've owned a home in the past, you may still qualify for assistance. Most programs consider anyone who hasn't owned property in the last three years a "first-time buyer."
The purpose of these programs is to help low- to moderate-income households overcome the common barriers of homeownership. To ensure resources go to the residents who need the most support, there are typically income and purchase price limits to qualify for these programs.
More: Find a first-time homebuyer program in your state
Need cash? Tap into your home equity
As home prices have increased, the average homeowner is sitting on a record amount of home equity. Savvy homeowners are tapping into their equity to consolidate debt, pay for home improvements, or tackle unexpected expenses. Rocket Mortgage, the nation's largest mortgage lender, offers competitive rates and expert guidance.
Get Started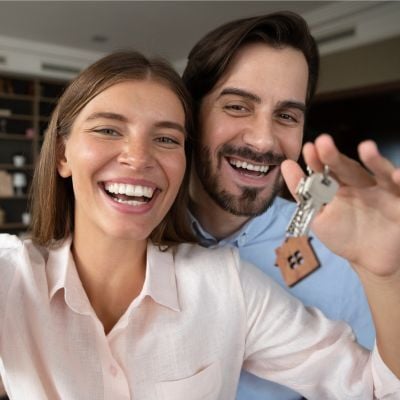 How do I choose the right mortgage lender?
Now that you've sorted through the types of loans you'll qualify for and the assistance programs available for first-time buyers like yourself, you'll want to pick a lender.
Shopping around is the best way to be certain you get the lowest possible interest rate on a home loan. When you take out a mortgage loan, you're making a 15- or 30-year commitment to your lender. You'll want to make sure you're committing to a financial institution you trust.
Review the options we've given you on the table above. Experts recommend you compare quotes from at least five different top mortgage lenders before you make the decision to commit.
Generally, you'll find that one loan's terms stand out. You may find the decision is even easier when you make use of our comparison table.
What is the easiest mortgage loan for a first-time homebuyer to qualify for?
Every first-time buyer is different. You may have been planning for this for a long time, or be lucky enough to have great credit and plenty of money set aside for your down payment.
But for aspiring homebuyers with fewer resources or financial support, an FHA loan will be your easiest option.
These loans, however, do come without a few catches.
To fund its guarantee to lenders, the FHA will ask you to pay a mortgage insurance premium (MIP). You'll pay both an upfront and a monthly fee for this, and they'll be based on a set percentage of your overall loan amount.
When you put down less than 10% of your loan amount, you'll have to pay the monthly mortgage insurance fee for the entire life of your loan. If you put down more than 10%, you'll still have to pay MIP for the first 11 years of your mortgage.
So while an FHA loan is a more accessible loan type, you will find that the MIP will significantly increase the cost of your mortgage in the long run.
We don't tell you this to put you off FHA loans — in fact, they've helped millions of Americans become homeowners when they otherwise wouldn't have been able to afford it. It's just important to consider all the pros and cons of a loan before you lock yourself in.
Next steps
In preparing to make the step into homeownership, it's important to know where you stand financially. Start by checking your credit score for free.
Once you're ready, you can use the different lender offers to find the right loan, get yourself preapproved for your loan and start the fun part of this process: house hunting.
Sponsored
Follow These Steps if you Want to Retire Early
Secure your financial future with a tailored plan to maximize investments, navigate taxes, and retire comfortably.
Zoe Financial is an online platform that can match you with a network of vetted fiduciary advisors who are evaluated based on their credentials, education, experience, and pricing. The best part? - there is no fee to find an advisor.