How to earn money online from your couch
1. Find a remote version of your current job
Making money from home doesn't always require a brand new career or a side hustle.
If you can't convince your boss to let you work from home, you could search job posting websites for companies offering a remote version of your position.
Best of all, you might actually earn more going remote. A recent data analysis showed that remote workers' average salary is slightly higher than nonremote workers' pay. You also trim your transportation, food and clothing expenses.
2. Teach English online
When you're fluent in English, you have a skill that millions of people around the world are willing to pay to learn. If you can connect with a handful of students, you could make a decent income from the comfort of your couch.
If you're not up for a certification class to become a full-fledged instructor, several online platforms pay you to simply tutor English learners and have casual conversations with them.
3. Freelance a virtual skill
Statista consumer research company projects that over half of the U.S. workforce will be freelancers by 2027. The easiest way to start freelancing is to offer a service you already know how to do.
That could be writing, graphic design, consulting, web development, project management, bookkeeping, data entry, medical coding, customer service, video editing, proofreading, transcription jobs, or any other online service that businesses need.
Depending on your skill set, you may not need any training to start. Put together a portfolio showing clients what you can do, and you'll be off to the races.
4. Build an agency
While freelancing is a solid way to start making money from home, your income is capped by the client work you can squeeze in each day.
Starting an agency or consultancy solves this problem. Instead of doing all the grunt work yourself, you hire a team. When you outsource the work, your income is only limited by the number of projects you can close.
The trick is finding a high-quality team that is willing to work for less than what you charge clients.
5. Teach your skills
Believe it or not, all that knowledge rolling around in your head is an asset.
Are you a programmer? Teach technical skills to others.
Have you fought your way out of debt? Help others do the same.
Are you a natural-born leader? Become a leadership coach.
Start with one-on-one lessons, and if things take off, create an online course to sell to the masses. This works offline too. My grandma earned an income for over 50 years teaching piano lessons from her living room.
6. Get paid to take surveys
Your opinions might be worth something. Several apps and websites will help you generate some extra cash or earn other rewards by taking surveys in your downtime.
You provide feedback on new products and services, often in exchange for points that can be traded in for gift cards.
Hey, you might as well make some money if you can't find anything to watch, rather than mindlessly popping open Pokemon Go — right?
7. Become a virtual assistant
A virtual assistant takes care of digital tasks for busy entrepreneurs, executives and businesses. As an entry-level virtual assistant, you may spend your days organizing email inboxes, proofreading documents, entering data into spreadsheets, or any other simple tasks your client needs help with.
To earn more, you can specialize in higher-value skills like search engine optimization, paid advertising, video editing, or even managing other virtual assistants.
No matter which services you offer, top-notch communication skills are a must.
8. Write captions or check into transcription jobs
Are you good at typing and taking notes? Many closed captioning services employ transcribers who work from home. Depending on your speed and accuracy, you can earn anywhere from 30 cents to $1.10 for each minute of a recording you transcribe.
Medical transcriptionists convert recordings of doctors' notes and help make sure patients' records are complete. The median pay is about $17 an hour.
Want to work from home?
Last year, ZipRecruiter surveyed more than 2,500 job seekers and found that 60% would prefer to find a job where they can work from home.
Find jobs with flexibility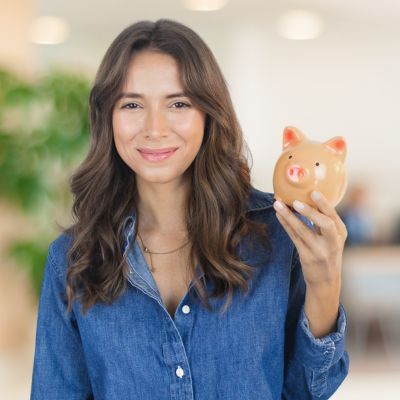 Don't let your money idle in low-interest accounts! Savvy savers are earning up to 10x more interest by keeping their hard-earned cash in a high-yield savings account. Find some of the best options here.
Get Started
How to make money from home offline
9. Take care of kids
The time that parents spent with their kids at home during pandemic remote learning made clear the value of quality child care. According to a 2021 report, the average cost of licensed child care in a family home is over $1,000 per month.
If you recruit a handful of kiddos into your care, you're looking at a potential steady income.
Just remember — to legally offer home-based childcare services, you need to meet all of your state's licensing standards.
10. Freelance an offline skill
Not all freelancers slouch behind their computers all day. You can freelance offline services from the comfort of your home or neighborhood.
You might reupholster furniture, sell professional product photography or portraits, offer home maintenance services, or become your neighborhood's go-to dog walker.
Just make sure to choose something you enjoy doing to avoid burning out.
11. Rent out your space
If you have extra space, don't let it go to waste.
Rent out your extra bedroom on Airbnb or Vrbo, your storage space on StoreAtMyHouse.com, your backyard on HomeCamper.com, your parking space on Neighbor.com, and your car on Turo.
Since renting your space is fairly passive income, you can combine it with another work-from-home job to boost your income.
12. Make your home a doggie hotel
Animal lovers might decide to earn some extra cash by babysitting dogs for owners who are going away and don't want to leave their animals at a kennel.
When you sign up as a sitter through apps that match you with fur-parents, you can charge a nightly or even hourly fee just to hang out with other people's pooches right within your own home.
13. Sell your stuff
Do you really need four TVs in your house? What about that dusty treadmill with clothes hanging from it?
Selling your stuff is one of the fastest ways to make money from home. After you sell your own belongings, you can start looking for other items to flip.
If you love bargain-hunting, you might enjoy retail arbitrage. That's when you buy bargain-priced products from stores and sell them for a profit. Other people buy the contents from abandoned storage units to resell.
You can sell products in an online marketplace through an app or social media. Or if you have your own business that makes products, you can consider selling through Amazon or Walmart's site to grow your distribution.
Sponsored
Kiss Your Credit Card Debt Goodbye
Millions of Americans are struggling to crawl out of debt in the face of record-high interest rates. A personal loan offers lower interest rates and fixed payments, making it a smart choice to consolidate high-interest credit card debt. It helps save money, simplifies payments, and accelerates debt payoff. Credible is a free online service that shows you the best lending options to pay off your credit card debt fast — and save a ton in interest.