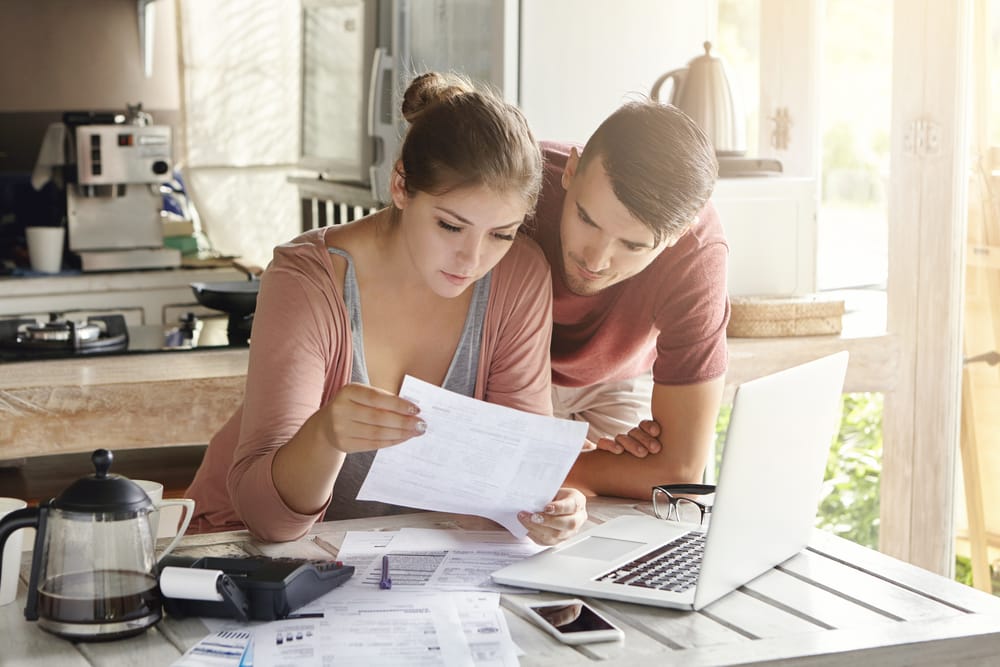 Monarch Money review: An all-in-one finance app
Cast Of Thousands / Shutterstock
🗓️
Updated: August 15, 2023
We adhere to strict standards of editorial integrity to help you make decisions with confidence. Please be aware that some (or all) products and services linked in this article are from our sponsors.
We adhere to strict standards of editorial integrity to help you make decisions with confidence. Please be aware that some (or all) products and services linked in this article are from our sponsors.
If you use several banks and brokerages, keeping track of all of your finances can be a tricky task. And when you add in all of your assets and potential liabilities, it's even harder to keep tabs on your complete financial picture.
Thankfully, companies like Monarch Money simplify life by consolidating all of your finances on one platform. If you want to budget, track spending, and plan for the future, it has the tools you need.
However, Monarch Money isn't the only all-in-one financial management tool out there. That's why our review is covering how it works and what your alternatives are so you can make the best choice.
Pros & cons
Pros
Connects with 11,200+ financial institutions
Create custom transaction categories and rules to automatically categorize expenses
Comprehensive net worth tracker
Recurring bill and subscription reminder helps you avoid late payments
You can add collaborators to your account for free
Monarch continues adding new features
Cons
Limited cryptocurrency support since Monarch only syncs with Coinbase
The free plan is quite limited and doesn't include investment tracking
Monarch doesn't support bill payments since it uses read-only data
What is Monarch Money?
Monarch Money is a personal finance management platform that helps you monitor every aspect of your finances. If you want to consolidate all of your bank accounts, brokerage accounts, assets, and liabilities under one platform, it's one of the best solutions.
You can't use Monarch to pay your bills or actually move money around. However, it's an excellent way to get a snapshot of your finances. It also has excellent scenario-testing tools to help you visualize how your spending impacts your various financial goals.
Monarch Money features
With Monarch, you get an all-in-one management platform for your finances. Here's a breakdown of the major features that make it all possible.
Financial planning & goal setting
Since Monarch syncs with over 11,200+ financial institutions, its software can import most of your assets, liabilities, and transactions. You can then view all of this data in a sleek spreadsheet for an overview of where you stand.
Monarch also lets you create custom categories for expenses, monitor your monthly cash flow, and forecast how your spending impact your financial future.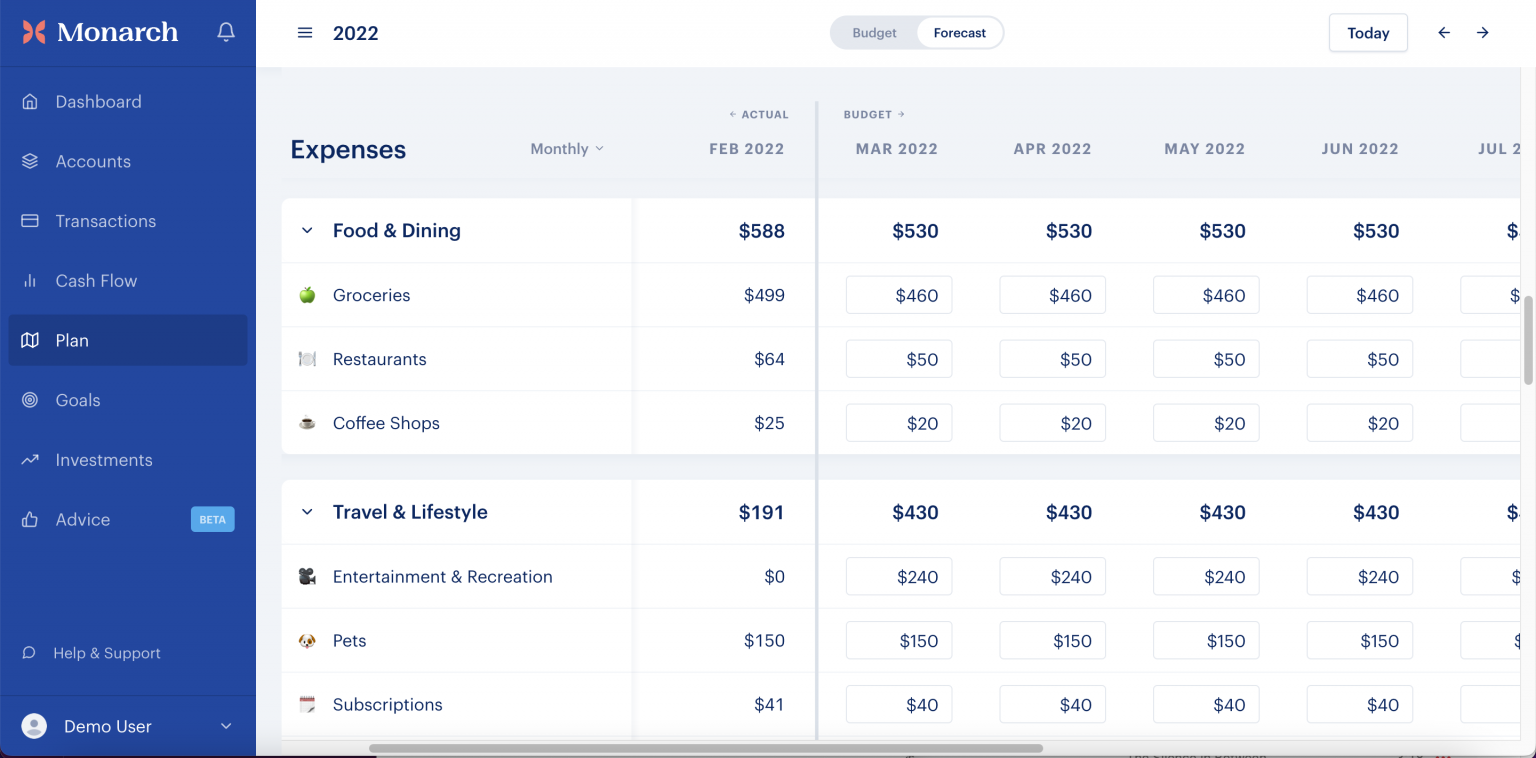 If you're planning for retirement, the forecasting ability is useful. This is because it helps you visualize how your spending habits impact your path to retirement. And with its Spending Insights tool, you can also view your spending across different categories and even different merchants to find where you're overspending.
Monarch also lets you create various goals so you can track your progress towards them. This could include building an emergency fund, going on a vacation, or saving up for a downpayment. Its software highlights your available savings for a consistent reminder to move some of your money aside to fund your various goals. However, Monarch's software uses read-only data, so it can't actually move money for you; that last step is up to you.
Investment tracker
Another useful Monarch feature is its investment tracker. Like its main financial planning dashboard, Monarch syncs data from your online brokerage accounts and any investing apps you're using. This lets you chart your entire portfolio for a complete view of performance and asset allocation.
Overall, Monarch's investment tracker is fairly comparable to the dashboards you get with Empower or with budgeting apps like Mint.
However, one improvement Monarch has made is its integration with Coinbase. This lets you track your crypto holdings alongside other assets like stock and ETFs you own. Granted, if you use a different crypto exchange, Monarch isn't too helpful. For serious crypto investors, a portfolio tracker like Kubera is far superior.
Net worth tracker
If you're looking for a comprehensive net worth tracker, Monarch is one of the best options out there. It can track a wide range of assets and liabilities, including:
Bank accounts
Credit card debt
Cryptocurrency (with Coinbase)
Investments
Loans
Online accounts like Venmo and Apple Card statements
Real estate (property prices are synced with Zillow)
Vehicles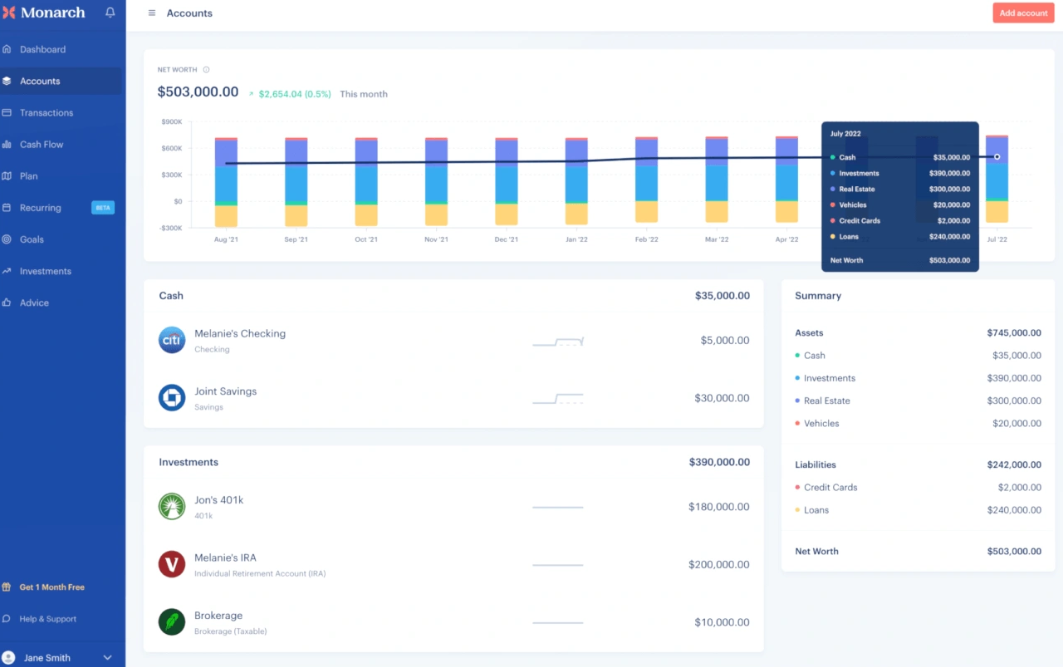 Additionally, Monarch lets you manually add assets or liabilities. If you're investing in alternative assets like artwork, collectibles, or even wine, this level of customization is useful. Really, the main downside right now for Monarch is its limited crypto and NFT support.
Recurring bills & subscriptions (beta)
A new Monarch feature is its recurring bill and subscription reminder calendar. This feature automatically detects bills and subscriptions and then organizes them in a calendar to help you keep track. It also sends notifications three days before upcoming bills, giving you enough time to cancel a subscription or service if you don't actually need it.
This is similar to budgeting and bill negotiation apps like Truebill. Monarch won't pay bills for you, but it's another way its software helps you organize various expense categories.
Transaction rules
While this falls under Monarch's budgeting tools, its transaction rule feature is one of its best features in my opinion. Transaction rules let you create rules to rename and reorganize transactions.
For example, if you have a recurring gym membership subscription that costs $24.99 bi-weekly that you pay with a specific card, you can create a rule that automatically categorizes this as a gym expense. The same idea applies for other subscriptions or any transaction that occurs regularly.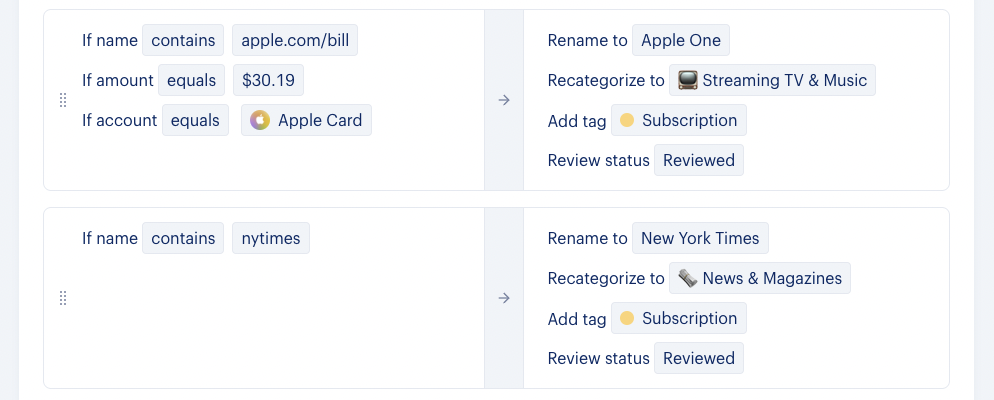 Personal finance software often has syncing issues with banks, leading to duplicate transactions or incorrectly-categorized expenses. But Monarch's rule-based system helps you avoid this.
Personalized advice
With its Advice Wizard tool, Monarch provides tailored advice to help you with some of the more common financial questions people have. All you have to do is answer a short questionnaire and it provides some suggestions to help you reach your goal.
Advice covers topics like if you should rent or buy a home, how to save more money each month, and which goals you should prioritize. According to its website, this wizard was built by actual financial advisors. And, Monarch holds itself to the fiduciary standard, meaning it must give advice that's in your best interest, not its own.
You'll still get way more personalized advice if you work with an actual human financial advisor. And these days, many robo-advisors also have automated and human options for seeking help. But it's nice Monarch keeps adding tools to help its users reach their goals.
Account collaboration
You can invite a household member to join your Monarch account. From there, you can create a shared space, which is useful for housing a joint account or shared savings fund. Adding collaborators to your account is also completely free, which is great news for couples.
Monarch Money pricing
Monarch Money has a free plan that provides limited bank connections, financial goal creation, and budgeting tools. If you want to use every feature and have unlimited connections, you have to pay for Monarch Premium. This plan costs $9.99 per month or $7.50 per month if you pay annually.
The main reason to upgrade to Premium is to get unlimited account connections. And the Premium plan offers greater asset class support, helping you track your entire portfolio. You can try Premium for free with a seven-day trial to test if it's worth paying for. But if you don't want to pay, there are plenty of free apps like Mint you can turn to instead.
Is Monarch Money safe?
Monarch Money is safe, and the software uses read-only data to help you manage your finances. This means it can't actually move money from your account or make any changes to your finances. It works with financial data integrators like Plaid to securely read your data. Plaid is the same company many investing and saving apps use to securely connect to customer financial accounts.
You can also increase account security by enabling features like multi-factor authentication.
How do I contact Monarch Money?
You can contact Monarch Money by emailing support@monarchmoney.com. Premium plan customers get priority support as well.
Best alternatives
Monarch provides a comprehensive yet beginner-friendly way to track all of your finances. However, certain alternatives might be superior if there's one particular aspect of personal finance you need help with.
Empower

Best For: Overall Monarch Money Alternative.
Empower is our overall favorite alternative to Monarch Money because of how many free tools it offers. You get budgeting tools, a comprehensive net worth tracker, useful financial calculators, and an investment fee analyzer. This fee analyzer is one significant advantage over Monarch since you can analyze your 401k and other accounts to see if you're paying too much in fees.
And if you invest $100,000 or more, you can work with Empower's advisors to build a custom portfolio that matches your investing goals.
PocketSmith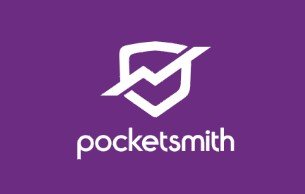 If you like Monarch's financial forecasting options and calendar, you'll love PocketSmith. It offers similar tools to help you visualize how your current spending habits impact your savings rate and future net worth. It also has a very intuitive budgeting calendar and lets you create custom categories like Monarch.
PocketSmith also supports numerous currencies and is great for logging transactions with labels, notes, and pictures of receipts to help with bookkeeping. If you want a similar platform to Monarch with a few more budgeting tools, it's your best option.
Mint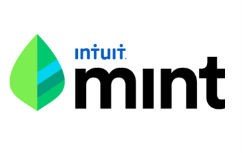 For a free alternative to Monarch, Mint is one of the best choices. This simple-yet-effective app helps consolidate your financial accounts and create budgets. It also has a bill and subscription tracker that's very similar to Monarch.
One selling point is that Mint also provides free credit scores and updates. So, you can use the app to stay on top of spending while also monitoring your credit score for any changes. Mint also lets you track crypto you hold on exchanges like Coinbase and Okcoin.
Bottom line
These days, there's a plethora of apps and software that can help you manage your finances. For some, this is excellent news. For others, software still doesn't beat an old fashioned Excel spreadsheet or paper bookkeeping.
But if you want a nice middle-ground in the world of personal finance tracking, Monarch could be for you. It has a sleek, user-friendly dashboard, so there's no real learning curve. However, it still has the feature depth and customization options to provide a comprehensive overview of your finances.
You should probably stick with Empower. And for crypto enthusiasts, nothing beats Kubera currently. Between the alternatives in this article and Monarch Money, you certainly have plenty of options for how you want to monitor and manage your wealth.