Note: If you've been affected by coronavirus If you were laid off as a result of the COVID-19 pandemic, or if you've been ill (or taking care of someone who is ill), you may qualify for income support.
If the two stimulus checks the federal government issued in 2020 didn't cut it, there are ways to make your own stimulus check.
The Consumer Finance Protection Bureau has also set up a site for information on managing your finances in the pandemic.
But if the government support isn't enough to get you through, read on to find out how you can bolster your bank account either through passive income, making money online or capitalizing on your talent and skills.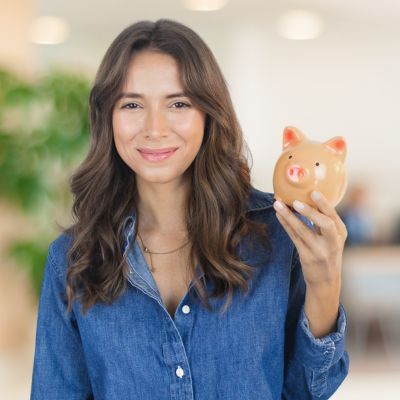 Don't let your money idle in low-interest accounts! Savvy savers are earning up to 10x more interest by keeping their hard-earned cash in a high-yield savings account. Find some of the best options here.
Get Started
How to make money without a job — and make your first dollar today You don't have to be creatively inclined to start your own profitable side hustle — if you invest a little time and effort, you're sure to come up with an income generator that makes use of your specific talents or surplus resources.
1. Earn money from unused space in your house Do you have a finished basement? An extra bedroom or two? If this space isn't currently in use or it's reserved for rare occasions, you might consider using it to generate some real estate income.
While you may be thinking, "It's just a single room," that may be exactly what someone who wants to downsize from a larger rental property is looking for. It's a win-win: your tenant finds more affordable housing and you get a bit of cash for a room that would otherwise sit empty.
You can explore short-term rentals through AirBnB, which allows you to list your space with photos, house rules and details of the amenities available.
If you're going to list through AirBnB, be sure to take the time to vet potential renters before approving their stay. Especially if you're going to be in the home with them, read through their reviews from previous hosts and make sure your guests are respectful and well-rated.
Your guests will also be leaving reviews about their stay with you. If you want to keep the rental income coming in, make sure you keep your space clean and try to be as inviting as possible. A five-star rating and glowing reviews will help you stand out.
2. Pocket a few dollars each time you shop All you need to make a few extra dollars every time you shop is a smartphone. It's as simple as that.
An app like Slide, once downloaded to your phone and linked to your banking cards, will reward you with cash back every time you shop, dine or travel.
And for groceries, there's Fetch Rewards. All you'll have to do is take a picture of your receipt from any grocery store, drug store, liquor store or hardware store and you'll earn points.
Those points can then be exchanged for gift cards, charitable donations or monthly sweepstakes.
Eventually, you'll watch those extra dollars turn into a chunk of change.
You never know when that cash supply will come in handy. You could even invest those funds through an app like Robinhood, which offers commission-free investing.
3. Get your spare change to grow on its own The mobile app Acorns sets aside a small amount of money from each of your purchases to put towards micro-investing. It works like a digital piggy bank.
The app will automatically accumulate "change" every time you use your debit card or it will set aside a small amount from every paycheck — and then instantly invest it.
You won't notice these small deductions, but they'll be working away in the wings, multiplying for your future benefit.
4. Earn cash from surfing the web Appropriately named Swagbucks is a rewards program that offers you gift cards and cash in exchange for the things you already do online.
All that's required is to join the program. Once you're a member, you'll carry on with your regular activities — shopping online, watching videos, searching the web, playing games, answering online surveys — while earning points as you go.
Those points can then be redeemed for free gift cards or cash back through PayPal.
5. Become a mystery shopper This is another great way to get paid for something you either would normally be doing or want to do but can't afford. You'll even get to do it on your own schedule.
There are a number of different mystery-shopper companies you can sign up for: BestMark, Second to None, Market Force, Secret Shopper — and that's only a few of them.
You can make money a few ways through this:
Cash payment. If you have to place a call or simply visit a store, the company will pay you for your time.
Reimbursement. This is common with restaurant mystery shopping. If you're asked to dine out, you'll be refunded the cost of your meal.
Cash payment and reimbursement. The holy grail. Not only do you get paid for your time, but you get to keep the products or services you purchase for free.
6. Keep earning money (and experience) from your skills All through the pandemic, we saw that even in an economic slowdown, there are still businesses out there looking for copywriters, graphic designers, web developers, translators, tutors and so on.
And with everyone working remotely for now, you can freelance from anywhere in the world.
If you have a special skill or talent, now's the time to capitalize on it. While there's always a large supply of available workers during economic slumps, your talent will help you stand out. As they say, the cream always rises to the top.
When you've got strong qualifications or an excellent track record, your first step should be engaging in some self-promotion.
Think about signing up on an online marketplace for freelance services. There are many out there and each caters to different types of freelancers:
Fiverr.
Upwork.
99designs.
Guru.
Outsourcely.
Freelancer.
Truelancer.
Toptal.
PeoplePerHour.
But if you're serious about freelancing in the long term, you'll want to set up a professional website. Maybe you can even use some of the cash you saved through Slide to pay for a few months.
The great thing about freelancing on the side is that you'll build up your experience and portfolio, which will be handy when the economy picks back up again.
7. Top up your bank account by decluttering your home Given how much time we've all spent at home over the last year, it should be fairly easy to identify what you don't use or need anymore.
Take a tour of your home and set aside all the things of value you know you can part with. If there are items you only suspect you can live without, set those aside separately.
With the belongings you know you can part with, start to post and sell them through sites like eBay, Poshmark, ThredUp or Swap.com.
After a few weeks, return to the box of items you weren't sure you could live without. If you haven't thought of or needed anything from that pile since you put it away, maybe it's time to add to your "to sell" pile.
Not only will you earn a little extra cash through this process, you'll be decluttering your home as you go.
Who knows — maybe you'll free up enough space to be able to use your basement or spare room for short-term rentals as well.
And you can channel the cash back into your other money-making efforts like investing or setting up your side business.
But don't forget to plan for the future. It's a good idea to set up an emergency fund or build some savings through a Betterment high-yield savings account.
8. Convert your car into an income magnet If you've just been sitting at home during the pandemic, we're going to assume your car's been in park all this time, too.
The hundreds of dollars you're paying every month on your car lease or finance payment as well as your auto insurance have just been going to waste. You've basically been lighting money on fire without even burning gasoline.
But there's a simple way to get some value out of your car: Why not consider using it to deliver groceries or takeout? Such services are in high demand, now that people are avoiding stores and restaurants.
When it comes to delivery services, there's a whole assortment of options you can sign up for as a driver:
DoorDash.
Uber Eats.
GrubHub.
Seamless.
Postmates.
Instacart.
If you're in between gigs or have plenty of spare time, you even can sign up for multiple services.
The best part about this option is that you don't have to invite strangers into your car and can even choose contactless delivery if you're anxious about the virus.
9. Tutor or teach kids If you have a useful skill like a second language, a STEM background, or musical or artistic talent, you can offer tutoring or teaching sessions for kids.
With everyone at home and remote learning becoming more familiar, it's a great time to launch an online tutoring business.
To do this from home, you'll only need an internet connection and a smartphone, laptop or tablet. And you'll be saving on studio or office space and travel expenses, meaning you'll get to pocket a greater proportion of the revenue.
10. Turn your hobby into a moneymaker
Do you have a hobby or personal interest that other people find interesting? Well, that can also be a source of income if you start a blog, podcast or YouTube channel.
You'd be surprised by what kinds of activities you can monetize these days:
Haircare.
Makeup application/reviews.
Nail design.
Video game playing/reviews.
Unboxing videos (which is exactly what it sounds like).
Knitting or sewing.
Popular-culture commentary.
With enough followers, you can start to generate a few hundred dollars a month through advertising and affiliate marketing.
If you build up a large enough audience, you can even set up a "fan funding" stream. A Patreon, Tipeee or YouTube Super Chat account allows you to collect tips or donations from your followers to support your work.
Sponsored
Kiss Your Credit Card Debt Goodbye
Millions of Americans are struggling to crawl out of debt in the face of record-high interest rates. A personal loan offers lower interest rates and fixed payments, making it a smart choice to consolidate high-interest credit card debt. It helps save money, simplifies payments, and accelerates debt payoff. Credible is a free online service that shows you the best lending options to pay off your credit card debt fast — and save a ton in interest.