Americans have spent away their pandemic savings
The money maven went on to explain that during the first couple years of the COVID-19 pandemic, Americans were hoarding away some major savings.
Stimulus checks were bringing extra income, student loan repayments were on pause and isolation measures ensured folks saved on their work commute and coffees and spent less on things like travel and dining out.
But when these measures were lifted, many consumers made up for lost time by splurging on luxury items, concert tickets and travel. Their big cash cushion facilitated higher spending and helped the country sidestep a recession, while also pushing inflation only higher.
However, since then, 80% of Americans have run out of their extra savings — and now have less cash on hand than they did when the pandemic began.
"What if I were to tell you that 75% of the people in the U.S. don't have $400 to their name in case of an emergency," Orman says. "On the whole, ordinary human beings in America today are living paycheck to paycheck, and they're not doing well at all, in my opinion."
Kiss Your Credit Card Debt Goodbye
Having a single loan to pay off makes it easier to manage your payments, and you can often get a better interest rate than what you might be paying on credit cards and car loans.
Fiona is an online marketplace offering personalized loan options based on your unique financial situation.
When you consolidate your debt with a personal loan, you can roll your payments into one monthly installment. Find a lower interest rate and pay down your debt faster today.
Get Started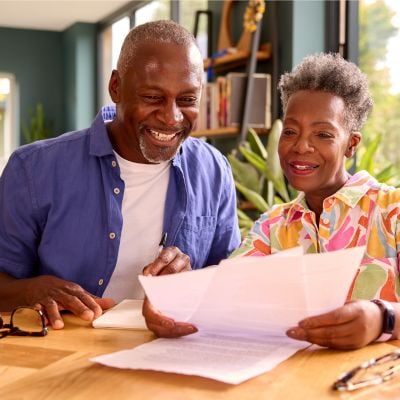 You need to make your own "financial vaccine"
Orman fears that very soon, Americans will be unable to pay off their credit card balances and bankruptcies will go up — unless folks figure out how to get their finances under control soon.
Take a good look at your spending habits and consider keeping track of your monthly income and expenses with a spreadsheet or notebook. If you're making a budget, it's crucial that you stick to it.
Next, make a game plan to help you pay off your debts. Several experts recommend the avalanche method, in which you focus your efforts on the balance with the highest interest rate attached to it and work your way down your list. This way you'll lose less money to interest over time.
You could also consider consolidating your debts if you're having trouble keeping track of all your credit cards and loans.
And make sure you have an emergency fund in place in case something goes wrong — say you lose your job or get hit with a big car repair bill. Orman recommends saving between $1,000 to $2,000 to get you started.
It might even be helpful to chat with a financial adviser, who can examine your finances and help you get on track with your savings goals.
More: Find the best high-yield savings account
Sponsored
Follow These Steps if you Want to Retire Early
Secure your financial future with a tailored plan to maximize investments, navigate taxes, and retire comfortably.
Zoe Financial is an online platform that can match you with a network of vetted fiduciary advisors who are evaluated based on their credentials, education, experience, and pricing. The best part? - there is no fee to find an advisor.