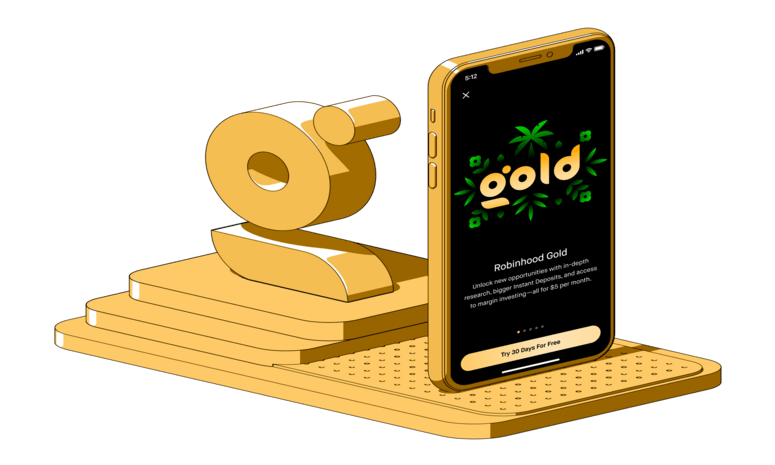 Is Robinhood Gold worth it?
We adhere to strict standards of editorial integrity to help you make decisions with confidence. Please be aware that some (or all) products and services linked in this article are from our sponsors.
We adhere to strict standards of editorial integrity to help you make decisions with confidence. Please be aware that some (or all) products and services linked in this article are from our sponsors.
In 2016, Robinhood launched Robinhood Gold, its premium subscription that gave its members more in-depth research, larger instant deposits, and better margin rates. And for the low price of $5 per month, it might seem like a steal versus paying for various stock research services or trading on margin at other brokers.
For some investors, Robinhood Gold is definitely a steal. But it's not necessarily worth it depending on your trading style and research needs.
That's why we're covering exactly what Robinhood Gold offers, what your alternatives are, and how to decide if it's worth it.
What does Robinhood Gold offer?
There are five main perks you get for paying for Robinhood Gold, mostly relating to better research and data and lower margin rates. Here's a breakdown of each feature so you can ultimately decide if Robinhood Gold is worth paying for.
Larger instant deposits
As a Robinhood Gold user, you get larger instant deposit limits than regular customers depending on your brokerage account balance:
$5,000 if your portfolio is under $10,000
$10,000 if your portfolio is over $10,000
$25,000 if your portfolio is over $25,000
$50,000 if your portfolio is over $50,000
This might not sound like a useful perk, but normal transfers can take up to five business days to settle. This waiting period could mean that you miss a critical time to buy a stock or other security you've been eyeing.
Level II market data
Robinhoodhas partnered with Nasdaq to provide Gold customers Level II market data from Nasdaq Totalview. This provides data for multiple bid and ask prices from Nasdaq to help investors better gauge supply and demand.
Having the full-depth of bid and ask prices can assist with technical analysis since you get a more full-picture of how a security is trading, not just the best bid and ask price.
Premium Morningstar research
One of the best perks of Robinhood Gold is free access to professional research from Morningstar. This means you can read in-depth stock reports for 1,700+ stocks right from Morningstar. These reports include information like:
Analyst ratings
Company strategy
Economic moat
Risk
Leadership
What's nice about Morningstar reports is that reports generally publish when major events impact a company or near earnings report. This helps provide up-to-date information to help you with your market research.
Plus, Morningstar Premium costs $34.95 if you pay monthly, so getting some of its stock reports for Robinhood Gold's low monthly cost is a pretty good deal.
Lower margin rates
One final perk you get with Robinhood Gold is a lower margin rate. Robinhood Gold customers get a 5% margin rate on margin over $1,000 instead of the 9% regular customers get, which could mean massive savings if you're trading a significant amount on margin. And your first $1,000 of margin trading is covered by your Gold membership.
Online brokers like Interactive Brokers still have lower rates and are one of the better platforms for margin trading. But in the world of investment apps, Robinhood Gold offers some of the top margin rates out there.
Boosted brokerage cash sweep APY
The latest feature for Robinhood Gold is its increased brokerage cash sweep APY. Now, Gold customers earrn 3.75% APY on the uninvested cash in their accounts. In comparison, regula customers earn 1.5% APY. Interest compounds daily and is paid out monthly by program banks back to Robinhood customers.
To enable this feature, you simply turn on the "Enable cash sweep" button and you're off to the races.
This 3.75% APY is another massive selling point for Robinhood Gold. After all, this is higher than some high-yield savings accounts and cash management accounts, and it makes sure all the money in your brokerage account is being put to work at a given time.
We still suggest exploring high-yield savings options like Aspiration, Varo, and Current for your emergency funds and idle cash because rates are higher. But this latest Robinhood Gold perk is definitiely another fantastic improvement.
How much does Robinhood Gold cost?
Robinhood Gold is free for the first 30 days and then costs $5 per month afterwards. As for your margin cost, interest is calculated daily and is then charged to your account at the end of every 30-day billing cycle.
Is Robinhood Gold worth it?
Robinhood Gold is worth paying for if you regularly trade on margin or plan on using its Morningstar research reports and Level II Nasdaq data. Paying $5 a month for all this data is a very reasonable price, and the margin rate savings you get can easily cover the cost.
If you just use Robinhood to occasionally invest in stocks, ETFs, or crypto, you probably don't need to pay for Robinhood Gold. It already offers commission-free stock and ETF trades which is perfect for casual, retail investors. And if you keep your account well-funded, you should be ready to trade or dollar-cost average yourself into the market.
Sign up for Robinhood Gold
Robinhood Gold alternatives
In recent years, Robinhood has become one of the go-to apps for retail investors, options traders and yolo-stock traders alike. And with Robinhood Gold, you get much more data, research, and better margin rates.
However, there are numerous Robinhood Gold alternatives you can try that also have excellent research offerings and competitive rates.
For example, online brokers like TD Ameritrade or Webull have plenty of educational resources and research to help beginner and experienced investors. And similar investing apps like Public are just as beginner-friendly as Robinhood but also have a social investing aspect where you can follow other investors.
| Highlights | Webull | Public.com |
| --- | --- | --- |
| Rating | 4.3/5 | 3.5/5 |
| Min. Investment | $0 | $0 |
| Stock Trades | $0/trade | $0/trade |
| Options Trades | $0 | N/A |
| Crypto Trades | ✅ | ✅ |
| Mutual Funds | ❌ | ❌ |
| Virtual Trading | ✅ | ❌ |
| - | Open Account | Open Account |
| - | Read Review | Read Review |
You can read our post on the best Robinhood alternatives for even more investing options.
Bottom line on Robinhood Gold
As one of the most popular trading apps, it's nice that Robinhood has different account options to cater to different types of customers. And with a fairly low $5 monthly price tag, Robinhood Gold delivers a fair amount of value for a reasonable cost in my opinion.
Occasional, passive investors can probably skip out on paying $5 a month for Robinhood Gold. But you can always test out the plan with its free trial to see if the extra data and research is worth it. And if you're trading on margin, Robinhood Gold is absolutely worth paying for.