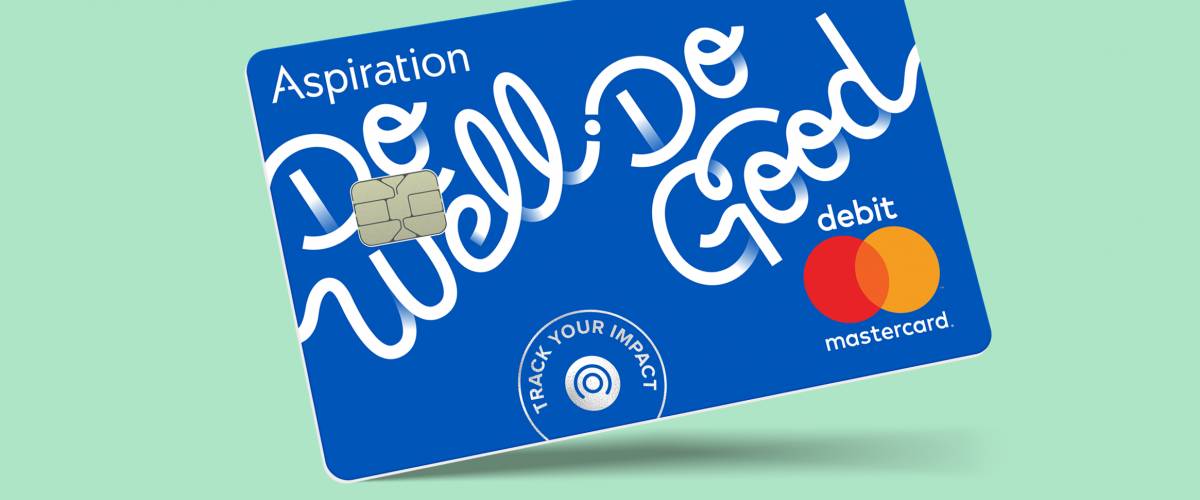 As a customer with one of the "Spend & Save" accounts, I'd use quirky to describe Aspiration, and I mean that in a good, likable way. Fees are voluntary, the debit card is "planet friendly" (made of recycled plastic), and your purchases with the card can help plant trees.
Is opening an Aspiration Spend & Save Account worth it? Let's take a look.
Pros
Deposits can earn up to 1.00% APY, higher than most accounts.1
Spending with the debit card earns up to 10% cash back.
There's no monthly fee for the basic account (unless you want one) and no overdraft fees.
Unlimited free ATM withdrawals are available through the Allpoint nationwide network.
Aspiration has many environmentally friendly policies.
Cons
Fundamental stuff about how the account works can be confusing.
The 1.00% APY is not easy to get.
The best cash back rates are available through only a limited number of businesses.
There are no physical branches, and cash deposits aren't possible.
If you want paper checks, you need to ask for them, and they're not always free.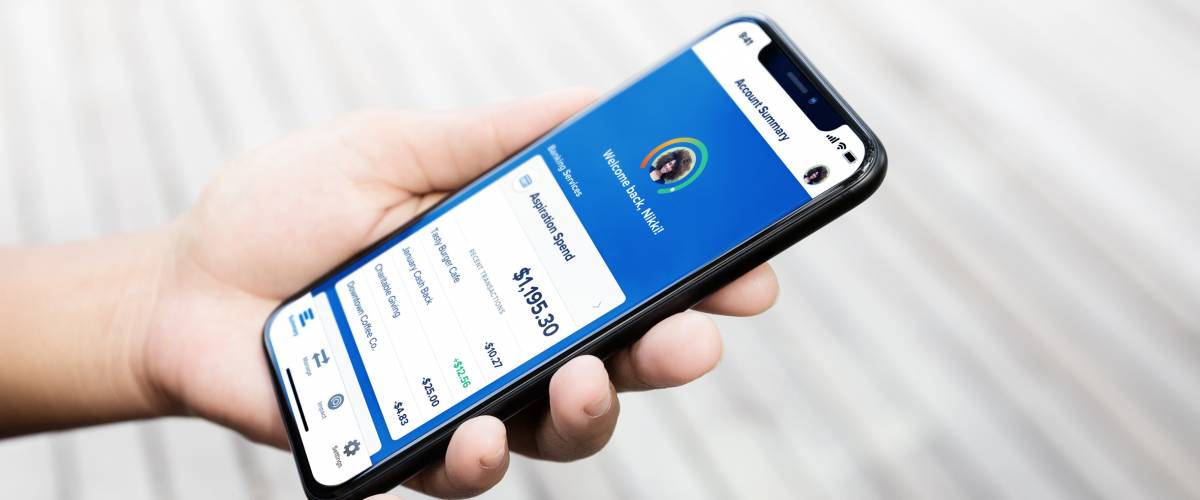 What is Aspiration? Is it a bank?
Nope, Aspiration is not a bank, and its accounts are not "bank accounts." Technically, the company is a broker-dealer offering "cash management accounts."
With Aspiration, you get the ability to save and earn interest similar to a savings account, plus the ease of making withdrawals and spending your money, similar to a checking account. An Aspiration debit card works just like a standard checking account debit card.
If you hate bank fees (and who doesn't?), an Aspiration account is a good choice because you can avoid many of the usual charges, like monthly service fees and ATM fees.
I have one of the accounts, and what I find really interesting and cool about Aspiration is its many socially conscious features. Plant Your Change, for example, helps fight deforestation by planting one tree every time you allow a purchase with your debit card to be rounded up to the nearest whole dollar.
Is Aspiration legit?
Totally, even though its accounts are a little different from what you're accustomed to.
In fact, Aspiration is so legit that its consumer protections go above and beyond what you'd get from a conventional bank.
Your money in a typical bank account is protected by FDIC insurance up to $250,000, but Aspiration boasts that it's able to provide FDIC protection for up to $2.46 million in deposits.2
Aspiration Spend & Save review
So just what is an Aspiration Spend & Save account? Aspiration calls it "the world's first cash-back account that lets you track the impact of your spending — all managed through one intuitive app."
I see it as an account that will have you rethinking how you park and use your money, particularly your paycheck. Do you want it automatically going into a checking account where it'll earn little or no interest? Why are you still paying account fees? Why isn't your debit card giving you cash back?
And, if you care about the world we live in, why not express that through your banking experience?
Here's a closer look at the pros and cons of Aspiration's cash-management accounts.
The benefits of a Spend & Save account
Easy sign-up process. It took just a few minutes for me to open my account and fund it by linking to my everyday checking account and setting up a transfer. You can start an Aspiration account with as little as $10.
Attractive interest on your savings. You can earn up to 1.00% APY, which is as much as 15 times the national average for savings.1
Fee-free ATM transactions. Customers can take advantage of unlimited free withdrawals at more than 55,000 Allpoint network ATMs. The Aspiration mobile app has a handy ATM finder that shows my nearest ATM is inside a major chain store less than a half-mile from my house.
When you upgrade to an Aspiration Plus account (costing $3.99 a month), you're reimbursed for one out-of-network ATM fee per month.
Minimal fees of any kind. Basic Save & Spend accounts come with no monthly maintenance fees, though account holders are encouraged to "pay what is fair" if they want. (I'm paying $1 a month. Just seemed like the right thing to do.) Aspiration also doesn't charge overdraft fees; it says the accounts and debit cards are set up in ways that stop you from making transactions if you've got insufficient funds.
When using the debit card overseas, you'll pay a 1% foreign transaction fee.
Cash-back rewards. You can earn up to 10% cash back on purchases with the Aspiration debit card, and there's no limit on the cash back you can rake in.
"Green" features. Besides Plant Your Change and the recycled-plastic debit cards I've already mentioned, Aspiration offers "Planet Protection" that can kick in each time an Aspiration Plus account holder buys gasoline with the debit card. To counter the emissions from the fuel, Planet Protection purchases carbon offsets — in other words, it supports projects to reduce pollutants in the atmosphere.
Your money's protected. Again, deposits are FDIC-insured, up to $2.46 million per depositor.
Cellphone insurance. Your smartphone is covered for damage or theft up to $600 when you pay your monthly mobile bill using your Aspiration debit card.
Free payments by check. Aspiration's free payments feature allows you to pay a business or friend using the app. You schedule the payment, Aspiration mails out a paper check with your name and address printed on it, and the recipient gets the payment within five to seven business days.
Security features. Accounts are protected with automatic sign-out when you accidentally leave your account open on your computer or the app. Login requires multifactor authentication: You might receive a code via your mobile phone and then be required to enter it in order to access your account.
The drawbacks
Account basics can be puzzling. I assumed that any money in my Spend & Save account would automatically accrue interest, but it wasn't immediately clear to me that the account is divided into "Spend" and "Save" halves.
Money on the Spend side is available for purchases with the debit card and has the potential to earn cash back. But you have to transfer funds over to the Save side if you want to earn interest.
What I also didn't realize at the outset was that an Aspiration Plus upgrade (at $3.99 a month) is necessary for earning any interest on your savings.
Nailing the 1.00% APY is tough. To earn the top interest rate, an Aspiration Plus account holder must spend $1,000 or more each month using the Aspiration debit card. The 1.00% APY applies only to savings balances up to $10,000; amounts over $10,000 earn 0.10% APY.
Aspiration Plus members who don't make the required purchases with the debit card earn 0.25% APY on balances up to $10,000 and 0.10% on amounts above the threshold.
No cash deposits, and checks must be requested. Aspiration doesn't have any brick-and-mortar branches or any way of accepting cash deposits, not even through the ATM network it uses. Checks can be deposited using the mobile app.
If you're old-fashioned and want a set of paper checks, you'll need to fill out an online form and request them. The first batch is free, but follow-up orders will cost you a shipping fee.
Cash back is layered and limited. The 10% cash back on debit card purchases is available only to Aspiration Plus members and only when spending at more than a dozen "like-minded merchants" who are members of the Aspiration Conscience Coalition.
Customers with basic accounts earn 5% cash back at some of those businesses, 4% at others and 3% at the rest.
All account holders can get as much as 0.5% to 1.0% back when spending at numerous other businesses that Aspiration says have policies that are good for the planet.
The bottom line: Is Aspiration Spend & Save worth it?
I'm happy to have the Aspiration debit card in my wallet. You may feel likewise if you're looking for something different from the big banks, which can seem more interested in taking your money than helping you make something with your money.

The accounts have all the good things you want — like FDIC insurance, a network of ATMs to use, safety features and few of those annoying and costly account fees — and lots of surprising perks.

I'm using a debit card that not only gives me cash back but also takes spare change I wouldn't think twice about and uses it to literally make the planet greener. The app tells me I've planted five trees in the last two weeks. I think that's so cool.

We've awarded Aspiration 4 out of 5 stars. I did find some aspects of Spend & Save a little nonintuitive, and to reap the best benefits you need to update your account and pay $3.99 a month.

But the basic Spend & Save account offers all of the essentials and more — at the best possible price. You can pay nothing at all if you choose. Plus, the cash-back feature essentially provides you with savings when you use the debit card, and your account helps you help the world. Is that "worth it"? Definitely.

The MoneyWise editorial team developed a grading system — taking into account fees, features and other factors — to prescribe the four-star rating shared in this first-person review. The opinions and writing in this article are solely my own, conveying my experience with Aspiration as a product. Other customer's outcomes may differ.

2 Deposits are FDIC-insured up to $2.46 million per depositor by being swept to FDIC Member Institutions. Visit fdic.gov and aspiration.com/program-banks.

`