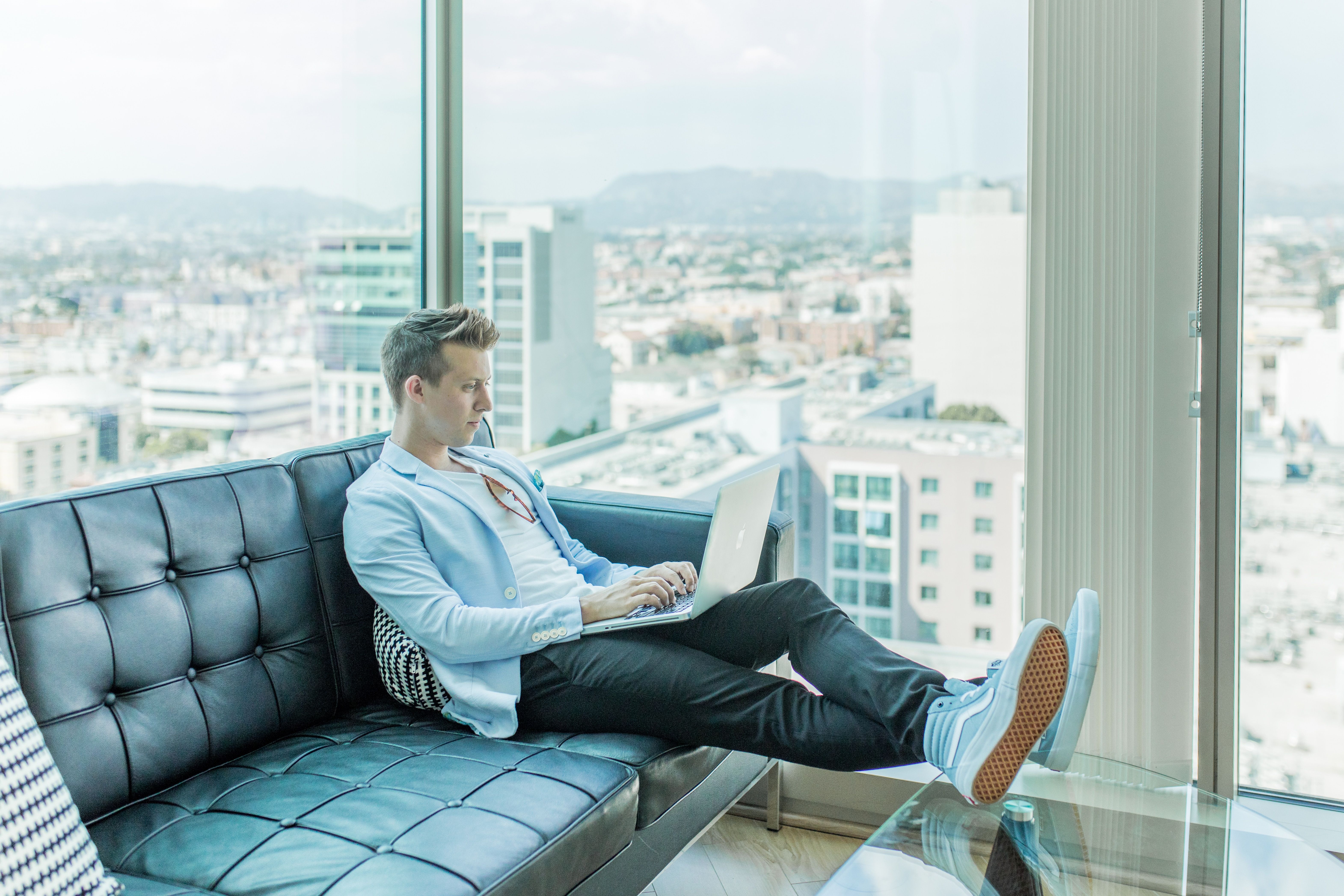 man on laptop reading a bank review / Unsplash
🗓️
Updated: February 21, 2023
We adhere to strict standards of editorial integrity to help you make decisions with confidence. Please be aware that some (or all) products and services linked in this article are from our sponsors.
We adhere to strict standards of editorial integrity to help you make decisions with confidence. Please be aware that some (or all) products and services linked in this article are from our sponsors.
These days, it seems like online-only banks are launching every month. And for customers looking for high interest rates and low fees, this is excellent news, provided you don't want to use physical branches.
But not all digital banks are created equal. And many of the newer players in the space often cap rewards and interest rates at low thresholds, or have hidden fees.
Enter Quontic, a long-standing, digital-only bank that has excellent rewards checking accounts and a variety of savings products. If you're looking for a safe, competitive online bank to store your cash, it could be exactly what you're looking for.
Our Quontic Bank review is covering all of the major account types, interest rates, perks, and how to decide if this is the right banking solution for you.
Pros
No monthly account fees
Earn competitive interest rates on cash balances
Up to $250,000 in FDIC insurance
Offers a unique Bitcoin Rewards Checking Account
Low account minimum opening requirements for most accounts
Cons
No physical branches
No weekend customer phone support
Doesn't accept cash deposits
About Quontic Bank
Quontic Bank is an online-only bank that began in 2009. It's best known for its high-yield savings account and other savings products, as well as its lending and mortgage side of the business.
If you're looking for a full-service online bank with a brokerage element or financial advisors, look elsewhere. But for a practically no-fee digital bank with excellent checking and savings products, Quontic Bank is certainly worth exploring further.
Quontic Bank account options
Quontic high interest checking
One of Quontic's main checking accounts is its high interest checking account that currently pays 1.10% APY on all balance tiers. There aren't any account fees, and the minimum account opening requirement is only $100.
Just note that you must make at least 10 qualifying debit card point of sale transactions of $10 or more per statement cycle to qualify for the highest APY. Otherwise, your APY drops to 0.01% APY.
This card also provides fee-free withdrawals at participating AllPoint, MoneyPass, SUM, and Citibank ATMs. But the 1.10% APY is the main selling point, so consider this account if you're willing to do some monthly spending with your debit card.
Bitcoin Rewards Checking
If you want to gradually add Bitcoin to your portfolio instead of earning regular cash back, Quontic's Bitcoin Rewards Checking account could be for you.
This account pays you 1.50% cash back in Bitcoin for every debit card transaction. Once you make a point-of-sale (POS) transaction, your card earns USD that's used to purchase Bitcoin the following day at 4pm London Time. Your Bitcoin is held in a separate account from NYDIG, not Quontic. Bitcoin rewards don't expire, and you can redeem your crypto into cash at any time for a 2% fee.
There's a $500 minimum account opening requirement. Overall, this account provides a simple way to diversify your portfolio with a bit of crypto without using an exchange. However, the 2% fee to cash out your Bitcoin is a downside, so this account is really only worth it if Bitcoin appreciates and you hold long-term.
Also note that options like the Coinbase Card or BlockFi Card support a larger number of coins and can pay higher crypto-back rates.
Cash Rewards Checking
Like its Bitcoin account, the Quontic Cash Rewards Checking account pays you 1.50% APY at the time of writing on all settled point-of-sale debit card transactions. There aren't any account fees, and the minimum opening requirement is only $100 unlike the Bitcoin account.
You have to spend with your debit card quite regularly for this account to make sense, but 1.50% is very competitive for a checking account.
Note that transactions like ATM transactions, account transfers, peer-to-peer payments, and loan payments don't qualify as POS transactions.
Quontic high-yield savings
One of Quontic's best accounts is its high-yield savings account. It pays 3.50% APY, and there aren't any monthly fees. Plus, the minimum account opening requirement is only $100, and interest compounds daily and is paid out monthly.
You can only make six withdrawals per statement cycle. But this account is still an excellent home for an emergency fund or some extra cash you're waiting to invest.
Some other mobile banks have higher interest rates. For example, Current and Varo can pay up to 4% and 5% APY respectively. But these accounts cap at around $5,000, whereas Quontic doesn't have a balance cap for its APY.
Get started
Quontic Money Market Account
With Quontic's Money Market account, you earn 3.50% APY, making it another competitive option for your emergency fund or cash. Like its savings account, there's a $100 minimum opening requirement and limit of six transfers per statement cycle.
With no account fees and a high interest rate, this is one of the better money market accounts on the market right now.
Open a MMA
Quontic certificate of deposits
A certificate of deposit provides a safe, fixed-income investment that's useful if you're willing to lock-up your money for a certain period of time. And Quontic offers some excellent CD rates at varying terms, with all terms having a $500 minimum opening requirement.
Quontic's CD terms and rates are as follows:
Term
6 months
1 year
2 years
3 years
5 years
You can face early redemption penalties if you redeem a CD before maturation. Penalties vary depending on the CD term, so make sure you don't need the funds you're depositing to protect your gains.
If you're looking for more flexible CD options, our post on the best no-penalty CD rates is worth checking out.
Open a CD
Other Quontic Bank features
Aside from its checking and savings products, Quontic also offers mortgages, community development loans, VA loans, and mortgage refinancing. And many customers use Quontic for its lending services, not just its digital banking options.
What I like about Quontic is that it's also quite forward thinking and, frankly, a bit more fun than your average bank.
For example, you can actually visit Quontic in the metaverse if you hop into Decentraland to chat with visitors and even acquire exclusive NFTs. And it also launched the Quontic Pay Ring, a wearable ring that lets you use funds from your Quontic Checking Account instead of relying on your debit card.
Will small features like this make you switch to Quontic? Probably not. But I like that this digital bank is innovating its accounts and offerings while also providing very competitive rates.
Quontic Bank fees and minimums
Quontic Bank doesn't charge any monthly account fees for its checking, savings, or money market accounts. However, you may pay a $5 monthly inactivity fee if your account becomes dormant. Quontic doesn't specify what time period counts as being inactive, but it provides you with written notice of the pending charges before actually charging you.
These days, the leading online banks are all practically fee-free, so it's nice that Quontic is staying competitive and eliminating fees wherever possible.
Is Quontic Bank safe?
As a Quontic Bank customer, you get up to $250,000 in FDIC insurance for your deposits. This includes every account type, not just a checking or savings account. This level of coverage is in-line with other mobile banks, and it makes Quontic safe to deposit your money with.
How do I contact Quontic Bank?
You can reach Quontic customer support by calling 1-800-908-6600 or by emailing customerservice@quonticbank.com. Phone customer support is available 9 am to 6 pm EST, Monday through Friday.
The company has a 4.1 star rating on Trustpilot, with many positive reviews relating to Quontic's separate mortgage service as well as its attentive customer service team. However, a lack of weekend phone customer support is a small downside.
Best alternatives
We like Quontic Bank for its lack of fees and competitive interest rates for its high-yield savings and money market accounts. But it also holds its own against the competition in the world of rewards checking accounts and CDs.
However, some other mobile banks also offer excellent savings products and checking accounts. Plus, some of Quontic's competitors also have more investing and fixed-savings products:
Savings, Checking, Money Market, CDs
Savings, Checking, Money Market, CDs
Ally is one of our favorite alternatives if you're looking for something more full-service. It has competitive savings products but also lets you invest through Ally Invest or its robo-advisor. And you don't have to worry about account fees for most accounts, just like Quontic.
As for CIT Bank, it has some of the best high-yield savings, CDs, and money market accounts out there. And if you're willing to open an eChecking account with CIT Bank, its Savings Connect account pays a higher interest rate than Quontic's high-yield savings account.
Finally, Capital One 360 is an excellent alternative if you want to open a rewards checking account for your teen or try its competitive 360 Performance Savings account.
The bottom line
Quontic Bankisn't a full-service online bank like some of its competitors, but it excels at what it does offer: competitive checking and savings products. If you're tired of bank fees and want to earn meaningful interest on your cash, it's certainly worth considering.
As mentioned, some online banks offer higher interest rates but cap your earnings at a certain dollar amount. So, don't be afraid to park some cash with accounts from companies like Aspiration, Current, and Varo. You can then move your remaining cash to a bank like Quontic to maximize the interest you earn.