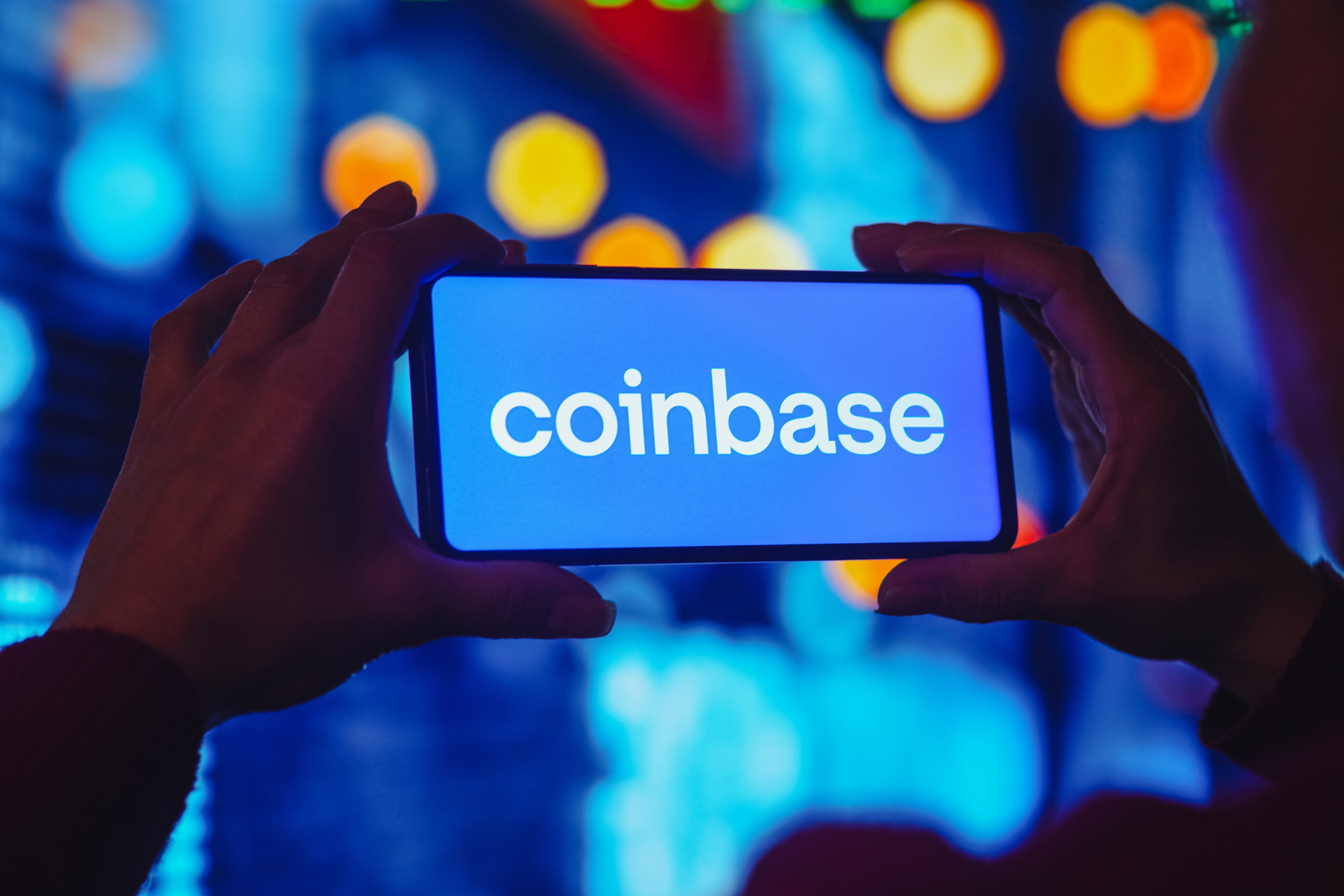 Coinbase Card review 2023: Is this crypto rewards card worth it?
rafapress / Shutterstock
We adhere to strict standards of editorial integrity to help you make decisions with confidence. Please be aware that some (or all) products and services linked in this article are from our sponsors.
We adhere to strict standards of editorial integrity to help you make decisions with confidence. Please be aware that some (or all) products and services linked in this article are from our sponsors.
Coinbase card features
Coinbase is one of the most popular and beginner-friendly exchanges in the world. And with its crypto debit card, its customers can now earn a variety of rewards for their daily spending and diversify their portfolios.
Flexible crypto rewards
The Coinbase card pays up to 4% back in crypto rewards on every purchase. You get to pick the type of crypto you get paid with as well, which is an advantage of this card.
However, how much you earn varies by crypto. For example, right now altcoins like The Graph and XLM pay 4% back, but Bitcoin and Ethereum pay 1%. Meme coins like Dogecoin also pay 1% at the time of writing.
Crypto rewards also rotate now, which is new for the Coinbase card. Rewards have expiration dates, so you have to select which reward you want and maximize your crypto-back rewards before the period ends.
For now, you can check your Coinbase account to see current reward rates per crypto. But know that it's normally altcoins that pay the highest 4% amount while major cryptos like Bitcoin and Ethereum pay less.
No annual fee
There isn't an annual fee for the Coinbase card. This is common for crypto rewards cards, and cards like the BlockFi Rewards credit card or Crypto.com card are also fee-free. But it's nice that you aren't getting dinged with annual fees from Coinbase.
Spend crypto or fiat
You can spend crypto, USDC, or USD with the Coinbase card. You don't pay transaction fees for spending with this card. However, Coinbase charges a 2.49% crypto conversion fee when you spend crypto. This is because Coinbase has to convert your crypto into fiat to pay for everyday goods and services.
This fee is hidden within the Coinbase MetaBank Cardholder Agreement, so customers don't always realize this. Because of the high liquidation fee, stick to spending USD or USD Coin since these don't incur conversion fees.
No credit check requirement
Since the Coinbase card is a debit card, you don't need a minimum credit score to apply. And Coinbase doesn't run a credit check. You spend funds directly from your Coinbase balance so you're not using a line of credit.
Global acceptance
The Coinbase card is powered by Visa, meaning you can spend your crypto and cash at millions of businesses around the world. You don't pay foreign transaction fees either and you can also withdraw up to $1,000 per day from ATMs.
Rates and fees
As mentioned, the Coinbase card doesn't charge an annual fee. However, you pay a cryptocurrency conversion fee of 2.49% if you spend crypto or convert crypto into cash when using an ATM.
This fee is incredibly important to keep in mind when spending. After all, earning 1% back in BTC or ETH isn't worth it if you're spending crypto and paying 2.49% in conversion fees.
Who is eligible?
The Coinbase card is available to all U.S. Coinbase customers except in the state of Hawaii. It's also available in several European countries and the UK, and the company is working on expanding to new markets.
In the U.S. requirements to open this card include:
Having an open Coinbase account
Completing verification requirements
Being 18 or older
Completing verification for your Coinbase account requires uploading a photo of government ID, like a driver's license or passport. Coinbase also requires your SSN, name, and date of birth.
Coinbase card benefits
The main benefit of the Coinbase card is that you earn crypto rewards for your everyday spending. And now that the card has rotating rewards, you can diversify your portfolio of digital assets more easily. Plus, the maximum 4% crypto-back rate for certain coins is higher than many basic cash-back credit cards.
A lack of fees is also a plus, and overall, the Coinbase card is an excellent rewards card for true crypto enthusiasts.
What are the drawbacks?
The main drawback of this card is the 2.49% crypto conversion fee. This fee is so high that it makes it almost pointless to spend your crypto to earn crypto back. In fact, since many crypto reward options only pay 1% back, you're technically losing money by spending crypto in some cases.
Ultimately, this card is best if you spend USD or USDC, but avoid spending your crypto at all costs.
This practice also makes sense if you think about the opportunity cost of spending your Bitcoin on something like groceries. Sure, you earn some crypto back as a reward, but what if BTC appreciates significantly in the next few months or years? Suddenly the $100 of BTC you spent on groceries would have been worth $150; much more than the small amount you got back in rewards.
Also note that some customers report waiting months to get their cards while others got their cards very quickly. Coinbase isn't using a waitlist system, but it could still take weeks or months in some cases for you to finally use your card.
Best alternatives
If you're currently using Coinbase, this card is an obvious choice. And as long as you don't spend crypto, you can avoid the high conversion fees that are the card's main downside.
That said, there are several other reward cards that might suit certain crypto investors better than the Coinbase card.
BlockFi Rewards credit card
BlockFi Rewards credit card
Best for: Welcome bonus
BlockFi is a popular crypto trading and lending platform that lets customers earn passive income on their crypto. Its BlockFi Rewards Visa Signature Card is also one of the best crypto rewards cards on the market.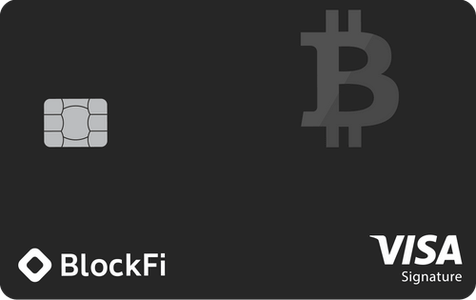 This credit card pays unlimited 1.5% back in crypto of your choice. There's also a 3.5% crypto-back rate welcome bonus that lasts up to 3 months or until you reach $100 worth of BTC. Plus, you don't pay annual fees or foreign transaction fees like with Coinbase.
The main difference between BlockFi's card and Coinbase is that BlockFi offers a credit card. This means there's a soft pull on your credit check when applying and a hard pull if you open the card, which may impact your credit score.
Uphold Debit Card
Uphold debit card
Best for: Versatile rewards
Uphold is a popular investing platform that lets you trade crypto, commodities, U.S. stocks, and currencies. It also has a waitlist for its debit card that's coming out, and this card is an excellent alternative to Coinbase if you like variety.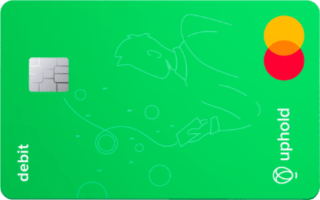 This card lets you spend crypto, fiat, and even precious metals from your Uphold account to earn. You get a flat 2% back when you spend crypto and 1% back when you spend USD. Uphold supports over 100 cryptocurrencies, and rewards pay out in-kind, so you can earn a variety of digital assets as you spend.
Uphold also has a lucrative staking program that pays over 15% APY on certain coins, and it's a versatile investing platform for several asset classes. You can read our Uphold review for all the details.
Crypto.com card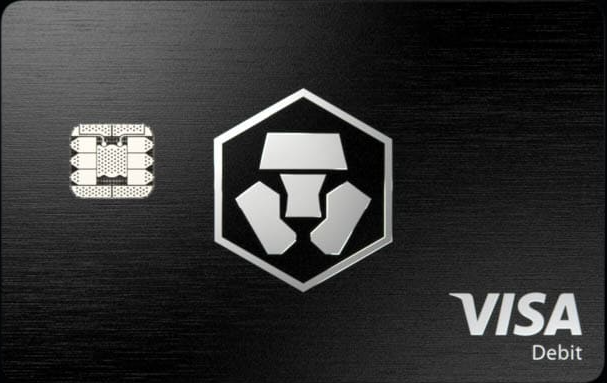 Best for: Serious crypto traders
Crypto.com is one of the most popular cryptocurrency exchanges in the world. And for serious traders, it offers some of the highest crypto-back rates out of any card.
That's because Crypto.com's card uses a tiered reward system that gives you better rates the more CRO you own and stake. CRO tokens are the platform's native token, so it's Crypto.com's way of incentivizing people to own its token.
You can get up to 8% back in CRO for everyday spending with this card at the maximum tier. However, this requires owning $400,000 USD worth of CRO. For many customers, earning 2-3% is probably more realistic, and the card's base rate is 1% back.
This card doesn't have annual fees, and certain tiers even get perks like 1005 reimbursement on monthly subscriptions like Amazon Prime, Netflix, and Spotify.
Want free crypto?: The best crypto sign-up bonuses.
Is the Coinbase card worth it?
If you're an active Coinbase user and hold cash or USDC in your account, the Coinbase card is worth using. The rotating rewards help you diversify your portfolio. And earning 4% back on certain cryptos is one of the highest rates out there.
However, avoid spending crypto to earn crypto at all costs. The 2.49% conversion fee is the main downside of this otherwise fee-free card. But if you only spend cash or USDC, you're in the clear.
BlockFi bankruptcy notice-On Nov. 10, 2022, BlockFi announced that it had to suspend withdrawals from its platform due to the FTX liquidity crisis. As a result, consumers should not be using the BlockFi platform. As of Nov. 28, 2022, BlockFi officially declared bankruptcy.
Further reading: