Diego Thomazini / Shutterstock
We adhere to strict standards of editorial integrity to help you make decisions with confidence. Please be aware that some (or all) products and services linked in this article are from our sponsors.
We adhere to strict standards of editorial integrity to help you make decisions with confidence. Please be aware that some (or all) products and services linked in this article are from our sponsors.
If you're looking for a comprehensive investment service that also provides a one-stop shop for your entire financial life, Ally Invest should be on your shortlist of choices.
The company not only offers self-directed trading, including commission-free trades on the most common securities, but also a robo-advisor option if you prefer professional management. And for investors with larger portfolios, they provide a low-cost wealth management service.
There's plenty to love about Ally Invest's investment service, including a below industry average fee structure on both options and mutual funds. But one of the features that makes this company stand out are its related financial services. These include checking and savings accounts, certificates of deposit, as well as mortgages, auto loans and personal loans.
Pros and cons
Pros
Offers self-directed investing as well as a robo-advisor service and wealth management.
Fees charged for options trades and no-load mutual funds are below industry averages.
Customer service is available 24/7 by phone and live chat.
Offers auto loans, mortgages and personal loans.
Cons
Not available to non-US residents
The 0.30% annual advisory fee for the Market-Focused robo-advisor Portfolio is slightly above the industry average of 0.25%.
Ally Invest robo-advisor portfolios require a minimum of $100 to begin investing.
Does not offer fractional shares, which can negatively affect small investors.
Limited options for self-employed retirement plans.
Ally Invest features
| Features | Details |
| --- | --- |
| Minimum investment | $0 |
| Stock/ETF trades | $0 |
| Options trades | $0.50/contract |
| Mutual funds | $9.95 |
| Investment types | Stocks, OTC/Penny Stocks, ETFs, Mutual Funds, Bonds, Options, Forex, Futures |
| Accounts types | Taxable, Custodial, Joint, Trusts, Traditional IRA, Limited Partnerships, Roth IRA, Checking, Rollover IRA, Partnerships, Savings, SEP IRA, Coverdell, Money Market, CDs |
| <Broker assisted trade | $20 + regular commission |
| Virtual trades | ❌ |
| Customer service | Phone and live chat, 24/7 + email |
Who is Ally Invest for?
Ally Invest is an excellent choice for investors at just about every level. For self-directed investors, they offer commission-free trades on stocks, exchange traded funds (ETFs) and options. But they charge lower fees than most competitors on per contract option fees at $0.50 per contract, and much lower commissions on no-load mutual funds, at $9.95 per trade.
Ally Invest also offers a robo-advisor if you want some or all your portfolio professionally managed at a low-cost. And for investors with portfolios of $250,000 and up, they provide wealth management at lower advisory fees than many competitors. The fee ranges between 0.75% and 0.85% per year.
We also like that Ally Invest offers 24/7 customer service by both phone and live chat.
However, small investors may have a bit of difficulty investing with Ally Invest, particularly those with account balances under $1,000. Ally Invest does not offer fractional share investing, forcing investors to purchase shares at full price. While that won't necessarily make it impossible to invest, it will make it extremely difficult to diversify within small portfolios.
Learn more: What is fractional share investing?
What makes Ally Invest great?
Fee structure is below the competition in multiple categories
Most investment brokerages offer commission-free trades on stocks, ETFs and options. While it's become an industry standard, Ally Invest's fee structure is below the industry average in three important categories:
Options trades – While the industry average is no commission + $0.65 per contract, Ally Invest is at no commission + $0.50 per trade. That makes Ally Invest a better choice for active options traders than most of its competitors.
Mutual funds – Ally Invest charges just $9.95 per trade for no-load mutual funds, which is well below the industry average. For example, Charles Schwab charges $74.95 to purchase a no-load (non-Schwab sponsored) mutual fund, and $49.99 upon redemption.
Wealth management – Ally Invest's fee ranges from 0.75% to 0.85%. That's well below the industry average of 1% to 2%, especially on portfolios as low as $250,000.
Full-service financial platform
As a customer of Ally Invest, you'll benefit from the broker's banking partner in the Ally family, Ally Bank. (Read our review of Ally Bank here). The bank offers complete banking services, allowing you to bank where you invest. And while they're at it, they also offer some of the highest interest rates on their savings products.
Services include the following:
Checking – Ally Bank's Interest Checking pays 0.10% APY on account balances under $15,000, and 0.25% above. It comes with remote check deposit, overdraft protection, and spending Round Ups to help you build savings. The account also comes with a debit card, no monthly fees, and access to more than 43,000 fee-free ATMs.
Online savings & money market – Each currently pays 1.15% APY on all account balances, requires no minimum opening deposit, and has no monthly maintenance fee. The money market comes with a debit card and checks, offering greater access than the savings account.
High yield CDs – Currently paying 0.60% to 2.90% APY on certificates ranging from three months to as long as five years. Of special note, the 12-month CD pays 1.90% APY, while the five-year pays 2.90% APY.
Financing – Ally Bank offers mortgages for both purchase and refinance, auto loans for both personal and business, and personal loans for medical costs and repairs and renovations.
Robo-Advisor offers five portfolio options
When you choose the robo-advisor option with Ally Invest you'll have four ways to invest:
Core – Includes domestic and international stocks, as well as fixed income assets. Designed primarily for hands-off investors.
Income – Favors investments with high dividend yields, in combination with a more conservative risk profile.
Tax optimized — An IRA specializing in after-tax contributions.
Socially responsible – Invests in companies with ethical track records that practice sustainability, energy efficiency, or other environmentally friendly initiatives.
You can also choose the Cash-enhanced Portfolio. It lets you combine one or more of the above investment options with a 30% cash buffer. The Cash-enhanced Portfolio offers reduced volatility, no advisory fees (otherwise the fee is 0.30% per year), and competitive interest rates on the cash portion.
You can open an Ally Invest robo-advisor portfolio with no money up front, but you will be required to deposit at least $100 to begin investing.
What are Ally Invest's drawbacks?
No fractional shares
Perhaps the biggest drawback to Ally Invest is the absence of fractional shares trading. That's a process by which you can purchase slivers of whole share prices, rather than paying for a whole stock.
The lack of fractional shares means a person with $100 to invest would be limited to just two shares of a $50 stock. If the investor wants to buy one stock at $50 and another at $75, she would have to add an additional $25 to her account to make it happen.
If fractional shares were available, she would be able to spread her $100 investment across 20 different stocks, by purchasing a 1/10th interest in each company, if the average price per share was $50.
This inability means a small investor will be better served by opening an account with a broker offering fractional shares.
Limited self-employed retirement account options
If you're self-employed and looking for retirement plan options, Ally Invest offers only a traditional or Roth IRA account. But if you'd like one of the more generous self-employed plans, like a SIMPLE IRA or SEP IRA, Ally Invest does not offer these options for the self-employed.
Ally Invest also doesn't offer a solo 401(k), though they're hardly the only broker in the field not offering this plan.
If you're looking for a broker with options for self-employed individuals and small business owners, check out our review of E*TRADE.
No free mutual fund trading
While many brokers of hundreds or thousands of no-transaction-fee (NTF) mutual funds, Ally Invest doesn't offer any. Instead, it charges $9.95 per trade on its entire menu of no load mutual funds. It should be noted though that Ally has one of the widest selections of mutual funds you'll find at more than 12,000.
So if you're looking to make a one-and-done mutual fund purchase that you'll hold onto for the long haul, Ally Invest could be worth considering. But it's a bad choice if you're wanting to dollar-cost average into a specific fund (or funds) on a repeated basis.
Ally Invest pricing and fees
Here's a breakdown of the fees you might expect when trading with Ally Invest.
Self-directed trading
Stocks/ETF trades: $0
Options trades: $0 + $0.50/contract
Mutual funds: $9.95 for no load funds; $0 for load funds
Broker assisted trades: $20 + regular commission
Bonds & treasuries: $1 per bond ($10 per trade minimum/$250 per trade maximum)
Certificates of deposit: $24.95 per transaction
Non-ADR foreign stock transaction fee: $50 + regular commission
Low-priced securities (under $2 per share): $4.95 + $0.01 per share to a maximum of 5% per trade (minimum opening purchase of $100)
Robo portfolios
Cash-enhanced portfolio: 0% Advisory Fee
Market-focused portfolio: 0.30% Annual Advisory Fee
Wealth management portfolios
Annual advisory rate:
First $250,000 – 0.85%
$250,001 – $1 million – 0.80%
Above $1 million – 0.75%
IRA fees
IRA annual fee: $0
IRA transfer fee: $50
IRA closure fee (full closure): $25
Cashiering fees
Here's a list of banking fees that you may be charged with Ally Invest. Mostly these fees are for transactions that involve wire transfers or non-sufficient funds.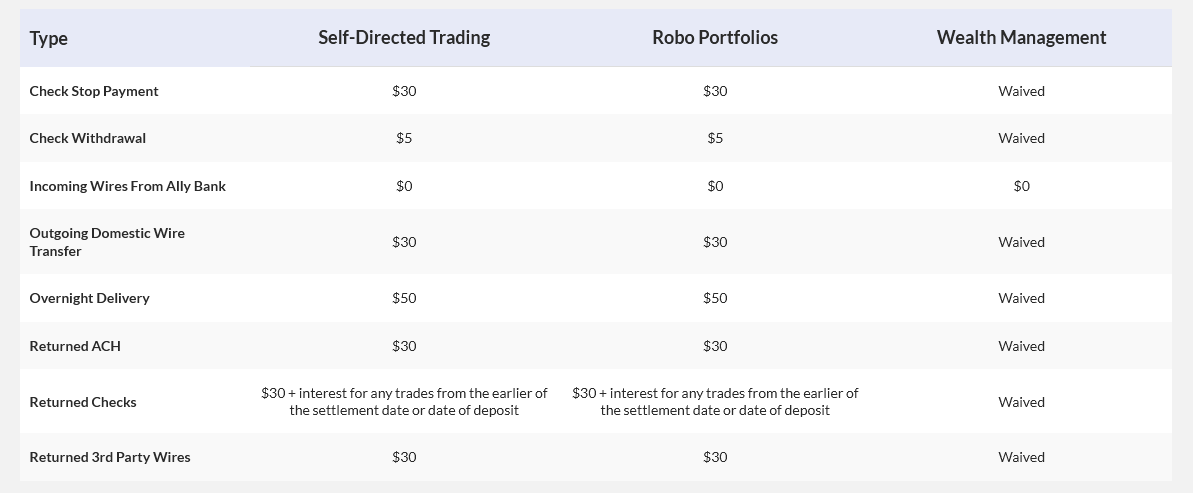 How to contact Ally Invest
Ally Invest customer service is available by Live Chat and by phone (1-855-880-2559), 24 hours a day, seven days a week.
The company can be contacted by email at support@invest.ally.com.
Best alternatives
If you're curious how Ally Invest stacks up to the competition, check out our other comparison articles:
Bottom line: is Ally Invest best for you?
Ally Invest is one of the most versatile investment platforms in the industry. You can take advantage of low-cost self-directed investing, including trading fees on options and mutual funds that are lower than most other brokers. In addition, they offer options for a robo-advisor, low-cost wealth management, and the full range of banking services, including checking, savings and loan products.
But we must reiterate that Ally Invest may not be the best option for an investor with a smaller account who's looking to build a portfolio. Since they don't offer fractional share trading, it will be difficult to dollar-cost average into a portfolio, as well as to diversify your holdings with a small amount of money. If you have less than $1,000 to invest, you may be better served with a broker that offers fractional share trading.