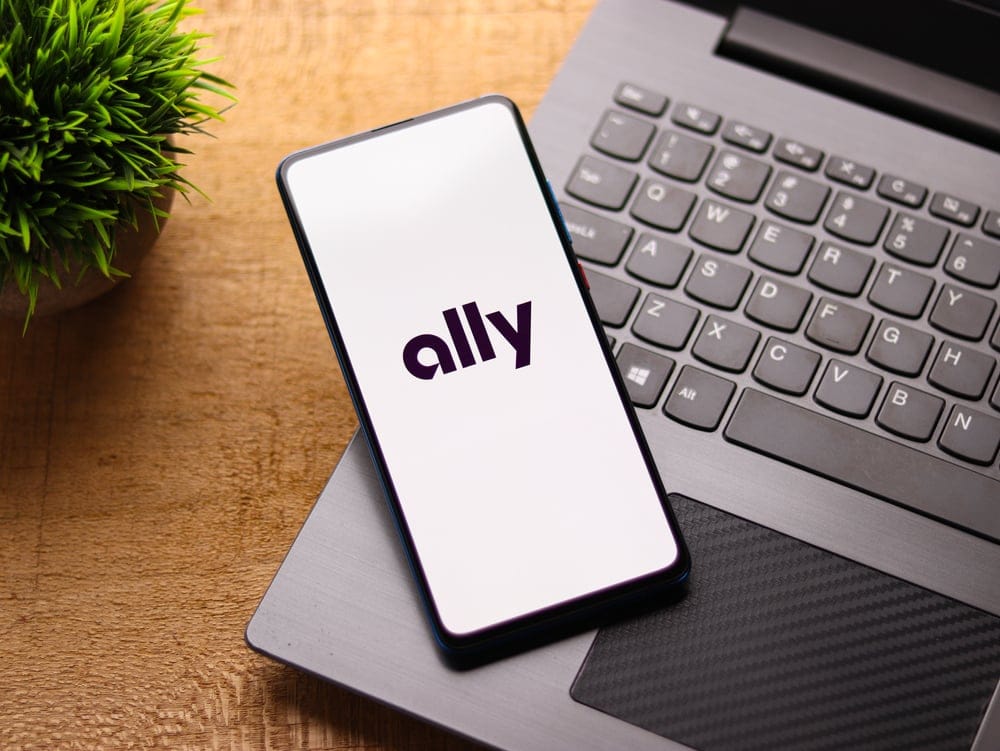 Ally Bank review 2023 – a hassle-free banking option
sdx15 / Shutterstock
We adhere to strict standards of editorial integrity to help you make decisions with confidence. Please be aware that some (or all) products and services linked in this article are from our sponsors.
We adhere to strict standards of editorial integrity to help you make decisions with confidence. Please be aware that some (or all) products and services linked in this article are from our sponsors.
If you're ready to join the more than 60% of Americans who do most or all of their banking online, rather than at a local branch office, Ally Bank is worth serious consideration. Not only is it one of the best-known online banks out there, but Ally is trusted by more than 1 million customers for checking and savings accounts, as well as mortgage and auto loans.
With a record of outstanding service, high-yield CDs and a no-fee policy, Ally Bank is a hassle-free solution to your needs. Let's take a further look.
What is Ally Bank?
Believe it or not, Ally has its roots in the automobile industry. Back in 1919, General Motors Corp. founded the company as the General Motors Acceptance Corp. (GMAC) to provide financing for its rapidly growing customer base. Over time GMAC expanded its operations to include all the functions of an everyday bank.
Fast-forward nearly 90 years to 2009, when GMAC changed the name of its banking unit to Ally Bank. GMAC had suffered during the financial crisis, and a new name offered a fresh start. A year later, the mega financial company would rebrand its entire operation as Ally Financial. In 2014, Ally Financial went public with the ticker ALLY. And in 2016, the company entered the online brokerage space with the purchase of TradeKing, which it rebranded as Ally Invest.
Ally Financial is still headquartered in Detroit, as it has been for nearly 100 years. But Ally Bank itself — the subject of this review — has its HQ in Midvale, Utah.
Ally Bank features
| Features | Details |
| --- | --- |
| Accounts | Savings, Checking, Money Market, CDs |
| Access | Web Based, iPhone App, Android App |
| Number of branches | 0 |
| ATM reimbursement | ✅ |
| Online deposits | ✅ |
| FDIC insurance | ✅ |
| Customer service | Phone: 24/7; Email |
How does Ally Bank work?
The reason most people decide to go with Ally is due to the fact that the bank offers relatively high interest rates. Savings accounts and CDs are the big draws.
Additionally, Ally Bank doesn't charge monthly maintenance fees, and there are no minimums on accounts, either. With many banks requiring minimums and charging fees, this is a nice departure from the norm.
It's also important to note that Ally is FDIC-insured, so those protections apply up to $250,000 per depositor. This is great for peace of mind, especially because all of your banking will be done on the internet.
Signing up for an Ally Bank account is also easy. You do have to provide information about your identity (including your Social Security number) and answer questions that all banks have to ask as a result of the PATRIOT Act. However, it's relatively painless, and it's possible to open a variety of accounts, including CDs and bank accounts, from the same screen, without the need to fill out the same information over and over again.
More: Best business checking accounts
What does Ally Bank offer?
Ally Bank is best known for its fee-free online checking account and its high-yield savings account. But it also has a variety of other products and account types you can explore.
Interest checking account
Why just let your money sit in your checking account without letting it go to work for you? That's the question Ally Bank seeks to ask — and answer — with its interest checking account.
This product offers features that you'd like to see in a checking account, such as:
A debit MasterCard
Free withdrawals from Allpoint ATM in the U.S.
Reimbursement of up to $10 per statement cycle for fees charged at out-of-network ATMs throughout the country
eCheck Deposit, which lets you upload a photo of your check from your cellphone
The ability to "wire" money to or from nearly any U.S. bank account with Zelle
Online Bill Pay
Your account also earns 0.25% APY earned by accounts with a minimum daily balance above $15,000. Accounts with lesser amounts still earn too — 0.10%. That percentage has come down a bit in the years since we first reviewed Ally Bank, but it's still better than what you can earn with a savings account from the average bank.
To top it off, there are absolutely zero monthly maintenance fees.
Ally Bank savings account
Ally's savings products carry a healthy APY, currently at 3.00% for all balances as of November 30th, 2022. This is one of the more competitive interest rates for a high-yield savings account, and it makes Ally's savings account one of our favorite mobile banking options.
As with the checking account, there aren't any monthly maintenance fees. You can also deposit your checks using your phone with eCheck Deposit technology, and you'll receive 24/7 support from a live customer service agent.
| Features | Details |
| --- | --- |
| Available for | Taxable, IRA |
| Account fees | None |
| Custodial | No |
| Savings rates | Minimum Deposit $0 – 3.00% APY |
Ally Bank money market account
Another selling point for Ally Bank is its money market account. At the time of writing, it pays 3.00% APY like Ally's online savings account. If you're looking for a home for your emergency fund or extra cash, it could be an excellent account to house your cash.
This account doesn't have any monthly maintenance fees like Ally Bank's other account types.
| Features | Details |
| --- | --- |
| Available For | Taxable, IRA |
| Account Fees | None |
| Savings Rates | Minimum Deposit $0 – 3.00% APY |
CDs
If you're looking for certificates of deposit (CDs), Ally Bank also has you covered. With no maintenance fees and competitive rates, these are worth checking out. CDs are available for both taxable accounts and IRAs.
The APY rates change on a regular basis, so check on Ally Bank's website to find out the current rates. They generally range from 1.00% for three months to 3.25% for the high-yield CD depending on term length. Ally also has one an excellent no-penalty CD that's on an 11-month term you can consider if you're looking for a shorter-term investment.
Other Ally features
A lack of fees and competitive interest rates are two main reasons to open a bank with Ally Bank. But there are other features and products you can also take advantage of:
Ally Invest — If you want a one-stop-shop for your banking and investing needs, Ally also offers the online stock broker service Ally Invest. Like other leading brokers, you can trade stocks and ETFs without paying commissions plus invest in mutual funds, bonds, and options. Customer support is available 7 days a week, 24 hours a day.
Ally Invest Robo Portfolios – This robo-advisor from Ally lets you invest in a market-focused or cash-focused portfolio starting with just $100. If you need a helping hand with your investing, this option could be a unique selling point that also makes signing up for Ally Bank worth it.
Ally Wealth Management – Work with a wealth advisor through Ally Invest Wealth Management to create a custom financial and investing plan.
What are Ally Bank's fees?
Ally doesn't charge any monthly maintenance fees for its checking or savings account. Its money market account and CDs don't have maintenance fees either. You can pay fees for various account actions, like domestic wires and returned deposits, but your accounts are essentially fee-free.
Is Ally Bank safe?
As an Ally customer, your accounts have up to $250,000 in FDIC insurance to keep your money safe. And if you invest through Ally's brokerage side, you benefit from SIPC insurance as well. Overall, Ally Bank is a safe online bank that's regulated and follows the same security practices as other major online banks.
How do I contact Ally Bank?
You can contact Ally Bank's customer service by calling 1-888-925-2559. Customer service is available Monday through Friday from 8 am to 11 pm ET and on Saturday from 9 am to 7 pm ET.
Ally customers can also login and use the online chat support feature to get help or to send a customer support email.
Ally Bank savings accounts alternatives
Ally Bank is an excellent online banking solution if you want to avoid monthly fees and high minimum deposit requirements. It also has excellent account options, and you can always branch out from banking into the investing side as well to put your money to work.
However, there are numerous Ally Bank alternatives you can consider depending on the type of account you're looking for and your goals:
Capital One 360 is a popular alternative that's also largely fee-free, and it has some in-person branches unlike Ally. We also like Capital One 360 for its checking account and teen checking account.
As for CIT Bank, it has some of the best CDs out there, as well as a very competitive money market account. It also has two different high-yield savings accounts you can explore as alternatives to Ally Bank.
Also note that other online-only banks can pay very high interest rates on small amounts of cash. For example, Current pays 4% APY on up to $6,000, and Varo lets you earn up to 5% APY on up to $5,000. You can always divide up your extra cash across a few high-yield savings accounts or rewards checking accounts to maximize your interest.
CIT Bank. Member FDIC.
Pros and cons
Pros
Accounts are generally fee-free and don't have maintenance fees
No minimum balance requirements
Numerous account options
Ally's savings account has a competitive APY
Phone, email and live-chat customer support is available
Cons
No physical branches
Ally doesn't accept cash deposits
Summary
Ally is a solid online bank with good checking and savings account options. After all, you just can't beat zero fees. And the company has a record of dependable and friendly live customer service, available 24/7.
The company appears to have shed the negative attention brought to GMAC during the financial crisis of the last decade. (And it's certainly not the only bank that fell on tough times.) With the past behind it, Ally Bank is looking to the future.
As with most online banks, you won't be able to deposit cash, which is a consideration if you find yourself often needing to do so. Ally's savings account previously had a $10 excessive transaction fee for certain types of withdrawals and transfers, but has suspended transaction limits following new federal regulations.
But if you want to park your money in a savings or even checking account hassle-free, this is a good solution for you.