First-time homebuyer programs in Nebraska
NIFA designed its 30-year fixed-rate loans with first-time homebuyers in mind. With no prepayment penalties, you'll also have the option of making extra payments and saving on interest over the life of your loan.
You can find the latest interest rates for NIFA's various loan programs on its website for both conventional loans and government loans.
Military Home Program
The Military Home Program targets veteran as well as buyers who are actively employed by a branch of the military. Some discharged veterans may also qualify, but those dishonorably discharged are not eligible.
Current service members are required to be first-time buyers under NIFA's definition, but veterans and spouses of veterans are exempt from that requirement (though they will be required to show a copy of their DD214 form to determine eligibility).
If you can't secure a VA loan for your mortgage, the Military Home Program can also be used with FHA and USDA loans.
Homebuyer Assistance Program
The Homebuyer Assistance Program (HBA) program is designed for prospective homebuyers who don't have enough money saved to cover their down payment and closing costs. The HBA Program generally only requires you to invest $1,000 of your own funds.
The HBA includes both a primary mortgage and secondary loan. With the second loan, you're able to borrow as much as 5% of the home's purchase price (up to $10,000) on a 10-year term with an interest rate of 1%. You can use that money to pay your down payment and closing costs.
You can use a conventional, FHA, VA or USDA loan with the HBA program. Keep in mind that the interest rate you'll pay on your first loan will be higher than NIFA's other loan programs that only include a first mortgage loan.
More: Calculate the maximum mortgage you can afford
First Home Program
If you're a first-time homebuyer who doesn't qualify for the Military Home Program, but you don't need help affording your down payment and closing costs, the First Home Program may be for you. The First Home Program is also open to residents who haven't lived in and owned a home in at least three years.
It's compatible with conventional, FHA and USDA loan types.
More: How the mortgage process works
First Home Targeted Program
There is also the First Home Targeted Program, which helps both first-time and repeat homebuyers looking in specific areas of Nebraska. It doesn't offer down payment and closing cost assistance, but residents of the state's target areas are granted higher income and purchase price limits.
The target areas, which are set by the federal government, are:
Adams County
Douglas County
Jefferson County
Lancaster County
Scotts Bluff County
NIFA has an interactive map to help you identify whether a home is in one of the target areas.
This program can be used with conventional, FHA and USDA loans.
First Home Grant Program
The First Home Grant program is for first-time homebuyers from low-income households. To qualify, you'll have to fall at or below 50% of the area's median income.
Through this program, NIFA provides mortgage financing as well as grants to cover down payments and closing costs. Each qualified household will receive $5,000, which they're not required to pay back. However, funding is limited and is distributed on a first-come, first-served basis.
This program is compatible with conventional, FHA, USDA and VA loans.
Potential Recapture Tax
You should note that NIFA's loans are subject to a potential IRS recapture tax during the first nine years of your loan. This means the IRS can collect taxes on any profit you make if you sell your home.
You may be subject to a recapture tax if you do all of the below:
You sell the home before the end of nine years.
You make a profit from the sale.
Your adjusted gross income reported on your federal tax return at the time of sale exceeds the IRS limit.
If you meet only one or even two of these conditions, you should be fine. The maximum recapture tax the IRS can impose is 6.25%.
Recapture Tax Reimbursement
Understanding that you may be concerned about a potential recapture tax, NIFA provides reimbursement to its loan holders. To qualify for the reimbursement, you simply have to submit a reimbursement form as well as an IRS form 4506-T to NIFA's office by July 15 of the following year you sold your home.
More: Best mortgage lenders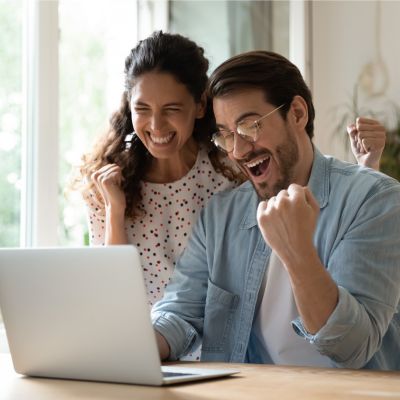 Compare current mortgage rates from top national lenders. Get the best rate for your purchase or mortgage refinance.
Compare Rates
Who qualifies for Nebraska's first-time homebuyer programs?
NIFA's programs offer a range of benefits, including competitive interest rates and secondary loans you can use for your down payment and closing costs.
To qualify for assistance from NIFA, you'll have to:
Be a first-time homebuyer, which is defined as anyone who hasn't owned a home in the last three years. However, there are exceptions for qualified veterans and individuals buying a home in a targeted area determined by the federal government.
Fall within the set income limit. Everyone in your household over the age of 18 is included in this calculation.
Buy a home that meets the purchase price limits.
Occupy the home as your primary residence within 60 days of closing.
Meet the specific program's credit and debt-to-income ratio requirements.
Participate in homebuyer education classes.
Work with a participating lender to get your loan.
More: Before you apply for a mortgage, get your free credit score from Credit Sesame
Nationwide first-time homebuyer programs
Getting a "conventional" mortgage through the private market can be tough.
You'll often need a credit score of about 620 and a down payment of at least 5% to qualify. Plus, if you don't put down at least 20% of the purchase price, you'll have to pay extra each month for mortgage insurance.
That's why many first-timer buyers will prefer to use one of these government-run, nonconventional mortgage options.
More: Compare savings accounts to build up your down payment
FHA loans
In 1934, the government introduced Federal Housing Administration (FHA) loans to encourage homeownership across the country. At the time, only about 40% of American households owned their homes. Since its creation, the FHA has insured more than 46 million mortgages.
FHA loans are easier to obtain than conventional mortgages. The minimum credit score is typically 580, but if you provide a larger down payment, you could qualify with a score as low as 500.
The minimum down payment with an FHA loan is 3.5%, though if you put down less than 10%, you'll have to pay a mortgage insurance premium as well. That can quickly add to the overall cost of your monthly payments.
More: FHA loan requirements explained
VA loans
These loans were introduced by Congress in 1944 to increase benefits to veterans. The act allowed the U.S. Department of Veterans Affairs (VA) to guarantee or insure home, farm and business loans made to veterans by lending institutions.
VA loans are available to active service members, veterans and some surviving military spouses. While they don't require a down payment or mortgage insurance, borrowers will be required to pay a considerable funding fee to get started.
USDA loans
USDA loans also require no down payment and no private mortgage insurance. Guaranteed by the United States Department of Agriculture, they help lower-income rural and suburban Americans become homeowners.
These loans do require you to pay an upfront 1% guarantee fee and an annual 0.35% fee. But when compared to the amount you'll pay in mortgage insurance with other types of loans, you'll probably still come out ahead with the USDA.
That said, you may simply make too much money to qualify for a USDA loan. The current income limits in most parts of the U.S. are $86,850 for one- to four-member households and $114,650 for five- to eight-member households, though the limits may be higher if you live in a county with an above-average cost of living. The USDA's website can tell you the limits in your area.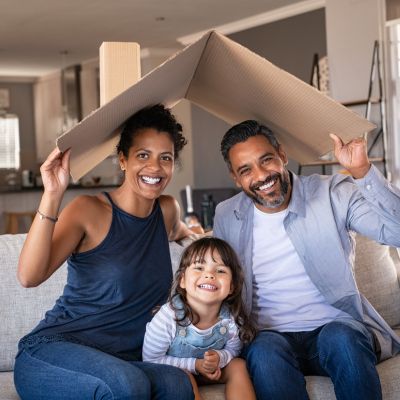 Home insurance is an essential expense – one that can often be pricey. You can lower your monthly recurring expenses by finding a more economical alternative for home insurance.
SmartFinancial can help you do just that. SmartFinancial's online marketplace of vetted lenders allows you to quickly shop around for rates from the country's top insurance companies, and ensure you're paying the lowest price possible for your home insurance.
Explore better rates
Next steps to buying your first home
Now you know where you want to buy your first home and what programs are out there to help you. But where do you even start?
A great first move would be to take a look at your credit score and see how you measure up to your ideal loan's requirements. You can get a free score through the site Credit Sesame.
Was your score disappointing? Don't worry; you have plenty of options. Consider a credit-building company such as Credit Strong, which helps those with not-so-perfect credit scores build their credit profile.
When you're in good shape, don't forget to gather the important documents you'll need to prove you've got money in the bank and money floating in.
Then you can finally think about getting pre-approved for a mortgage and start shopping for your new digs.
Sponsored
Secure your retirement with a reverse mortgage
If you're low on cash savings and investments but have wealth in your home, a reverse mortgage is a great option for covering retirement expenses.
Mutual of Omaha is a trusted insurance provider that helps you make the most of your home equity.