Who's going to be impacted the most?
The FHFA says the proposed change to a bi-merge system will promote market competition while maintaining an accurate assessment of consumer credit, but TransUnion isn't so sure.
TransUnion reports that millions of consumers could potentially lose out on qualifying for a GSE mortgage — private home loans that follow certain government regulations and typically come with lower interest rates and easier qualification requirements than conventional mortgages.
These loans make up about half of first-time homebuyer mortgages, according to a 2022 report from the Housing Finance Policy Center.
But if the two-of-three credit reports pulled by a lender don't include the one with the data most favorable to the borrower, some applicants might no longer qualify for a GSE home loan, Mellman says.
And other borrowers who secure a mortgage might face higher interest, since lenders often raise interest fees on loans to buyers with lower credit scores.
"Mortgages could ultimately become more expensive if investors demand higher premiums to compensate for additional risks," Mellman said in a news release.
The consumers most likely to be impacted by the new system are those with credit scores of around 620 — the minimum to qualify for a GSE loan. Aside from first-time homebuyers, these individuals are often young, low-to-moderate income folks and Black and Hispanic groups, Mellman told Moneywise.
While these consumers could potentially save $10 to $20 in credit report and score fees, TransUnion says long-term costs could far outweigh the one-time savings.
Mellman admits that TransUnion does have a stake in maintaining the tri-merge approach, since a bi-merge system might mean less data being requested, which would impact business.
Stop overpaying for home insurance
Home insurance is an essential expense – one that can often be pricey. You can lower your monthly recurring expenses by finding a more economical alternative for home insurance.
SmartFinancial can help you do just that. SmartFinancial's online marketplace of vetted home insurance providers allows you to quickly shop around for rates from the country's top insurance companies, and ensure you're paying the lowest price possible for your home insurance.
Explore better rates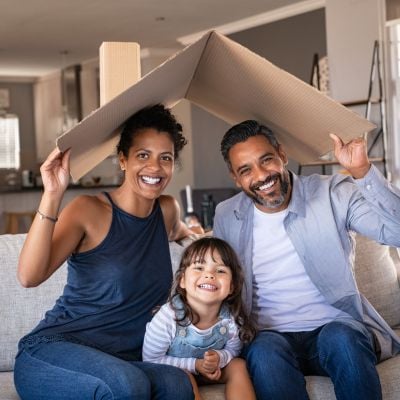 What about borrowers who do score mortgages?
Say your lender does pick the credit reports that provide the most favorable overview of your credit — what then?
The TransUnion analysis finds there may be issues with that as well. If 10% of Americans apply for a mortgage over the next 12 months, an estimated 200,000 borrowers who originally might not have qualified under the tri-merge system could borrow a GSE home loan, the agency says.
"Those consumers may find themselves in products that they can't afford if we go through an economic downturn, or if they experience some economic stress," Mellman pointed out. "And with a mortgage, that's particularly damaging."
He offers up the Great Recession as an example, in which a number of consumers had borrowed far more for their mortgages than they could actually afford.
"With a mortgage, a lot of your money in your life savings goes toward the down payment," he said. "So when you lose your mortgage and lose your home, you're not only losing where you live, but oftentimes the consumer might lose their life savings."
If inflation and higher interest rates persist, Mellman says consumers could scramble to meet their monthly mortgage payments as well, especially if they're juggling other things such as credit card debt and personal loans.
Mellman adds there's also concern around "gaming" — in which lenders may simply pick the bureaus that provide the highest credit scores in order to close business, even if that's not what's best for the consumer.
He worries this could trigger a systematic shift where consumer credit scores rise even though their level of risk remains the same.
If borrowers end up paying less interest than what their actual risk merits, TransUnion says GSEs could lose out on $4 billion in risk-based interest fees each year — and will likely pass these fees onto taxpayers or have them subsidized through higher pricing for lower-risk borrowers.
There are implications for fair lending as well. Mellman explains there could be two consumers that have identical credit, but only one of them qualifies for a mortgage due to "luck of the draw" in which reports get pulled.
What changes are recommended?
The FHFA initially proposed moving forward with this new system in the fourth quarter of 2024, but is now postponing implementation to allow for public engagement and feedback from market participants and impacted stakeholders.
Mellman wants the FHFA to analyze TransUnion's findings and release them to the public so that it can account for any negative impact to consumers.
Secondly, he suggests the FHFA look into other programs that encourage fair, safe and expanded lending to consumers. For example, he advises the housing industry adopt rental reporting on a larger scale while making assessments, since most first-time homebuyers start off as renters.
"[Rent] is probably more often than not [people's] largest single monthly expense," he said. "If consumers are making those payments on time, they should get credit for those payments. And that absolutely reduces the overall risk of that consumer."
If the bi-merge system does move forward, Mellman says consumers can prepare by educating themselves on mortgage underwriting and shopping around to find out which lenders will be using the most favorable data for borrowers.
"Right now, we know that consumers really do not shop as much as they should for mortgages, and in fact consumers overpay for their mortgages because of that," he said.
"With the shift to a bi-merge, that's going to be exacerbated."
Sponsored
Follow These Steps if you Want to Retire Early
Secure your financial future with a tailored plan to maximize investments, navigate taxes, and retire comfortably.
Zoe Financial is an online platform that can match you with a network of vetted fiduciary advisors who are evaluated based on their credentials, education, experience, and pricing. The best part? - there is no fee to find an advisor.