Potential gains — and headaches UWM — the No. 2 U.S. mortgage lender after Rocket Mortgage — believes accepting Bitcoin will provide added convenience for the company's borrowers.
"We have nearly 1 million consumers who pay us a monthly mortgage payment," Ishbia says, "and if accepting Bitcoin or other types of crypto makes it easier for our clients, we're going to find a way to do it."
Tech journalist Naomi Brockwell celebrated UWM's decision during a recent interview with Coindesk. She said that while Bitcoin hasn't proven itself especially useful for making payments in the past, mortgages could be a different story.
"When you're dealing with large amounts for houses, this is precisely the kind of use case that I think Bitcoin is good for, in terms of payments," Brockwell said.
For borrowers with crypto reserves to tap into, making mortgage payments could be easier at the times Bitcoin values are surging. But when Moneywise asked UWM for specifics on how the process will actually work for consumers, the company said it's "too early to have details at this moment."
Borrowers will be looking for answers to several questions in the coming weeks:
Will UWM be accepting actual crypto, or will a consumer need to trade it for dollars first, using a cryptocurrency exchange?
Will Bitcoin sellers be on the hook for additional fees if using a third-party exchange is necessary?
What happens if a delay or crash at an exchange results in a late mortgage payment?
Who will determine the Bitcoin/U.S. dollar exchange rate? Many crypto exchanges post different rates.
"We will communicate the plan to consumers once we have everything in place," Ishbia says.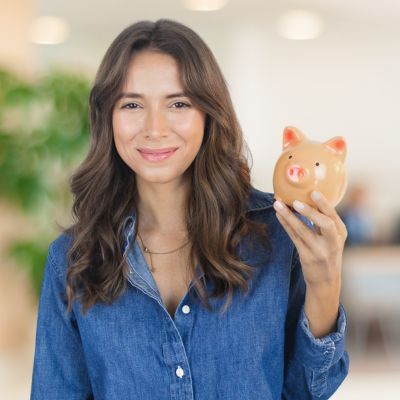 Don't let your money idle in low-interest accounts! Savvy savers are earning up to 10x more interest by keeping their hard-earned cash in a high-yield savings account. Find some of the best options here.
Get Started
Other ways to make your mortgage more manageable If you're a successful Bitcoin investor with a UWM mortgage, using some of your returns to make your mortgage payments could wind up being a handy alternative to paying with cash.
But it won't make your mortgage burden any lighter. There are other ways to do that.
If you're eligible, consider refinancing your mortgage. As the economy improves and inflation heats up, the rock-bottom borrowing costs homeowners have been enjoying for the last year could quickly become a thing of the past. A refi at today's rates could save you hundreds of dollars a month.
If long-standing, high-interest debts are soaking up whatever cash flow is left after you make your monthly mortgage payment, it might be time to consider taking out a lower-interest debt consolidation loan. You'll cut your interest costs, which will help you wipe out your debt sooner.
You also can reduce the cost of homeownership by shrinking your home insurance premiums. A little comparison shopping could lead to big savings whenever you have to buy or renew a policy.
Shopping around also can help you pay less for car insurance.
Sponsored
Streamline your debt repayment
Having a single loan to pay off makes it easier to manage your payments, and you can often get a better interest rate than what you might be paying on credit cards and car loans.
Credible is an online marketplace offering personalized loan options based on your unique financial situation.
When you consolidate your debt with a personal loan through Credible, you can roll your payments into one monthly installment. Find a lower interest rate and pay down your debt faster with Credible today.