Cutting expenses
To avoid getting into debt, you can either increase your income or lower your expenses.
In this economic climate, it's probably a good idea to hold off on purchasing big-ticket items that you don't necessarily need. In fact, that's exactly what Amazon founder and executive chairman Jeff Bezos recommends.
"If you're an individual considering purchasing a big-screen TV, you might want to wait, hold onto your money, and see what transpires," Bezos tells CNN. "The same is true with a new automobile, refrigerator, or whatever else."
There are also ways to lower expenses that you can't avoid.
If you are paying too much for your car insurance policy, for example, you can compare car insurance and save up to $500 a year.
The same goes for home insurance.
While premiums are on the rise, comparing multiple home insurance companies is an easy way to find substantial savings.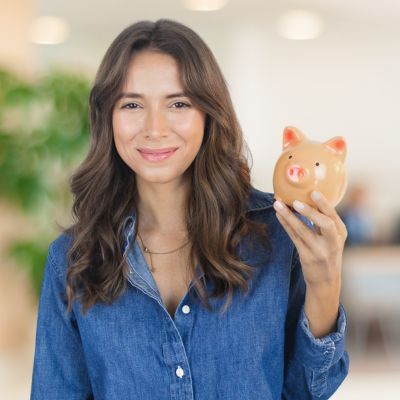 Don't let your money idle in low-interest accounts! Savvy savers are earning up to 10x more interest by keeping their hard-earned cash in a high-yield savings account. Find some of the best options here.
Get Started
Getting a side hustle
Some people believe that switching jobs can lead to a better salary, but it can be daunting in this economic environment.
If you don't want to switch jobs, consider getting a side hustle — something you get paid for doing in addition to your full-time job. It allows you to earn extra income — and could even be a way of testing the entrepreneurial waters.
In fact, side gigs have already become popular. Data from the Bureau of Labor Statistics revealed that as of December 2022, 4.59 million people were working a primary job full-time and a secondary job part-time. Moreover, 388,000 people were working two full-time jobs simultaneously.
There's no need to start big.
A simple side gig like tutoring could be worth $75-$90 an hour, while dog walking could net you as much as $1,000 a month.
Putting spare change to work
When it comes to building a financial safety net, you don't need large sums of money. In fact, you can start with some nickels and dimes.
A survey from MyBankTracker found that 55.5% of Americans don't do anything with their spare change. They just let it sit. But those coins quickly add up and you can put them to work.
When you make a purchase on your credit or debit card, some apps automatically round up the price to the nearest dollar and place the excess — the coins that would wind up in your pocket if you were paying cash — into a smart investment portfolio.
Your spare change may not seem like much. But take a look at this math: $2.50 worth of daily round-ups add up to $900 per year — which can then earn more money in the market.
If you're hesitant about jumping into the volatile stock market, using spare change could be a smart way to ease yourself in.
Sponsored
Kiss Your Credit Card Debt Goodbye
Millions of Americans are struggling to crawl out of debt in the face of record-high interest rates. A personal loan offers lower interest rates and fixed payments, making it a smart choice to consolidate high-interest credit card debt. It helps save money, simplifies payments, and accelerates debt payoff. Credible is a free online service that shows you the best lending options to pay off your credit card debt fast — and save a ton in interest.