How she bought her home
Bean secured a 3.375% mortgage — roughly half of the average rate now — and only pays $591 a month, she wrote in The New York Times.
She was able to get pre-approved for a $150,000 loan, thanks in part to her good credit score of around 750. She also had to leave her old job as a paraprofessional at an elementary school and found work in sales at a call center for $15 an hour in order to meet the income requirements.
Although the property was originally listed for $120,000, her real estate agent negotiated it down to $117,000 with an earnest money, or "good faith", deposit of $3,000.
"The other thing that really helped me out in this process is I had that big chunk of cash so I could put forth over $20,000 as a down payment — which is a larger down payment than any of the other prospective buyers had," Bean said in her video.
That left her with enough remaining to pay for additional costs like realtor fees and home insurance.
The now-24-year-old says she still owes about $90,000 on her mortgage and is "back to being poor," but she and her Labrador huskies — Gaspard and Garbanzo — are very happy in their home.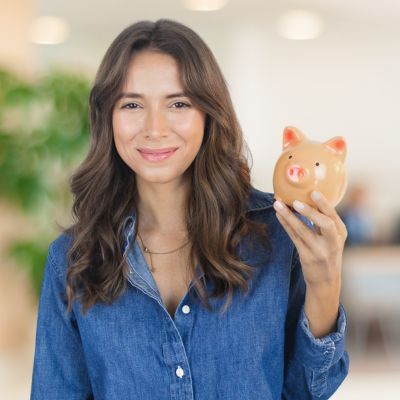 Don't let your money idle in low-interest accounts! Savvy savers are earning up to 10x more interest by keeping their hard-earned cash in a high-yield savings account. Find some of the best options here.
Get Started
How to buy a home today — even if you haven't won the lottery
Homeownership may seem like a feat nearly impossible for many young Americans facing the housing market today.
But here's how you can still buy a home amid high mortgage rates (and without thousands of dollars in lottery winnings).
Fix your credit score
Bean says her 750 credit score helped her get approved for a mortgage — for reference, a score of 720 and up is considered excellent. A great credit score could potentially net you a lower rate on your home loan, so make sure to review your credit history and pay down debts to get yours up.
Build your savings
Start putting some cash aside each month to help with your future down payment and closing costs. The minimum down payment for a conventional loan is typically 5% of the purchase price, but experts recommend putting at least 20% down to lower your monthly mortgage bill.
Get a pre-approval
Bean got pre-approval on her home loan — a formal letter from a lender that verifies how much money you can borrow and at what interest rate. This can help prove to sellers and real estate agents that you're a reliable buyer. It may even get you some negotiating power in the purchasing process.
Consider an all-cash offer
About one-third of home purchases were made in cash in April — with more buyers avoiding 6% rates and opting to pay in full instead. If you can afford a larger payment today, it could save you from making chunky monthly payments down the road.
Sponsored
Kiss Your Credit Card Debt Goodbye
Millions of Americans are struggling to crawl out of debt in the face of record-high interest rates. A personal loan offers lower interest rates and fixed payments, making it a smart choice to consolidate high-interest credit card debt. It helps save money, simplifies payments, and accelerates debt payoff. Credible is a free online service that shows you the best lending options to pay off your credit card debt fast — and save a ton in interest.