Paying more for 'pink' stuff
Researchers are divided on whether gender plays a definitive role in upcharging the cost of certain goods and services.
The New York City Department of Consumer Affairs took a look at gender pricing in an oft-cited 2015 study, concluding that women's products cost more than men's over 40% of the time — in categories such as toys, clothing, personal care products and senior home health care items.
A 2018 report from the U.S. Government Accountability Office said that targeted gender was a significant factor contributing to price differences, but "did not have sufficient information" to determine whether this outweighed other factors, like advertising costs.
However, Stephanie Gonzales Guittar, an assistant professor of sociology at Rollins College in Florida, also co-authored a 2021 paper that examined gender‐based pricing across 3,000 personal-care products. She found that women tend to pay more for deodorants, antiperspirants and lotions, while men tend to pay more for shaving cream and gels.
She notes that it can be difficult to compare similar products targeted toward men and women — for example, men are more likely to have 3-in-1 shampoos marketed towards them, whereas women are expected to purchase three separate products.
"When you're creating a new product, there's a lot of money that goes into research and development," explains Gonzalez Guittar. "[Marketers] have learned that they don't have to do that. They can just simply play with our gender-based identities … and it's very easy for them to generate new products and profit."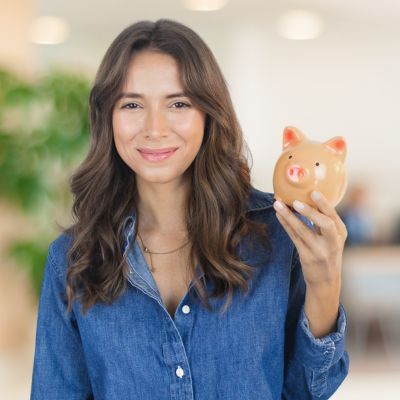 Don't let your money idle in low-interest accounts! Savvy savers are earning up to 10x more interest by keeping their hard-earned cash in a high-yield savings account. Find some of the best options here.
Get Started
What are the financial implications for women?
Inflation is still high, at 8.2% — and the sticker shock you might experience in stores is likely worse if you're a woman.
Women live longer and earn 83 cents for every dollar a man makes, according to 2021 data from the U.S. Bureau of Labor Statistics. This combined with paying more for products and feeling societal pressure to buy a greater number of products can severely reduce their purchasing power over time.
"[The pink tax] is an issue that impacts about half the population," emphasizes Gonzalez Guittar. "It's reducing disposable income money that can be used for other items." This also means less money pooled toward savings and investments.
The need for menstrual products further contributes to higher spending, she says, and there are 22 states that impose a sales tax on these essential items.
In an effort to help combat the higher prices, retailer CVS recently announced it would be absorbing these taxes in 12 states and reducing the prices of its store brand period products by 25% in core CVS Pharmacy locations.
Women contend with greater social pressure to maintain certain appearances as well, such as removing body hair and wearing makeup — which can increase their spending and drive up demand and costs for these products.
"We still have informal and formal sanctions in our society for gender nonconformity," Gonzales Guittar says. She adds that the marketing begins very young and further reinforces the idea of stereotypical gender roles. Women are expected to "perform femininity" in traditional ways and and they incur extra costs to do so.
Can you avoid the pink tax?
Congresswoman Jackie Speier reintroduced the Pink Tax Repeal Act in 2021. It aims to end gender pricing discrimation on "substantially similar goods or services" nationwide. It is currently before the Subcommittee on Consumer Protection and Commerce.
The bipartisan bill would also allow the Federal Trade Commission to enforce violations and State Attorneys General to take civil action "on behalf of consumers wronged by discriminatory practices."
While California and New York have already outlawed gender discriminatory pricing on "substantially similar" items, manufacturers can still justify higher costs on items marketed toward women if they can prove there were higher production costs involved, Gonzales Guittar warns.
And while shoppers can try to avoid paying higher prices, it isn't always easy to conduct a quick cost-comparison.
"I think we're all overwhelmed by the sheer number of products — like the fact that there's over 300 deodorants on the market," says Gonzales Guittar.
The old-school "shrink it and pink it" strategy — when marketers create smaller versions of items to sell to women — can disproportionately inflate costs as well.
One of the most impactful ways consumers can influence change is with their wallets.
"Consumers have a lot of power with our consumption habits," Gonzales Guittar notes. "So [we can support] companies and products that are transparent about their pricing, or that have made a commitment to fair pricing."
Sponsored
Kiss Your Credit Card Debt Goodbye
Millions of Americans are struggling to crawl out of debt in the face of record-high interest rates. A personal loan offers lower interest rates and fixed payments, making it a smart choice to consolidate high-interest credit card debt. It helps save money, simplifies payments, and accelerates debt payoff. Credible is a free online service that shows you the best lending options to pay off your credit card debt fast — and save a ton in interest.