How much should I save for a down payment?
Before working on how to save, you need to figure out how much to save. And that ultimately depends on the home you want and how much you can afford to spend each month.
A common rule of thumb is to spend no more than 25% of your monthly take-home pay on your mortgage payment. Once you have that number, you can use a mortgage income calculator to see how much home you can afford, factoring in a down payment and typical interest rate.
So let's say 25% of your household's take-home pay is approximately $1,200, and you think you could qualify for an average interest rate — maybe 2.75% on a 30-year fixed-rate loan.
That means you could buy a home worth $370,000, if you can save up a 20% down payment of $74,000.
Now, you don't necessarily need to make a 20% down payment. But if you put down less than 20% with a common ("conventional") mortgage, the lender will consider the loan riskier and require you to pay private mortgage insurance (PMI) premiums each month.
What's the bare minimum? Most lenders will expect you to put down at least 5% on a conventional mortgage, but you can go as low as 3.5% with an FHA loan.
Some first-time buyers can go lower still, down to 3% with a Conventional 97 mortgage, while some veterans and rural Americans can get away with no down payment at all.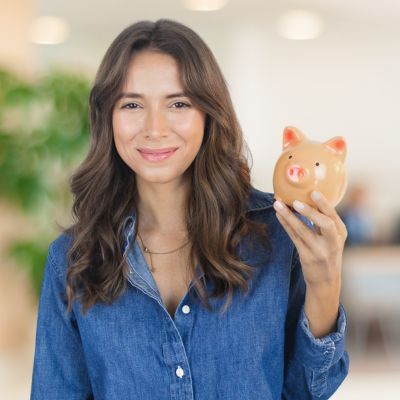 Don't let your money idle in low-interest accounts! Savvy savers are earning up to 10x more interest by keeping their hard-earned cash in a high-yield savings account. Find some of the best options here.
Get Started
How to save for a down payment
So, you've figured out roughly how much you need. The second and more difficult step is actually reaching that number.
Setting a monthly budget — and sticking to it — is already a huge pain, and it will only get tougher if you want to save fast.
Categorize and track all of your monthly expenses so you know exactly where your money is going. Once you're reminded how much you're spending on car insurance or monthly subscriptions, you'll know where you need to make changes.
To reach your down payment goal, consider using a savings goal calculator to determine how much you need to put aside monthly to reach your target. Even after you hit your down payment goal, don't forget the other closing costs involved, like the appraisal and legal fees. You'll need to get numbers for all those costs and pad that homebuying fund with a few extra grand.
How to save money for a house while renting
When you're a tenant and so much of your take-home pay is going to your landlord every month, it might seem impossible to rally the funds needed for a down payment. And if you live in a large city, you'll experience high rent on top of other inflated costs of living.
Generally, experts suggest apartment dwellers spend no more than 30% of their income on rent — a tough task when already one-quarter of American renters are putting at least half their earnings toward housing.
Cutting down on expenses will help, but it might not be enough. One way to lower your rental costs is to get a roommate. In an ideal world, you might prefer your own bathroom — but keep your sights on your end goal: your own house.
You also should try tackling your debts. If you're stuck in a loop, paying the minimum balance on credit cards and fighting high interest rates, consider consolidating your debts with a personal loan.
A debt consolidation loan will replace all of your debts with a single loan at a lower interest rate. You'll be able to vanquish your debts much faster, leaving you with more cash for your down payment fund.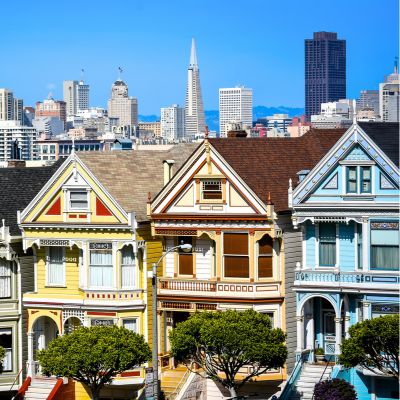 Believe it or not, you don't need millions, or even hundreds of thousands to invest in real estate. Arrived is an online platform where you can invest in shares of rental homes and vacation rentals without the headaches of being a landlord.
Learn More
Where should I keep my money while saving for a house?
The money you're saving for a down payment needs to be easily accessible; you'll need it quickly when the time comes to buy your home. That rules out long-term investments options like a five-year certificate of deposit.
A savings account might be a better bet, though the interest rates tend to be puny. You can, however, find some high-yield savings accounts that offer more generous interest, allowing your money to grow at a better rate while you're not using it.
You may need to make a certain minimum deposit, maintain a minimum balance or pay regular fees, though you can find accounts without any of those restrictions.
A good savings account will be a much-needed ally as you do everything in your power to save and earn enough for your down payment on a house. Follow all of these steps, and you may find homeownership is a lot closer than you think.
Sponsored
Kiss Your Credit Card Debt Goodbye
Millions of Americans are struggling to crawl out of debt in the face of record-high interest rates. A personal loan offers lower interest rates and fixed payments, making it a smart choice to consolidate high-interest credit card debt. It helps save money, simplifies payments, and accelerates debt payoff. Credible is a free online service that shows you the best lending options to pay off your credit card debt fast — and save a ton in interest.