Step 1: Set a realistic budget
Don't get your heart set on a luxury apartment before you review your budget to see if the higher rent that comes with front desk security and an indoor pool matches up with your cash flow.
Start by adding up your net monthly income (that's your take-home pay after taxes), then subtract the cost of food, transportation and utilities (think cellphone, internet, cable and electricity), extras (like your gym membership, subscription services and nights out) and regular monthly emergency savings.
How much money do you have left over? That's the amount you might be able to spend on rent.
But take that potential rent budget and subject it to the 30% test, to make sure you're not overextending yourself. A popular rule of thumb says rent shouldn't exceed 30% of your gross monthly income (before taxes).
Estimate what you're grossing each month, then multiply by 30% (0.30). That should be your rent limit.
If the budget you calculated earlier is under the limit, congratulations — you've got a good plan. If it's over the limit, you may get more realistic your other expenses.
More: Savings goal calculator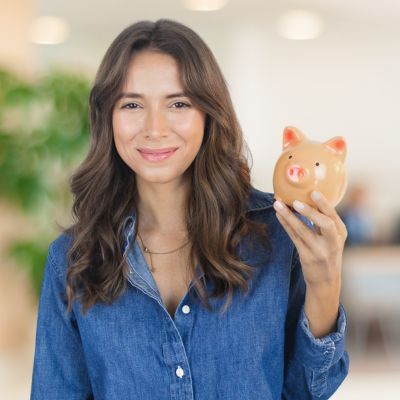 Don't let your money idle in low-interest accounts! Savvy savers are earning up to 10x more interest by keeping their hard-earned cash in a high-yield savings account. Find some of the best options here.
Get Started
Step 2: Prioritize your needs and pick your wants
Finding an apartment to rent begins with picking your location.
Do you want to walk, bike or drive to work — or will you be working from home? How close do you need to be to a grocery store, cafés, parks, a gym or public transportation?
Are you willing to pay more rent for a place in the city that's near everything, or would you be fine living in a less expensive place in the suburbs?
Next, think about size and how much square footage you really need to be comfortable. Freelancers and work-from-homers may require a small den or office space, and frequent travelers (yes, they still exist) who are hardly ever home might choose something smaller that's easier to maintain.
If you have a car or a dog, then remember to add parking or an outdoor space to your must-have list.
Once you've zeroed in on what you need, you can think about other amenities, like whether you need free Wi-Fi or a laundry in your unit. Maybe you want luxuries like a party room or a rooftop garden with a communal gas barbecue.
Whatever's on your wish list, remember that upgrades usually cost more. Pools and backyards need regular maintenance, and a party room for your next (socially distanced) karaoke fest comes with fees and cleaning costs.
Step 3: Request a tour of the apartment
Don't be fooled by online photos. Filters can brighten up floor-to-ceiling windows and hide gaps that let hot and cool air escape.
Onsite visits to apartments will help you spot holes, cracks or leaks in windows, doors and walls that will have to be fixed before you move in. Also keep an eye out for annoying bugs, pests and mold, and walk away if these problems are out of control.
Come prepared to ask the landlord or building manager these need-to-know details:
What day of the month is rent due?
Do you require a security deposit, last month's rent, or both?
Are any utilities included in the rental rate? If so, what are they?
Have there been any recent break-ins or repairs in the building?
Is tenant and visitor parking available? Are there fees to use them?
What maintenance is the tenant responsible for?
Is it OK to paint the walls and put up artwork?
See if you can meet a current tenant for a quick chat, to see how a typical resident feels about the building and its management.
While you're checking out every detail, keep in mind that you're being judged as well. Make a good impression: Wear something as neat and clean as the apartment you're seeing, and bring along a positive attitude.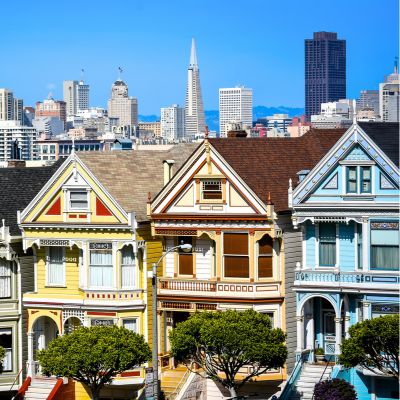 Believe it or not, you don't need millions, or even hundreds of thousands to invest in real estate. Arrived is an online platform where you can invest in shares of rental homes and vacation rentals without the headaches of being a landlord.
Learn More
Step 4: Applying for an apartment
Scoring a new apartment isn't as easy as saying, "I'll take it." Before signing an agreement, you'll need a lot of cash: to cover the security deposit and first month's rent — and maybe last month's rent and an application fee, too. If you don't have enough money, you may need to take out a personal loan to get what you need.
Landlords will start the application process by checking your credit score.
Generally, they like to see a score of 700 or over; anything under 600 is likely to get you rejected because it suggests you're more likely to pay late or completely flake out on your rent payments.
If that's the case, you may not be able to make a move until you've boosted your score to a respectable number.
You'll also need references handy, like a letter from a previous landlord that says you are polite, responsible and always pay your rent.
If you're a first-time renter, line up references from past or present employers, colleagues or a school professor who can say you're friendly, trustworthy and ready to commit to your own pad.
Step 5: Understand the contract terms
A lease usually lasts for one year and lists the terms including the monthly rental rate and any extras you and the landlord agree on, like parking, utilities or maintenance fees.
As long as you pay the rent and follow the property's rules, you can stay for the length of the lease. Any changes the landlord wants to make, such as hiking your rent, can be made only after the lease is up.
A rental agreement is a month-to-month contract, and the landlord can change the rules and increase the rent each time the agreement comes up for renewal. Not as locked and loaded as leases, these contracts are best for short-term tenants who aren't sure how long they'll be staying.
If you notice some verbal agreements you made with the landlord are missing from the lease or rental agreement — maybe you were told pets, roommates or subletting would be allowed — ask to have it put in writing.
If the landlord starts back-pedaling on anything, don't be afraid to negotiate better terms or a lower rent, especially if the property owner is trying to get away with less than you expected.
Once you're happy with all the legalese, take one final tour and inspection of the apartment before you sign the lease or rental agreement. Do things like flush the toilets, run the tap water, check the locks and make sure any repairs you requested are complete.
You've found an apartment to rent! Now what?
While you're painting (if that's allowed) and picking out furniture, brush up on your tenant's rights and responsibilities.
Read the fine print on your lease to find much of this information. Also, the website of the U.S. Department of Housing and Urban Development has a page with links to information on tenant rights in all 50 states, the District of Columbia, Puerto Rico and the U.S. Virgin Islands.
Also at this stage, sign up for renters insurance. The average cost of a renters insurance policy is just $14 a month, according to latest data from the Insurance Information Institute. That cost will insure your belongings, protect anyone who is injured in your property, and cover any damage you may accidentally cause in a neighbor's home, like leaks, floods or fires.
After you get settled, keep in mind that renting an apartment may be a stepping stone to homeownership, unless you've already done that. If you're a younger person who may one day go from renter to first-time homebuyer, start saving for your down payment as soon as you can.
Sponsored
Kiss Your Credit Card Debt Goodbye
Millions of Americans are struggling to crawl out of debt in the face of record-high interest rates. A personal loan offers lower interest rates and fixed payments, making it a smart choice to consolidate high-interest credit card debt. It helps save money, simplifies payments, and accelerates debt payoff. Credible is a free online service that shows you the best lending options to pay off your credit card debt fast — and save a ton in interest.