And yes, almost everyone guessed this already from my not-so-cryptic tweets about taking money out of my EQ Bank savings account, and about having big news, and literally every DM I sent screaming about buying a house… but whatever.
We did it!
This is ~~probably~~ definitely the biggest money thing that has ever happened to me, so you know I'm not just going to leave it at that. This isn't an Instagram post of our keys, after all, and I have So Many Thoughts about this whole process – plus, I want to share how we did it, what we learned and what made the whole thing stress-free-ish and easy-ish.
Here are the five things we did before buying a house that I think made the entire process way easier, and that I would recommend to literally any other first-time buyer. Plus, these to-dos were fun. (Mostly.)
PS. This post is a 2,400-word monster, so like… grab a coffee.
We spent ages creeping open houses
It was two years ago, almost to the day, that I first convinced bribed The Boyfriend to spend a Sunday afternoon trekking around to open houses in our suburban neighbourhood. We had already discussed our timelines for buying, so it was entirely understood that we weren't going to jump at a house if we liked it – especially since I think I probably had about $3,000 in my house down payment savings at the time, if that.
Honestly, even given a bit of trepidation that we would fall in love with a house and then be piles of sadness that we couldn't buy it yet, we had so much fun.
We live in a suburb that was built up in phases, so we got to quickly identify which models of house we liked, and which ones were just never going to work for us. Tiny, closed-off rooms and cramped entryways? No thank you. Two-car garage and master bathrooms? Yes please.
(Yes, we're luxurious monsters, but in our defence, we live in Ottawa and the real estate dreams are still alive in the suburbs here.)
It was this process, which happened over literally two years whenever I saw a few houses I thought we would both like, that helped us narrow down the areas we wanted, and what we wanted to find there. We knew which models of houses we liked, we had extensive conversations about which features of a house were must-haves for each of us, and we knew which renovations we were willing to take on – and which ones we really weren't.
As a bonus, we also got to know the local market, and watch which houses would sit on the market at a specific price, and which ones moved quickly. Now, I'm not claiming to be some kind of expert by any stretch of the imagination, but having a general sense of what houses sell for in your neighbourhood is a very good thing – and it seriously helped us out in several ways.
Including, but definitely not limited to, forecasting our future budgets.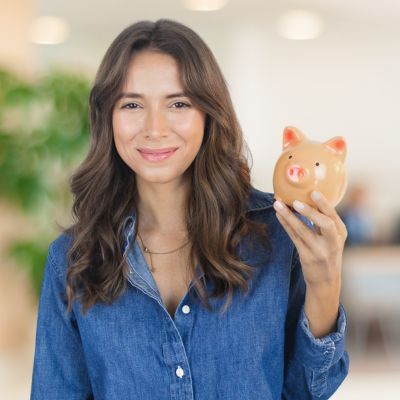 Don't let your money idle in low-interest accounts! Savvy savers are earning up to 10x more interest by keeping their hard-earned cash in a high-yield savings account. Find some of the best options here.
Get Started
We did extensive budgeting
Once we were on the same page about our combined must-haves list, and we had a sense of our numbers, the budget spreadsheets came out in full force.
Specifically, I wanted to make sure we were future-proofing our budget to handle things we both see in our futures in best-case and worst-case scenarios. That includes things like temporary job loss, maternity leave and the Dread Pirate Daycare if we are blessed with ~~expensive tiny humans~~ children.
Sure, we could afford a massive place with our dual-income, no-kids lifestyle, but my real questions were more like…
"Will we still be able to save 10% of our pre-tax income for retirement when we have a $1,200 daycare bill?"
"How can we scale back to accommodate the massive drop in income if one of us takes parental leave for a year?"
"What if one of us loses a job?"
"OK, seriously though, will I still be able to go to the pub / buy lattes guilt-free when all of this is going down, or are we going to be house paupers?"
So I ran the numbers, aka my favourite thing to do ever, and worked it out. We could afford to cover the mortgage, all of the bills, all of the insurance and all of the emergency-house-fund savings, even in our worst (and best) case scenarios. Without that reassurance, I never would have been cool taking our next step.
Asking the bank for hundreds of thousands of dollars in debt.
We got pre-approved for a mortgage
After I hit my down payment savings goal (big ups to my savings rate) I knew I wanted our next step to be getting pre-approved for a mortgage together.
See, here's the thing: The Boyfriend owns his townhouse right now.
The plan was always to sell his place and then buy one together, for a number of different reasons. The big catch was whether the bank thought we could afford the place we wanted, because if they didn't, we didn't want to go through the cost and hassle of moving just to get something we weren't totally happy with.
And OK, yes, I did just walk you through the gigantor process I used to figure out whether we could afford this much house.
And yes, The Boyfriend kept reminding me that if I, with my 50% savings rate, was convinced we could afford it, no bank in their right mind would deny us a mortgage. But I wanted to be sure, OK? Because real talk: moving is expensive.
Like, more expensive that you can even conceptualize until you're in it. There was no way either of us was on board to buy and sell our house again in five years, so we wanted to get the place we wanted to stay – especially since The Boyfriend already owns a home.
So on a sunny Tuesday morning, we strolled into the bank for what I think was one of my favourite dates with The Boyfriend, ever.
We were prepared with every document the bank needed, we were already on the same page when it came time to talk numbers, and the entire process was ultra-smooth. (The woman helping us even commended us on being exceptionally prepared, and told us we could teach a class on this, which is probably up there among the best compliments I've ever received. I was giddy.)
They approved us for our full budget, and reassured us that we could carry The Boyfriend's current mortgage and the new place, no problem. They even gave us the wink-wink advice that if we really were going to buy a place to stay there for a long time, we could go $10,000 to $20,000 over our current budget, no problem.
Which like, was good to know! But spoiler alert, you know we stuck with our budget.
PS. We didn't shop around for a rate because The Boyfriend currently has a mortgage, and it has a fairly competitive rate – which we know because we did our research. The savings of switching for a slightly lower rate wouldn't have made the penalty to get out of the current mortgage worth it, so we chose to stay with his current mortgage provider. If we were doing it from scratch, I'd definitely use a mortgage broker or at least compare my rates online.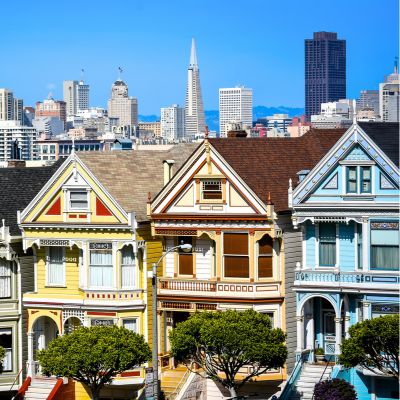 Believe it or not, you don't need millions, or even hundreds of thousands to invest in real estate. Arrived is an online platform where you can invest in shares of rental homes and vacation rentals without the headaches of being a landlord.
Learn More
We used a real estate agent
So with our pre-approval, and the tacit permission that we could afford to buy first, sell later, I took to my MLS-creeping with renewed vigour. Literally the day we got pre-approved, I saw a listing that I hadn't noticed before, and showed it to The Boyfriend.
"This place looks great, eh?"
hands over listing on my phone while we're watching TV
"Yeah, let's go see it."
So I emailed the listing realtor to ask when the open house was, because the listing was vague on dates.
If you're thinking "Wait, why didn't you email your realtor to setup a showing?" just wait.
This gets so much better.
The listing agent, obviously, emailed back to say we should do a private showing, so like, cool. Let's do that. We set one up for Friday morning, aka three literal days after we got preapproved for a mortgage.
To prepare, I sent a frantic DM to my friend Andrew, the mastermind behind Family Money Plan and my go-to on all things housing. He paid off his mortgage in six years, so he knows a thing or two about houses.
He calmed me down, and prepped me with a list of questions to ask the listing agent so that I would be able to update my obsessive comprehensive budget forecasts for this specific house.
(Literally my favorite thing is surprising people with how prepared I am when they don't expect me to be. On my list of hobbies, that is really far up there.)
So we finish up the showing on Friday morning, me with my notebook full of questions about how much the utilities cost, The Boyfriend excelling in his role as skeptic (because I can't be chill to save my life, and we 100% planned that).
We get into the car in the driveway.
Me: "I think we should buy it!"
The Boyfriend: "Me too. I guess we should call Helene."
And that, friends, is the story of how we got a real estate agent.
We saw the house, liked it, knew we wanted to make an offer, and went straight to Starbucks to call our in-our-heads agent, who did not know she was our agent or that we were buying a house. She's a close family friend, so we texted her that SURPRISE, we want to buy a house today and can you help us?
That was around 11 a.m., and by 3 p.m. we were back at the house doing a walk through with her. She had done up all of the paperwork for us to put in an offer, and pulled up multiple comparable listings from the past year to see what we should pay for the place. All we had to do was listen, discuss and sign, and boom: we had a conditional offer to send to the sellers.
After that, things kicked into high gear, and we really saw the value of having a real estate agent. She handled everything with the selling agent, texted us to let us know that the offer had been accepted, dropped everything to take a look at The Boyfriend's townhouse and help us make a plan for listing it, and set us up with a real estate lawyer and house inspection the following week.
I'll be honest: This past week, with fulfilling all of our conditions and getting an entire three-bedroom townhouse ready to list, has been a wee bit stressful. If we hadn't had someone handling the logistics, details and legalities of the house purchase? I can't even come up with a catchy phrase for how stressed out I would have been. It is beyond words.
Since we're hoping to only go through this process once in the next 30 years, not stressing out about learning all the details of How to Real Estate Without Screwing Yourself Over has been one of the best decisions we could have made.
We had savings
You know what's helpful when buying a house?
Money.
In the past week alone, we've put down a $3,000 deposit, paid $500 for a house inspection, bought three cans of paint to fix up The Boyfriend's townhouse for listing, and drawn up a budget for all of the things we need to pay for in the next three months before and while we close on the new place and move. That's not counting the money we've spent on renos over the past two months that we did knowing this day was coming.
Gulp.
You can read all you want about closing costs, and do every calculator in the book, and prepare as much as you want, but when it comes time to add everything up in real life, you'll be 100% less stabby if you've got at least some of the money ready, outside of your down payment.
PS. We've had all the talks
As a small aside, since I know a lot of you are wondering and have cautioned me about this before, we're both going into this fully aware of the legal and financial ramifications of taking on a purchase like this before having a big party and promising to love each other forever.
Your girl wouldn't spend hundreds of thousands of dollars without doing that, you know me.
TL;DR: 5 things to do before buying a house
Because this post was a behemoth, and you're a total champion for reading all the way through, here's a recap of exactly what we did, and what I would do again in a heartbeat, to make buying a house as stress-free as possible.
Creep open houses with reckless abandon. Seriously, it's a really fun date, even if your date is a friend you bring along to look appropriately skeptical. Grab a coffee and go creep some houses that are open.
Figure out your budget, in all scenarios. Don't just rely on what your budget can accommodate now, unless you're reasonably sure you won't have major life changes in the future (and lol don't ever be sure about that).
Get pre-approved for a mortgage. If you can get all of the paperwork filed, filled out and stamp-of-bank-approval-ed before you find a place you want to buy, you'll be able to fulfill your financing condition way faster.
Use a realtor. Unless you plan on making a lot of real estate purchases, or you have the time, patience, confidence and inclination to DIY this purchase? A realtor is probably worth the money you'll spend working with them, and if you're just buying, you don't even pay for them. The sellers do.
Have savings. That means above and beyond your down payment, too, because that money is already spoken for by the actual house. Closing costs are no joke, friends.
Sponsored
Kiss Your Credit Card Debt Goodbye
Millions of Americans are struggling to crawl out of debt in the face of record-high interest rates. A personal loan offers lower interest rates and fixed payments, making it a smart choice to consolidate high-interest credit card debt. It helps save money, simplifies payments, and accelerates debt payoff. Credible is a free online service that shows you the best lending options to pay off your credit card debt fast — and save a ton in interest.