VOO vs. VTI
VOO and VTI are the ticker symbols for two of Vanguard's index ETFs. Exchange-traded funds, or ETFs, are a type of pooled investment security that trades like a stock on the market. They both track a particular market cap weighted index and contain a wide range of investments.
Many investors appreciate VOO and VTI for their broad exposure to the stock market, although VTI has a much larger pool of stocks of about 4,000 in all. The broad holdings within these ETFs can reduce investor risk. For investors with a long time horizon of at least 10 years, VOO and VTI both offer strong returns that can outweigh any short-term losses.
VOO is also available as the Admiral Shares mutual fund (under VFIAX), as is VTI (under VTSAX).
More: 8 best Vanguard ETFs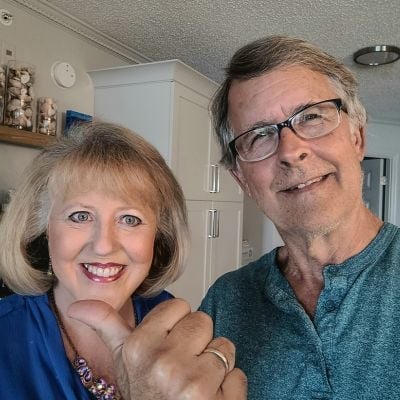 What is VOO?
VOO (VOO.IV) represents the Vanguard S&P 500 ETF, so it's a basket of securities tracking the S&P 500 index. The S&P 500 is a compilation of 500 large-cap U.S. companies and is one of the most closely followed indices in the U.S. market.
Index it tracks: S&P 500
Expense ratio: 0.03%
Last quarterly dividend: $1.46/share (October 2022)
Dividend yield: 1.77% (as of October 2022)
Large-cap companies tend to be relatively safe, but often don't offer the growth potential of smaller companies.
Following the S&P 500, VOO holds a total of 503 stocks, with a $161.1 billion median market cap.
Top VOO holdings
Here are the top 10 holdings of VOO:
Apple (AAPL)
Microsoft (MSFT)
Amazon (AMZN)
Alphabet Class A (GOOGL)
Alphabet Class C (GOOG)
Tesla Inc. (TSLA)
Berkshire Hathaway Class B (BRK.B)
UnitedHealth Group Inc. (UNH)
Johnson & Johnson (JNJ)
Nvidia Corp. (NVDA)
Top VOO sectors
This is how various sectors are weighted within VOO. (Again, the weights are equal to the weights given in these sectors in the S&P 500.)
Communication Services: 8.4%
Consumer Discretionary: 11.5%
Consumer Staples: 6.6%
Energy: 4.4%
Financials: 10.6%
Health Care: 14.3%
Industrials: 7.9%
Information Technology: 27.9%
Materials: 2.5%
Real Estate: 2.9%
Utilities: 3%
What is VTI?
VTI (VTI.IV) is the Vanguard Total Stock Market ETF. This ETF tracks the CRSP US Total Market Index, with 4,076 total stocks. It holds almost 100% of the investable equity market in the U.S., with a median market cap of $124.9 billion.
Index it tracks: CRSP US Total Market Index
Expense ratio: 0.03%
Last quarterly dividend: $0.79/share (September 2022)
Dividend yield: 1.74% (as of October 2022)
Top VTI holdings
Currently, VOO's top 10 holdings are the same as VTI's. This is normal, as VOO and VTI have remarkably similar makeups in terms of the securities they hold.
Top VTI sectors
Here's how VTI weights each sector in the fund (equivalent to its benchmark, CRSP US Total Market Index):
Basic Materials: 2.1%
Consumer Discretionary: 14.7%
Consumer Staples: 5.4%
Energy: 4.6%
Financials: 11%
Health Care: 13.6%
Industrials: 12.9%
Real Estate: 3.7%
Technology: 26.3%
Telecommunications: 2.4%
Utilities: 3.3%
Trade your favorite stocks any time
Investing doesn't have to be hard. Robinhood is the only place you can trade stocks, options and ETFs 24 hours a day, 5 days a week, all still commission-free. Start building your portfolio with as little as $1.
Get Started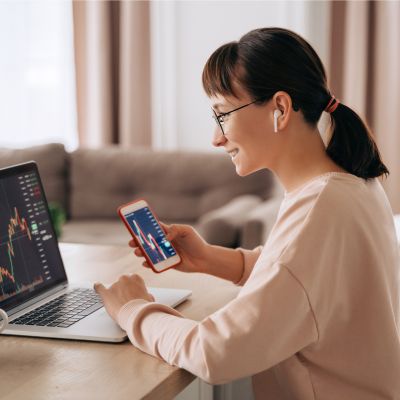 VOO vs. VTI performance
Now that we have an idea of what these funds comprise, how have these ETFs performed recently and over time? Both present a means of passively investing in the stock market with similar returns on your investment.
Over the past several years, both funds have gone up in market price, with the exception of 2022 (which is no surprise with the market as a whole dropping significantly). Here's a quick chart that shows how the ETFs have performed in relation to each other over the past year:
Comparing annual returns of both funds, in 2021 VTI returned 25.64% by market price, while VOO returned 28.6%. They turned in similar performances in the market for investors.
When looking at quarterly returns for both VOO and VTI, the two ETFs again gave similar results. Both had quarterly returns around 6% for Q1, went up slightly in Q2, dropped to nearly zero in Q3, and jumped back up by the end of the year.
Both VOO and VTI have performed at a decline over 2022, so whether you invested in VOO or VTI wouldn't have made much of a difference.
However, in previous years VOO and VTI have done well. For example, VOO has cumulative returns of over 35% over the past three years, while VTI's 3-year cumulative returns come in close behind. Going back as far as five or ten years, they have offered even higher cumulative returns — over 200% for both indices.
Since inception in 2010, VOO has returned 11.20% on average (after taxes and sale of fund shares). VTI has returned only 6.35% since its inception. However VTI began in 2001 and endured the 2008 recession. Given its much longer history, its overall lower returns aren't so surprising.
What it boils down to is that there's very little difference in how VOO and VTI have performed since they were created. You'd see quite comparable results by having invested in either one of these funds.
VOO vs. VTI dividends
Both funds pay dividends to shareholders on a quarterly basis. These are payments from companies that reward their investors for their trust. As an investor, you can enjoy not only the returns on your total stock holdings as they (hopefully) grow in value, but also steady income from dividends paid by some of the companies in the fund.
The VTI dividend yield is currently 1.74% and has been on the rise during throughout 2022 as its share price has been depressed by the bear market. In a good sign, VTI's fund managers have raised its dividend three times in a row. Here are the past three dividend payments:
12/30/2021: $0.70820/share
06/28/2022: $0.74910/share
09/28/2022: $0.79550/share
VOO offers a slightly better dividend yield of 1.77% and has also increased it each quarter in 2022:
03/29/2022: $1.37370/share
07/05/2022: $1.43210/share
10/03/2022: $1.46920/share
Key similarities of VOO and VTI
By now, it's clear that VOO and VTI share quite a bit in common. At the moment, there's an 82% overlap of stocks between the two funds, so only about 18% is held in stocks unique to VTI. Their top ten holdings are identical, with comparable weights for each stock.
Not only are the actual stocks held in both funds very similar, the expense ratio for both is low at 0.03%, and you can trade VOO and VTI through most of the same brokerage firms (although working with Vanguard to invest would be the most logical, as it would come with fewer fees).
Either VOO or VTI would serve you well over the long run. Although both funds have declined over the past year, their returns have also experienced similar highs over the past ten years or so.
While no pattern of returns is guaranteed to continue, these two ETFs seem capable of bouncing back with any eventual market correction in the coming months and years.
Key differences between VOO and VTI
Despite their overwhelming similarities, these two ETFs do have some slight deviations from each other.
The makeup of the funds has some differences, since VOO basically tracks the S&P 500 and VTI tracks the entire stock market. If you'd like to focus your portfolio primarily on large companies, VOO will generally perform the same way as the S&P 500. If the S&P 500 gains in value, VOO will show comparable gains, and the reverse is also true.
However, if you're more interested in an all-encompassing stock market investment, VTI could be a better fit. VTI contains about eight times the number of stocks as VOO, so it instantly exposes investors to a wider range of companies.
Plus, VTI isn't as heavily weighted to large-cap companies. Large-cap companies generally have at least $10 billion in market capitalization, or the total value of outstanding shares. Mid-cap companies hold between $2 billion and $10 billion, while small-cap companies hold between $300 million and $2 billion.
In general, smaller and mid-cap companies can be more volatile than large-cap options, and suffer more from big market swings. The long-term investor is better prepared to absorb losses from temporary swings, so small-cap and mid-cap companies are still solid investments.
Investing in VTI means you own part of essentially every publicly traded company in the U.S. The fund includes 64.3% of its holdings in large-cap stocks, but a greater percentage in smaller stocks than VOO.
VTI has 6.8% market capitalization in medium/small companies, and 9.9% in small companies. VOO, on the other hand, only holds 4.4% in medium/small cap firms, and a minuscule 0.3% in small companies.
If you want to invest in companies that haven't quite reached the status of S&P 500 firms, that could represent a bit more risk but also potential reward. Since those companies are smaller in terms of value of their shares, there's much more room for growth over time than with companies that are already over $10 billion in market cap.
More: VOO vs. SPY
Bottom line on VOO vs. VTI
Given that both VOO and VTI offer exposure to a wide range of securities with fairly low fees, deciding between the two might be tough. We say, "Why not choose both?" If you have the opportunity to invest an equal amount in each fund on a monthly basis, that would probably be our favorite choice.
However, if you know that you'd like a bit more exposure to smaller and medium-sized companies or just want to invest in more stocks overall, VTI is your best bet. VOO, meanwhile, is the better option for investors who want to focus heavily on large cap companies.
If you don't have a choice (maybe you're investing through your 401(k) and have limited options), don't sweat the differences between VOO and VTI — either one is likely to work out fine in the long run.
Even in the current bear market, choosing one of these ETFs over the other may not necessarily be more profitable, since such large portions of these funds are nearly identical. The great news is that both VOO and VTI offer diversification and ease of access to build your portfolio over time.
Sponsored
Follow These Steps if you Want to Retire Early
Secure your financial future with a tailored plan to maximize investments, navigate taxes, and retire comfortably.
Zoe Financial is an online platform that can match you with a network of vetted fiduciary advisors who are evaluated based on their credentials, education, experience, and pricing. The best part? - there is no fee to find an advisor.