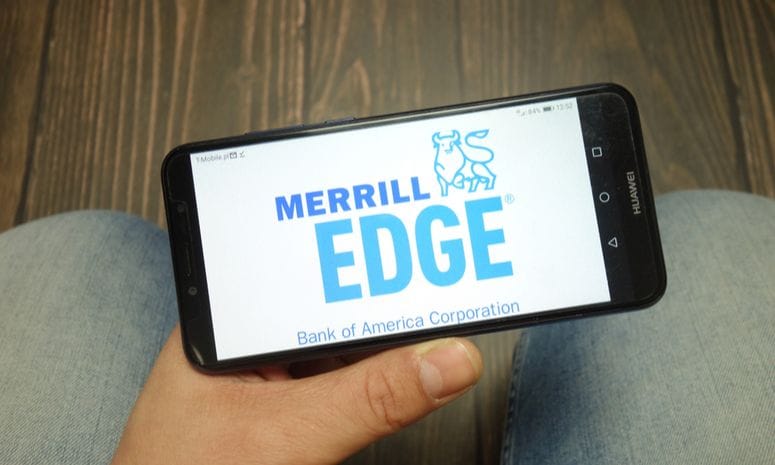 Merrill Edge review: Great for research junkies and ESG investors
Piotr Swat / Shutterstock
We adhere to strict standards of editorial integrity to help you make decisions with confidence. Please be aware that some (or all) products and services linked in this article are from our sponsors.
We adhere to strict standards of editorial integrity to help you make decisions with confidence. Please be aware that some (or all) products and services linked in this article are from our sponsors.
Merrill Edge is a discount brokerage from Bank of America. With this broker, you can open a self-directed investment account with no recurring fees and no commissions on stocks or exchange-traded funds (ETFs).
Plus, Merrill Edge provides some of the best research tools and ESG investing capabilities on the market. And if you need a helping hand, it offers managed portfolios and professional investment advisors for an added fee. Overall, it's an excellent choice for hands-off and active investors alike.
Pros and cons
Pros
Commission-free stock and ETF trading
Merrill Edge has platforms for voth beginner and expert traders
Comprehensive ESG investing options
Extensive research and education resources
Cons
Fees for managed portfolios are higher than some competitors
No fractional share investing
No cryptocurrency investing
Who is Merrill Edge for?
Merrill Lynch is an old name on Wall Street. Founded in 1914, the major brokerage was acquired by Bank of America in the wake of the Financial Crisis in 2008. Today, Merrill Edge is the discount stock trading product from Bank of America.
Overall, it's a competitive, commission-free broker that has some of the most in-depth research and educational tools. And if you're a Bank of America customer, Merrill Edge is an obvious choice because of its integration with your bank and the Preferred Rewards program.
It's also an excellent choice if you want comprehensive ESG investing and a wealth of investing tools for more active trading.
You need to look elsewhere if you want crypto investing and fractional shares. But for existing Bank of America customers or investors who value research and education, Merrill Edge is worth using.
Merrill Edge features
Investment types
Stocks, ETFs, Mutual Funds, Bonds, Options
Accounts types
Taxable, Joint, Traditional IRA, Roth IRA, 529, Custodial
Customer service
Phone: 24/7; Live Chat: M-F 7:30 a.m. -11 p.m. ET, Sat 7:30 a.m.-6 p.m. ET; Email
What Makes Merrill Edge great?
Merrill Edge has been rated the #1 broker for customer service, commission and fees, and research by the likes of Kiplinger and Institutional Investor. And with a range of investing offerings and research tools, it's easy to see why it's so popular.
Investment selection
One advantage of Merrill Edge is the range of investment choices you have. For starters, you get commission-free trading for ETFs and stocks. You can also invest in:
Additionally, Merrill Edge has excellent ESG investing support. ESG, or environment, social, and corporate governance, is a socially-responsible investing strategy in which investors support companies that support these values.
With Merrill Edge's sustainable investing, you can use its Idea Builder tool to find stocks that support environmental and social initiatives you care about. Stocks even have an ESG rating to help you decide. Plus, your portfolio has an overall score for each ESG component.
Finally, you can also trade on margin. However, Merrill Edge doesn't support futures trading.
Education and resources
Merrill Edge customers have access to a wealth of investing research to help them make more informed decisions. If you're an active investor who loves digging through stock screeners and analyst reports, Merrill Edge is for you.
Some of the main educational and research resources you get include:
Bank of America's (BofA) Global Research reports
BofA buy-rated stock picks from its Global Research Analyst team
Third-party research from partners like CFRA, Lipper, and Morningstar
Merrill Edge also provides videos and webcasts from industry professionals covering topics like market volatility and various asset classes.
The research you get from BofA is the main selling point. You get weekly and monthly reports with insights from investment analysts, hedge fund managers, and industry leaders.
And there are other useful investing tools as well. Merrill Edge has flexible screener tools for stocks, mutual funds, ETFs, options, and fixed-income investments. Screeners have over 200 filters, including options like analyst opinions, dividends, earnings and growth, and other metrics to help you value a stock or security.
MarketPro trading
MarketPro is Merrill Edge's online trading platform that caters to active traders. It's free for Merrill Edge customers, and there's no minimum deposit or trading requirement. You don't pay commissions on stock and ETFs either.
You create a customizable trading dashboard with MarketPro. Merrill Edge has several prebuilt trading views. You can also add additional info to your dashboard and save different layouts. Other perks of MarketPro include:
Charting options with 104 technical indicators and 25 drawing tools
Level II Nasdaq quotes
Options analysis tools
Additionally, market makers compete for Merrill Edge's business. According to Merrill Edge, this means 99% of orders execute at or better than quote price. Orders also process in 0.007 seconds on average, so you can trade knowing your quote price is the actual price.
MarketPro is only available on desktop. But Merrill Edge has a robust mobile trading app where you can manage your account, read the latest news, and enable stock and watchlist alerts so you don't miss a trade.
Merrill Edge Guided Investing (MEGI)
Self-directed investing with Merrill Edge provides everything you need to start investing. And the range of research and education tools helps you get started.
But Merrill Edge also offers Guided Investing if you need expert investing help. This robo-advisor considers your investing goals and levels of risk tolerance to build a portfolio that's right for you. Merrill Edge even handles portfolio rebalancing, and you can monitor performance and progress towards your goals in a central dashboard.
Unlike some robo-advisors, Merrill Edge lets you stay online-only or add access to a Merrill Edge advisor. The plans have different investment minimums and fees:
MEGI Online: $1,000 investing minimum; 0.45% annual fee.
MEGI Online with advisor: $20,000 investing minimum; 0.85% annual fee.
Robo-advisors like Betterment are more affordable with a 0.25% annual fee for accounts under $100,000. But Merrill Edge offers flexibility. And the fact you can talk to a human advisor is a selling point for some investors.
Preferred Rewards Program
Because Bank of America owns Merrill Edge, you automatically get enrolled in the Bank of America Preferred Rewards Program. As long as you have an active Bank of America checking account and meet certain balance requirements, you gain perks.
Currently, Preferred Rewards has four tiers that help you save on investing and bank fees while unlocking extra rewards:
Gold
Platinum
Platinum Honors
Diamond
3-Month average balance requirement
Guided investing discount
Advantage savings interest bonus
Credit card rewards bonus
Foreign exchange rate discount
No international transaction fees or ATM fees
Bonus cash-back and interest are the main perks of Preferred Rewards. But this program also makes Guided Investing more affordable and helps you save on international travel.
New account bonus
New customers can earn up to $600 for opening a Merrill Edge Self-Directed account. To qualify, you must fund your account with at least $20,000 within 45 days of opening. Merrill Edge bonuses vary depending on funding amount:
Deposit Amount
Cash Reward
Earning $600 requires a lot of capital, but even earning $100 to $250 is a competitive welcome bonus.
What are Merrill Edge's drawbacks?
Merrill Edge excels in terms of self-directed investing pricing, research, and investing options. But it doesn't support every asset class, and its robo-advisor branch isn't competitive on pricing.
No crypto investing
Merrill Edge offers commission-free trading and supports numerous investments. However, a lack of crypto investing is one major drawback.
If you want to add digital assets to your portfolio, you can use a cryptocurrency exchange like Coinbase or Gemini that support dozens or hundreds of popular coins. Alternatively, use investing apps like Robinhood that support crypto.
No fractional shares
While you can enable a dividend reinvestment plan (DRIP) to reinvest dividend earnings with Merrill Edge, he broker doesn't support fractional share investing outright. Overall, this makes Merrill Edge less beginner-friendly than brokers like Fidelity that support fractional shares.
High guided investing fees
Merrill Edge's flexibility for its Guided Investing plan is a strength. However, fees are steep, even with potential Preferred Rewards discounts.
The $1,000 investing minimum is also high. In comparison, robo-advisors like Betterment have a $0 balance requirement and only charge 0.25% annually. Wealthfront, another leading robo-advisor, has a $500 balance requirement and also charges a 0.25% annual advisory fee.
Merrill Edge pricing and fees
Merrill Edge doesn't charge commissions on stock and ETF trades. You don't pay account maintenance fees either.
However, different order types and investments have various fees:
Broker-assisted trades: $29.95.
Options: $0.65 per contract.
Mutual funds: $19.95 for funds outside of the no transaction fee (NTF) group
Fixed income and bonds: $1 per bond ($10 minimum and $250 maximum)
Margin rates: Ranges from 7.50% plus base lending rate to 8.50% plus base lending rate depending on loan amount. Merrill Edge doesn't include pricing for customers with $250,000+ in assets or margin loans greater than $1 million.
Finally, you pay various account fees in some scenarios:
Canceled checks: $3.
Returned deposits: $20.
Wire transfer: $24.95.
Stop payments: $25.
Full account transfers: $49.95.
Account closeout: $49.95.
How to contact Merrill Edge
The fastest way to contact Merrill Edge is to call.
Merrill Edge customers: Call 877-653-4732.
Non-customers: Call 866-460-1282.
Phone support is available 24/7 which is one advantage. You can also schedule an in-person appointment at 2,200 Bank of America branches to speak to a Merrill Financial Solutions Advisor.
This level of in-person support is one massive difference from using Merrill Edge versus online-only brokers.
Best alternatives
If you're a Bank of America customer or want the best ESG investing platform, Merrill Edge is worth using. But it's far from your only option.
| Highlights | Merrill Edge | Robinhood |
| --- | --- | --- |
| Rating | 4/5 | 4/5 |
| Min. Investment | $0 | $0 |
| Stock Trades | $0/trade | $0/trade |
| Options Trades | $0.65/contract | $0 |
| Crypto Trades | ❌ | ✅ |
| Mutual Funds | ✅ | ❌ |
| Virtual Trading | ❌ | ✅ |
| - | - | OPEN ACCOUNT |
Bottom line
Merrill Edge is an award-winning broker for good reason. It has competitive pricing for self-directed investing. And its range of portfolio options, particular ESG-friendly ones, is an advantage. When you throw in industry-leading research and perks for existing Bank of America customers, it's one of the best brokers out there.
But you'll need to choose a different broker if you're wanting to get involved in cryptocurrency or fractional share investing. And if you're looking for managed portfolios, brokers like Fidelity or robo-advisors like Betterment are superior.
In short, existing Bank of America customers should definitely consider Merrill Edge, as should any investor who values research and ESG investing options.