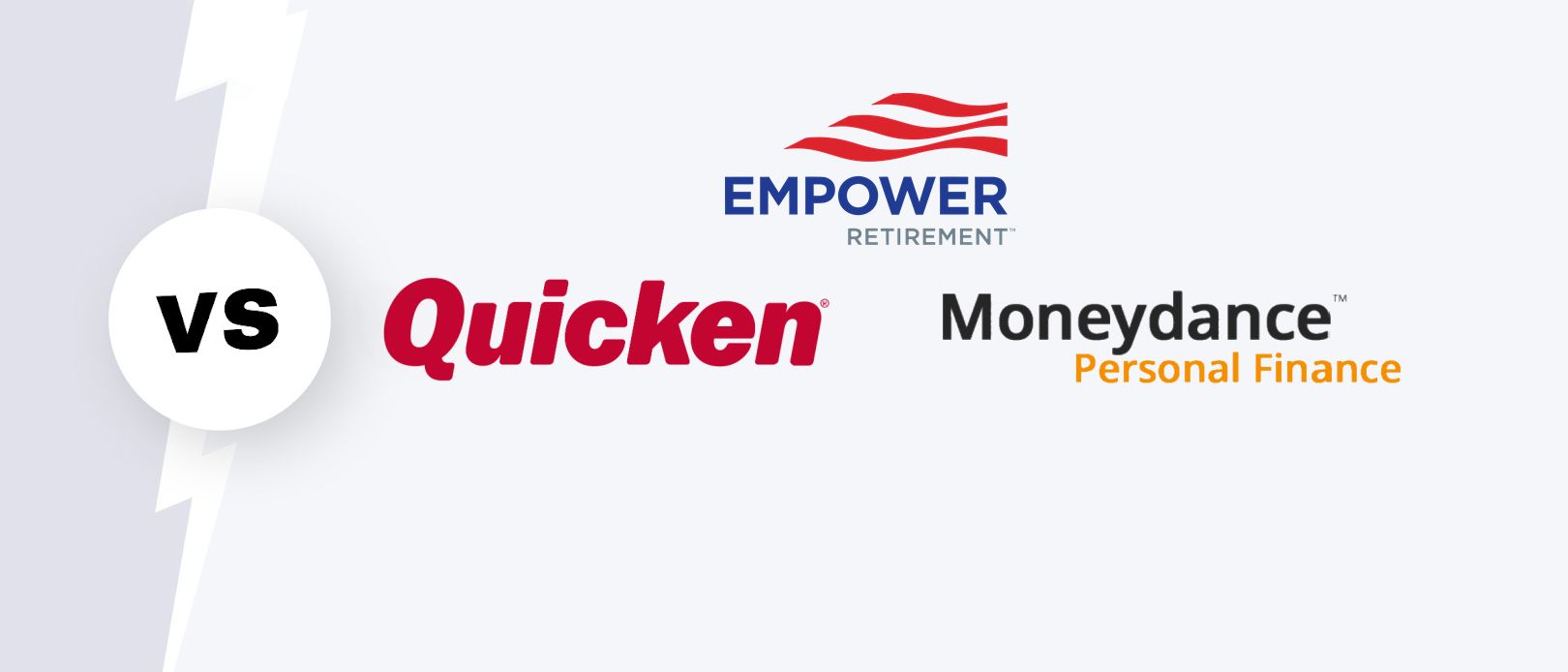 Empower vs. Quicken vs. Moneydance
Trismegist san / Shutterstock
We adhere to strict standards of editorial integrity to help you make decisions with confidence. Please be aware that some (or all) products and services linked in this article are from our sponsors.
We adhere to strict standards of editorial integrity to help you make decisions with confidence. Please be aware that some (or all) products and services linked in this article are from our sponsors.
If you're serious about your money, you know it's important to keep tabs on your various financial accounts. However, it's likely you have several separate investment, credit card and bank accounts. Wouldn't it be great to have a way to view them all together?
These apps range in price and features. Depending on what you want from a money management app, you may find that one is a better fit than the others for your needs. If your sole focus is cost, jump right to Empower, which offers a free financial analysis tool. But if you need more help with budgeting than investing, one of the others could be worth the price.
Empower, Quicken and Moneydance each give you a digital personal finance dashboard with the most important details about your money at your fingertips. But which is the best?
About Empower

Empower launched in 2011. It's an investment management service that also offers a free personal finance dashboard. You can use the investment tools even if you don't pay to use Empower as an investment manager. The only "string attached" is that the company may try to sell you on its investment services if you have $100,000 or more in investable assets.
The free online money tools do an excellent job of helping you understand your investments. Empower breaks down your asset allocation, shows your portfolio performance by account or across accounts, calculates your net worth and gives a high-level overview of your cash flow by category. Just connect your financial accounts and Empower will take care of the rest.
When I signed up back in 2012, I used Empower's tools to take a closer look at the investment fees on my mutual funds and ETFs. That led me to make some changes, and ultimately I saved $300 per year in fees. That compounds to tens of thousands of dollars in savings over time.
I regularly suggest this free money management app to friends and family. Because it's free, you have nothing to lose by giving it a try. There's both a web and a mobile version to monitor your money at your computer or on the go.
About Quicken

Many people think of Quicken as the original money management app. It has a lot of history, since the first version came out in 1983. That's before most of us had computers, if we were alive at all!
Intuit, the current owner of QuickBooks and Mint, developed the software but sold it to another company several years ago. Unlike Empower, which is web based, you must download Quicken onto your Windows or Mac computer desktop. Despite this, you still have to pay an annual or two-year license fee to access the latest updates.Quicken offers four Windows versions, ranging from $34.99 for Starter to $99.99 for Home & Business (which is not available for Mac). Most readers would probably need at least the Premier version, which has a $74.99 price tag.
Quicken has a ton of budgeting features. Intuit practically invented computer budgeting programs, so it should come as no surprise that the software is good at this. It also connects to your accounts to automatically download balances and transaction details to your computer. Other major features include investment tracking, retirement planning and bill pay. The Home & Business version adds features for property managers and small business owners.
There's no free trial available, so you have to pay to download. But Quicken offers a 30-day unconditional money-back guarantee.
About Moneydance

Moneydance is not as well-known as Empower or Quicken, but it packs powerful features and a great-looking interface. It costs $49.99 and comes in Windows, Mac and Linux versions, as well as iOS and Android mobile apps. The mobile app automatically syncs with your desktop download.
Like Quicken, Moneydance can connect and automatically download transactions from your bank.
It learns from you how to automatically categorize future downloads. It features useful summaries and graphics, a digital checkbook register for each account, a reminder calendar for single or recurring transactions, and investment tracking.
Moneydance gets frequent updates with new features. The April 2019 update added dark mode, imports from other money applications, speed updates and other features. Moneydance is developed by a small, focused team in Edinburgh, Scotland. It was first released in 1997.
How are they the same?
All three services offer many features. First, let's take a look at how they're similar.
Budgeting
All three apps offer tools to help make budgeting a breeze.
Investment tracking
Empower, Quicken and Moneydance can all track your investments across your accounts.
Online synchronization
All three services can sync with outside online accounts.
How are they different?
Let's take a look at the areas where Empower, Quicken and Moneydance differ.
Bill pay
While you can use Quicken and Moneydance to pay your bills, Empower offers no such option.
Retirement planning
Empower and Quicken both offer tools to help you plan for your retirement. However, Moneydance does not.
Mobile apps
Empower and Moneydance were made with the mobile-app user in mind. Quicken's app is clunkier to use and lacks some features, and you'll still need to download the desktop software too.
Multiple currency support
If you have money in international accounts, you may need multiple currency support. Moneydance and Quicken offers this, while Empower deals only with U.S. dollars.
Price
Empower: Free for the basic app; Wealth Management services range from 0.49% to 0.89% annually; Quicken: $34.99 to $99.99; Moneydance: $49.99
Unique features
Features unique to Empower
Empower is the only app on this list that's free to use. It's also the only entirely cloud-based program. The benefit here is that Empower works everywhere there's an internet connection.
Some people have security concerns about handing their information over to a web-based platform. However, this app uses bank-level security to keep your information safe and two-factor authentication for unrecognized devices.
Empower is the only service out of these that also offers its own paid investment management service.
It also has an excellent cash management account called Empower Cash™ which pays 3.35% APY and 3.45% APY for Empower Advisory clients.
Get started with Empower for free
Features unique to Quicken
Quicken is the granddaddy of money apps, so it has a lot of features that are very well developed. It saves your information to your computer instead of the web, but that means you're also responsible for keeping your computer secure and backed up (something you should do anyway) to keep your financial data safe.
Depending on which version you choose, Quicken is also the most expensive. And it's the only one of the bunch with a recurring subscription fee.
Get started with Quicken
Features unique to Moneydance
Moneydance is the underdog in this fight. That's certainly the case when it comes to the size of the company. But that doesn't mean you should discount it. Moneydance runs on the same double-entry bookkeeping system used by accountants. But it does so with a friendly interface that's perfect for casual personal finance "experts."
We also like that you can test Moneydance with a free trial before paying to unlock the full version. Plus, there's a 90-day money-back guarantee if you're unhappy for any reason.
Price
The Empower program we're talking about here today — the personal finance tools — is free. There's also a paid investment management service available if you have a minimum of $100,000.
Depending on which version of Quicken you want to use, you'll have to pony up $34.99 to $99.99 for each year's subscription (discounts are available).

Moneydance costs a flat $49.99.
Standout features
Besides being free, Empower really shines when it comes to investment analysis. The service can monitor the health of your asset allocation and make suggestions on how to tweak it to better fit your goals and risk analysis. There's also a suite of planners and calculators that can help you make the most of your accounts.
On the other hand, Quicken does personal finance tracking very well. Maybe that's because it's the granddaddy of all personal finance apps. It has several features — including Bill Pay from right within the app — that make managing your money simple and doable.
The coolest feature from Moneydance is its checkbook-style register. You can use it to enter, edit and delete transactions in your account. It's straightforward and a no-brainer.
Winner: Empower, Quicken and Moneydance all offer great experiences. It just depends on what you are looking for.
Customer service
If you're using Empower's free app, you can reach support via an email form that you can access once you're logged in.
Quicken offers live chat, phone and community forum-based support. You can pay $49.99 per year for premium support with shorter waits.

Moneydance support comes solely through the developer's support forum.
Winner: Thanks to offering live chat and phone support, Quicken is the winner here.
Security
All three apps take the security of your financial information very seriously.
Empower is an online platform that uses bank-level security.
Quicken is a desktop platform that holds your data locally.

Moneydance is a desktop platform that uses cloud sync for its mobile app.

Winner: Empower, Quicken and Moneydance are all great when it comes to security.
Get started with Quicken
Who are they best for?
All three of these offerings are a good fit depending on your needs.
Empower is best for beginning investors. Its investment analysis can help you improve and grow your portfolio. Plus, it's free!
Quicken is best for people who want control over their finances. If you want to sit down at a desktop and pore over your financial picture, this is the one for you.

Moneydance is for people who need a budget. This app can help you figure out where your money is coming and going.

Which is the best?
So which personal finance app is the best?
There's no clear winner here. However, one might be the best choice for you depending on some criteria.
If you're purely worried about cost, Empower wins without question. It's free and offers the strongest investment analysis tools of the bunch.

Quicken and Moneydance are very similar in many aspects. Quicken does a better job at giving you a well-rounded look at your money if you pay for a version that gives you the details you want. Moneydance gives you everything for one price and does a good job as well. The free trial and pricing model may give Moneydance an edge. I've used Quicken for many years, and I stopped using it, so here are some alternatives to Quicken.

If you are concerned mostly with tracking investments, go with Empower. But if you want to control your data and keep everything on your local computer, Quicken is the best choice.
Get started with Empower for free
Best personal finance software reviews
Personal finance resources