Unifimoney review 2023
We adhere to strict standards of editorial integrity to help you make decisions with confidence. Please be aware that some (or all) products and services linked in this article are from our sponsors.
We adhere to strict standards of editorial integrity to help you make decisions with confidence. Please be aware that some (or all) products and services linked in this article are from our sponsors.
*Editorial Note: This $1,000 offer is no longer available. Please visit the Unifimoney website for current terms. Unifimoney no longer offers a high-yield checking account, a rewards credit card, student loan refinancing, or other insurance and loan services it previously offered.
Banking, investing, cryptos and precious metals on one money superapp
If you're a high-end professional with a busy career and little time to properly manage your finances, this Unifimoney review is for you. Unifimoney is a new investment and money management app that helps you manage your banking, investing, and borrowing all on one platform.
Unifimoney provides a multi-asset investment platform including robo advice, self-managed, cryptocurrencies, and precious metals investing, It also offers full-service banking services, a soon to be launched credit card paying rewards as bitcoin, gold, or equities, insurance, student loan refinancing (with a market-beating $2,500 max. cash bonus), and more.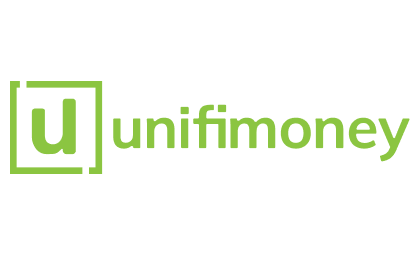 What is Unifimoney?
Unifimoney is a comprehensive financial app. It integrates banking, borrowing, investing, and other financial services in one place. Write checks, pay bills, deposit checks on the go, refinance your student loan debt and obtain loans for other purposes. And invest your money in precious metals and cryptocurrencies, as well as stocks and exchange-traded funds (ETFs).
Unifimoney functions entirely online
It has no physical bank branches. But it offers all the services of a traditional bank, including higher interest paid on your cash balance. And Unifimoney offers car insurance and other types of insurance coverage, as well as health savings accounts (HSAs).
A cutting-edge self-directed investing program
Perhaps the most distinguishing service offered by Unifimoney is investing. It provides both low-cost, comprehensive investment management and self-directed investing.
Its self-directed investing program has more options than traditional brokers. Of course, it offers commission-free trading in stocks and ETFs. But it also offers to trade in both cryptocurrencies and precious metals.
With many of the biggest investment brokerages, you can certainly invest in traditional investments. But if you want to invest in cryptocurrencies and precious metals, you almost always need to maintain a separate account.
Not so with Unifimoney. It provides you with all those investment options — in addition to multiple robo advisor plans — on the same platform.
Unifimoney features
Accounts offered
High-Yield Checking account, self-directed investing account, two robo advisor options, cryptocurrency account, precious metals account, student loans and other loan types, and car insurance and other insurance policy types.
Account types offered
Taxable brokerage accounts (no IRAs at this time).
Investments offered
High-yield checking, U.S. stocks, ETFs, ADRs, cryptocurrencies, and precious metals (gold, silver and platinum).
Mobile App
Available on the App Store for iOS devices 11.0 or later. This includes iPhone and iPod Touch, as well as Mac computers with macOS 11.0 or later. But Unifimoney presently offers no app for Android devices.
What does Unifimoney offer?
Unifimoney provides all major financial services in one app. These include:
1.

3.

Investing:

Self-directed investing

Robo advisors

Cryptocurrencies

Precious Metals


4.

Self-directed investing

5.

Robo advisors

6.

Cryptocurrencies

7.

Precious Metals

8.
Banking
This begins with a Unifimoney High-yield Checking account. The account provides paper checks, remote check deposits,online bill payments, and money transfers. And the account comes with a Visa debit card, giving you fee-free access to more than 55,000 Allpoint ATMs.
This checking account pays interest, making it one of the few that does. It currently pays 0.20% APY on all balances. And it offers FDIC insurance on deposits of up to $750,000 through its partner banks.
And as you might expect, you can link your various investment accounts to your Unifimoney High-yield Checking account for easy transfers between accounts.
Credit card
Your Unifimoney account comes with a Unifimoney Premium Visa Signature Credit Card(launching in August). Use it wherever Visa is accepted. But this card has what may be the most unique cash rewards benefit in the entire credit card industry.
Earn 2% cash back on eligible purchases and redeem your rewards in gold, bitcoin or even equity investments. That gives you the ability to contribute to your investment accounts simply by using your credit card for purchases.
The card also comes with valuable benefits. These include auto rental insurance (which is increasingly rare in the credit card industry) and identity theft protection.
Investing
Unifimoney gives you four distinct investments options:
A self-directed investment account for stocks and ETFs
Robo advisors to provide automated professional investment management
Cryptocurrencies
Precious metals
Unifimoney self-managed trading
Invest in commission-free trading of U.S. stocks and ETFs. Or buy American Depositary Receipts (ADRs), which give you the ability to invest in foreign stocks not listed on U.S. exchanges. You can invest in 3,000 individual stocks, as well as 1,000 ETFs and 300 ADRs.
Drivewealth holds your investment account. And you can begin investing with as little as $1 through the use of fractional shares. Or use one of the 12 investment themes, which include semiconductors and artificial intelligence, LGBTQ+, women in leadership, information technology, clean energy, digital health, and biotech.
Unifimoney Robo Advisor service
But if you'd rather turn the job of managing investments over to the professionals, Unifimoney offers two different portfolio options, with a third on the way. They're offered through a partnership with TenjinAI and have the following features:
1.

TenjinAI Basic: This entry-level advisory product features annual rebalancing of a portfolio comprising smart ETFs and ESG (socially responsible) equivalents. The annual advisory fee is 0.15%.

2.

TenjinAI Advanced: This more advanced portfolio rebalances on a quarterly basis. It uses a proprietary MarketCrash Index to predict market downturns and adjusts your portfolio to maximize returns. It also uses smart ETFs and ESGs. The annual advisory fee is 0.30%.
You can sign up for the Basic plan, then switch to the Advanced plan any time you like.
Cryptocurrencies
This investment option is offered through Gemini, which is one of the leading cryptocurrency exchanges in the industry. Trade in 33 cryptos, including the biggest names in the space. Buy, sell and even store your cryptocurrency on the Gemini platform.
But you should be aware that cryptos purchased on Gemini cannot be transferred to third-party wallets. Nor can cryptos you acquire on other platforms be transferred to Gemini.
Precious metals
Invest in gold, silver and platinum. The metals are stored at three secure vaults around the U.S. Or take possession of the metals at any time, as you have direct ownership in each asset. Your metals are also fully insured and subject to both verification and audit.
Unifimoney plans to offer coins such as U.S. gold and silver Eagles and Canadian gold and silver Maple Leafs and whole bars soon.
Unifimoney Loans
Unifimoney provides various loans through its partners, including auto loans, home mortgages and home improvement loans.
But the star of the loan show is student loan refinancing. The company offers to refinance of up to $250,000 of student loan debt. And as a sweetener, it offers a 1% bonus based on the amount of your student loan refinance. Student loan refinancing has no application fees.
Other Unifimoney financial services
Unifimoney is working to be a comprehensive financial services provider. Other services offered include the following:
Health savings accounts (HSAs): These accounts offer you the ability to make tax-deductible contributions that can be used to pay out-of-pocket medical costs. Unifimoney offers this through a partnership with UMB Healthcare Services. The account charges no monthly fee. And it pays 1% cash back on your first transfer of funds into the account. You also have unlimited access to the funds in your account through a Visa debit card.Meanwhile, earn interest as high as 0.15% APY on your account balance. And once your balance reaches at least $1,000, you can invest some or all your funds in a self-directed investment account.
Car insurance: These services are offered through Gabi, one of the premier car insurance marketplaces in the industry. Choose a policy offered by one of several companies. Applying takes as little as two minutes. And get a $15 Bitcoin credit just for signing up for a quote.
Other insurance policies offered: Unifimoney also plans to roll out insurance coverage for homeowners, renters and pets, as well as life insurance, umbrella insurance and disability insurance. No date for the rollout is provided.
Unifimoney screenshots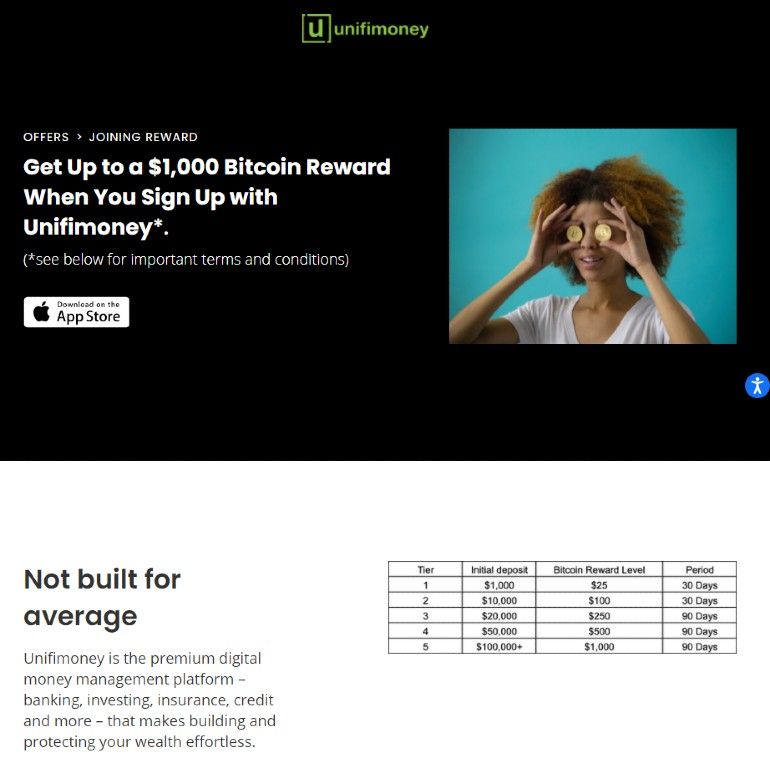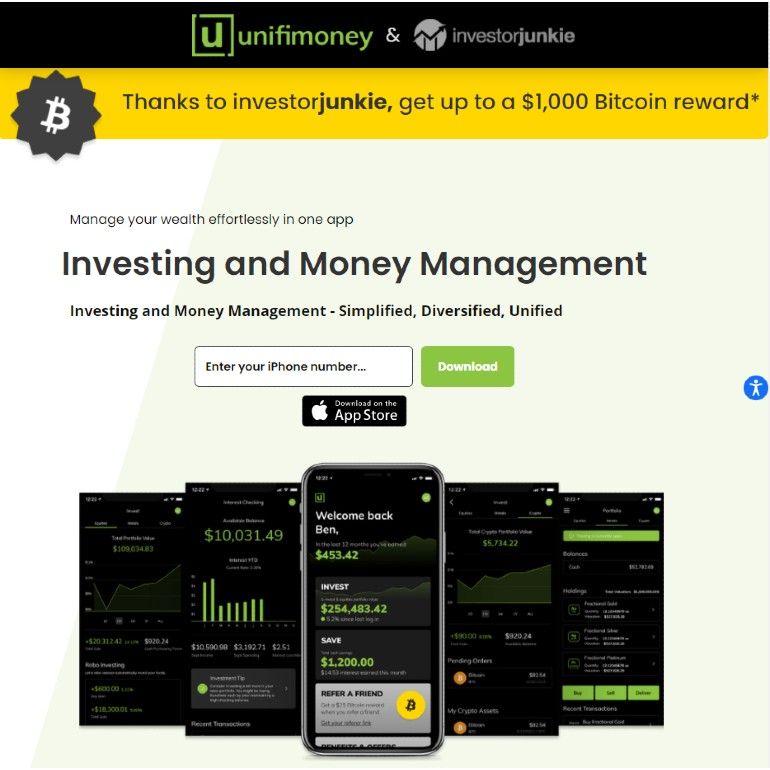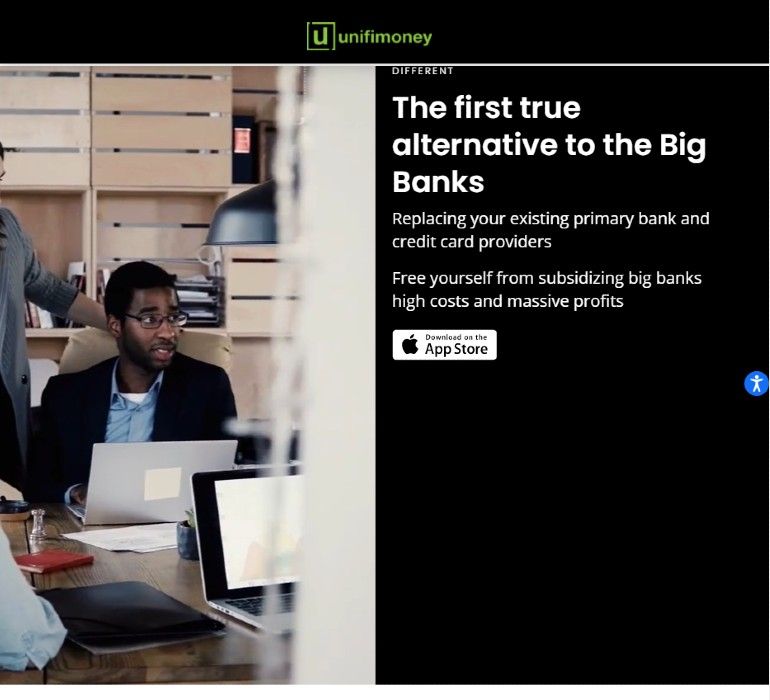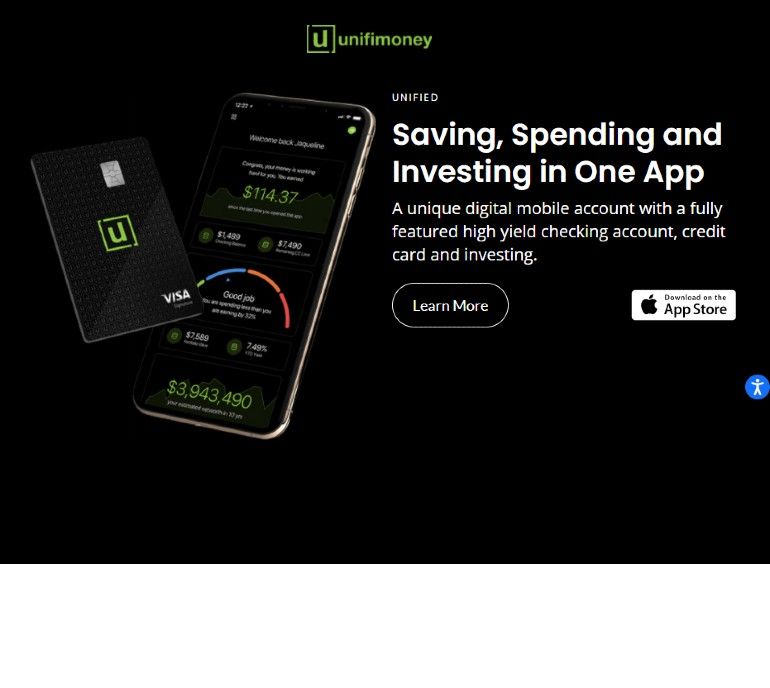 How does Unifimoney work?
Using Unifimoney starts with opening a Unifimoney High-yield Checking account. And you must maintain this as long as you are a Unifimoney customer.
For example, if you open a brokerage account, you fund it through your checking account. And you can do that by setting up automatic deposits of $25 or more from your checking account into your investment account.
The same applies to both cryptocurrency and precious metals accounts. Funds for investing come from the checking account. And proceeds from the sale of investments and assets are deposited back into the checking account.
Who is Unifimoney for?
Open a Unifimoney High-yield Checking account with as little as $100 and begin investing with just $1. But the app is designed primarily for high-income individuals. The company caters specifically to doctors, lawyers, bankers, and tech workers who earn over $100,000 per year but have large amounts of student debt.
That's the reason the company offers student loan refinancing of up to $250,000. This is a level of student loan debt more common from receiving technical degrees.
But apart from student loans, Unifimoney recognizes that high-income professionals have demanding careers and little time for financial management. So it offers comprehensive banking services in combination with investing.
Meanwhile, the investment options tend to be more advanced and highly specialized than those offered by typical investment brokers. Professionals have an opportunity to take advantage of low-cost professional investment management. Or engage in self-directed investing that adds cryptocurrencies and precious metals to the more common investment mix of individual stocks and ETFs.
Unifimoney fees, APY & limits
1.

Unifimoney High-yield Checking: Unifimoney High Yield Checking currently pays 0.20% APY on all cash balances.The account has a monthly service charge. But maintain a minimum balance of $20,000 or have regular monthly deposits of at least $2,000 and the company will waive the fee. The company does not specify the amount of the monthly service charge.

2.

Self-directed investing: You can trade U.S. stocks, ETFs, and ADRs with no commission fee.

3.

Robo Advisor: The annual advisory fee for the Basic plan is 0.15%. This means you can have a $100,000 portfolio managed for just $150 per year.The fee on the Advanced plan is 0.30%. And this means you can have a $100,000 portfolio managed for just $300 per year.

4.

Cryptocurrencies: The Gemini cryptocurrency exchange charges fees based on a sliding scale. Fees decline with a higher level of monthly trading activity. The following fees apply for accounts with trading volumes of up to $1 million per month:

Taker fee: 0.35%

Maker fee: 0.10%

Auction fee: 0.20%

5.

Precious metals: Unifimoney charges no commission for trading precious metals. Compensation to the broker is provided through spreads upon purchase and sale. However, there are storage fees to hold your metals. The storage fee is 0.70% per year for the storage of gold or platinum, 0.80% for silver. That means $100,000 worth of gold or platinum is subject to a storage fee of $700 per year. And an equivalent value of silver costs $800 per year. Or take direct possession of the metals to avoid the storage fee. We've checked, and it looks like silver is a better investment than gold.
Unifimoney promotions
As a new service, Unifimoney offers a generous array of promotions across its entire product line. These include:
Earn a $25 bitcoin reward for each friend you refer to Unifimoney who qualifies and opens an account.
Get an auto insurance quote and receive $15 in bitcoin.
Refinance your student loan and receive 1% cashback (up to $2,500).
Open an HSA and get 1% back on your first transfer.
Get term life insurance with monthly premiums starting at $16.
How do I open a Unifimoney account?
At present, Unifimoney is in the beta testing phase. This means it's not yet available to the general public. But you can download the app from the App Store and sign up for email updates on the progress of the rollout.
If you don't want to wait for the official rollout, apply for the Beta Test Group to get a hands-on preview of what the company has to offer.
How's the customer service with Unifimoney?
In a word, limited. At the present time, Unifimoney offers only in-app email communication. No phone contact is currently indicated. But we expect customer service to expand and improve as the service is officially rolled out.
Is Unifimoney safe?
Account protection with Unifimoney is based on the particular service you use.
Banking: Unifimoney holds funds through UMB Bank where they are protected by FDIC insurance. And because your money can be spread over as many as three banking partners, FDIC insurance covers deposits of up to $750,000.
Investments in stocks, ETFs, and ADRs are held through Drivewealth. This covers up to $500,000 for securities and cash (including $250,000 in cash) through SIPC. This coverage protects you from broker failure but not from a decline in investment market values.
Cryptocurrencies: If you invest in cryptocurrencies, Gemini holds your account. It is regulated by the New York State Department of Financial Services and is subject to capital reserve requirements, as well as banking compliance standards and cyber security requirements. And though FDIC and SIPC insurance don't apply to cryptos, the company has $200 million in insurance coverage for cryptocurrency.
Precious metals: Though there isn't any insurance coverage for precious metals investments, the assets are held in multiple vaults in the U.S., which are operated by third-party security firms including Brinks, Loomis and IDS.
Pros
Manage your entire financial life: Bank, borrow, invest and even get insurance on a single platform
Full-service banking: Includes check writing and interest on your balance
Commission-free trading: Stocks, ETFs and ADRs
Alternative investments: Invest in cryptocurrencies and precious metals on the same platform. There's no need to work with specialized brokers
Robo advisor: Unifimoney provides two robo advisor investment options, with a third in the pipeline
Free money: You can earn up to $1,000 in bitcoin for opening a new account
Free ATM access: Fee-free access to more than 55,000 in-network ATMs nationwide
Cons
Mobile app only supports iPhone: Currently unavailable for Android devices
No margin trading: Currently only cash account trading is supported
Few investing options: The number of stocks and ETFs offered is smaller than at major brokerage firms
Monthly service fee: Monthly service charges on your checking account apply if your account balance is less than $20,000 and you don't receive at least $2,000 per month in deposits.
Limited customer service: Customer service is currently limited to in-app email only
No mutual funds or options investing: No capability to invest in mutual funds or options
Best alternatives to Unifimoney
Because of the large number of financial services offered by Unifimoney, there is no direct competitor. But there may be alternatives if you're looking for a service that specializes in an area of finance you find especially important.

For example, if your primary interest is in low-cost, comprehensive investment management, Wealthfront is one of the leaders in the industry. With an upfront investment of just $500, you get a professionally designed and managed portfolio invested in U.S. and foreign stocks and bonds, as well as alternative asset classes such as real estate and energy. It also offers banking, including a 0.10% APY on cash balances, plus checking, bill payments and a debit card with access to 19,000 fee-free ATMs.

Robinhood may be the best choice if your primary interest is self-directed investing. It offers commission-free trading in stocks, ETFs and options. You can also invest in cryptocurrencies. And like Unifimoney, it also offers banking. You can deposit and send checks, pay bills and take advantage of 75,000 fee-free ATMs. And earn 0.30% APY on your uninvested cash balances.

SoFi Investcomes the closest to matching the many financial services provided by Unifimoney.Like Unifimoney, the target customer is new college graduates. It offers student loan refinancing of up to $500,000. You can also get personal loans, home loans, auto loan refinancing, insurance and a credit card. And you can invest through SoFi. Do this with self-directed investing through SoFi Active Invest, where you can invest in cryptocurrencies. And enjoy commission-free trading on stocks and ETFs. But if you prefer professional investment management, take advantage of SoFi Automated Investing.
Bottom line: is Unifimoney worth it?
If you're a busy, high-income professional and especially one with a large amount of student loan debt, Unifimoney may be the financial app you've been waiting for. Refinance your student debts into a single loan with one monthly payment. And do your banking and investing on the same platform.
Unifimoney is particularly interesting from an investment standpoint. The platform has been built to accommodate personal investment growth. Take advantage of self-directed investing with commission-free investing in stocks and ETFs. Or use the robo advisors to manage your money for you, even as you take advantage of alternative investments such as precious metals and cryptocurrencies.
Many of these options are available with other providers. But only Unifimoney pulls them together into one easy-to-use app. If you've been looking to simplify your finances, Unifimoney gives you that opportunity.