megaflopp / Shutterstock
We adhere to strict standards of editorial integrity to help you make decisions with confidence. Please be aware that some (or all) products and services linked in this article are from our sponsors.
We adhere to strict standards of editorial integrity to help you make decisions with confidence. Please be aware that some (or all) products and services linked in this article are from our sponsors.
Most life decisions include a financial aspect, which means you might need a financial planner in your corner at some point. If you're not comfortable navigating investing and big financial decisions on your own, Facet can provide you with guidance.
Facet aims to help you invest in every facet of your life, regardless of your circumstances, assets, or portfolio size.
Established in 2016, the company believes financial planning should be accessible to everyone and provides unbiased virtual financial planning from a team of more than 100 Certified Financial Planners ™ professionals. CFP® professionals have a fiduciary duty to act in their clients' best interests.
Facet pros and cons
Pros
No minimum account size
Free initial consultation
Personal advisor to help with your current and future plans
One fixed membership fee
Professional advisors with the highest certification
One platform with everything you need to navigate your finances
Several pre-scheduled meetings each year at your convenience via phone or video conference
Available in all 50 states, plus the District of Columbia, Puerto Rico, and the U.S. Virgin Islands
Cons
No in-person meetings – phone or virtual meetings only
Because the membership fee varies based on your circumstances, it's difficult for customers to estimate cost upfront
May be expensive for those with smaller portfolios
Specific broker accounts required
Who is Facet for?
Facet is best for those who want online financial planning but don't want to pay high fees. Traditional financial advisors generally charge a management fee of 1% (or higher) based on your assets. Facet charges a flat rate with no surprise fees.
If you prefer a no-commission system, Facet may be perfect for you. Traditional advisors may add fees for suggesting services and products and trading securities. Facet provides advice within your plan without commissions.
Facet may not be for everyone. Beginner investors may not need to pay for years of advice or special services. Small investors may be better served by low-cost robo-advisor services that provide investment strategy on small account balances. However, Facet can be a major resource once your assets have grown and more guidance is needed.
Another group that may not need Facet are self-directed/do-it-yourself investors and financial planners, who may not require paid advice for managing their investments and other finances.
Read more: Best Robo-Advisors for 2022
How does Facet work?
You start by filling out the schedule request for a virtual consultation on the Facet website. The consultation may last around 30 minutes via phone or video call. Once signed up, Facet will send you a packet describing how Facet works, the guidelines, and what they have to offer based on your financial situation and preferences.
You'll also fill out a questionnaire which covers information such as your family, current finances, and future financial goals. This information will be displayed on your dashboard to assist in keeping all your information in one location.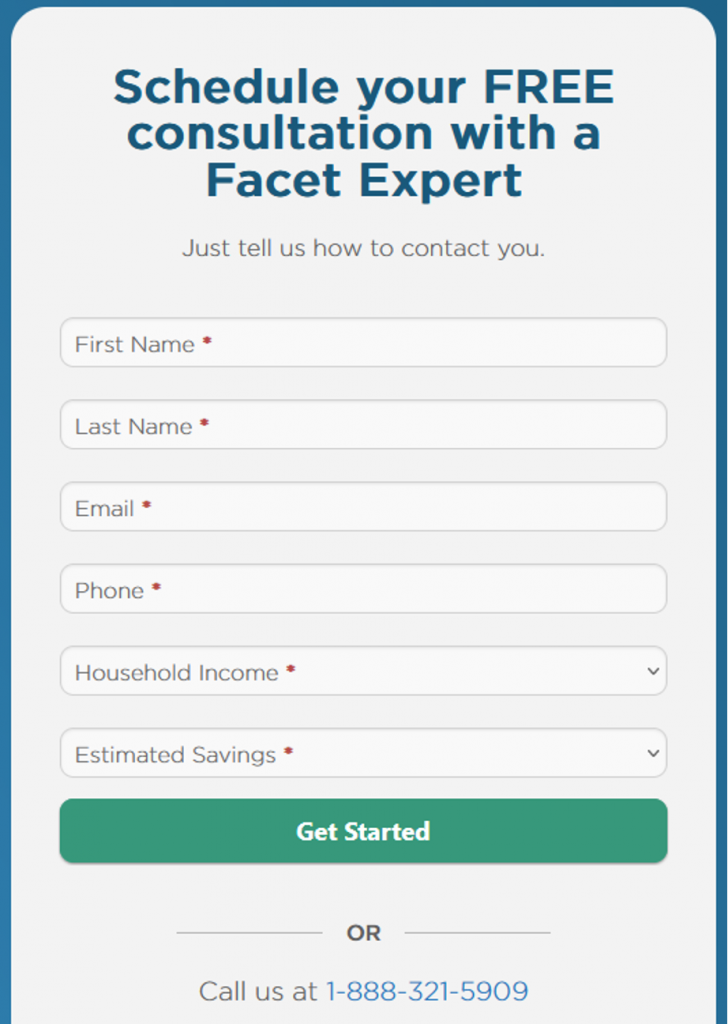 Based on your consultation, a CFP® professional will contact you to discuss your financial situation and future goals and expectations. This is where the level of service you need will be determined. Your CFP® professional will create a "financial blueprint" showing your suggested personal financial plan and future goals.
Read more: How to determine your risk tolerance
What makes Facet great?
Here are a few of the reasons why you might want to consider signing up for Facet:
Comprehensive investment management
Like most investment advisories, Facet provides direct management for taxable brokerage accounts and individual retirement plans. Those include traditional and Roth IRAs, SEP and SIMPLE IRAs, and solo 401(k) plans.
And while they don't provide direct management of employer-sponsored retirement plans, like 401(k) and 403(b) plans, they offer investment recommendations. You can act on those recommendations within your employer plan to integrate them with your overall investment plan better.
In addition, taxable investment accounts automatically include tax-loss harvesting to minimize the tax liability generated by investment activities.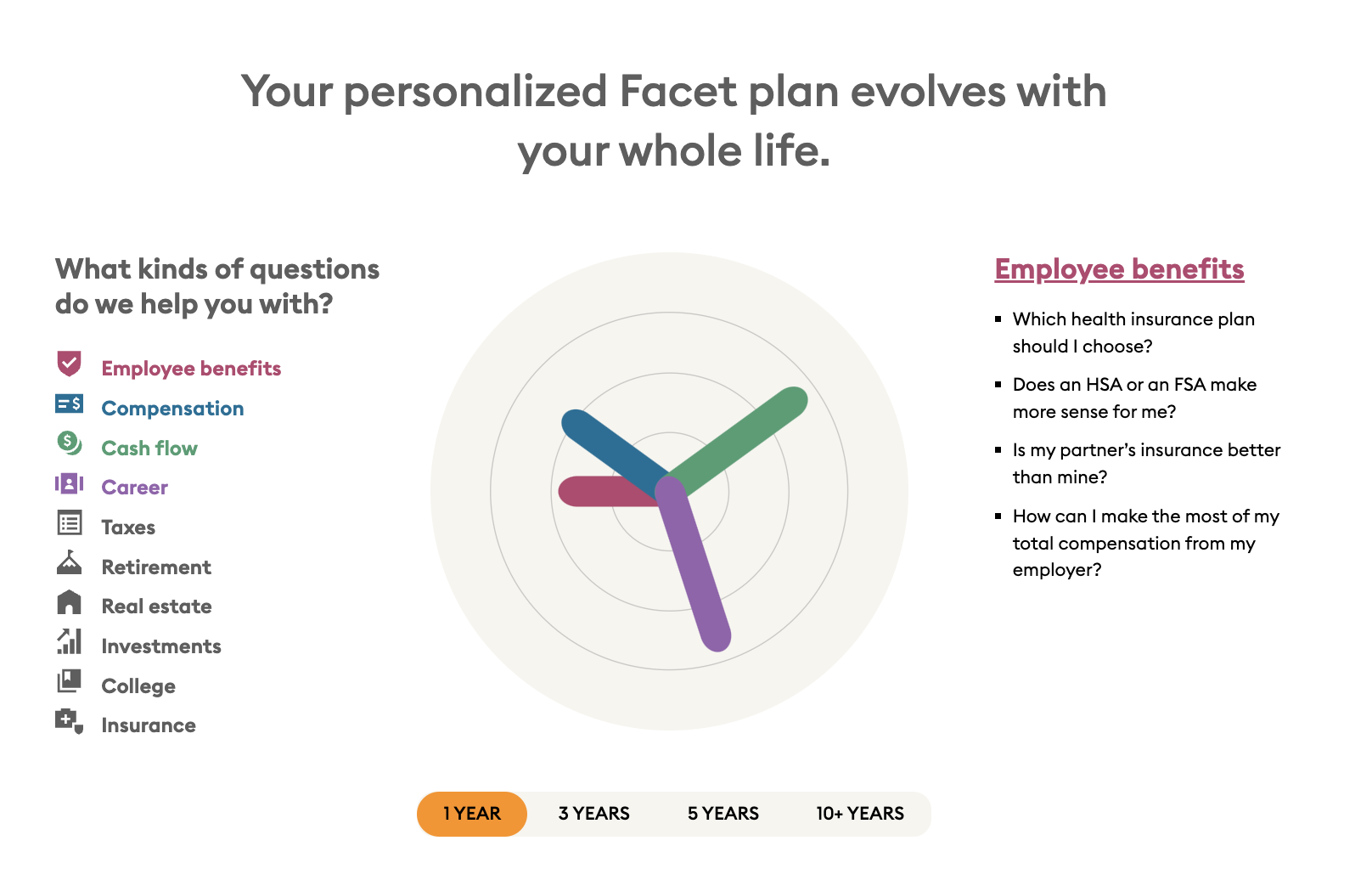 Read more: Which retirement account is best? A comparison of plans
Advisor qualifications
All Facet advisors are Certified Financial Planner™ professionals. While this is a common requirement at many financial advisory firms, there are also many companies whose employees primarily aim to sell company products.
Facet advisors act as fiduciaries. This is an important distinction with any investment service you want to use. A fiduciary is legally bound to work in the member's best interests and not their own or their employer's.
Fiduciary status means the advisor can't favor products offered by the employer or make trades to generate additional fee income.
Flat membership fees
A major selling point of Facet is that they offer flat membership fees. A flat membership fee is the cheapest option for many consumers. Unlike standard fees based on your asset balance or the commission your advisor earns, you're only paying a membership fee based on the assistance you need for your investment management and service level.
Your membership fee will is determined once your CFP® professional determines which level is required for your financial situation. As your investments grow, you won't have to worry about rising or hidden fees.
Helpful dashboard to see all your finances in one place
Having access to all your finances in one place makes all the difference. Facet provides your financial blueprint and links to your financial accounts on one platform. This is especially beneficial to those with multiple accounts with various platforms and providers. The dashboard makes it a point to show achievements like meeting emergency fund goals, savings rate, and credit score to give you a better understanding of your financial profile.
Tailored planning
While some companies may offer robo-advisor services only, Facet provides each member with their own financial advisor. While it's important to grow your investments and cover your long-term goals, Facet also focuses on short-term goals.
For example, if you're planning to buy a house soon or would like to pay off your debt, your advisor can provide a strategy to move your money toward meeting your goals in less time.
Some services that Facet provides include:
Asset management
Retirement planning
Income tax planning
Life planning
Stock option plans
Debt management and reduction
Education planning
Legacy planning
Retirement income
Estate planning
Insurance planning
Account management for taxable brokerage accounts and self-directed retirement plans, including traditional, Roth, rollover, SEP and SIMPLE IRAs, as well as solo 401(k) plans
Management assistance with employer-sponsored plans, like 401(k) and 403(b) plans
What are Facet's drawbacks?
No face-to-face contact
Although Facet offers human CFP® professionals, it does not provide in-person assistance. However, video chat and phone calls may be enough. But if you prefer speaking with someone to go over your finances in person at any given moment, there may be better options than Facet.
Limited investment accounts
Your money must be held at certain brokers only. In order to manage your investments through Facet, your portfolio must be at either Fidelity, Apex, Schwab, or TD Ameritrade. If you don't already have a portfolio through one of those brokers, you'll need to transfer your current accounts to one of these four platforms.
Flat fees might be proportionally more expensive for smaller accounts
For the most part, flat membership fees are a selling point of Facet, especially for someone with many assets. Most companies charge based on assets under management, making a flat membership fee the better option. However, if you have fewer assets, you may pay a higher membership fee on a percentage basis.
For example, a robo-advisor might charge 0.25% annually or $375 on a $150,000 portfolio. Since even the lowest Facet membership fee is $2,000 annually, it will amount to 1.33% on a percentage basis.
It's hard to determine future costs
Facet offers seven levels of service. Your level of service is considered a subscription and will be billed to you monthly, quarterly, or annually in advance.
Since membership fees are based on the level of service, figuring out exactly how much you'll be paying can be challenging to determine upfront. Not knowing how much money they'll have to pay for something in the future can deter people from moving forward.
The cost of Facet's services depends on the services you may need. Membership fees can range from $2,000 per year to $6,000 per year. Unfortunately, the company does not provide a published itemized list of the fee structure for each of the seven service levels.
How to contact facet
All members will have a direct line of contact with their CFP® professional.
Consultation: https://facetwealth.com/get-started/ or by calling 1-888-321-5909.
Customer service: support@facetwealth.com or call (443) 376-6222 between 8:00 am and 9:00 pm Eastern.
Members can also schedule phone and video support.
Best alternatives To Facet
If Facet isn't the right financial advisory for you, here are a few alternatives to consider.
Betterment
Betterment is an automated online investment service you might want to consider if you are only interested in investment management. There's no minimum balance required to participate, and it provides comprehensive investment management at an annual fee of just 0.25% of your portfolio value.
Betterment provides access to a team of Certified Financial Planner™ professionals through its Betterment Premium service. Not only does it provide direct management of individual retirement accounts and taxable investment accounts, but it also provides advice for employer-sponsored retirement plans. Estate planning services are also available. Premium requires a minimum portfolio size of $100,000 and comes with an annual management fee of 0.40%.
Read more: Betterment Review 2022
Vanguard Digital Advisor and Personal Advisor plans
Vanguard isn't just the world's largest provider of mutual funds – and the second-largest provider of ETFs – it also provides broker services and two different advisory services.
Much like Betterment, Vanguard Digital Advisor is a robo-advisor focused on providing direct management of your investments. That includes taxable investment accounts and IRAs, though they will also provide guidance – but not direct management – of employer-sponsored retirement plans. The service requires a minimum investment of $3,000. And though there is no annual management fee, investment expenses average approximately 0.15% of assets under management.
But if you want a more hands-on level of wealth management, Vanguard offers its Personal Advisor plan. It provides a mix of robo-advisor management with human oversight. That includes unlimited access to human, financial advisors. They'll manage your taxable investment account and IRAs and provide advice on employer-sponsored retirement plans. Personal Advisor requires a minimum of $50,000, with an annual management fee of 0.30%.
Empower
This virtual money management platform summarizes your spending, goals, and investments in one place. The company also provides paid access to financial advisors to manage your assets under their Wealth Management program. There is an annual management fee of 0.89% of assets under management, and you must have a minimum of $100,000 in your portfolio to participate.
Read more: Empower review 2022
The bottom line
If you think your finances could use some help, you can schedule a free consultation with an advisor at Facet. A free consultation will allow you to have your finances analyzed to determine if Facet is the right choice for you. Set up the consultation, see what they offer you, and decide if it's the way you want to go.
Advice on advisors: