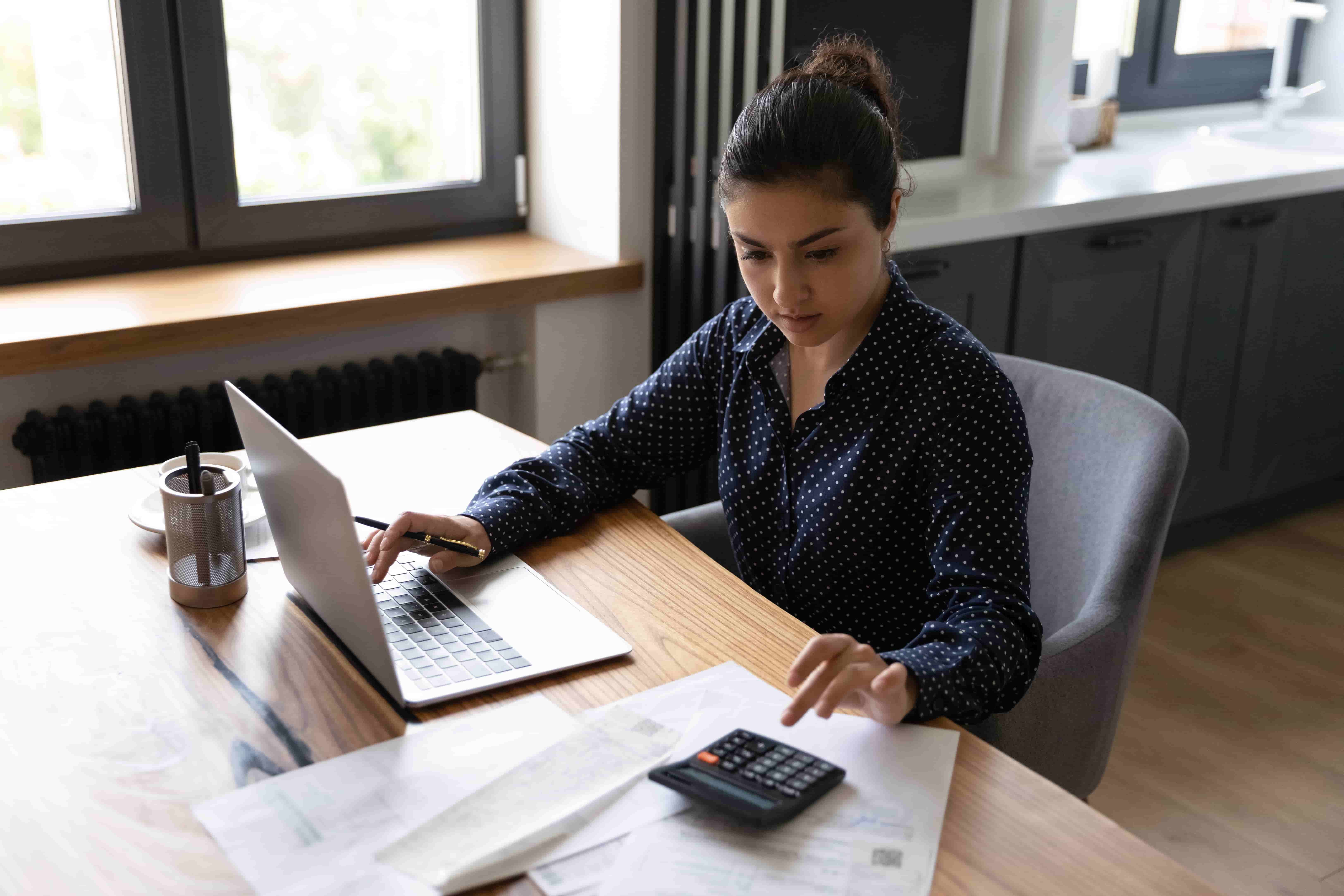 PocketSmith review: Forecasting your future finances
fizkes / Shutterstock
We adhere to strict standards of editorial integrity to help you make decisions with confidence. Please be aware that some (or all) products and services linked in this article are from our sponsors.
We adhere to strict standards of editorial integrity to help you make decisions with confidence. Please be aware that some (or all) products and services linked in this article are from our sponsors.
Checking, savings, credit cards, retirement, investments, mortgages, student loans. It's easy to get overwhelmed by the many complexities of your personal finances. PocketSmith aims to make things much easier by bringing everything you need under one roof. But this personal finance software isn't limited to your current situation — it creates projections of your future finances too.
The software's Google-like calendar is particularly helpful, giving you a glimpse of both your current account balances and future forecasts. The calendar syncs up to your accounts and your budget categories and is a real selling point for the platform. However, you have to pay for some of its features.
Our PocketSmith review is covering how this comprehensive budgeting app works, how much it can potentially cost, and the pros and cons to help you decide if it's worth using.
PocketSmith pros and cons
Pros
Connect multiple bank accounts even if they're in different countries
Powerful budgeting calendar helps you stay on top of bills
Financial forecasting helps you plan for the future
Customize expenses and create multiple budgets
Cons
You have to pay for PocketSmith to unlock all of its features
Primarily focuses on budgeting and not investing
What is PocketSmith?
PocketSmith is a personal finance aggregation and analysis app that lets you view a summary of all your financial accounts, transaction histories, and budgets in one place.
The company was founded in 2008 by New Zealanders Jason Leong, James Wigglesworth, and Francois Bondiguel. They wanted to create a way to manage and communicate financial information using a calendar-and-event-based approach.
But PocketSmith is unique from the many other budgeting apps out there. On the negative side, one of the more obvious differences is that — unlike Mint and Empower — unless you want a very basic version with limited capabilities, it's not free. These competitors are supported by advertising. PocketSmith is ad-free, but you have to pay for most of its useful features.
However, one of the advantages that PocketSmith has over the competition is that it allows you to create a budget at any time, for any amount of time. This flexibility is in contrast to the traditional standard monthly budget that begins on the first of the month. PocketSmith allows you to create daily, weekly or monthly budgets that start on whatever day you want.
In addition to tracking recurring expenses like rent or utilities, you can add one-time expenses or income like quarterly taxes or freelance income. PocketSmith allows you to track all of your spendings with standard budget categories, but you can also create your own. It also highlights your spending habits, comparing your budgeted versus actual expenses to see where you are off track.
Get started with PocketSmith
PocketSmith features
What makes PocketSmith an excellent budgeting app is just how many features it offers:
Bank aggregation
PocketSmith takes an interesting "freemium" approach to its bank feed feature. You can enter transactions manually using the free version, but getting live bank feeds with updates for every transaction requires paying for one of the two premium plans, which start at $9.95 per month.
With the paid plans, you can connect to any of 12,000-plus financial institutions and get automatic updates. Every time you log into PocketSmith, you'll see the freshest data from all of your accounts.
This includes banks in 49 countries. If you're currently juggling budgeting for several bank accounts, PocketSmith lets you consolidate and organize this information in a central dashboard.
Forecasting
PocketSmith bills itself as "A Time Machine for Your Money." While some apps focus on budgeting, this software is all about forecasting.
Using your existing data and trends, PocketSmith will forecast your finances up to 30 years into the future, including your estimated daily bank balances. This cash-flow forecasting also has a visual chart so you can easily see how your current spending habits influence your future wealth.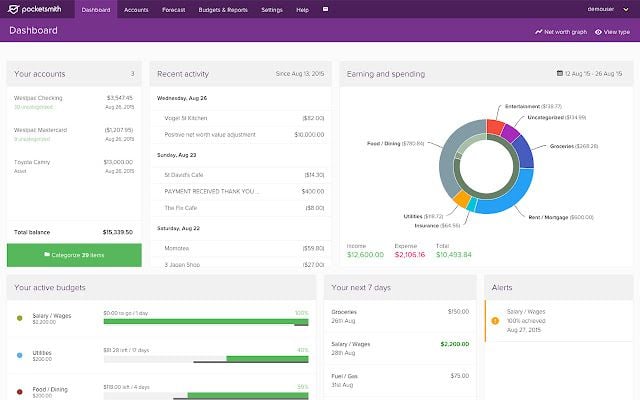 It also highlights the power of compound interest and lets you enter an interest rate for your money to grow at. If you're investing with a robo-advisor or using a high-yield savings account to earn interest on your cash, you can see the impact years down the line.
Budgeting tools and budget calendar
While forecasting is on the forefront, PocketSmith didn't forget about the trusty budget.
Its software lets you create and track your budget and adjust to view spending plans by month, quarter, a year, or other flexible periods. You can also highlight your recurring costs and track them with a budget calendar.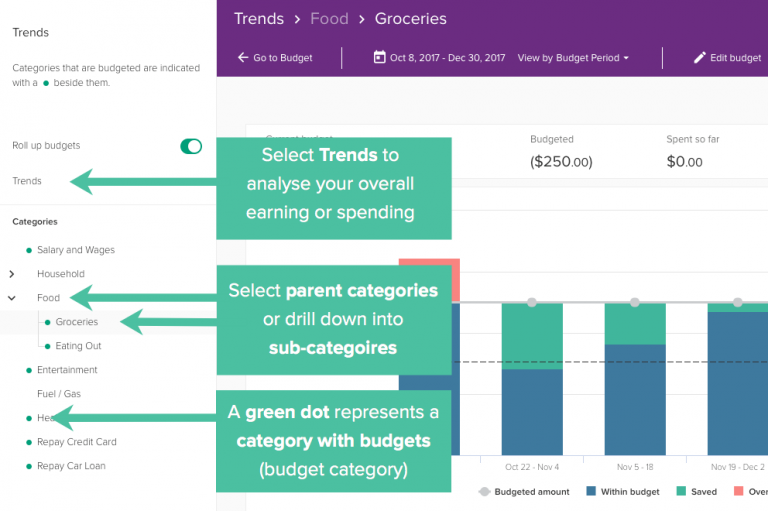 This calendar is very user-friendly and color-codes expenses by category. This helps you track expenses like rent, utilities, insurance, and phone bills at a glance. With this information, you know when bills are coming, so you can move money aside to ensure you don't have cash flow problems.
Scenario testing
PocketSmith lets you enter possible financial scenarios, such as a year abroad, to see how it impacts your financial forecast.
This feature helps you plan for the future and make big financial decisions with data, not just a gut instinct.
Net worth tracker
Based on your connected accounts, PocketSmith automatically calculates your net worth. Link specific assets to liabilities (like a home to a mortgage loan) to track that asset's total value.
Income and expenses statements
Look at your money as a business with PocketSmith's version of a profit and loss statement, or P&L.
The income and expense report is laid out similarly to a business financial statement but is categorized with your financial categories.
Multi-currency support
With PocketSmith, you can connect bank accounts with different currencies and track your overall net worth in a single currency using daily exchange rates.
Again, if you have several bank accounts with more than one currency, this is a helpful tool. PocketSmith also includes rates for cryptocurrencies like Bitcoin and commodities like gold and silver so you can capture all your assets in this calculation.
Transaction history
You can search for previous transactions with PocketSmith using its "killer" search engine. What's nice is you get to personalize transaction data with categories, labels, notes, and even pictures. So, you can add pictures of receipts to bills and quickly find transactions you're curious about.
If you're filing your taxes, this can be incredibly valuable. For example, you might be able to write off some business mileage, and PocketSmith can help track down all your gas expenses.
Mobile and desktop support
If you want to check your finances while on the go, PocketSmith has a free Android and iOS app. It's also available on desktop for Mac, Linux, and Windows.
Get started with PocketSmith
PocketSmith plans and pricing
PocketSmith offers three pricing plans:
1.

Free: The free plan allows adding up to two accounts and requires you to manually import bank details. Unless you want to manually track your finances and export from every bank and import into PocketSmith, you should avoid this plan, which includes up to 12 budgets and six months of projections. You can also use their what-if guides to project what would happen in certain scenarios, such as losing a portion of your income or changing your spending habits.

2.

Premium: The $9.95 per month (or $90 per year) plan includes a heck of a lot more. This tier unlocks automatic bank feed updates, automatic transaction importing and automatic transaction categorization. Get unlimited budgets, up to 10 accounts and 10 years of projections. Make sure to note the 10-account limit in this tier.

3.

Super: This all-access plan runs $19.95 per month or $169.92 per year. It includes everything you'll get with the Premium plan with no account limit. It also unlocks a 30-year forecast feature.
Here's how all the plans compare head-to-head:
| Feature | Basic | Premium | Super |
| --- | --- | --- | --- |
| Cost | Free | $9.95 per month ($7.50 when paid annually) | $19.95 per month ($14.16 when paid annually) |
| Data collection | Manual | Automatic | Automatic |
| Transaction categorization | Manual | Automatic and manual | Automatic and manual |
| Budget limit | 12 | Unlimited | Unlimited |
| Account limit | 2 | 10 | Unlimited |
| Financial projections | 6 months | 10 years | 30 years |
How PocketSmith works
This robust budgeting app has plenty of features to help you track and plan your finances. But it's surprisingly simple to use, and you can get started in under a minute.
The signup process
Creating a PocketSmith account takes only a few seconds (seriously, it took us only about 25 seconds), and there are a total of five steps. There's no confidential information required upon signup, and you can change your plan, upgrade, downgrade or cancel the service at any time.
After creating your account, you're offered three choices: Import your information from another service (like Mint.com), manually add your bank information and transactions, or take the tour to see how it all works first.
In my case, I tested out importing information from my Mint.com account. PocketSmith explained some simple instructions in order to do this, which involved logging into my Mint account and exporting the information. Then I simply uploaded the Excel file to PocketSmith's site.
The dashboard
Once your account is ready, you'll be taken to the dashboard, where you can view your earning and spending habits. By clicking on the different buttons, you can see your past spending history for up to six months (for the free version).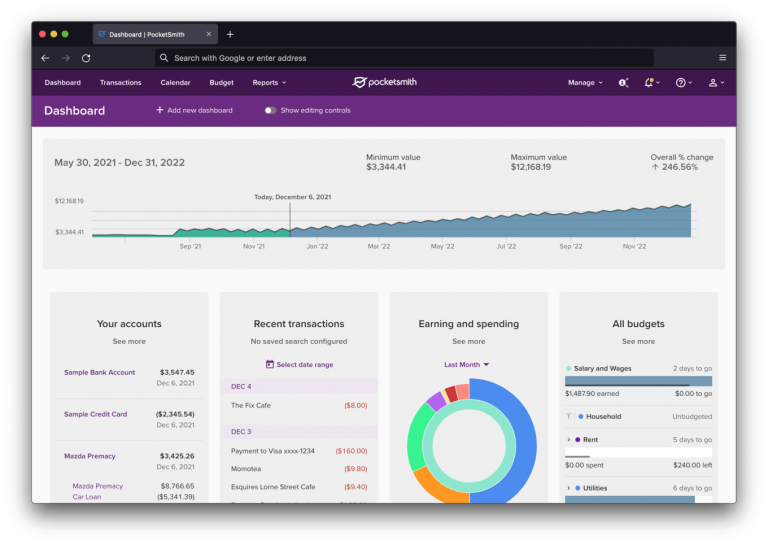 The dashboard also includes a snapshot of your budget and financial forecast. More on those in a moment.
Transaction tracking and organization
Look through your transactions and assign categories and labels using your own favorite transaction management method. PocketSmith doesn't force you into "one size fits all" categories. You can also add notes for transactions. Users can search transactions by amount, category, tag or notation text.
After taking a look at your overall spending information, the next step is to create a budget. This will help you spot any problem areas where you're over- or under-spending.
Importing from Mint
Many people use Mint.com as their first financial tool online but realize that its customer service isn't great or that important accounts in their lives are not supported. PocketSmith has a unique import tool — Express Migration — that will transfer all of your information from Mint in just a few minutes.
Is PocketSmith safe?
The PocketSmith mobile and desktop app encrypt your data to keep personal information secure. It also partners with companies like Yodlee, Salt Edge, and Akahu to securely deliver bank feeds automatically. Bank feed details are also read-only, which means PocketSmith can't move your money or make any changes to your bank accounts.
All PocketSmith users can enable two-factor authentication to keep their accounts more secure. The platform also logs login attempts so you can check for suspicious login activity from a computer that isn't yours.
Overall, PocketSmith is a safe and secure budgeting app. However, you still need to protect your own password and not share your private information with anyone.
How to contact PocketSmith
You can contact PocketSmith customer support by emailing help@pocketsmith.com. For bank feed issues, email bankfeeds@pocketsmith.com. You can also submit a help request by using the contact page on its website.
PocketSmith alternatives
If you want a robust budgeting app that also has forecasting tools and works with numerous bank accounts, PocketSmith is worth using. Its budget calendar is also a selling point, especially if you like a visual approach to staying on top of your bills.
However, you have to pay to unlock all of PocketSmith's features. And depending on your current life stage and financial goals, there are alternatives you can consider.
We like Empower as a more comprehensive wealth planning tool. It offers plenty of free features like a net worth tracker, savings and retirement planner, plus budgeting and cash-flow planning. And, Empower is great for investors since it can optimize your fees. And if you have $100,000 or more, you can use its Wealth Management service to create a custom investing plan.
As for, You Need A Budget (YNAB), it's one of the most common PocketSmith alternatives out there. It's particularly useful for paying off debt since the app is very goal-focused. And it also consolidates your financial information like PocketSmith so you can stay on top of bills and monitor your net worth from a central dashboard. Plus, you can try YNAB free for 34 days. Afterwards, it costs $14.99 per month or $98.99 per year.
We still suggest PocketSmith if you have numerous bank accounts, multiple currencies, and like its visual approach. But don't be afraid to explore some alternative options as well.
Bottom line
PocketSmith is a 5-star product with one-star pricing. If you couldn't get most of what Pocketsmith does for free elsewhere, it would stand out as an amazing and powerful financial tool. However, its pricing makes Pocketsmith less desirable than some competitors.
If you don't mind the cost, PocketSmith is one of the best featured financial aggregators out there.
The crown jewel of PocketSmith is the calendar function, which is used to track all of your accounts, such as checking, credit cards, student loans, etc. The free version of the app offers two calendars, which could be used to track a checking account and a credit card account, but that's it.
Most people have many accounts they are looking to track and see projected forecasts for. In this case, upgrading to a Premium or Super account is necessary.
For $9.95 a month, the Premium account is considered their "best value subscription." If you are looking for high-level, detailed information on your accounts and future financial forecasts, PocketSmith might be worth the investment. However, if your current free system is working, I recommend saving your money for something else.
Start managing your money with PocketSmith