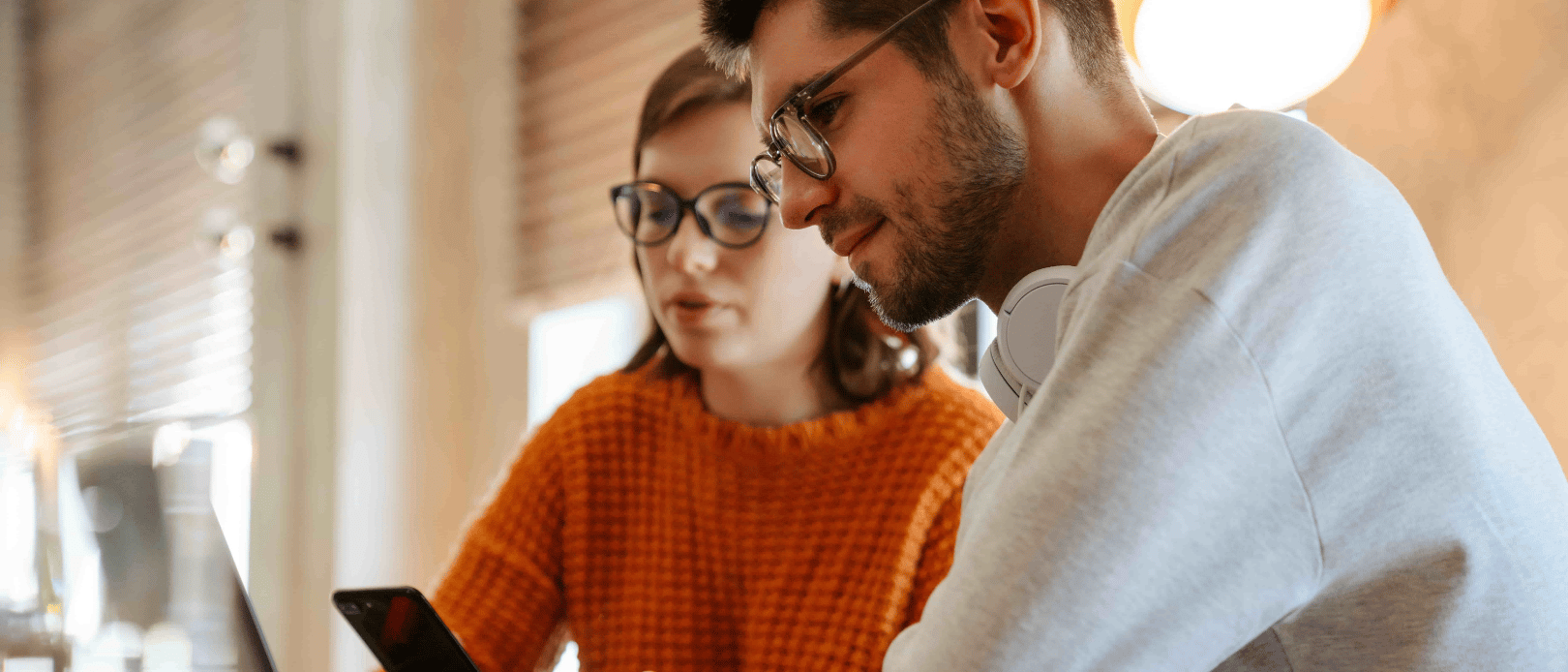 Quicken review for 2023: features & pricing, pros & cons
Dean Drobot / Shutterstock
🗓️
Updated: March 31, 2023
We adhere to strict standards of editorial integrity to help you make decisions with confidence. Please be aware that some (or all) products and services linked in this article are from our sponsors.
We adhere to strict standards of editorial integrity to help you make decisions with confidence. Please be aware that some (or all) products and services linked in this article are from our sponsors.
Quicken has been around for decades and it's still one of the most robust tools on the market for personal finance organization and tracking. When considering what personal finance software is best for your needs, it's important to explore your options. So don't forget to consider Quicken (and Quicken for Mac) as you evaluate which personal finance app is the right choice for you. Here's our Quicken review.
Overview of Quicken
Quicken has been around for a long time. There are Quicken versions for Windows and Mac, as well as an online version. Quicken was sold to Aquiline Capital Partners in 2021.
At one time, Quicken was one of the only alternatives to tracking personal finances manually on a spreadsheet. Today, there are many choices for personal finance software. But Quicken is still a solid choice, especially since it can connect to your bank and automatically update your accounts.
Quicken key features
Both the Mac and Windows versions of Quicken support the following features:
Budgeting: Create and manage personalized budgets.
Manage your investments: See how your investments are performing. Track cost basis and see realized and unrealized gains. And the program calculates capital gains and losses.
Customized reporting: View your income and spending with custom reports.
Specialized investment reports: You can dive deeper into your investment returns, seeing items like R.O.I. and IRR.
Bill tracking and payments: You can track and make payments within the Quicken app.
Debt reduction planner: Figure out how to best pay down your debt and create an actionable plan.
Free phone support: Phone support and chat support is available Monday to Friday, 5 A.M. to 5 P.M. Pacific Time.
Data export: You can easily export your data to Microsoft Excel, Microsoft Word, QXF, and QUIF files
Web and mobile access
Once you've purchased a subscription to Quicken and downloaded the software to your computer, you can also log in to your account via Quicken's companion mobile app (available on iOS and Android) or its companion online platform, Quicken on the Web.
Note that the web and mobile companion apps don't provide access to every feature that's available on desktop. However, they work great for monitoring your budgets, balances, spending trends, or investment performance. You can also use the companion apps to search for past transactions and see their details.
Try Quicken today
Quicken for Windows features
The Windows version of Quicken adds even more functionality. First, Quicken Home & Business is available for PC only, It includes several business and property features including:
Creating custom invoices
Categorizing and separating personal, business and rental income/expenses
Downloading property values from Zillow
Generating business-related tax schedules
Tracking tenant payments
And more
In addition to Home & Business access, Quicken for Windows also provides a few additional investing tools, such as the Morningstar® Portfolio Instant X-Ray tool, a buy/sell tool for modeling tax implications, and a "What If" tool for estimating capital gains.
Simplifi by Quicken
Simplifi by Quicken is an award-winning budgeting and goal-tracking platform that launched in 2020. Rather than requiring software downloads, Simplifi is available exclusively on mobile and the web. It's also different from Quicken's desktop products in that it will create your budget automatically based on your income and expenses.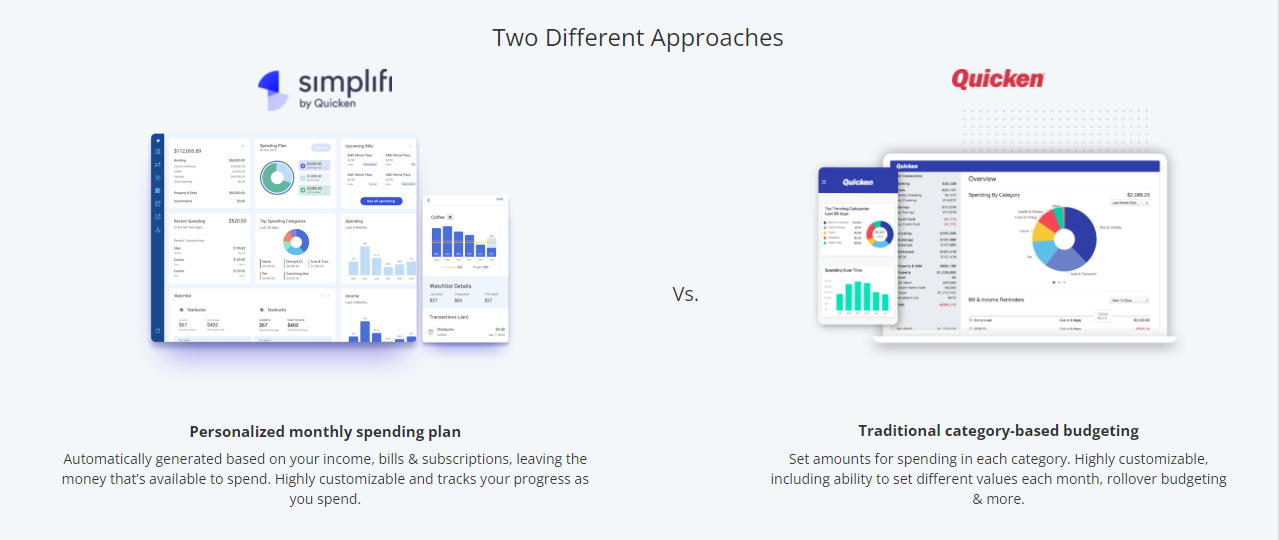 From the beginning, Simplifi's goal has been to minimize the hassles and pain points that often discourage people from creating and following a spending plan. In fact, the Simplifi team says that most users should be able to manage their finances in just under 5 minutes per week on the platform.
Read: Simplifi by Quicken review
Quicken pricing
Like many other personal finance software applications, Quicken has an annual subscription model. It offers tiered pricing options based on the product you choose.
Here are the prices as of writing:
Simplifi by Quicken: $3.99 per month, billed annually
Quicken Deluxe: $4.99 per month, billed annually
Quicken Premier: $6.99 per month, billed annually
Quicken Home & Business (Windows Only): $9.99 per month, billed annually
Build a better budget with Quicken
Security
Quicken uses bank-level security and encryption to protect your accounts. Because Quicken can connect to your bank and other accounts, it's important to know that you're protected. Quicken uses SSL and 256-bit encryption and you can password-protect your files.
Customer service
Quicken offers both phone and chat support. They also offer a help center with guidance and support from expert users. You can get phone support Monday through Friday from 5 A.M. to 5 P.M. Pacific Time. Users who purchase the Premium or Home & Business tiers receive priority access to agents.
Technical requirements
Quicken for PC
CPU: 1 GHz (I recommend a more powerful CPU)
Operating system: Windows 8, 8.1, 10, or 11 (not compatible with 10 or 11 in S mode)
Memory: 1 G.B. or more (I recommend at least 2 G.B., 4 G.B. or more being ideal)
Hard disk space: Minimum of 450 MB, up to 1.5 GB if .NET is not already installed
Display: 1024×768 or higher resolution, 1280×1024 for large fonts
Internet: High speed internet connection recommended (Online access required for activation)
Additional software (included in Quicken installer): Microsoft .NET 4.6 or later
Quicken for Mac
Operating System: Mac OS Ventura and previous two versions of Mac
Display: 1280×800 or higher resolution
Internet connection: Broadband (Access to the web-based platform for Quicken for Mac requires that you still download the software.)
Quicken on a mobile device
iPhone, iPod Touch, iPad: Requires iOS 9 or higher.
Android mobile and tablet: Requires 4.4 or higher.
How to sign up to Quicken
It's fairly straightforward. You go to the Quicken website and choose the version you want. Pay the fee and, if you purchased a desktop product, download the software. Then get everything set up, create passwords, and sync with your accounts. Also, you may need to import files from other software or download information from your bank.
Quicken alternatives
Back in the day, there weren't many alternatives to Quicken. But there are plenty of choices today. One of the best alternatives is Empower, which will track your investment accounts, as well as bank and credit card accounts. You can get a number of reports with Empower and see your whole financial picture.
Moneydance and Banktivity are two additional personal finance applications that may be worth considering. Depending on what software you choose, you may be able to get comparable features at lower prices.
But Empower is a freemium product that offers a lot of what most people need. And its starting cost is zero. On top of that, Empower has the option for you to work with a financial advisor if you're willing to pay an annual advisory fee.
Quicken pros and cons
Pros
Robust budgeting: It's easy to create budgets and manage your finances.
Bill payment and management: You can easily pay and manage your bills from one place.
Robust investment monitoring: Quicken gives you detailed information on your investments, and you can get even more perks to monitor your portfolios if you have the PC version.
Easy conversion: If converting to Quicken for Mac from Quicken for Windows the process is easy.
Manage your business finances too: Quicken Home & Business makes it easy for business owners to monitor their company's income and expenses and can help landlords track their rental properties too.
Cons
Some features are missing on Quicken for Mac: You won't get all of the same features in the Mac version as you do in the PC version, which is a downside for Apple fans.
Mobile and web companion apps are limited: While companion apps are available for Quicken's desktop products (Starter, Deluxe, Premier, and Home & Business), they aren't fully-featured. Note that this limitation doesn't apply to Simplifi which is a web-based platform and mobile app.
Should you use Quicken?
Quicken for Windows is one of the most robust personal finance software applications on the market. If you're looking for something that will do pretty much everything, Quicken can be a good choice. Quicken for Mac can also be a good choice, but you might pay a little more than you'd like for the value — especially since the Mac version is missing some features.
If you're looking for something more cloud-based or accessible on your mobile device, Simplifi by Quicken could be a great choice. But you'll just want to compare its features and prices to other web-based personal finance platforms like Empower and Mint.
Final thoughts on Quicken
Quicken (at least for Windows) remains one of the best money management apps on the market today. While Quicken for Mac still lags a bit behind, recent changes make it a perfectly adequate choice. In the end, compare Quicken to other apps to decide whether it would best meet your needs or if you should try something else.
Quick calculations with Quicken starts today