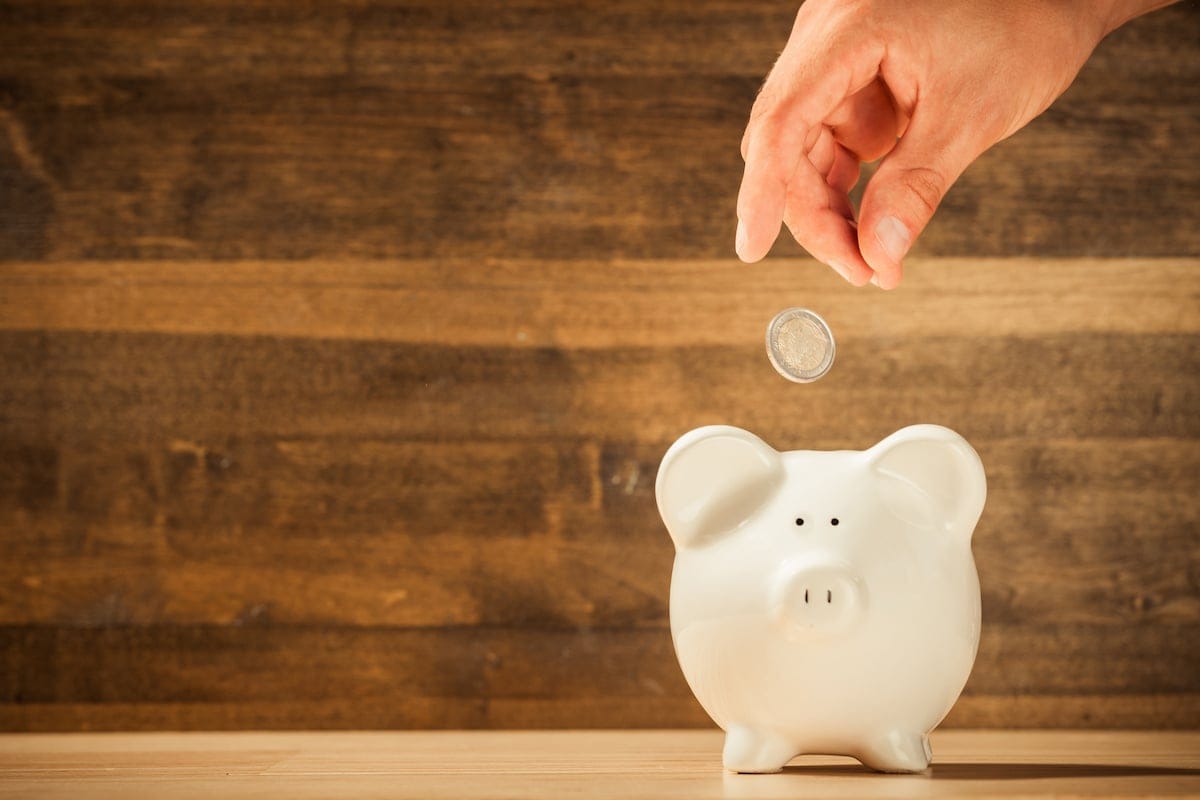 Mint.com review: A free budgeting and personal finance app
Billion Photos / Shutterstock
We adhere to strict standards of editorial integrity to help you make decisions with confidence. Please be aware that some (or all) products and services linked in this article are from our sponsors.
We adhere to strict standards of editorial integrity to help you make decisions with confidence. Please be aware that some (or all) products and services linked in this article are from our sponsors.
*Note: On Oct. 31, 2023, Mint announced they will be shutting down. They will "ensure a smooth transition for Minters who decide to onboard to Credit Karma."
Check out our complete list of the best Mint alternatives
What is the Mint app?
With more than 20 million users, Mint.com is a simple personal finance program that's web-based. It's free to sign up, and it takes only a few seconds to add new accounts. I picked ten personal accounts to test the service. I selected a mixture of banking, credit cards, loans, and investing in brokerage accounts. Upon initial setup, Mint.com seamlessly downloaded my financial data.
Every time you visit the site, your financial data gets updated automatically. Mint presents your financial information in a slick, easy-to-use web interface, with pretty graphs and all.
Although the service appears to be more about glitz than useful functionality, it's still very helpful for things like budgeting, creating goals, and aggregating all your financial accounts in one place. Mint's dashboard gives a quick summary of your personal finances at a glance.
Mint.com features
| Feature | Details |
| --- | --- |
| Price | Min: $0, Max: $0, Term: free |
| Budgeting | ✅ |
| Bill payment | ❌ |
| Investment tracking | ✅ |
| Access | Web Based, iOS, Android |
| Credit score monitoring | ✅ |
| Bill management | ✅ |
| Retirement planning | ❌ |
| Tax reporting | ✅ |
| Reconcile transactions | ❌ |
| Custom categories | ✅ |
| Import QFX, QIF files | ❌ |
| Two-factor authentication | ✅ |
| Online synchronization | ✅ |
Budgeting and tracking expenses
Mint's primary feature is all about budgeting and tracking expenses, and this is where the service shines. Budgeting is super easy to set up: After downloading and syncing your transactions, they get auto-categorized into predefined categories. You can create your own subcategories as well, and Mint highlights all of your spending across different categories and if you're over or under the spending limits you set.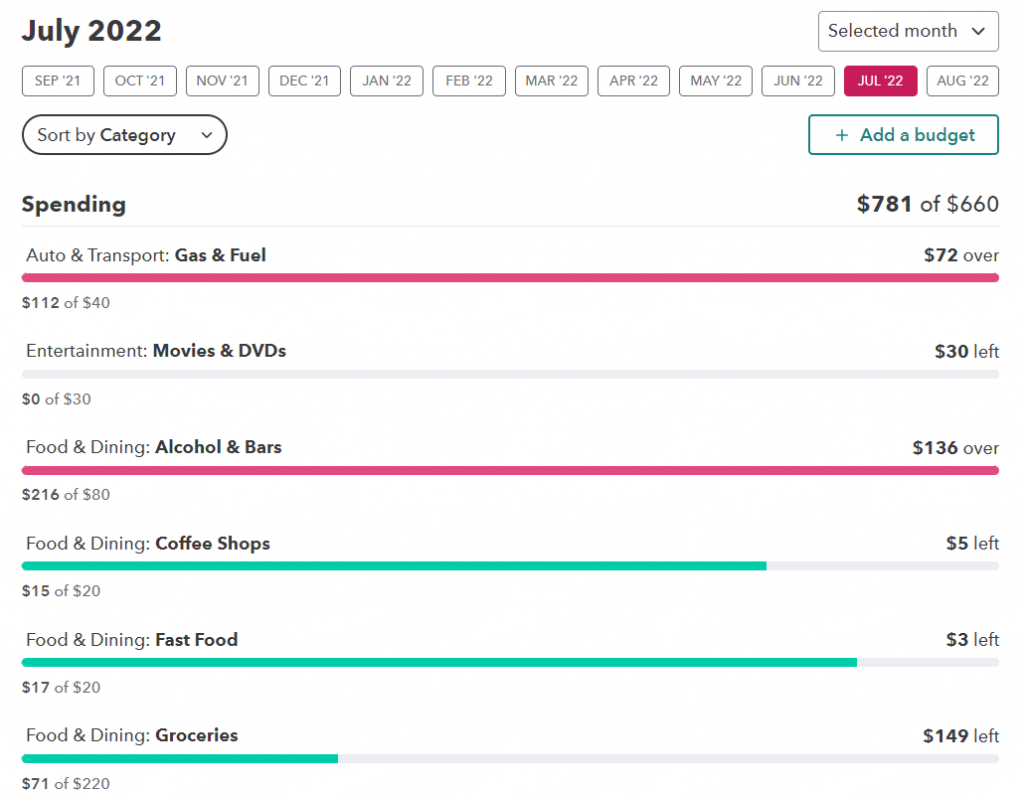 This budgeting section provides a snappy overview of how you're doing in terms of not overspending on different categories. And it's useful if you frequently find yourself spending on entertainment, eating out, or other budget areas that might be easier to cut back on.
You also have the option to make changes to your transactions after they are downloaded. The auto-categorization is far from perfect, and you'll need to make adjustments from time to time. However, once Mint memorizes your transactions, it will automatically place them in the correct categories in the future.
And one feature I really like about Mint is its "Spending by category" tab which provides a more visual breakdown of where all your money is going. It also lets you view spending by each merchant which can help you identify potential areas of overspending.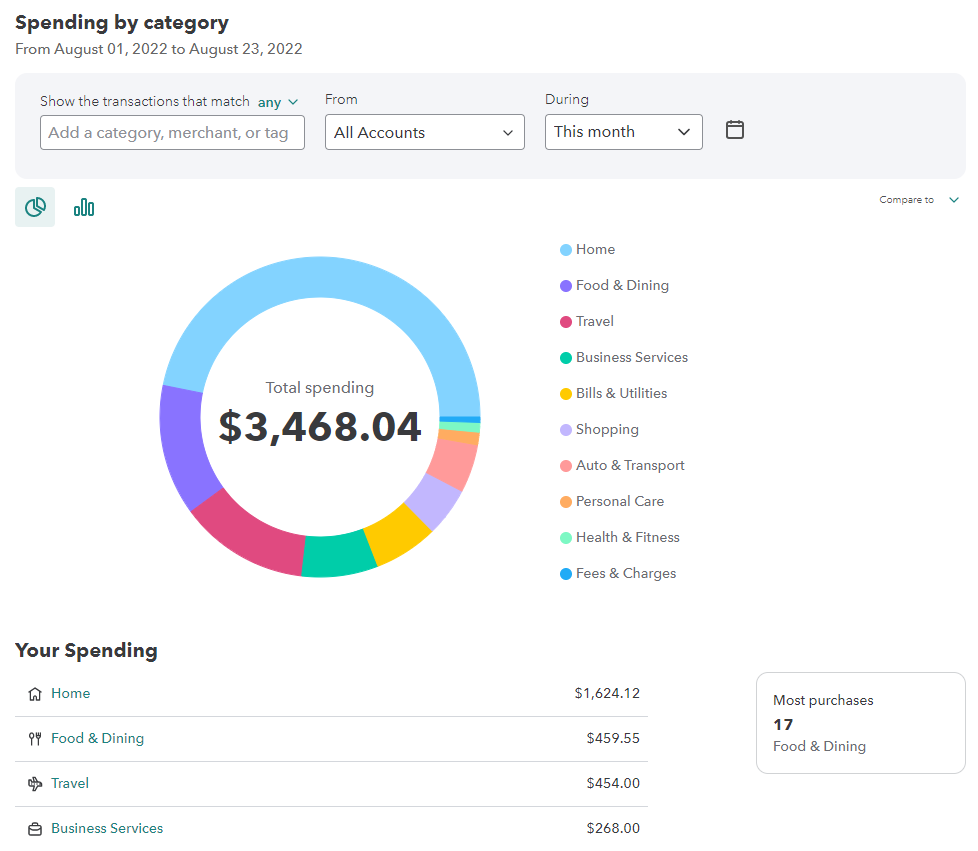 Overall, Mint's budgeting tools are its main selling point. And if you like a visual method for tracking your spending, it's the perfect solution.
Creating and managing goals
Another prominent feature is the goal tracking and managing feature. New goals, such as paying off credit card debt or saving for a new home, are simple to set up and are easily reflected in your monthly budgeting.
Mint also lets you set a desired deadline for your goals and then suggests how much you should save each month to reach your goal in time.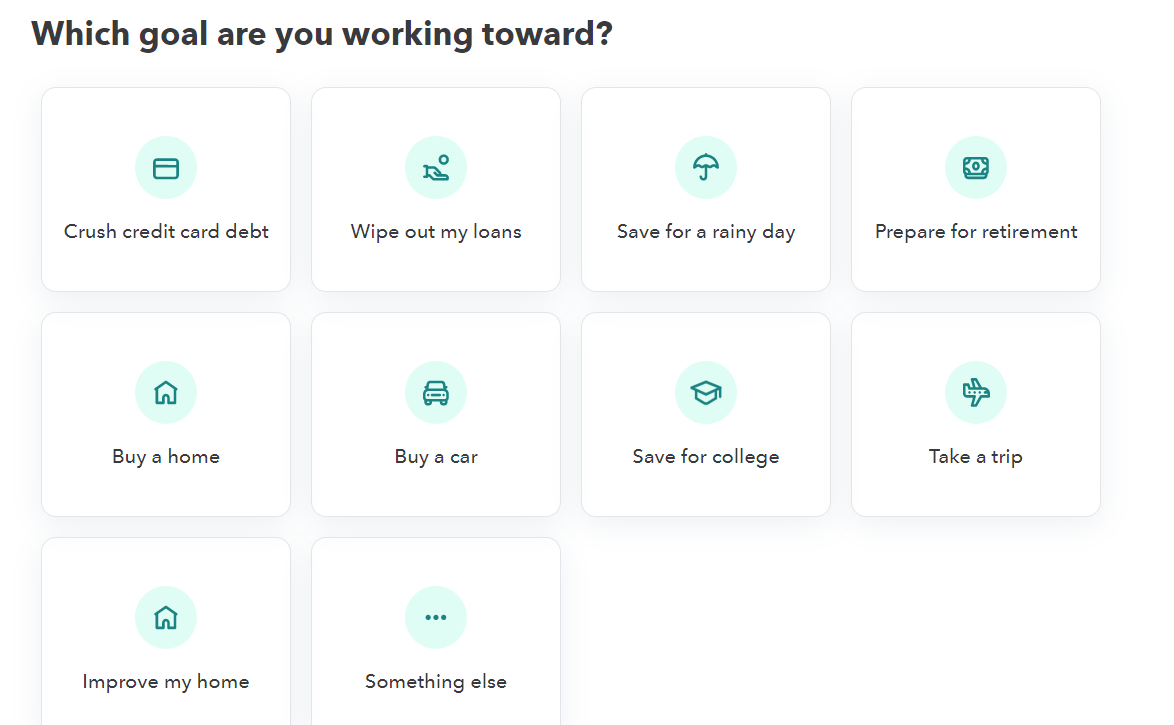 You can create as many goals as you want and create custom ones if you don't find a pre-set goal.
Sign up for free with Mint.com
Monitoring credit scores
Mint recently rolled out a free credit score tracking option, which makes keeping track of your entire financial picture as easy as logging in. Just click on the "Show Details" button to view your credit score, payment history, age of credit accounts, and lots more. You also have the chance to upgrade to a premium version.
Mint.com's service seems to be more focused on catering to the masses. It's very strong with budgeting and tracking expenses, but its investing area is simplistic at best. Like most of Mint, it's much simpler than Intuit's Quicken and lacks many features (see our Quicken Review).
With the acquisition of Mint by Intuit, it's obvious this is the future of the Quicken product line. Besides, Microsoft discontinued Money in January 2011, so there aren't many viable alternatives around.
Investing and crypto tracking
Another useful Mint feature is its crypto and investing tracker. Users can now connect their investment accounts to Mint to easily monitor their portfolio. The app supports most online brokers, so you shouldn't have issues connecting your accounts.
Additionally, Mint now partners with Coinbase, a leading crypto exchange, to let you track your Bitcoin holdings. If you diversify with BTC, this feature is useful, although having support for altcoins like Ethereum, Cardano, and other popular coins would be nice.
Net worth tracker
Since Mint consolidates all of your banking and online brokerage accounts, it also has a nifty net worth tracking tool you can use.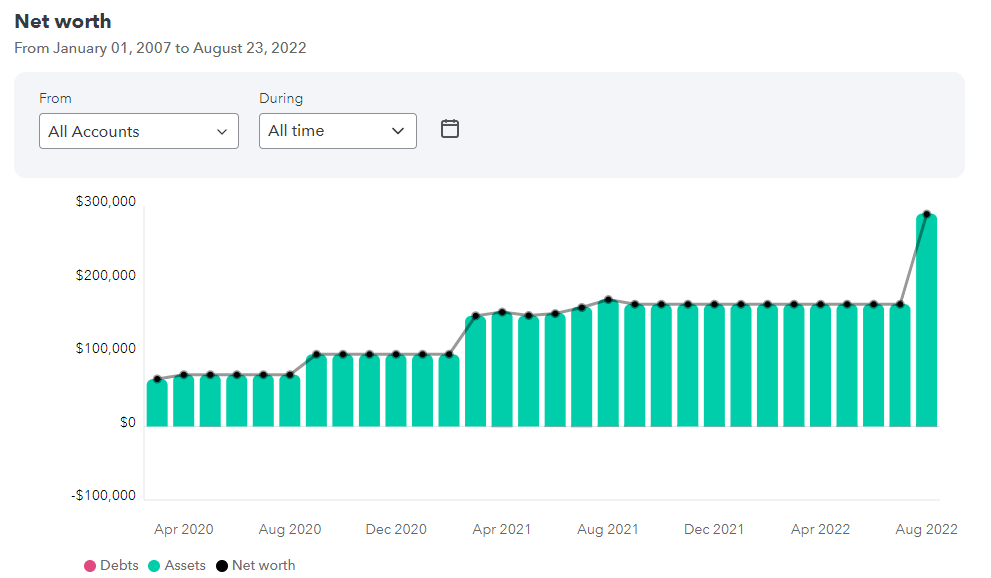 It's a fairly simple tracker, but you can manually add assets like artwork, cars, your home, precious metals, or any other asset you have. You can also manually enter debts like loans and credit card debt.
Options like Empower are better if you want more investing insights alongside a free net worth tracker. But it's nice that Mint also has a basic tracker so you can visualize the impact your budgeting and saving is having on your net worth.
Read more: Empower review
Subscription management
One other Mint feature you can use to cut down on spending is its subscription management feature. The app highlights recurring charges and even notifies you if certain subscriptions increase in price. This can help you catch increases in bills like your internet or phone plan or various streaming services that might otherwise go unnoticed.
Apps like Truebill also have this feature, but we like Mint because almost all of its features are completely free. You can read our Mint vs. Truebill article for a comparison of these subscription management services, but we prefer Mint.
Mint.com apps
Mint offers complete access to your financial data through both its website and your favorite mobile device. The service has mobile apps for Apple's iPhone and iPad and Google's Android.
This makes it easy to access your finances on the go. For added security, Mint recently rolled out the Touch ID sensor for iOS that reads your fingerprint and automatically unlocks your phone, allowing you quick access to the Mint.com app.
Get alerts from Mint
Mint keeps an eye on your money, so you don't have to. It's easy to sign up for alerts to be sent via email or directly to your smartphone. Get alerts for:
Late fees
Over budget in a category
Bill reminders
Rate changes
Large purchases
How does Mint make money?
The service is free to use, and there are no hidden fees; this is otherwise known as the freemium model. You might be asking, "How does Mint make money from this free service?" Well, it makes money by offering "ways to save" or to make you money by recommending various financial services from which Mint gets a referral fee. Mint also recently introduced ad banners in various parts of the website to monetize users. Additionally, you can now sign up for premium access to your credit report.
Mint also sells the aggregate (not your individual) financial data to various providers. This includes information about consumer spending, the average credit card balance, how many retirement accounts a user may have, etc. It must be stressed, however, that the data is collected anonymously and does not refer back to individual usage.
Mint Premium vs. Free Plan
Users can upgrade to Mint Premium for $4.99 per month. This plan removes ads from the platform and provides several other perks like:
Bill negotiation and cancelation help with Mint's partner, BillShark
Spending projections and breakdowns with advanced data visualization
Download Mint data in a CSV file from the mobile app
Compare your spending habits to other Mint users
Removing ads is honestly the main advantage of Mint Premium unless you really make use of its spending projections to avoid overspending before it's too late. But at $4.99 per month, that's almost $60 per year, which isn't cheap by any means.
Get started for free
Is Mint secure?
I think locally installed applications like Quicken are going the way of the dodo bird. I do think a hybrid of local and remote (cloud-based) applications like Mint.com is the future of this industry.
Since I'm in the technology industry and deal with security all the time, I know the risks of leaving security to a third party. Mind you. I'm not saying Mint is insecure. In many cases, an individual's desktop computer is much less secure. Of course, the perception of security is Mint's biggest adoption roadblock.
The recently added two-factor authentication is a nice but needed touch for any financial service. Mint won't allow you access to your account until you validate your computer with something you have (this is the second factor, with your password being your first). You can do this via one of two methods, either via the email address when you signed up or by an SMS text message to your cellphone. Mint will send you a random code, which you then must enter on the website.
Mint alternatives
Mint is an excellent budgeting and financial planning app that's popular because it's free and easy to use. However, it has fairly simple investing features. Additionally, since Mint does a bit of everything, it's not always the best solution if you're looking to solve one specific problem, like creating an in-depth budget.
If you're just interested in budgeting help and want the most customization options, YNAB is our favorite Mint alternative. It costs $14.99 per month, but it's a comprehensive budgeting solution that can help get you back on track with your spending. You can read our YNAB vs. Mint article for a complete breakdown of these two budgeting apps.
As for Empower, it provides more retirement planning tools and has a useful and free investing fee analyzer you can use. And if you have $100,000 or more to invest, you can use its Wealth Management offering and work with human advisors to build a custom portfolio.
Finally, Experian can help you improve your credit score, while Mint is just useful for monitoring your credit score.
Get more Mint Alternatives we recommend.
How does it compare to Quicken?
While I use Quicken as our primary method to manage our entire finances, I have also somewhat outgrown Quicken as well. Recently, I've been creating Microsoft Excel spreadsheets for managing parts of my portfolio. Specifically, I manage our precious metals and our security bucket (which is primarily fixed income) outside Quicken.
Quicken, or any other application for that matter, does not seem to have tools to help manage these areas of your finances. To manage these assets, I wind up transferring the total amount into a Quicken account. With this said, Quicken still has many features and functionalities that in Mint are either very simplistic or non-existent.
For a more in-depth comparison of the two, read our Quicken vs. Mint article.
Get started with Quicken
Mint pros and cons
Pros
Free app provides a decent overview of your spending and budgeting
Free net worth tracker
Budget customization options
Easy-to-use mobile app
Track your investment portfolio and Bitcoin holdings
Cons
You can't pay your bills with Mint
Some users report synchronization issues and slow customer support
Limited investing tools and features
Summary
Mint is excellent for creating and tracking your budget, goals, and credit score. The alerts sent via email are a useful and welcomed feature. Unfortunately, Mint's investing area is very weak for all but the basic investors. In fact, the investing area is so weak that they don't list it on their website as one of the primary reasons to use Mint.com.
Mint, unfortunately, does not have investment and asset allocation tools like Empower (check out our Empower review). If you have over $100,000 in investments, Empower is a much better fit.
Besides, Empower doesn't have the same synchronization issues as Mint.com. When Intuit acquired Mint.com, it replaced Yodlee (which does the financial synchronization) with its internal system.
Many users of Mint.com stated synchronization issues started happening only after this switchover occurred. Empower uses Yodlee to link up accounts (which is what Mint used before the Intuit buyout). My experience with Empowers synchronization has been more reliable.
Until May 2018, Mint offered a Bill Pay feature that was very handy. However, the company decided to nix this service, for reasons not entirely clear to us. This puts a strike against Mint if you're looking to manage your finances from one account completely. Here are some bill management alternatives.
We recommend using Mint for its basic budgeting, goal, and credit score features. Since Mint.com does not cost anything to use, you might as well sign up and give it a spin. For better investment tools and more reliable synchronization, I recommend using Empower instead.