Status Money review 2023: A new way to look at your finances
Monkey Business Images / Shutterstock
🗓️
Updated: June 03, 2022
We adhere to strict standards of editorial integrity to help you make decisions with confidence. Please be aware that some (or all) products and services linked in this article are from our sponsors.
We adhere to strict standards of editorial integrity to help you make decisions with confidence. Please be aware that some (or all) products and services linked in this article are from our sponsors.
Status Money is a new kind of financial platform built by two data scientists from New York in 2016. Their goal was to empower users to make smarter money decisions by harnessing the collective knowledge of the crowd. They realized that, although your personal finances don't exist in a vacuum, the only information you ever get to see is your own – your own balances, your own transactions, etc. Here's our Status Money Review.
What is Status Money?
Thanks to social media, we've gotten used to sharing practically everything from our favorite music to a fantastic meal we've cooked, to what our cats are up to. Maybe we're sometimes oversharing. But some of us really hold tight to the concept that "knowledge is power." And the more information we have, the more knowledge we have, right?
So why don't we share more information about our finances?
"Whoa! Wait a minute there," you say. But don't worry; we're not talking about sensitive, private stuff like PINs. Instead, we could benefit from knowing stuff like this:
Are you getting the same interest rate as other people with the same credit score as you?
What is the typical debt-to-income ratio of someone living in your area?
How about the average monthly housing rate for people renting in your city?
What are people your age spending on eating out each month?
The answers to these sorts of questions can help us make more informed decisions about our personal finances. And Status Money was created to help get those answers.
Other finance apps keep trying to figure out the answers to those questions, like a guessing game. But the unique and defining feature of Status Money is that you're able to anonymously compare all the different aspects of your finances to those of other people just like you from across the nation, so you can make better decisions that impact your net worth.
And it appears to be working. A recent study by the University of Chicago Booth School of Business analyzed the spending behavior of a group of Status Money subscribers. The research showed that users who discovered they were overspending when compared to their peers, cut their monthly spending by an average of $600 per month.
How does Status work? I took it for a test drive.
Status Money features
Min: $0.00, Max: $0.00, Term: free
Two-factor authentication
How does Status Money work?
Status Money uses what it refers to as a "proprietary insights engine" that shares anonymized data on millions of people across the country. This ensures that the data you're comparing is of a larger, more relevant, and unbiased group of peers and national averages instead of just a set of other Status Money members.
You can compare your net worth, spending, debts, assets, income, and TransUnion credit profile to three different data groups:
1.

Peers: People most similar to you in age, income, housing status, and location.

2.

National average: Think of this dataset as the Nielsen ratings for personal finance.

3.

Customized groups: You can create your own dataset of filters (age range, location, location type, credit score, income, and housing type) to compare your finances.
By default, each section and subsection of your finances (spending, income, debts, assets, net worth, and credit score) is compared to both your peer group and the national average. Each one is broken down into graphs and charts, which are accompanied by "nice to know" and "alert" cards.
"Alert" cards tell you when something needs your attention. "Nice to know" cards update you on how you're doing.
I was shocked to see that my $758 credit card balance is sitting way below my peer group, which has an average balance of $2,431 (which, by the way, is above the national average of $2,209).
And here I thought any credit card balance over $500 was too high!
Financial categories
Status Money organizes your financial categories somewhat differently than other personal finance apps, but it's nothing too complicated. You can also customize categories to reflect your accounts accurately.
Spending subcategories are broken down into 16 fixed categories.
Debt subcategories are broken down into six fixed categories: mortgages, auto loans, credit cards, student loans, home equity loans, and personal and other loans.
Income subcategories are broken down into three fixed subcategories: salary, other, and investment and savings.
Asset subcategories are broken down into six fixed categories: homes, cars, investments, other assets, cash, and savings and CDs.
Track spending and income
Get comparisons, and personalized insights into your spending habits as Status Money automatically categorizes your transactions into 16 default household categories.
Status Money also shows spending trends by category and forecasts future spending based on past transaction history so you can anticipate upcoming expenses.
You can manage and track multiple income streams in the same way you would for spending. Status Money automatically categorizes your income by salary, other or investments, and savings so you can keep track of all the money you have coming in.
Set spending limits
You can set spending limits for each of the 16 spending categories. Each time you log in, Status updates you on your limit and how much you have left to spend.
Set spending goals
Just like setting spending limits, you can set income goals for each of the three types of income (salary, investments, and savings). This is perfect for members who are self-employed or those who want to track income from rental properties or stock investments.
Spending predictions
Once you link your accounts, Status Money will pull up to 90 days' worth of transactions. It will then analyze those transactions and make spending predictions based on recurring bills, one-time expenses, and everyday spending.
I find this feature helpful because it helps me anticipate where I may go over the budget for that month.
Manage debt and assets
Status Money pools all money from cash, savings, CDs, investments, homes, cars, or other assets into an asset bucket. In those asset buckets, you can view balances, earned interest rates and current fees, and compare them to others in your peer group or the national average.
When it comes to debt, Status Money tracks it the same way as assets.
Your debt bucket consists of any money owed on credit cards, personal and other loans, auto loans, mortgages, home equity loans, and student loans.
You can view your balances, interest rates, comparisons, and account details and see if there are any opportunities for you to save or lower interest rates.
Track your net worth
Your net worth is calculated from your linked assets and debts to provide an accurate and updated total that is displayed on your dashboard each time you log in.
With Status Money, you can get side-by-side comparisons of your net worth to those of your peer group and the national average.
Track your credit profile with TransUnion
Your credit profile is provided by TransUnion to give you 24/7 access and updates to your credit score and report so you can stay on top of any changes.
Receive recommendations
Throughout your Status Money experience, the platform will make recommendations for ways to improve. These might include suggestions for the best financial products (such as robo advisors) for your needs. This might be a great help when you're deciding which product is right for you.
Status will also recommend other ways you can improve — from ideas for saving to spending less.
Earn cash rewards
Act on Status' recommendations for financial products or new behaviors or refer friends to the service, and you'll earn cash rewards. There's no limit to how much extra cash you can earn, and the rewards will never expire. When your rewards add up to $10 or more, you can redeem them via a free ACH transfer directly to your bank account.
Just for signing up, you'll receive a bonus of as much as $7. You'll get $5 for creating an account, $1 for linking your credit report, and $1 for linking your first bank account.
Status Money credit card
With the Status Credit Card, you'll be able to earn 2% cash back or crypto-back on everyday spending. There's no annual fee either, and you also get a $200 bonus if you spend $1,000 within the first three months of opening a card.
The card isn't out quite yet, but you can enter your email on Status Money's website so you know when it launches.
Earning unlimited 2% back in crypto rewards is also competitive with crypto reward cards from companies like BlockFi and Coinbase. You'll also be able to choose from 40+ cryptos to earn as rewards, including popular coins like Bitcoin, Dogecoin, and Ethereum.
Interested In Cryptocurrency Investing? Check out: The Best Cryptocurrency Exchanges.
Get financial coaching
Premium Status Money members can access financial coaching with a financial advisor. It costs $10 per month for the premium plan, but this is still much cheaper than what it would cost to seek advice from a traditional financial planner.
Here's how Status Money's coaching program works:
1.

Schedule a video call and tell Status Money about what you need help with; investing advice, retirement planning, tax and estate guidance, and other options are all on the table.

2.

Select a time that works for your schedule.

3.

Get matched with a Status Money coach and have your call.
The fact you can now get human advice is a massive upgrade for Status Money, although you have to pay for the luxury.
How to create a Status Money account
Status Money is available online for free and takes less than five minutes to sign up.
Fill out the following information, and the platform will verify your identity with TransUnion:
Full legal name
Email
Strong password
Date of birth
Annual gross income
Housing type (rent, own, other)
Own a car? (yes or no)
The last four digits of your Social Security number (for verification)
Address (preferably the one that is on your TransUnion account)
Once you have access, you can start linking financial accounts.
Status Money partners with Yodlee to securely link to any U.S. bank, credit card, loan, mortgage, or investment company. You can even link peer-to-peer lending companies liker Prosper.
After setting up your account, you'll have access to the dashboard, where you'll see current your net worth, peer ranking, national ranking, current opportunities, spending, and income trackers, spending graphs, and a credit profile graph. From there, you'll have access to all the other sections.
However, your numbers will not be accurate until all your accounts are linked, so you'll need to verify that all of your accounts are properly linked and that all transactions are properly categorized.
If you ever get lost or have trouble linking an account, don't hesitate to reach out to the customer service team through email. They were prompt and friendly when I had an issue linking one of my accounts.
Once you get the hang of how the system works, it's a good idea to log in at least once a week to verify that new transactions were appropriately categorized.
Status Money screenshots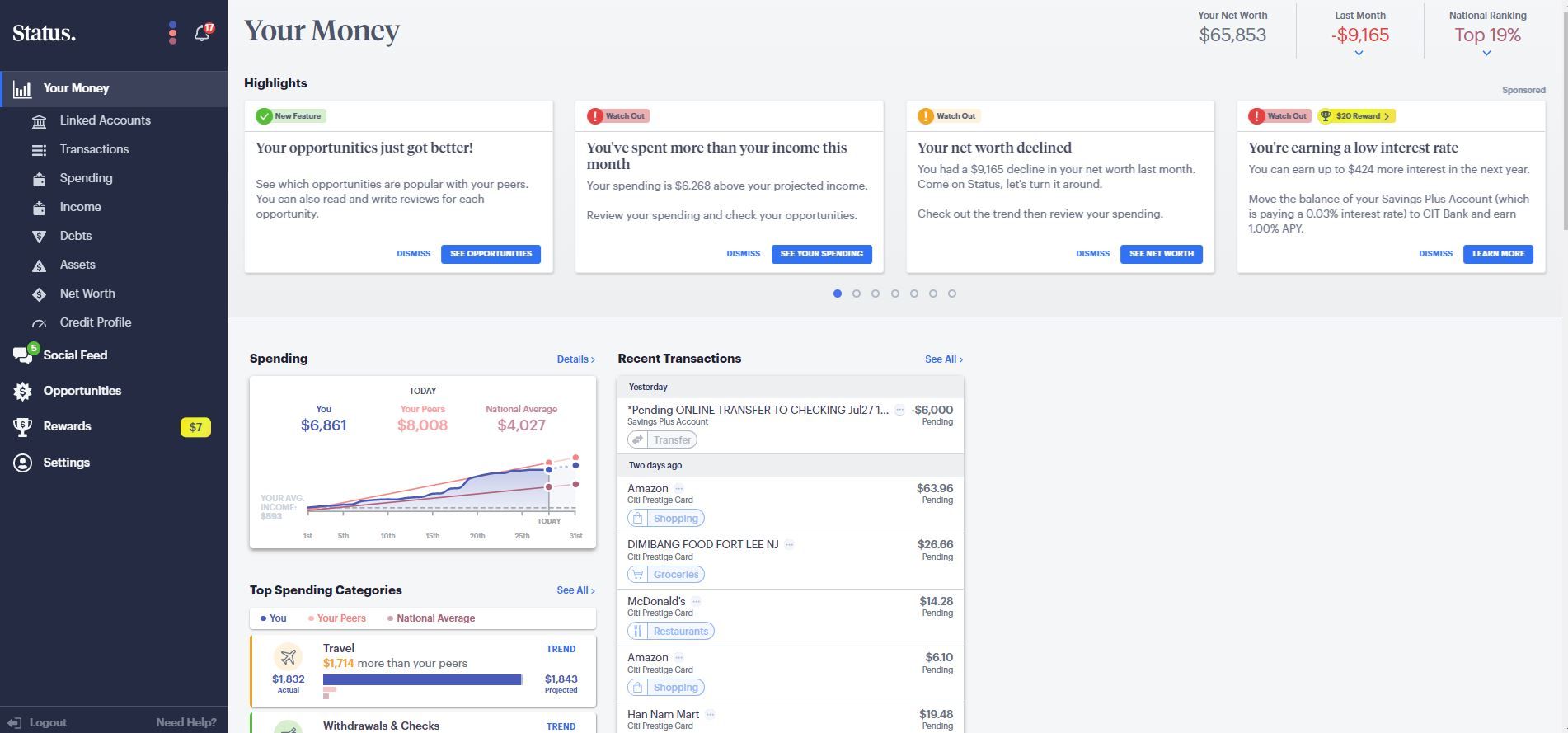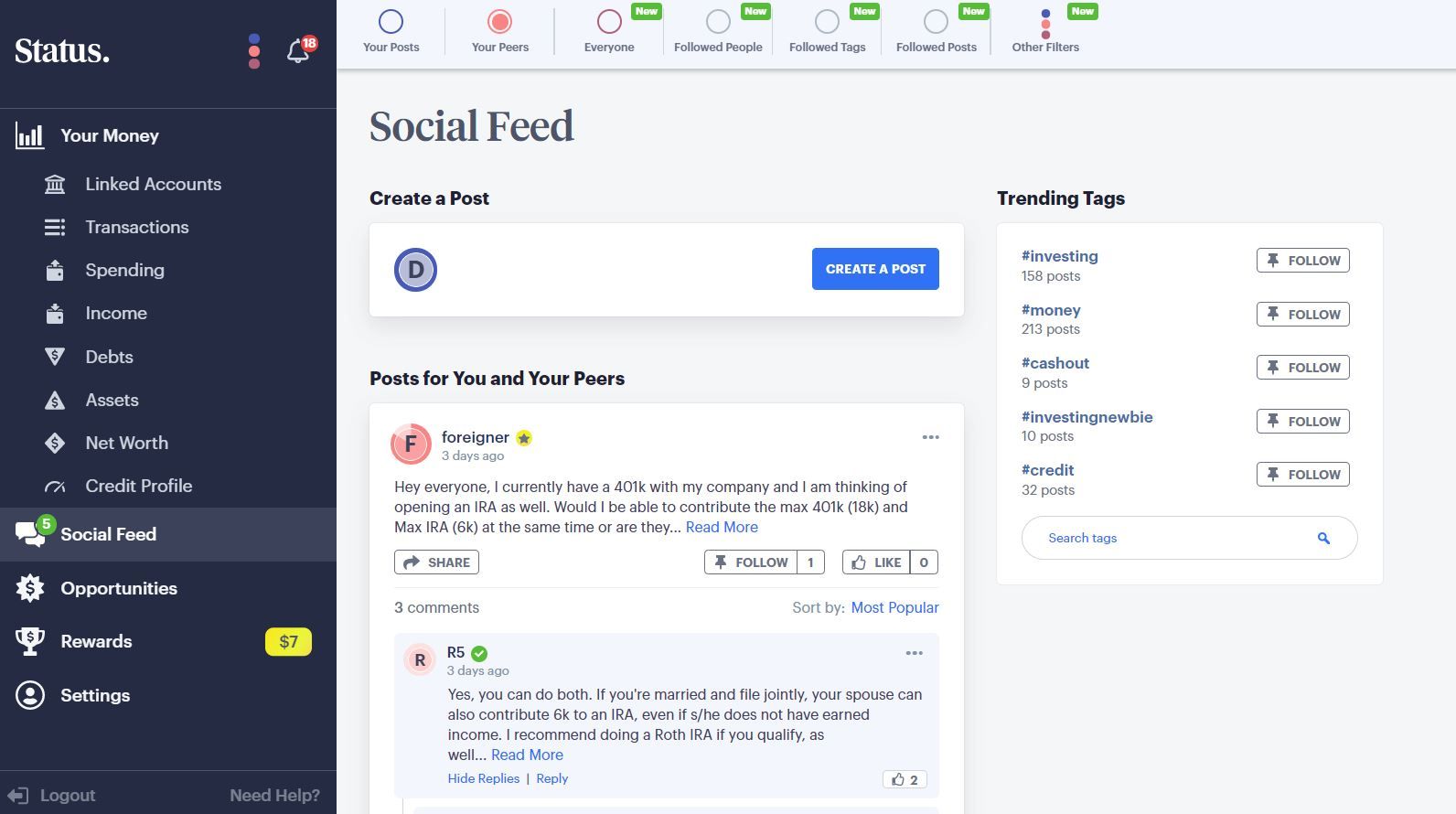 Status Money pricing
Status Money is free to sign up and free to use. There's also a $10 monthly premium plan that's available if you want access to financial coaching.
The founders intend to keep Status Money free for everyone by introducing targeted and relevant ads that would help users save on interest rates or bank fees. For example, if you're paying too much in bank fees, Status Money will suggest you try a certain bank that offers free checking instead.
This is similar to the models that Mint and Empower use to keep their platforms free.
Is Status Money safe?
One of the co-founders was kind enough to chat with me over email. He answered a ton of questions about Status Money and the measures it takes to keep your information safe and private.
Status Money's database and any member information (which is limited) is encrypted and viewed only by specialized personnel when needed for troubleshooting and support.
Status partners with outside companies to link financial accounts and to offer free comparisons and targeted suggestions. These partnerships are completely vetted by outside security audit teams such as BitSight Technologies (a top risk-management cybersecurity-audit company), and all information is anonymized before it is released.
Status Money never sees your login information when linking your financial accounts. This is done through a partnership with Yodlee, a finance aggregator similar to Plaid that allows finance apps to link to accounts with read-only access securely.
For credit-monitoring information, Status Money partners with TransUnion to verify your identity, so you have to share only the last four digits of your Social Security number. No status employee can view a user's personal information.
However, if there is a situation in which access to that information is required, only specialized personnel are able to view it.
While no online finance app is 100% safe, Status Money has taken a lot of measures to make sure your information stays protected. The company has even gone through the process of getting an Extended Validation Certificate that ensures the website has been validated, making it difficult for hackers to replicate the site and steal your data. You'll see this validation on any banking website.
That said, I'm comfortable using Status Money because of the measures the company has taken to secure users' personal information.
Status Money alternatives
Status Money pros and cons
Pros
Completely free app with a premium option that offers financial coaching
Comprehensive budgeting and expense tracking tools
Excellent customer service
Earn rewards and get personalized recommendations
Cons
Recommendations can feel pushy at times
Doesn't support paying bills
Final thoughts on Status Money
For the past four years, I've been tracking my net worth and have tried a lot of finance apps, but no one has ever shown me how my financial picture compares to my peers.
With Status Money, I've learned:
1.

I'm paying more for housing than others in my area.

2.

I have less debt.

3.

My net worth needs some work, but I'm doing well in my spending and income, compared with the national average for people in my demographic.
It's nice to be empowered with information that helps me make decisions to impact my personal finances in positive ways. I feel there is value with Status Money, especially with it being free. However, Status is perhaps better suited to the user who is already familiar with their net worth and account balances. Knowing your information will help you catch errors that may throw your comparison numbers off.
And while other products like Mint, Personal Capital, and WeVest also offer all-account viewing, none but Status Money offers credit report monitoring and nationwide peer comparison.
Plus, Status Money is still new and has an excellent customer service team that is open to feedback from users. I'm confident the app will soon come out with a user-friendly guide to features so more people can benefit from using the platform.
I'm looking forward to seeing where Status Money goes from here.