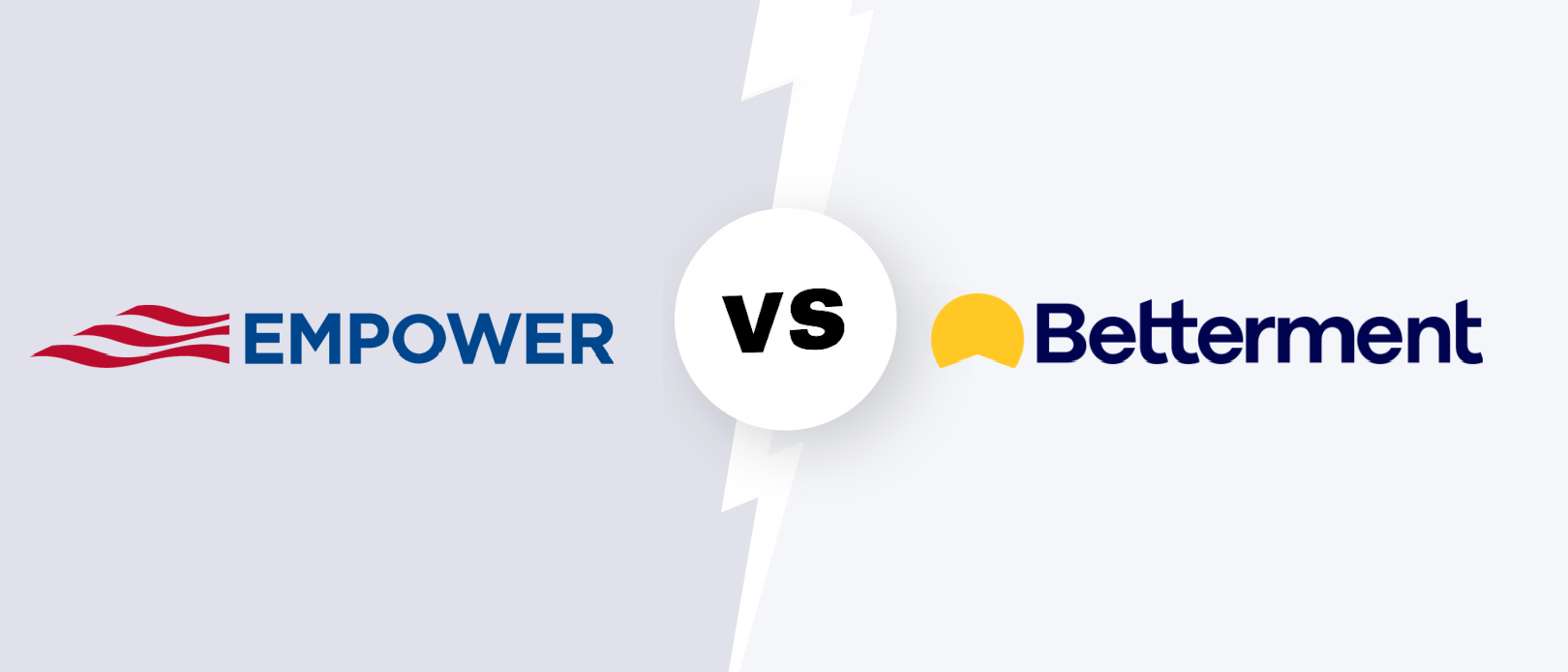 🗓️
Updated: February 27, 2023
We adhere to strict standards of editorial integrity to help you make decisions with confidence. Please be aware that some (or all) products and services linked in this article are from our sponsors.
We adhere to strict standards of editorial integrity to help you make decisions with confidence. Please be aware that some (or all) products and services linked in this article are from our sponsors.
Empower and Betterment are two popular online investment management firms. Empower offers a free personal finance dashboard that allows you to track all of your money and analyze your investments. It also offers a paid investment management service that is a hybrid of a robo advisor and human financial advisor. Betterment is best known as the first major robo advisor, but it does offer a human aspect as well.
Either could be a good choice for your investments; however, each has its own pricing model and strengths. Read on to find out if Betterment or Empower is a better fit for your unique investment needs.
Paid non-client of Betterment. Views may not be representative, see more reviews at the App Store and Google Play Store. Learn more about this relationship.
About Empower

Empower was founded in 2009. It uses a combination of human advisors and a technology-driven investment platform. It charges less than most traditional advisors. Empower advisors work with you to put your funds into one of a handful of pre-designed ETF portfolios. It has $9 billion in assets under management.
The personal finance dashboard is free to all users regardless of whether or not they pay for Empower's investment management service. You'll need at least $100,000 in assets to qualify for Empower's lowest investment product tier, which is the service we are evaluating here. But even if you don't have that much, the free tools are worth checking out.
About Betterment

Betterment was founded in 2008 and is considered the first major robo-advisor. But that doesn't mean a robot picks stocks for you. Based on a series of questions about your investment timeline and goals, your funds are sent into a pre-built portfolio of exchange traded funds (ETFs) that most closely matches your needs. It holds $16 billion in assets under management.
And because a computer is so heavily involved, it comes with extra perks like tax loss harvesting. You can open a basic account with no minimum balance. A premium account, which includes access to a human financial planner, charges a higher fee and requires at least $100,000 in your account. You can open an account with a $0 balance to check things out without ever getting charged a fee.
How are they the same?
How are they different?
Empower is unique in several ways. Most noteworthy is the free access to digital financial analysis tools. When I signed up, I used the fund analysis tools to identify mutual funds that charged more than I wanted to pay. After a few trades, I saved $300 per year in fees and it didn't cost me anything. I highly recommend signing up even if you don't plan to use the paid financial advising service.
If you have at least $100,000 in assets, you qualify for the professional investment management service. With an Empower account, you'll work with a financial advisor team who will guide your funds into a portfolio that matches your needs. You can call anytime for help or guidance and get access to more services as your portfolio reaches the $200,000 and $1 million tiers.
Betterment is open to anyone regardless of how much you have to invest, but you don't automatically get access to a human advisor. However, with Betterment's onboarding process and smart portfolio management system, you don't need one. And you don't need to know much about investing to get a well-built, low-cost portfolio at Betterment.
In the signup process, you'll answer some basic questions about your goals, such as retirement, paying for college or buying a home. Based on the information you supply, Betterment will suggest a percentage of stocks and bonds (which you can change if you'd like) and divide up your assets into low-cost ETFs. All accounts include automated tax loss harvesting. If you pay more, you can get access to a human advisor that works similarly to Empower's lowest tier.
Minimum deposit
Betterment allows you to start with no minimum. You could invest just $1 if you want. You need a $100,000 balance for the Premium service to unlock human financial advice, however.
At Empower, there isn't a minimum to use the free tools, but the paid service (which we are evaluating here) requires a $100,000 minimum. It has a $200,000 minimum and $1 million minimum for additional premium services.
Winner: You can get started with Betterment with no minimum deposit.
Annual fees
Empower charges based on your total assets managed by the service. For accounts with $100,000 to $1 million, you'll pay a 0.89% annual fee. That goes down to 0.79% for accounts from $1 million to $3 million. It charges 0.69% up to $5 million, 0.59% up to $10 million, and 0.49% for accounts with $10 million or more.
Betterment charges 0.25% annually for its Digital plan, which includes the self-service robo-advisor product. A Premium account costs 0.40% and includes unlimited access to a certified financial planner (CFP) and a financial plan for all of your assets, even those outside of Betterment.
Winner: Betterment charges lower asset management fees than Empower.
Standout features
Features unique to Betterment
At Betterment, standout features include automatic tax loss harvesting and access to curated portfolios from Goldman Sachs, BlackRock and Betterment itself. You can also personally tweak your portfolio if you don't like everything Betterment picked for you.
You can also open an account with $0. This is true for Empower as well, but Empower customers require $100,000 to use its wealth management service.
Finally, Betterment also offers a Cash Reserve account that pays a 2.25% APY as of 9/26/22. This account is similar to a high-yield savings account and lets you earn significantly more interest than a basic savings or checking account. Cash also gets up to $1 million in FDIC insurance. There's also a Betterment Checking account that doesn't charge monthly fees, ATM or foreign transaction fees, and lets you earn cash-back rewards.
Features unique to Empower
At Empower, the standout feature is the free financial analysis tools for your entire financial life, as well as access to a human advisor with all paid plans.
Some other unique Empower features include:
A financial dashboard that helps you create budgets and monitor the cash flows of multiple financial accounts you connect.
A net worth tracker that you can use to outline your assets versus liability and overall net worth.
Retirement planning tools that help you forecast different scenarios to plan ahead.
A cash flow analysis tool that helps you plan your budgets with greater accuracy.
A cash management account known as Empower Cash™ which pays 3.35% APY and 3.45% APY for Empower Advisory clients
Winner: Both Betterment and Empower offer outstanding features.
Main portfolio investments
With Betterment, you largely invest in a portfolio of low-cost ETFs that match your investing goals and risk tolerance. More conservative portfolios also include bond investments to help provide fixed-income and lower risk. Many of the companies within the ETFs you invest in are U.S. value stocks or large-cap stocks, but there are international companies as well.
Empower's starting wealth management plan is very similar. However, higher Empower tiers offer more investing options than Betterment. For example, customers can start investing in real estate through various REITs, individual stocks and commodities. And clients with $5 million or more invested can even invest in private equity.
Winner: Empower has more investing variety and tailored portfolios, especially for higher-tier clients.
Socially responsible portfolios
With consumers becoming more interested in knowing what their money is supporting, socially responsible investing has become more popular.
Betterment offers a standard Broad Impact portfolio which chooses ETFs based on specific environment, social and governance criteria.
In addition, Betterment offers two portfolios focused on either environmental or social issues. The Climate portfolio focuses on mitigating climate change by focusing on companies that reduce their carbon footprint, among other things, The Social Impact portfolio expands the Broad Impact portfolio by also including stocks of companies focused on diversity in the U.S.
Empower also offers an SRI stock and ETF investing option, but only for portfolios worth $200,000 or more. The portfolio excludes investments in the energy sector, tobacco, gambling, small firearms or adult entertainment industry. Instead, it focuses on companies with a higher environment, social and governance score than other companies and takes into account factors like human rights, resource use and business ethics.
Winner: Betterment has more portfolio options and its no account minimums make it more accessible to the everyday investor.
Customer service
Empower offers 24/7 customer service for all paid customers. Financial advisors may have more limited hours, but if you need basic help you can get it anytime, any day. When logged in, you can email your advisor for help.
Betterment customer service is open during daytime hours including weekends. Email addresses are publicly available.
Winner: Empower wins for its 24/7 care.
Security
Both Empower and Betterment use extremely strong security to keep your money and account information safe. Betterment is a member of SIPC and all accounts are SIPC insured. Empower accounts are held by Pershing Advisor Solutions, a Bank of New York Mellon company. Pershing Advisor Solutions is a member of the SIPC and account funds are insured.
Winner: Both Betterment and Empower offer outstanding security.
Empower vs. Betterment: What's the best choice?
No robo advisor is perfect for everyone, but Empower and Betterment are each great for a wide number of people.
Empower is best for people who want to invest at least $100,000 and are willing to pay a bit more in fees for access to a team of personal financial advisors. If you have a qualifying net worth and want more personal attention and handholding with your investment decisions, Empower is the better choice.
Betterment is better for anyone else. The low cost, easy-to-use investment systems help you get professional-quality results without having to work with a person unless you want to. Because the onboarding process is so easy, you can rest easy that you are invested well even if you don't work with a person or know much about investing.
The bottom line
For most people, Betterment is the winner. Whether you don't qualify for Empower's advising service due to your balance or simply want to save on fees, Betterment comes out ahead.
Unlike most comparisons, this one comes with a big "however." The free investment management tools at Empower are quite good. Even if you don't want to pay for the service, you will probably get some good information about your portfolio by plugging it into Empower. I recommend this to just about any investor looking for more insights about their money.
But when it comes to comparing just the investment services head to head, Betterment comes out on top.