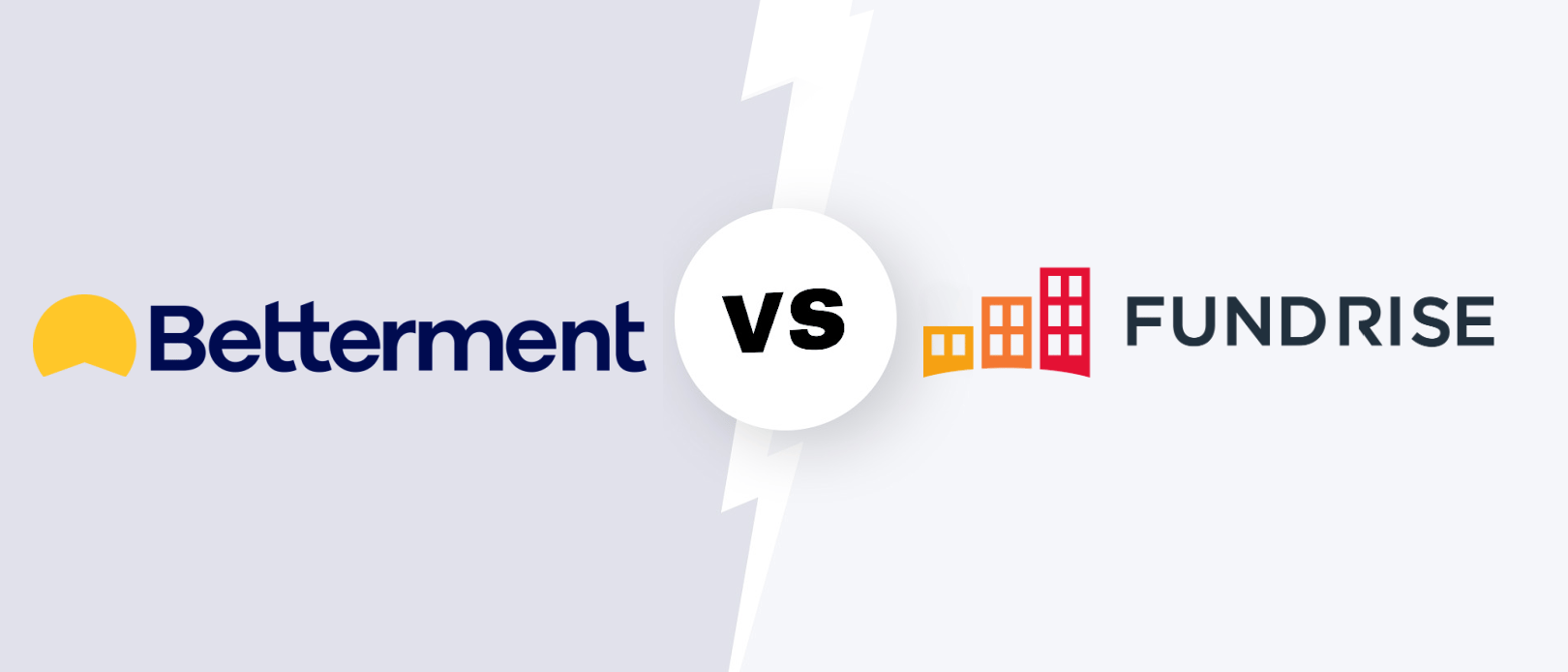 Moneywise.com / Moneywise.com
🗓️
Updated: February 23, 2023
We adhere to strict standards of editorial integrity to help you make decisions with confidence. Please be aware that some (or all) products and services linked in this article are from our sponsors.
We adhere to strict standards of editorial integrity to help you make decisions with confidence. Please be aware that some (or all) products and services linked in this article are from our sponsors.
Betterment and Fundrise are both investing platforms that have raised millions in capital and captured huge sections of the market.
What are the differences between the two? What does each offer? Let's break down the two platforms and see what they each bring to the market.
About Betterment and Fundrise
About Betterment
Founded by Jon Stein and Eli Broverman in 2008, Betterment is one of the biggest names in robo-advising (read why in our Betterment review). Betterment is a fiduciary that helps investors get started with their investing and financial planning.
Users answer several questions that help determine their risk tolerance, and Betterment generates a customized portfolio of exchange-traded funds (ETFs) that align with your goals and tolerance level. Betterment has no funds of its own, and it generates its investment advice using Modern Portfolio Theory.
About Fundrise
Founded by brothers Ben and Dan Miller in 2010, Fundrise is an online investment platform that aims to help smaller and newer investors get into the world of private, residential and commercial real estate investing. Fundrise has raised over $488 million in capital.
Fundrise users pool their assets to fund real estate projects and are paid back either through quarterly dividend payments or appreciation in the assets (the real estate properties). Fundrise also offers eFunds, where pooled funds are used to buy land, build new housing and then sell it to home buyers. More about these features in our Fundrise review.
This is a testimonial in partnership with Fundrise. We earn a commission from partner links. All opinions are our own.
How are they the same?
Betterment and Fundrise are both investing platforms that can help people who are just starting out. They both offer low barriers of entry, and they both can diversify your holdings within their platforms, albeit in very different ways.
How are they different?
Betterment is more of an overall investing platform. The site is devoted to getting more people into investing via ETFs.
The service offers the following features and tools:
Fractional shares and free trades
Tax loss harvesting, which can boost your after-tax returns by an estimated 0.77% per year
A personalized retirement plan
The ability to sync external financial accounts, which allows customers to get advice on assets held outside of Betterment
On the other hand, Fundrise is heavily devoted to real estate investing. In 2015, Fundrise introduced a brand-new product, the eREIT. With the eREIT, Fundrise has taken the more traditional investment option of a real estate investment trust (REIT) and made it more accessible to smaller investors online. It's important to note that the eREIT's don't trade on a public exchange, and the investments are often illiquid.
If you want your cash back from your Fundrise investment, things get much trickier than with stocks. Fundrise offers to buy back your original investment amount within the first 90 days (though there are some restrictions there). But if you want your money back at any other point within the first five years of investing, there is a scale of fees you'll pay.
Minimum deposit
A Betterment Digital account requires no minimum deposit. (However, if you want to sign up for a Premium account, you'll need to invest at least $100,000).
Fundrise has a $500 minimum deposit for its Starter Portfolio. To invest in its Core Portfolio, you'll need to deposit at least $1,000.
Winner — You can get started with Betterment with no minimum deposit.
Annual fees
Betterment's fees are 0.25% per year for Digital and 0.40% per year for Premium.
Fundrise's fees are 1% per year.
Winner — Betterment offers lower fees annually.
Standout features
Features unique to Betterment
Aside from the features mentioned above, Betterment's "human touch" differentiates it from among its robo advisor brethren. You can set up an advice call with a living, breathing, human Betterment advisor for $199. Betterment's advisors offer packages for Getting Started, Financial Checkup, Marriage Planning, College Planning Package and Retirement Planning.
Features unique to Fundrise
Through its eREITs, Fundrise has made real estate investing dramatically more accessible to people. The minimum deposit required is $500, and their funds are available to non-accredited investors, while some real estate investments are available only to accredited investors (people who have a net worth of more than $1 million, which can't include their home's value, or a minimal yearly income of at least $200,000 for individuals).
Winner — Betterment and Fundrise offer interesting unique features, depending on your investing needs.
Security
Betterment utilizes two-factor authentication. You can also allow third parties to have read-only access to your information, without making any changes on your behalf. Third party Digicert has provided SSL certification for Betterment as well. Betterment collects a lot of data on their users and site visitors, such as what type of device you're visiting from and your IP address. When you create an account, Betterment collects your Social Security number, address and information about your financial status.
Information on Fundrise's privacy and security tactics is not particularly forthcoming. The site states it uses bank-level security, and investor information is encrypted with an AES bit symmetric key. Each investor's connection to Fundrise is always encrypted over HTTPS with transport layer security (TLS). Fundrise does diversify where it physically holds applications and data by having multiple security centers. Fundrise uses Amazon Web Services for hosting.
Winner — Betterment and Fundrise both offer security features, but investors should always be careful with their information.
So which is better?
While both platforms are robo-advisors, they serve two very different purposes.
Overall, Fundrise has higher fees but thus far has also reported very high returns. Betterment has a focus on the stock market, while Fundrise is mostly devoted to real estate investing. Both have low minimum deposits, which appeal to new and younger investors without a lot of cash on hand.
With either service, investors will find platforms that are diversified and more automated than traditional DIY investing.
Which one is right for you depends on your own investing needs.