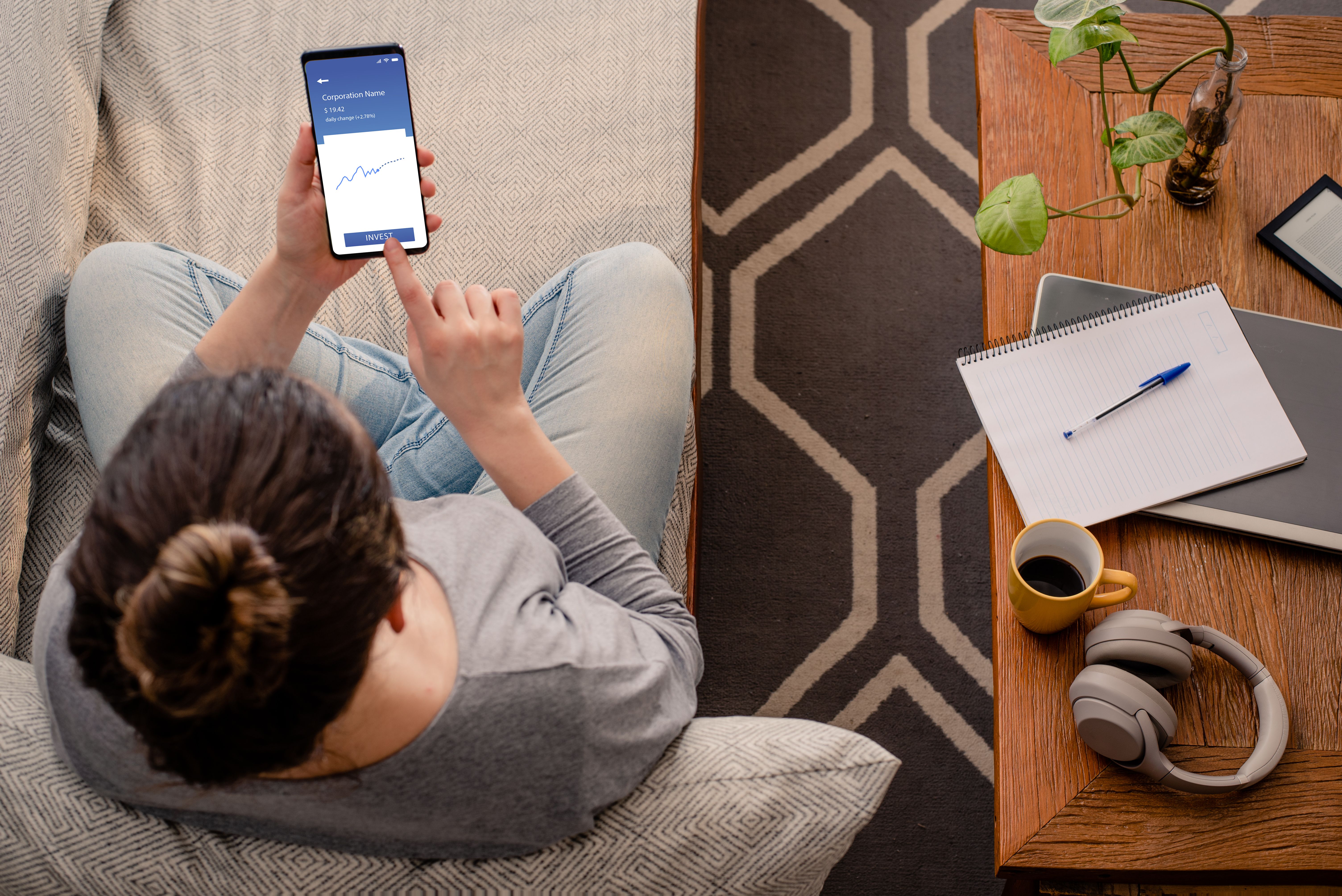 Betterment vs. E*TRADE vs. Robinhood
M M Vieira / Shutterstock
🗓️
Updated: February 03, 2023
We adhere to strict standards of editorial integrity to help you make decisions with confidence. Please be aware that some (or all) products and services linked in this article are from our sponsors.
We adhere to strict standards of editorial integrity to help you make decisions with confidence. Please be aware that some (or all) products and services linked in this article are from our sponsors.
Could there be a more diverse group of investment platforms than Betterment, Robinhood and E*TRADE? Each is very good at what it does, but there's only the slightest resemblance to the other two. Comparing the three is less about determining what they have in common and more about deciding what kind of investor you are and which platform will work best in your case.
Let's compare the three.
Highlights
E*TRADE
Robinhood
Betterment
About Betterment
Betterment was launched in 2008, becoming one of the first automated online investment platforms, or "robo-advisors." Since then, there have been many imitators, including various editions offered by nearly every major investment brokerage firm. But Betterment remains one of the largest independent robo-advisors in the industry.
And despite the arrival of literally dozens of competitors over the past decade, Betterment remains perhaps the most innovative robo-advisor. Not only does the platform offer a variety of tools for investors to up their investment game, but it also provides you with multiple portfolio options and even direct financial advice from financial planners. That might even be stretching the definition of robo-advisor!
As a robo advisor, the company provides full investment management services to clients. It designs and implements a portfolio, provides investors with regular asset reallocation, reinvests dividends and even uses tax-loss harvesting on taxable accounts. When you invest with Betterment, all you need to do is fund your account. The app handles everything else.
Open a Betterment account
About E*TRADE
E*TRADE was founded in 1982 and is unique in that it was developed specifically as an online trading platform. The company has steadily grown and now has more than $65 billion in assets under management.
E*TRADE is a diversified investment platform, providing investors with the ability to invest in individual stocks, bonds, mutual funds, ETFs, futures, options, and forex. But the platform also offers no less than four managed investment options, including the Core Portfolios robo-advisor and Blend Portfolios, Dedicated Portfolios and Fixed Income Portfolios. Each of the last three portfolios involves active management, as well as working directly with a financial consultant.
About Robinhood
Robinhood has been around since 2013, but it already has millions of users. And it's not hard to see why. The platform offers commission-free trades for stocks, options, exchange traded funds (ETFs)and even cryptocurrencies.
Robinhood is at best a limited investment trading platform. For example, it doesn't offer bonds or mutual funds. It also offers very limited customer service. In fact, the only way you can contact the company is through email — there's no phone support.
Yet another limitation: The platform is also quite simple and lacks the bells and whistles typically found in fee-based trading platforms. For that reason, it's best suited to sophisticated investors, primarily interested in commission-free trading.
Visit RobinHood
How are they the same?
Apart from the fact that all three are investment platforms, there are only a few similarities with certain features:
Betterment is a robo-advisor, while E*TRADE is a diversified investment broker that also offers several robo-advisor options.
Robinhood and E*TRADE are both investment brokers, but E*TRADE is a full-service platform, while Robinhood offers limited investment options.
Neither of the brokers charge commissions on most trades.
All three platforms provide investor access both online and by iOS and Android mobile apps.
How are they different?
The three services have more differences than anything they might have in common:
Betterment is a robo-advisor, while Robinhood and E*TRADE are investment brokers.
Robinhood and E*TRADE are primarily for self-directed investors. Betterment is for passive investors.
Betterment offers predesigned portfolios. Robinhood and E*TRADE let you create your own portfolio. Robinhood also lets you invest in cryptocurrencies.
Betterment charges an annual advisory fee. E*TRADE charges zero commissions on most trades, but there are fees for trading mutual funds and a per-contract options charge of 65 cents. Robinhood's basic plan is free, but it offers a Gold account for $5 a month that gives you access to research, margin trades, and more.
E*TRADE offers 24/7 customer service by live chat. Betterment offers limited daily customer contact. And Robinhood restricts customer service to email only.
E*TRADE has 30 local branch offices, whereas Betterment and Robinhood have none.
Unique features
Betterment
Betterment is a robo-advisor that handles all aspects of investing for the investor. The app determines your investor profile, including goals, time horizon and risk tolerance. From that information, it creates a portfolio of ETFs invested in stocks and bonds. It's an investment methodology tailor-made for passive investing. The investor needs only to fund his or her account and is then free to completely ignore their investments.
Open a Betterment account
E*TRADE
When you open an account with E*TRADE, you also have access to E*TRADE Savings Bank. There, you can get free checking, a high-interest savings account and a line of credit (LOC). The LOC enables you to borrow against any eligible accounts with $50,000 or more in combined collateral value for any purpose except the purchase of securities on margin. The interest rate for the LOC is lower than margin interest rates, and you can repay on your own schedule.
Robinhood
Of course the single most unique feature of Robinhood is commission-free trading. You can trade stocks, options and ETFs without any fees at all. There's not even a contract fee on options. But perhaps almost as unique is that you can trade cryptocurrency on the platform — also commission-free.
Still another unique quality of Robinhood is that, while virtually all investment platforms have a mobile app, Robinhood is virtually built around the concept of mobile trading.
Minimum investments
Betterment requires no upfront investment. You can open your account with no money whatsoever, then fund it going forward.
Robinhood also has no minimum required investment. Naturally, you'll need to have funds in your account to trade. How much that is however is completely up to you.
E*TRADE requires no minimum to open a brokerage account. However, managed options require minimums. The Core Portfolios robo advisor requires a minimum investment of $500. And the Blend, Dedicated, and Fixed Income portfolios require minimums of $25,000, $150,000 and $250,000, respectively.
Winner — All three have no minimum initial investment requirement.
Annual fees
Betterment charges an annual advisory fee of 0.25% on most investment accounts. It offers the Premium Plan at 0.40%, adding external account syncing and unlimited access to certified financial planners.
E*TRADE has no annual fees for brokerage accounts. However, E*TRADE has an annual advisory fee of 0.30% on its Core Portfolios robo advisor and annual advisory fees ranging from 0.35% to as high as 1.125% on the other managed portfolio options. And if you want a broker assisted trade, you'll need to pay $25.
Robinhood is mostly free. If you want to take advantage of their premium features, such as margin trading, you'll need to pay $5 a month.
Winner — Robinhood is the most affordable option.
Standout features
Betterment
Betterment is designed to match the performance of the underlying markets and neither outperforms or underperforms them. It invests strictly in ETFs and avoids mutual funds and individual securities altogether. In addition to the regular investment accounts, it also offers socially responsible investing, smart beta and income portfolio options.
E*TRADE
As mentioned in the "About E*TRADE" section, the company offers discounted commissions for frequent traders (30 or more trades per quarter). If you're a fund investor, E*TRADE has more than 250 commission-free ETFs and at least 4,400 no-fee mutual funds.
Another E*TRADE standout feature is their specialization in options trading. The trading platform is optimized for options trading and is considered one of the best in the industry. As with stock and ETF trading, E*TRADE offers discounted fees to frequent traders of options.
Robinhood
Robinhood is an affordable trading platform. But the ability to trade cryptocurrencies is also a standout feature. Those aren't available even with full-service, diversified investment brokerage platforms. In fact, trading in cryptocurrencies is normally restricted to cryptocurrency exchanges. It may not be a benefit to the average investor who doesn't trade them, but for those who do, Robinhood can be a go-to platform.
Winner — Betterment wins as the best managed investment option, Robinhood wins as a mostly free trading platform, and E*TRADE wins on the strength of the nearly unlimited number of investment options.
Socially Responsible portfolio
Betterment offers a standard socially responsible portfolio, along with two portfolios focused on either environmental or social issues. All of its socially responsibly focused portfolios choose ETFs based on specific environment, social and governance criteria.
In addition, the Climate portfolio focuses on mitigating climate change by focusing on companies that reduce their carbon footprint, among other things. The Social Impact portfolio expands the Broad Impact portfolio by also including stocks of companies focused on diversity in the U.S.
E*TRADE offers a socially responsible option for its core portfolios, which is part of its managed account option. You can also choose from ETFs that are focused on specific environmental issues, such as the iShares Global Energy ETF (IXC).
Robinhood does not offer a specific SRI portfolio, but you can invest in ETFs or stocks that are focused on social and environmental issues. However, you'll have to do the research on the companies yourself.
Winner — Betterment is the winner for the hands-off investor, as they offer SRI focused portfolios.
Customer service
Betterment's customer service is fairly limited. It's available by phone and email, Monday through Friday, from 9:00 a.m. to 6:00 p.m., Eastern Time. However, it's available on weekends, from 11:00 a.m. to 6:00 p.m., but only by email. The 6:00 p.m. Eastern Time cutoff could be especially problematic for people on the West Coast, where 6:00 p.m. will only be 3:00 p.m.
Robinhood provides even less customer service availability. The company can only be contacted by email, since there's no phone contact capability.
E*TRADE customer support is available 24 hours a day, seven days per week, by live chat. Phone contact is available Monday through Friday, from 8:30 p.m. to 8:30 p.m., Eastern Time.
Winner — E*TRADE has 24/7 support by live chat, and greater availability of phone support than Betterment.
Security
All three accounts come with SIPC coverage, which protects investor's funds from broker failure, up to $500,000 in securities and cash, including up to $250,000 in cash.
For direct account security, Betterment offers two-factor authentication to prevent hackers from taking control of your account by stealing your password.
Robinhood encrypts sensitive information, such as your Social Security number, before storage. Both the mobile and web applications securely communicate with servers using transport layer security (TLS) protocols. No online banking credentials are stored, and you can secure access on your mobile app using TouchID, FaceID or custom pin code. Robinhood also offers two-factor authentication.
For direct account security, E*TRADE offers $0 liability against unauthorized use of your account, as well as complete payment protection, information privacy, optional digital security ID and smart alerts by text or email.
Winner — Robinhood gives the most details on the security provisions it offers.
Who are they best for?
Betterment
Betterment will work best for new investors and for those who lack either the time, ability or desire to manage their own investments. It's a completely passive investment strategy, designed only to match the underlying financial markets. The investor needs only to put money into the account and let Betterment do all the work. It's also an excellent choice for anyone who wants to have at least some of their portfolio professionally managed at a low cost, while also engaging in self-directed investing on other platforms.
E*TRADE
Hands down, E*TRADE is the best of the three platforms for full-service investing, making it the perfect platform for self-directed investors. Not only does it offer trading in stocks, bonds, mutual funds, ETFs, options, futures and FOREX, but it's also one of the best options trading platforms in the industry. It's also an excellent platform for fund investing since it offers hundreds of commission-free ETFs and thousands of fee-free mutual funds.
E*TRADE is also an excellent choice for investors who want to mix self-directed investing with a managed option. It offers a robo advisor, plus no less than three other managed portfolio options if you want to have at least some of your money professionally managed.
Robinhood
Robinhood is best for self-directed investors, who have little need for platform tools and no need whatsoever for broker advice. It's also perfect for frequent traders since it's a true no-fee trading platform.
That said, Robinhood does discourage day trading. It limits the number of trades you can place in any given day, specifically to prevent it. The company considers the practice too risky for the platform.
Which is the best?
These are three diverse investment platforms. It's not possible to declare a full-on winner among the three.
Betterment is the best-managed investment option, being perhaps the preeminent robo-advisor. Read our full Betterment review here.
E*TRADE is easily the best-diversified investment platform, offering not only the widest selection of investments but also the best trading platform, particularly for options. Here's our complete E*TRADE review.
Robinhood stands out as the best broker if you're a frequent trader looking for free trades. After all, trading commissions reduce investment returns, more so if you're a frequent trader.
Between the three, choose the platform that best suits your own individual investment needs.