1. High-yield savings accounts
A traditional savings account is about as boring as you can get — and run-of-the-mill deposit accounts usually provide pretty paltry returns. The national interest rate for savings accounts is 0.24%.
Alternatively, high-yield savings accounts have been paying stronger returns — especially now that the Federal Reserve keeps raising its interest rate to help bring down decades-high inflation.
Like their traditional siblings, high-yield savings accounts from banks are backed by the Federal Deposit Insurance Corp. (FDIC). But they may come with rules that limit the number of withdrawals you can make — and you may need to maintain a minimum balance to avoid paying fees.
Plus, rates on these accounts are variable and subject to fluctuations. If you sign up for one, your initial yield won't last forever.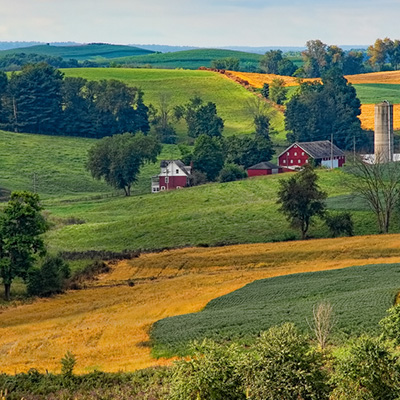 Farmland is one of the top asset classes capable of insulating your money from volatile market conditions. Learn how you can use FarmTogether to safeguard your portfolio.
Diversify now
2. Farmland Some alternative investments can help bring stability and diversification to a portfolio.
Farmland, for example, tends to move independently of the turbulent equities market. After all, no matter what's happening in the markets, people will always need to eat.
From 1992-2021, farmland had a -0.06 correlation to the S&P 500, according to research from FarmTogether using data from the NCREIF Farmland Index.
Plus, farmland has historically fared better when inflation is on the rise, as grain and other agricultural product producers often benefit from the higher prices.
"Farmland provides investors exposure to scarce resources with attractive tailwinds: food, water, and energy. When inflation is high, food prices rise accordingly and farmland returns tend to be countercyclical to other assets," says Josiah Terrell-Perica, director of farmland investing and founding team member of FarmTogether, a farmland investment manager that allows qualified investors to purchase stakes in U.S. farms.
FarmTogether targets opportunities with target net cash yields of 2% to 9% and target net IRRs (which include appreciation) of 6% to 13%.
3. Certificates of deposit
A certificate of deposit (CD) is a savings product that earns interest on a lump sum over a fixed period of time. Those fixed terms can range from three months to five years. The longer the term, the higher the interest rate typically.
Rates on CDs also usually increase when the Federal Reserve ups its trend-setting rate.
Unlike a savings account, a CD will require the money to remain untouched for the entire term.
A caveat to CDs: If you need your money before your term expires, you'll face a penalty.
"Remember that CDs are not fully liquid," says Aliya Padamsee, a director of financial solutions at Fidelity. "They can give a slightly higher yield, but this only works if you don't plan to dip into the money regularly."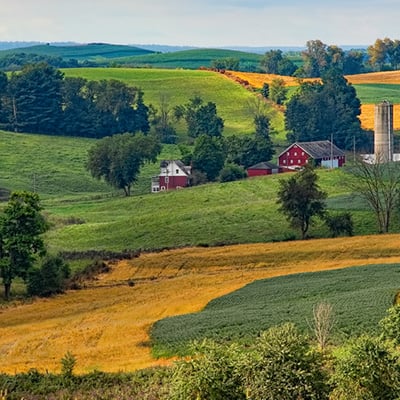 Farmland is one of the top asset classes capable of insulating your money from volatile market conditions. Learn how you can use FarmTogether to safeguard your portfolio.
Diversify now
4. Government bonds While stocks often fall during an economic downturn, U.S. bonds tend to provide more stability.
These government-backed investments are a common diversification tool because they historically come with very low risk.
A Series I savings bond, which earns interest for 30 years and is meant to protect investors from inflation, is paying an interest rate of 6.89% through April, according to the U.S. Treasury. That's down, however, from the previous rate of 9.62%.
Treasury notes have shorter terms ranging from two to 10 years. As of Dec. 1, the 10-year note was paying a fixed rate of 3.53%.
Bonds can be cashed in after one year, but if you do so in less than five, you'll lose your last three months' worth of interest.
5. Money market accounts
Like CDs, money market accounts — or MMAs — typically have higher interest rates than traditional savings accounts.
Banks and credit unions offer these interest-bearing accounts that are usually issued with a checkbook and a debit card offering limited withdrawals. They also often require minimum deposits and balances.
Money market accounts are insured by the federal government – and they're different from money market funds, which are offered by investment firms.
6. Money market funds
Investors looking to move away from the volatile stock market might now be looking at money market funds.
While these funds are not insured by the FDIC, they are required by federal regulators to hold short-term, low-risk investments, like U.S. Treasuries, CDs or municipal bonds.
Money-market funds are liquid, but you'll pay a management fee — and there may be restrictions or additional fees if your balance falls below a certain amount.
7. Dividend-paying stocks In addition to paying regular cash payments, dividend stocks tend to outperform the S&P 500 over time. They're a way to help diversify a portfolio that's been heavily weighted toward growth stocks.
Companies that pay dividends tend to be older and more stable.
"Those old stodgy blue chip stocks in the Dow that pay dividends and have stable cash flows are crushing the innovation-led stocks that have more potential than profits in 2022," Carlson said. "This is in stark contrast to the FOMO days of 2020 and 2021 when it felt like the only place to put your money was the most intoxicating of investments."
That's not to say dividend-paying companies can't see their share prices fall. But the regular payments can help bolster a portfolio's total stock return during periods of volatility.
"Think of it as a rent collection from companies in the form of dividends," according to a report from Guardian Capital. "In the 1930s and 2000s the S&P 500 Index price returns were negative, but returns from income almost completely offset the price decline."
Sponsored
Diversify your investments with farmland
You don't have to own a farm to profit off farmland.
Farmland has proven to be one of the most stable assets of the past few decades — and with FarmTogether, you're able to invest today. FarmTogether's platform gives accredited investors access to this exciting market, and one of the highest-yielding asset classes on a risk-return basis.
Sign up for FarmTogether to start investing in farmland.