If you are new to the world of credit cards, you may feel overwhelmed by constant advertising and a plethora of terms and cards being offered. How do you chose which one is best for you, and do you really need one? We're here to help.
Having a credit card (and using it sensibly) can set you up for financial success. A credit card offers a tool for you to build a strong credit history and credit score, which is vital to securing favorable terms for loans such as a mortgage. Here's what you need to know to get a credit card and use it responsibly.
Credit card basics
As of 2022, most Americans have some credit card debt, averaging from $1,000 to $5,000. About 6% of credit card holders (or 14 million Americans) even hit the $10,000 mark in credit card debt.
While you want to avoid debt, there are times where it makes sense to put expenses on your credit card. Buying items with your credit card, and paying them off can help to build your credit history and your credit score. Some credit cards even offer rewards and perks, like cash back and travel insurance.
Let's break down what you need to become a wise credit card holder.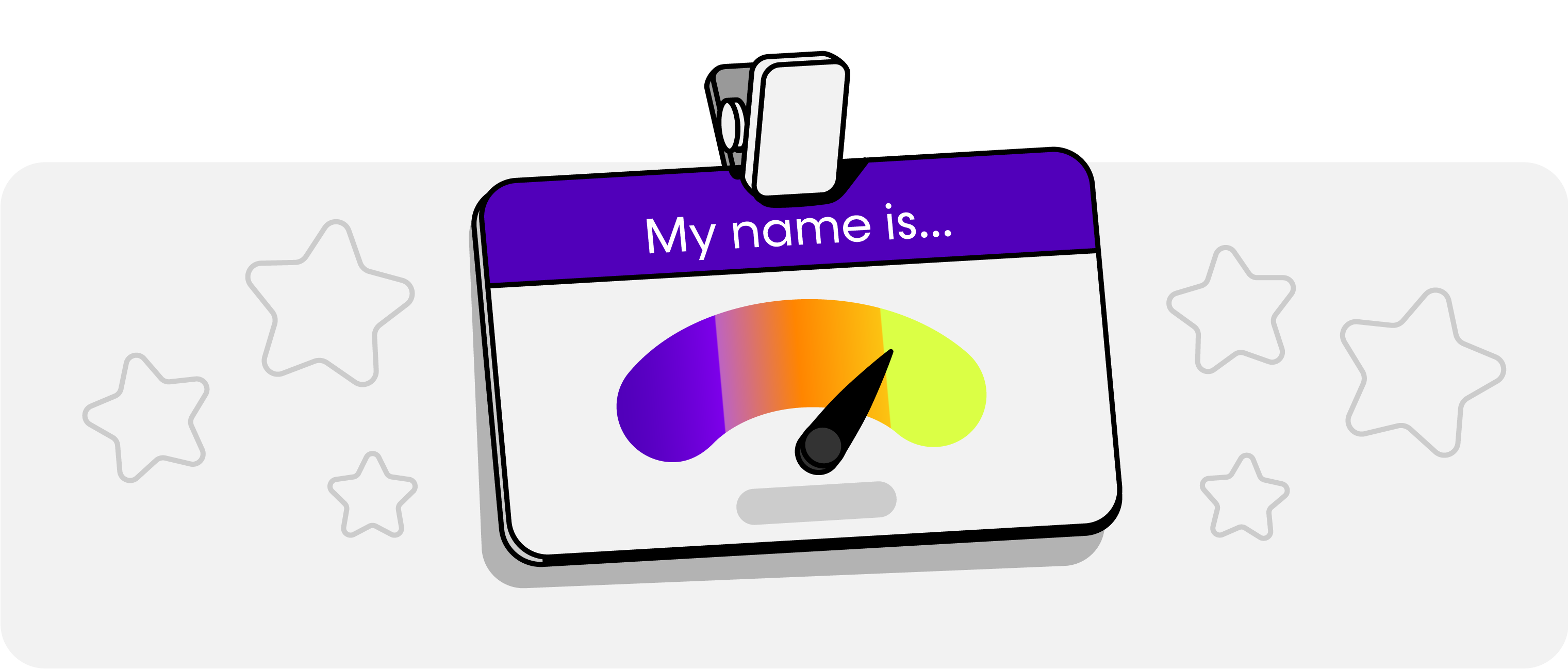 Credit score
Your credit score is a three-digit number that lenders such as banks use to judge your ability to repay your debts. The score ranges from 300 to 850, with a higher number being better.
When you get your first credit card it usually takes three to six months for a credit score to be generated. The initial score will usually be "fair" and fall within the 580 to 669 range. Over time you can either improve or decrease it with how you manage your debt.
Do you miss payments? Do you max out your credit card? It's generally recommended to use less than 30% of the maximum limit on the card. So if the card's limit is $10,000, try to put less than $3,000 on it at a time.
Should you get a credit card?
With great power comes great responsibility. A credit card is a powerful tool that can help you build good credit and secure important loans like a mortgage. At the same time, when misused, it can become a quick ticket into debt.
But if you are good at paying your bills on time, there are lots of reasons to get a credit card.
There are five benefits of using credit cards:
1.

Using credit cards can help you build your credit history. When you have a high credit score, lenders and creditors will find it easy to allow you to borrow money.

2.

Some credit cards come with extra perks, such as an extended warranty, theft coverage or damage on electronics and other big purchases.


3.

Credit card users can earn free flights, free nights at hotels, or gift cards through bonus or points programs.


4.

Some credit cards even give you cash back after earning you a percentage of money back from your spending with the card. You can earn anywhere from 1% to 5% back from every purchase.


5.

Credit cards offer an easier option for paying for goods when overseas, serving as a more convenient alternative to debit (which usually won't work in other countries) and avoiding the trouble of exchanging cash.

Test your credit card knowledge
Which state has the highest average household credit card debt?
How to compare credit card offers
Credit cards come in all different colors, interest rates and limits. There is the "Elite," "Infinite," "Gold," or "Sapphire." So how to choose? Here's how to decide what should be in your wallet.
Define your needs
First, you need to think about how you'll use the card, and see where you stand. Do you need cash advances? Do you need to simply reduce the cost of your high-interest debt?
For example, a secured credit card is pointless for someone with a high credit score, but it can be the perfect solution to build a good credit history.
Understand your interest rates
Understand you interest rates . For example, a secured credit card is pointless for someone with a high credit score, but it can be the perfect solution to build a good credit history.
Whenever you have a balance on your credit card, you will pay interest. For credit cards, you are charged the annual percentage rate (APR), which is the same as the interest rate when it comes to credit card debt. The lower the APR, the less interest you'll pay on your balance.
APR can be as low as 10% (if you are lucky to find this rate) or over 25%. The rate itself is highly dependent on America's central bank deciding to increase the prime rate to beat inflation. The average APR was 16% in early 2022 and is now close to 19%.
You also need to understand that most credit cards have variable APRs, meaning they will rise and fall along with economic benchmarks like the prime rate.
The APR rate won't matter to you if you're confident that you'll pay off your balance in full every month. But if you expect to carry a balance regularly, it may be the number one thing you look at.
For example, if you have a $2,000 balance on a card with a 20% APR, you'd pay $400 in interest every year. On a card with a 16% APR, you'd pay $320.
Another note, you can find the APR range that credit cards can charge through the terms and conditions agreements on the carrier's website, and you don't need to apply for the card to see the terms.
You won't know your individual APR until you complete a full application and get approved, as your credit rating plays a factor in the rate you qualify for.
Watch for fees
It isn't only the APR that you have to worry about when getting a credit card. There are other fees that you need to be fully aware of.
There are many fees, including but not limited to:
Annual fee: Some cards come with a fee you pay every year for the pleasure of owning and using the card. The annual fee can be worth it, if benefits like cash-back, balance it out.
Late fee: Depending on the lender, you may be charged a late fee, or charges for not making at least the minimum payment on time. Others charge this as a percentage of the amount you owe or just as a flat fee.
Balance transfer fee: Some cards will charge you this if you move your balance from one card to the other.

Foreign transaction fee: While you can use most credit cards overseas, some will charge you this fee for any transactions across the border.

Cash advance fee: Taking a cash advance (withdrawing cash from your credit limit) can sometimes charge a much higher fee than a regular transaction.

Ask the eight ball
Want to learn more about the magical world of credit cards? Shake the sphere for eight financial facts.
For fun credit card facts
How long does it take to get a credit card
Generally, it can take anywhere from one to three weeks to get a credit card after you have applied for it. The time is influenced by multiple factors, including your credit score and the method you're using to apply.
When applying for a card, the issuer will typically outline the minimum credit score that you need to apply. If you meet these requirements, you'll often be instantly approved by an automated system.
Keep in mind that this is for online applications. If you decide to apply by snail mail, the approval process will likely take a few extra days.
If you don't meet the requirements, then your application will need to be reviewed manually, which can take seven to 10 business days. Some issuers have a "reconsideration line" that you can contact in order to speed up this process.
Once approved, the actual shipment of the card usually takes another seven to 10 business days. Some card issuers also offer expedited shipping.
APR vs. interest rate
Your APR is your "annual percentage rate." For your credit card, your APR and your interest are essentially the same. The APR will represent the amount of interest you pay annually on your balance.
Like your interest, it is displayed as a percentage and the rate that you get is affected by your credit history and credit score.
For other types of loans, such as mortgages, your APR is your interest plus other fees, such as mortgage broker fees.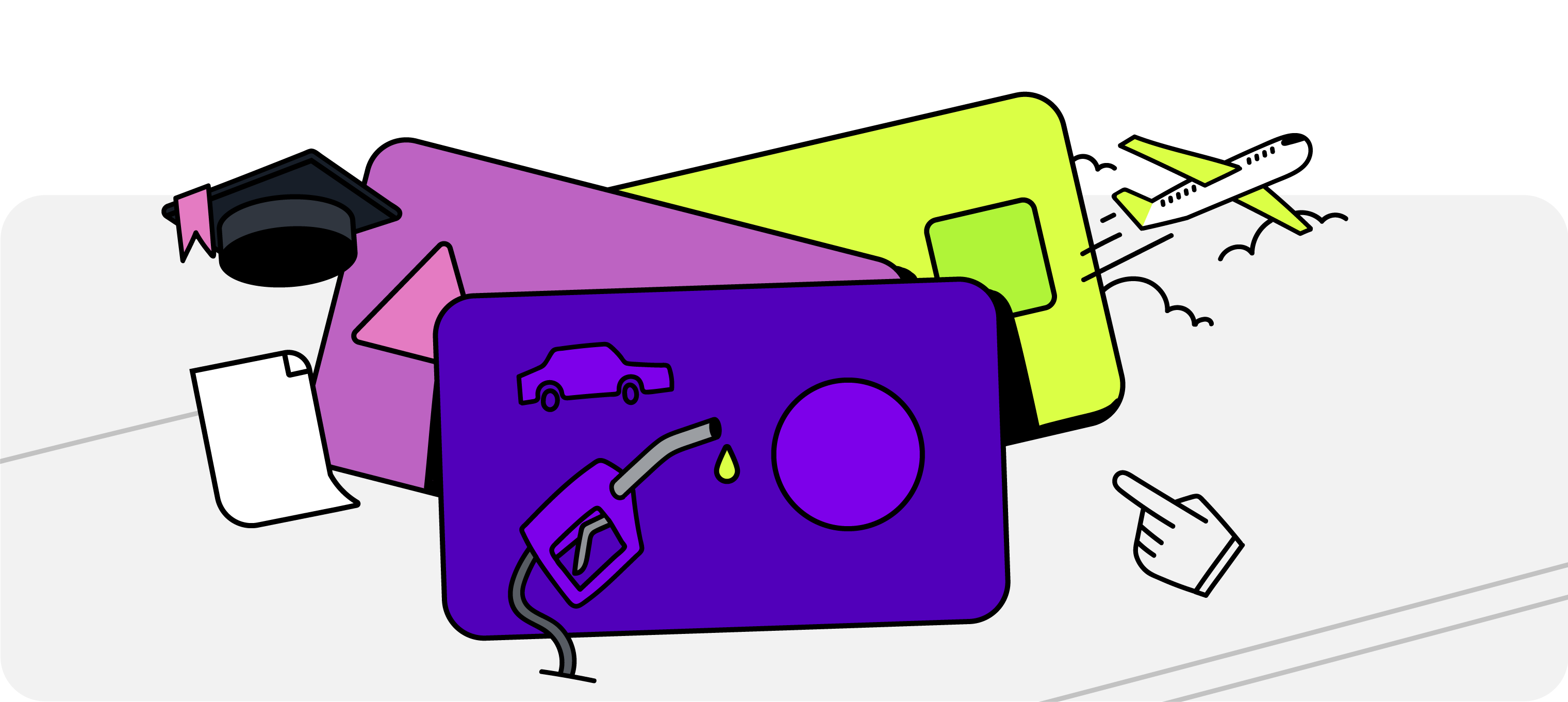 Types of credit cards
When getting a credit card, you first have to sift through all the different companies that offer them. Then you'll also need to factor in the two main types: prepaid and secured.
After you've considered that, you also need to think about all the different card types that fall under these main two. Let's review all the different options you'll have for your first, or next credit card.
Prepaid cards
The cards are best when you don't want to risk going into debt. You preload the card with the amount you wish to spend. The drawback is that a prepaid card does not have any impact on your credit score.
Secured cards
Secured cards are often issued to people with poor credit histories or have no credit whatsoever.
The credit card is backed by a cash deposit from the cardholder. But just like the regular credit cards, you have a monthly minimum payment and once you pay, your viable credit goes up again.
Student credit cards
As the name suggests, these cards are intended for students. They serve as an introduction to credit, offering a lower spending limit than most credit cards, and a chance to build up your credit score at the same time.
Low-interest credit cards
These are ideal for those who may have high balances. With lower APR, it will be easier to pay off your debt. If you have a lot of debt transferring all of it onto a low-rate card may be a good idea (especially if you had multiple cards).
The low rate makes it easier to pay off, and the single card makes it easier to budget and track your progress.
0% APR credit cards
These cards take low interest to another level. The 0% APR typically is not a permanent feature. The offer is given for an introductory period, which could be 15 months or more.
Cash-back credit cards
When you shop with a cash-back credit card, you can get a small percentage of your money back. Some cards only apply cash back to specific purchases, such as groceries. Others apply to everything you purchase.
Rewards credit cards
These are similar to a cash-back card, but instead of cash, each purchase gives you points. The "rewards" you get from these points can range from discounted hotel stays, to free meals, or cheaper gas.
The cards may be usable only with certain types of purchases, such as a specific store.
Airline/travel credit cards
If you travel a lot, having one of these could come in handy. Rewards can include free checked bags or drink coupons.
Your purchases can also rack up frequent flyer miles that you can use to get discounted flights. Keep in mind that some cards are airline-specific.
Small business credit cards
If you own a business, you'll have supplies and other goods you need to spend on. With a small business credit card you can save money or earn rewards as you shop for these necessities.
They typically have higher credit limits that will allow for bigger purchases needed to get a business off the ground.
No annual-fee credit cards
Some cards, especially rewards cards, can come with annual fees that range from $45 to $95.
With a no annual-fee card you can avoid those charges and still get the benefits of a credit card.
No foreign transaction-fee credit cards
A typical credit card will tack on an extra fee of about 3% for transactions with a different currency.
If you travel often a no foreign transaction-fee card might be worth signing up for since you won't pay extra on every purchase.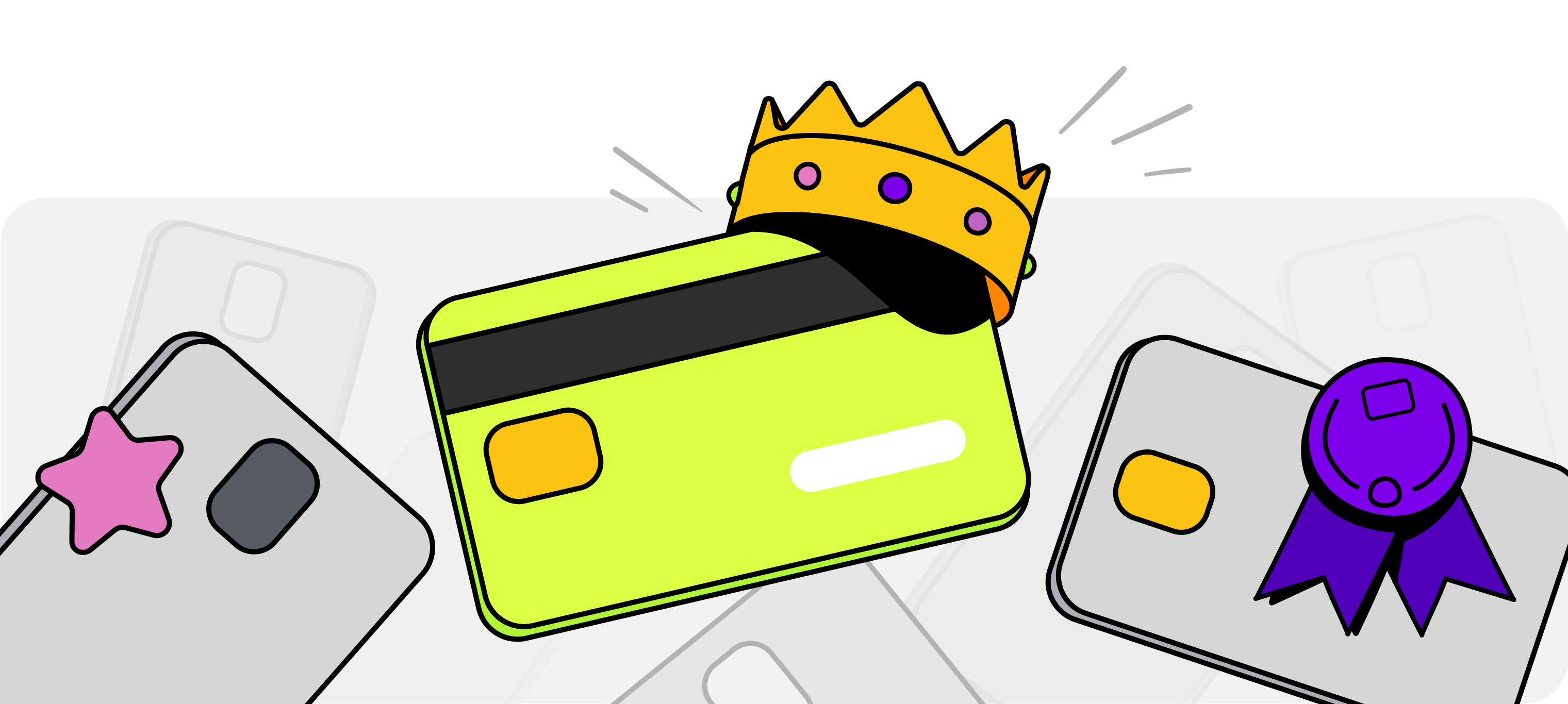 Best credit cards of 2022
Unlike travel credit cards or airline credit cards, cash-back credit cards allow holders the ability to cash in rewards no matter what they buy. This opportunity is amplified especially if they combine two or more cash-back credit cards that offer bonus rewards in different spending categories.
Here are our top 10 picks:
Card
Cash back
Other features
Wells Fargo Active Cash Card
2%
$200 bonus after spending $1,000 in the first three months
Citi Double Cash Card
1%
0% APR on balance transfers for 18 months
American Express Blue Cash Everyday Card
2% on gas, 1% on all other purchases
$200 bonus after spending $1,000 in the first three months
American Express Blue Cash Preferred Card
6% grocery stores ($6,000 per year), 3% gas and transit, 1% all others
$350 statement credit after spending $3,000 in the first six months
Capital One Savor Rewards Credit Card
4% restaurants, 3% at grocery stores, 1% all others
$300 cash bonus after spending $3,000 in the first three months
Discover it Cash Back Credit Card
5% on rotating, bonus categories ($1,500 per quarter), 1% all others
Discover will match cash earned during the first year
Discover it Chrome Card
2% on restaurant + gas ($1,000 per quarter), 1% all others
Discover will match cash earned during the first year
Chase Freedom Flex
3% dining and pharmacy
$200 bonus after spending $500 in the first three months
WebBank Petal2 Visa Card
2% to 10% bonus at select merchants, 1% all others
No annual fee
SoFi Credit Card
2% on all
SoFi will lower your APR by 1% if you make 12 consecutive payments on time
You can start reaping rewards when traveling, either through frequent flyer miles, which can only be used to book travel through a specific airline, or through general travel cards, which you often have a redemption choice — travel or cash back.
Card
Points per dollar
Other features
American Express Green Card
3x travel, transit and restaurants, 1x on all other purchases
50,000 bonus points with $2,000 spend in first three months
Capital One VentureOne Rewards Credit Card
1.25x on all purchases
20,000 bonus miles with $500 spend in first three months
Navy Federal Visa Signature Flagship Rewards
3x on travel, 2x on all others
1.99% intro APR for six months
Chase Sapphire Preferred Credit Card
3x restaurants and online grocery, 1x on all other purchases
60,000 bonus points with $4,000 spend in the first three months
Chase Sapphire Reserve Credit Card
10x on Chase Dining, 3x on other restaurant purchases, 1x on all others
60,000 bonus points with $4,000 spend in the first three months
Citi Premier Card
3x for gas stations, restaurants, travel, 1x on all others
Limited time offer to earn 80,000 points after spending $4,000 in first three months
Bank of America Travel Rewards
1.5x on all purchases
25,000 bonus points after spending $1,000 in the first 90 days
Discover it Miles
1.5x on all purchases
25,000 bonus points if you spend $1,000 in the first 90 days
US Bank Altitude Connect Visa Signature Card
4x at gas stations, EV chargers + travel, 1x on all others
50,000 bonus points after spending $2,000 in the first 120 days
Barclays AARP Travel Rewards Mastercard
3% on car rentals, airfare and hotels, 2% on restaurants
$200 cash back bonus after spending $1,000 in the first 90 days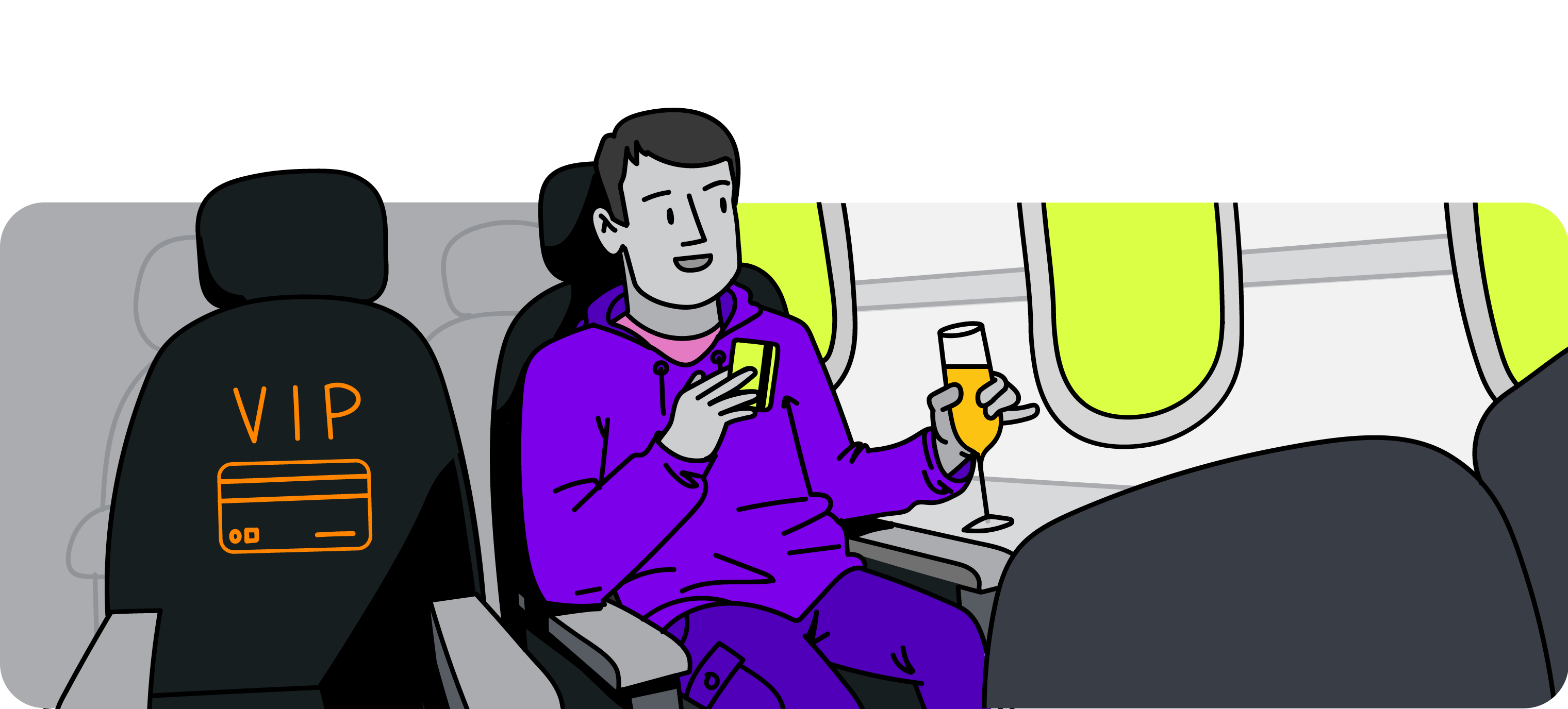 Credit card rewards
Aside from travel or cash-back rewards, there are other perks that you can get from owning and using a credit card.
These other options include:
Gas rewards cards: Useful for getting discounts at gas stations.
Hotel rewards cards: Getting discounts for hotels or specific hotel chains

Airline rewards cards: Collect frequent flyer miles that you can use to airfare, or for travel bonuses like access to first-class lounges
There are also bonuses and features that you may not consider, like insurance on car rentals and travel. Free upgrades on flights, in hotels or discounts when shopping at certain stores. Some cards even offer concierge services, Uber credits, cell phone protection or free credit checks.
Rewards cards tend to have higher interest rates than regular credit cards, so It's important to consider how much money you'll save by getting one.
Can you lose your rewards?
Rewards cards come with conditions that are not too different from a regular credit card.
Missing payments can lead to a loss of your rewards, so can account inactivity. If you have a rewards card, be sure to use it at least once every few months.
Card issuers are also wary of people racking up points with their purchases, only to then return the goods they purchased. To avoid that conundrum, returning goods you purchased will lead to you losing the rewards you accumulated.
There are also cases of people getting cards with big sign-up bonuses, and then canceling the cards shortly after. To combat this, many cards' sign-up bonuses come with conditions, such as a minimum amount of time from sign up to canceling. If you're going to get a reward card, hold onto it for at least a year before canceling.
Also, be wary of cards that have an expiry date for their points. This situation is more common if you're collecting rewards via a points program. Be sure to read the fine print and avoid any surprises on your purchases.
You must also stay up-to-date on the terms of your card. There are instances of the issuer changing the rules or conditions that come with their cards. Such changes require 45-day notice, so it pays to pay attention to any communications you receive from the card issuer.