There are several online services available that can turn your credit card payment into a paper check or digital deposit that gets sent directly to your landlord, but the fees and surcharges may end up costing you hundreds of dollars a year.
So, is it worth it? Find out by reviewing the pros and cons — plus the available methods — of paying rent with your credit card.
Pros of paying rent with a credit card Aside from the convenience factor, there are several advantages to paying your rent with a credit card.
Credit card rewards
One of the most appealing benefits is that it provides the opportunity to rack up credit card rewards or cash back on each of your payments.
Most credit card issuers offer specialty cards that will give you rewards points or a small percentage of your monthly spending back in cash, and some also come with a sign-up bonus if you spend a certain amount within the first 90 days.
But if earning rewards or cash back is your main priority, it's important to make sure that any fees or surcharges you will incur don't outweigh the amount you're expecting to get back. If your monthly cash back rate is 1.25% but you're paying a 2% processing fee, the math just doesn't add up.
Timing payments
Another advantage of paying your rent with a credit card is that you don't need to have the full amount you owe in your bank account when your payment is due. This can be a slippery slope, since the related fees and surcharges will mean that when your paycheck finally does arrive you'll have even less of it left over than usual.
A better option might be to talk to your landlord about rescheduling your monthly rent due date, so you have a more comfortable window between your payday and the day your rent must be paid.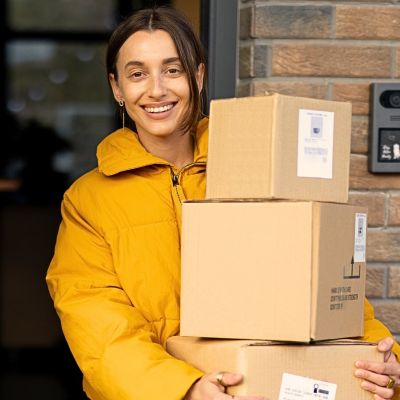 Capital One Shopping's browser add-on automatically applies coupon codes as you shop online. It's absolutely free – plus it takes only two clicks to install. Add the Capital One Shopping browser extension today and start earning discounts of up to 50% on the things you already buy.
Install for Free
Cons of using your credit card to pay your rent Although the benefits of paying rent with a credit card may sound appealing, there are also a number of disadvantages you should consider.
The fees
First and foremost: the processing fees. Although at first glance they may seem minor, monthly processing fees on large payments like rent can really add up.
For example, if the processing fee is 2% on $1,500 a month in rent, that means you'll be paying $37.50 every month, or $450 a year. By paying with a check instead of your credit card, you could save almost a third of one month's rent, which is nothing to shrug off.
Accumulating credit card debt
Another big disadvantage of paying your rent with a credit card is that you'll need to make sure to pay off your balance before it carries over to the next month and accrues interest.
Depending on your credit limit and interest rate, letting your rent payment carry over may completely nullify the advantages of paying with your card. What's the point of earning cash-back rewards if you're going to pay them all back in interest?
Increasing your credit utilization ratio
Using a credit card to pay your rent will also drive up your credit utilization ratio, which how much of your total available credit you actually use. Your credit utilization ratio is the second-highest factor after on-time payments that can impact your credit score, so ideally it shouldn't exceed 30%.
To put that into context, the average credit limit for people with good credit scores is $7,478 according to Experian.
So, if you're putting $1,500 a month in rent on your card, your credit utilization ratio will already be sitting around 20% — before making any other purchases.
It's important to note that if your utilization ratio is too high, it could negatively affect your credit score and eventually your ability to secure favorable mortgage rates — should you ever decide to purchase your own home in the future.
How to pay rent with a credit card If using a credit card to pay your rent really does seem like the best method but your landlord doesn't offer it as an option, there are a few online services that can help.
Placepay - Placepay allows tenants to pay rent with a credit or debit card for a standard fee of 2.99%. It also allows roommates to split their rent payments using whatever payment method they prefer. In order to pay rent with Placepay, your landlord will also need to have an account.
Plastiq - Plastiq provides tenants with the option to pay rent with a credit card and does not require landlords to have an account. There is a standard 2.5% fee per transaction, and Plastiq will send your landlord or property management company a paper check or digital bank transfer.
Renttrack - Renttrack allows tenants to pay rent with a credit card and then sends their landlord a paper check for a standard fee of 2.95% per transaction. Renttrack also will report each payment to all three of the major credit bureaus, which can help to improve your credit score if your payments are made on time.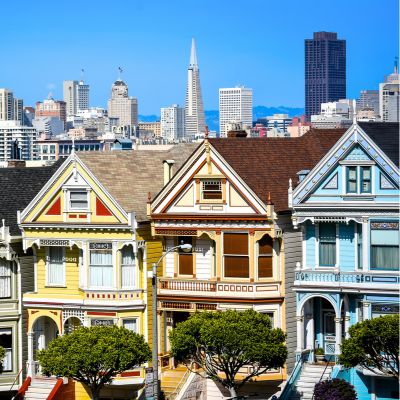 Believe it or not, you don't need millions, or even hundreds of thousands to invest in real estate. Arrived is an online platform where you can invest in shares of rental homes and vacation rentals without the headaches of being a landlord.
Learn More
So, should you use your credit card to pay rent?
Although using a credit card may seem like a quick and easy option for paying your rent, be sure you understand how much you'll be spending in transaction fees and whether it will affect your credit score before making the switch from paper to plastic.
For some the risks may greatly outweigh the benefits.
If it's an emergency and you feel like paying your rent with a credit card is your only option, you might want to consider another alternative like taking out a personal loan, getting a payroll advance from work, or asking for help from your family or friends.
Since your financial situation can change without warning, it's important to set aside some emergency savings — just in case. If you're not sure how, check out our guide on how to build an emergency fund as a starting point.
Sponsored
Kiss Your Credit Card Debt Goodbye
Millions of Americans are struggling to crawl out of debt in the face of record-high interest rates. A personal loan offers lower interest rates and fixed payments, making it a smart choice to consolidate high-interest credit card debt. It helps save money, simplifies payments, and accelerates debt payoff. Credible is a free online service that shows you the best lending options to pay off your credit card debt fast — and save a ton in interest.