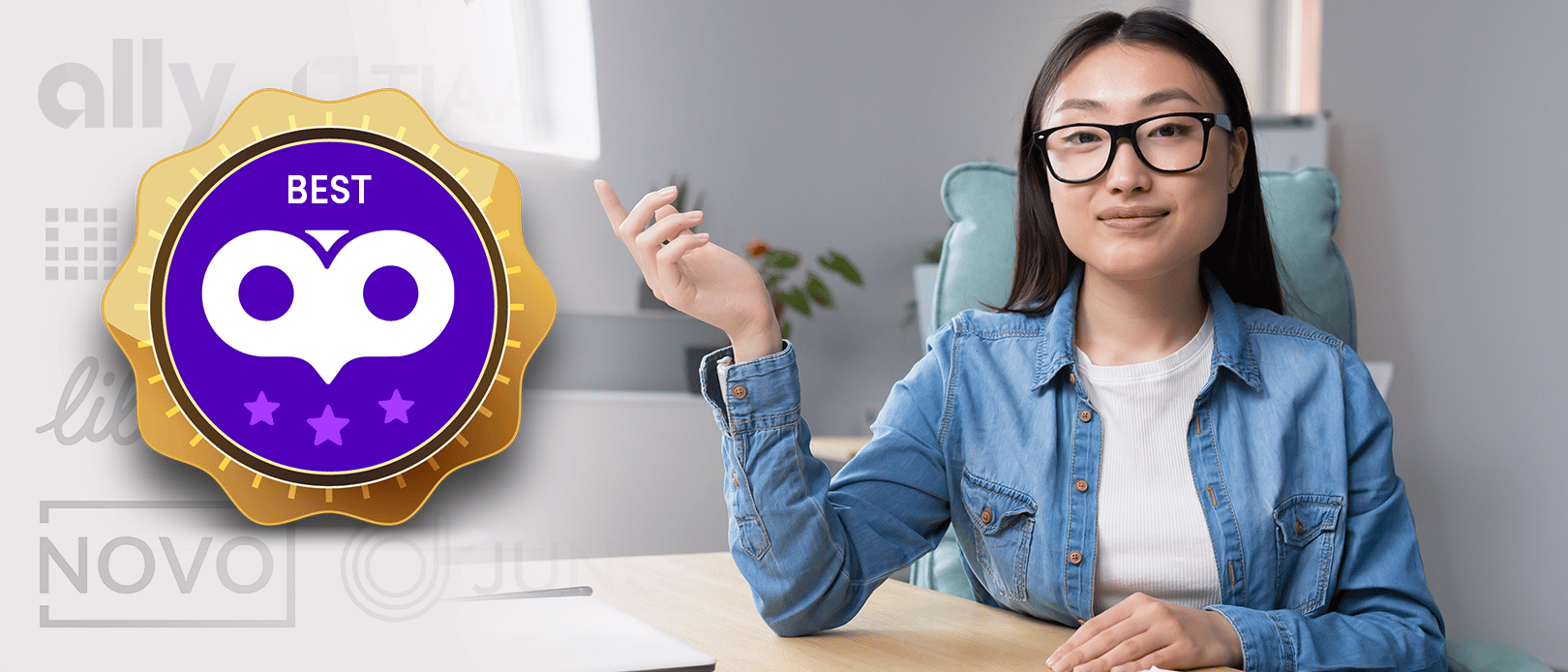 10 best online banks of 2023
Thought Catalog / Unsplash
🗓️
Updated: November 15, 2023
We adhere to strict standards of editorial integrity to help you make decisions with confidence. Please be aware that some (or all) products and services linked in this article are from our sponsors.
We adhere to strict standards of editorial integrity to help you make decisions with confidence. Please be aware that some (or all) products and services linked in this article are from our sponsors.
You can do practically everything online these days — and that includes online banking. Only a couple of years ago, the idea of managing your money from your smartphone or computer seemed kind of strange. But now, millions of Americans have embraced online banks and the benefits it offers.
What is an online bank?
An online bank is a bank that operates completely online. Instead of going to a brick-and-mortar branch and getting help from a teller, you handle most of your banking needs yourself through your computer or smartphone.
With an online bank, you can log into your account to:
Transfer funds
Pay bills
Send money
Make basic updates to your account.
Most online banking is self-service; you don't have to drive anywhere or wait in lines. So, ultimately, it helps most people save time when dealing with their money.
But there are even more significant benefits to using an online-only bank:
1.

Because these banks have far fewer overhead costs, most of them "pass the savings" on to you in the form of eliminated or reduced fees

2.

24/7 customer service

3.

Higher-than-average interest rates on savings products

4.

You can even find checking accounts that pay interest
Can your traditional bank do that?
Of course, the big drawback is that it can be less convenient to access your cash (although many online-only banks have extensive ATM networks). But because fewer of us use cash regularly, this might not be an issue for you. In fact, if you get paid by direct deposit and don't use much cash, online banking is probably perfect for you.
Best online banks in 2023
Choosing the right bank for you isn't necessarily an easy task. Do you want to open a checking or a savings account? Do you want to have the option of going into a branch office when you really need help? Do you want a bank that offers checking and savings accounts? Would you like to invest in a CD or money market account with the same institution?
To help you choose the best bank for your needs, we here at Investor Junkie have published in-depth reviews of some of the biggest online banks out there. Our recommended bank is Ally Bank, but be sure to read all of the reviews do your due diligence. It offers fee-free checking accounts and has savings options. If you're looking for certificates of deposit, Ally Bank offers a range of options. The company not only has a checking option but also provides investing options through its Robo advise platform. Here's our complete list:
1. Lili – for freelancers

lili review
If you're a freelancer and need a simple, easy-to-use banking service, Lili could be a good solution. Aimed at freelancers and sole proprietors, Lili is a free service that offers tracked expenses, automatic savings buckets, and more.
You can create reports to track your spending and use those same reports to help you file your taxes. You can also create savings buckets for things like taxes, so you have the exact amount of taxes owed each quarter and are not scrambling to find extra money to pay Uncle Sam.
Best of all, Lili has no monthly fees or account minimums. The only fees are for using an out-of-network ATM or returned check, which is easy to avoid.
| Lili | Features |
| --- | --- |
| Products offered | Checking, savings buckets |
| Fees | Monthly fee: $0; $9 for Lili Pro Out-of-Network ATM: $2.50 ($5 for international ATMs), returned checks: $25 |
| Free ATM access | More than 38,000 MoneyPass ATMs |
2. Juno – for a bonus rate and cash back

Juno review
Juno offers a low fee checking account with a 1.20% bonus rate, cash back, and no foreign transaction fees. With offices in Singapore, India and San Francisco, Juno could be the perfect bank for those who travel a lot or have family overseas.
While Juno just offers a checking account, the bonus rate offered makes it feel like a checking and savings account rolled into one. They offer two accounts: a basic account and a Metal Membership account. The basic account is free, but comes with less perks than the Metal account, which costs $9.99 a month.
You can get a 1.20% bonus rate on up to $5,000 for the basic account or $30,000 for the Metal account. And when you shop at participating retailers, you can get up to 5% cash back.
| Juno | Features |
| --- | --- |
| Products offered | Checking |
| Bonus rate | 1.2% on eligible purchases |
| Fees | Monthly fee: $0-$9.99 |
| Free ATM access | 85,000 Allpoint and MoneyPass ATMs |
3. Novo — for small business

Visit Novo
If you're a small business owner or solopreneur, Novo offers online solutions that might appeal to you. Just for business checking accounts, this fintech company charges nearly no fees and will reimburse you for other banks' ATM fees on an unlimited basis. As with a Chime® account, you won't receive any paper checks, but Novo can cut and send a check to a designated payee.
Unfortunately, there's no way to deposit cash, so if your business completes any cash transactions, you'll need to find a different business account.
| Novo | Features |
| --- | --- |
| Products offered | Business checking |
| Checking APY | None |
| Fees | Monthly fee: $0 Overdraft: $27 |
| Free ATM access | Unlimited ATM fee reimbursements |
Apply for a Novo account
4. LendingClub Bank — cashback and high-yield savings accounts

LendingClub review
LendingClub is another online-only bank that pays cash back to customers. To receive 1% back on all purchases made with your debit card, you must maintain an average balance of at least $2,500 or receive at least $2,500 in direct deposits each month. That's easy enough to do if you get direct deposits from your employer.
LendingClub also offers tiered high-yield savings accounts that pay up to nearly 20 times the national average. ATM users, listen up: LendingClub Bank grants you access to more than 325,000 fee-free ATMs. But if you use an out-of-network machine, not only will LendingClub not charge you a fee, but it will give you unlimited reimbursements for the other guys' fees. As with Capital One 360, you can make cash deposits at some LendingClub bank-affiliated ATMs.
| LendingClub | Features |
| --- | --- |
| Products offered | Rewards checking, savings, CDs |
| Checking rewards | 1% cash back if you meet balance requirement |
| Fees | Monthly fee: $0 Overdraft: $25 |
| Free ATM access | More than 325,000 NYCE, SUM, and MoneyPass ATMs |
Visit LendingClub
5. Ally Bank

Ally Bank review
Currently, Ally Bank ranks high as our recommended online bank. It offers an interest-paying checking account, provides friendly customer service 7 days a week from 7 am to 10 pm (Eastern Time), and charges zero maintenance fees.
Ally Bank is a subsidiary of Ally Financial, a huge firm that actually traces its roots back nearly 100 years. It's the sister company of online brokerage Ally Invest, which we here at Moneywise have also rated highly.
Along with checking accounts, Ally offers savings accounts and certificates of deposit (CDs). So, you can take advantage of several different banking options to keep your money safe and grow it too.
Ally Bank's checking account offers the following features:
A debit MasterCard
Free use of any Allpoint ATM
Reimbursement of up to $10 per statement cycle for fees charged by out-of-network ATMs in the U.S.
eCheck Deposit
Zelle
Online Bill Pay
Plus, you'll earn interest, too. Accounts with minimum daily balances above $15,000 earn 0.60% APY, while lesser balances earn 0.10%. We've seen savings accounts with lower APYs.
But maybe the best thing about Ally Bank checking accounts is that there are no maintenance fees. So you don't have to worry about meeting a list of criteria to keep your money there for free.
Ally Bank's checking accounts are suitable for just about everyone, from college students to retirees.
6. Capital One 360

Capital One 360 review
Capital One 360 has branches in some states, but anyone in the U.S. can use it as an online-only bank. It offers great interest rates and charges no recurring fees. Plus, Capital One 360 gives you flexibility in deciding how overdrafts are handled to avoid fees. Capital One 360 is also one of the rare online banks that allow you to deposit cash using an ATM. So if you get paid largely with greenbacks, this could be a great choice for you.
If you've traveled abroad, you likely know how painful transaction fees can be when you want to use your U.S. debit card. Heck, you may even have been charged exorbitant fees just for buying something from an international retailer online while sitting in your own living room!
Capital One 360's popular checking account is well known for its low fees. But you may not know that your 360 account grants you free access to your money abroad. There are no transaction fees when you use your debit card for a purchase in a foreign currency, and you won't be charged for using an ATM outside the U.S. (however, the owner of the ATM may still charge a fee). 360 checking account holders can also receive free wire transfers from anywhere in the world.
| Capital One 360 | Features |
| --- | --- |
| Products offered | Interest checking, savings, CDs |
| Checking APY | 0.20% |
| Fees | Monthly fee: $0 Overdraft: $0 |
| Free ATM access | 39,000 Capital One and Allpoint ATMs |
9. TIAA Bank

Visit TIAA Bank
TIAA Bank may not be a name you're familiar with, but you probably know this bank from its previous incarnation as EverBank. Financial services firm TIAA bought EverBank in 2017 for $2.5 billion and rebranded it as TIAA Bank in June 2018.
TIAA's Yield Pledge Checking accounts really shine if you have a large chunk of money to deposit. These accounts require a minimum daily balance of $5,000. But the APY here is killer.
Currently, TIAA is offering a one-year promotional rate of 1.21% on all balances. After that one year, the amount you earn will depend on your balance. That ranges from 0.25% for accounts with up to $9,999.99 to 0.71% for accounts with $100,000 to $10 million.
All the while, you'll also enjoy no monthly account fees, free bill pay, mobile check deposits, and unlimited ATM fee reimbursements as long as you maintain a minimum average daily balance of $5,000.
10. Peoples Cash Solutions and Peoples Bank

This bank is based in Texas and offers a strong second-chance checking program. You can send money online for free and pay your bills automatically from this account. They also offer savings accounts and money market accounts.
Is online banking really for you?
Most people will find it easy to handle all of their banking online. Unless you have a job that pays you mostly in cash, you should easily find all of your needs met by an online bank.
So what if you're a restaurant server, valet parking attendant, or another tip-dependent professional? Most online bank accounts don't allow you to deposit cash directly. If you really wanted to take advantage of an interest-paying online account, you could deposit the cash into a traditional bank account and then transfer the funds. Or you could use a money order.
However, a small handful of online banks allow account holders to deposit cash into a connected ATM. And we have an inkling that, as online banking grows in popularity, more banks will add this feature too.
Make sure that you clearly understand the fee situation for any bank you decide to go with. Many online banks charge zero maintenance fees, but make sure you're not going to be nickel-and-dimed with extra charges for using ATMs, receiving printed statements, etc.
However, there's one thing I like to stress when people are searching for a bank: Make sure you go with an FDIC-insured account. This means that each of your accounts will be insured for up to $250,000 in case of bank failure.
Online bank pros and cons
Pros
Cheaper: Online banks are less likely to require minimum opening deposits and balances, or charge monthly fees. Typically higher interest rates than traditional banks
Federally secure: The online banks listed here are FDIC insured and your funds are safe.
Liquidity: There's more flexibility and it's easy to access funds.
Faster: Fast self-service for transfers and other banking needs. Manage banking at home or on the go.
Cons
Lack of ATMs: Online banks often pair with ATM service vendors, which means they do not manage their ATMs.
No in-person support: Without a brick-and-mortar space, customer service is only available online.
Security: While the online banks here due offer encryption and other security features, some users may be concerned about the security of doing all of their banking online.
What to look for in an online bank
Online banks offer many of the same features as brick-and-mortar banks, but each has unique pricing, interest rates, and features. Here are some important things to look for when choosing an online bank:
Low fees: Unlike traditional brick-and-mortar banks, most online banks charge no fees. You shouldn't have to pay any recurring monthly fees for a checking or savings account. In addition, many bank accounts don't require a minimum balance to open and maintain a fee-free account. Some banks charge for paper statements, but you can avoid that fee by opting for online-only statements.
ATM access: Several online-only banks either own their own ATMs or are part of an ATM network that you can use without incurring fees. If you must use a non-affiliate ATM, check the bank's fees. Some online-only banks don't charge fees to use other ATMs, and some will even reimburse the other bank's fees to an extent.
High-interest rates: The average savings account in the United States pays 0.09% in interest. The big brick-and-mortar banks can pay as little as 0.01%. But online banks with high-yield savings options pay as much as 1.60% to 1.85%, as of this writing. Also, although most checking accounts don't pay interest, some top online accounts do.
High-tech online banking: Online banks have mobile apps that allow you to deposit checks with your phone's camera. Some online banks offer sub-savings accounts or similar features. And don't settle for clunky logins and poor online experiences.
While online banks used to be few and far between, there are many options available today for online checking, savings, and other online banking needs. Here are some of the best online banks to consider:
Benefits of opening an online bank account
The reasons for opening an online account are numerous. After all, you have the convenience of being able to manage your account from wherever you have an internet connection or can use your cellphone data.
Plus, you'll find that interest rates on checking and savings accounts can be higher than what you'll find at a brick-and-mortar bank. That's because the online banking industry is hot and competitive! Online banks can also come in handy if you are denied an account at a traditional bank.
Clearly, gone are the days of standing in line at the bank (and getting free lollipops, but oh well). But if you want to open an account in this brave new world of banking, where do you begin?
Let's take a look at how to open an online bank account. I'll walk you through it step by step and let you know what you'll need to begin.
How to open an online bank account
1. Get your info together
Setting up an online bank account is easy, but you're still going to need to supply some information about yourself. (If you're concerned about the safety of your information online, a factor to consider is whether or not your bank uses two-factor authentication for accessing accounts. This is something we at Investor Junkie take note of in reviews.)
Here's the basic information you'll need to enter:
Your full name
Your Social Security number
Your date of birth — you must be 18 years of age to open a bank account; if you're younger, talk to your parents or guardians about a custodial account.
The street address of your residence
Transfer information for your first deposit — this will likely be the routing and account numbers from your current bank
2. Fill out an application
Now you'll have to go to the website of the bank of your choice and apply for an account! The application process should take only a couple of minutes. You should know that it's likely the bank will run a credit check. You may also be asked some "out-of-wallet" questions to verify your identity — for example, your mother's maiden name or information relates to an account in your credit report.
If you're finding the application process tricky, many online banks are happy to help via live chat or a phone representative.
3. Make your first deposit
Once your account is approved, it's time to fund it!
Make sure that you're aware of any required minimum initial deposit. While some online banks have no set amount (including Capital One 360), others do (here's looking at you, TIAA Bank).
If you've already got an existing account at another bank, all you have to do is transfer money into your new account using the bank's routing and account numbers. However, be aware that your original bank may charge you a fee for this.
If this is your first account, contact the bank about how to make your initial deposit. You may have to take a picture of a check to deposit using a smartphone app or mail in a paper check.
4. Go out with the old and in with the new
If it's your plan, once you have your new account up and running, you'll want to cancel your old bank account. However, before you do that, make sure you've taken the following steps, if applicable:
1.

Contact your employer to set up your new account with direct deposit

2.

Update every automatic bill pay account you have

3.

Update automatic transfer accounts — these may include some account you haven't thought about, such as PayPal

4.

Destroy all of your old paper checks
The bottom line
If you're looking for a checking account — and let's face it, we all need one — you have many online options to choose from.
Different accounts will suit different needs. Before signing up, ask yourself these questions:
What's more important to me: cashback rewards or interest accrual?
Do I meet the criteria for waived maintenance fees?
Do I make frequent purchases overseas or from a foreign online vendor?
Do I rely on having a brick-and-mortar bank branch? (In this case, an online account might not suit your needs.)
Online banking isn't just the future of money management; it's the best way to handle your banking right now. Except for people who need to deposit cash or really want in-person customer service, online banking is ideal for practically anyone's needs.