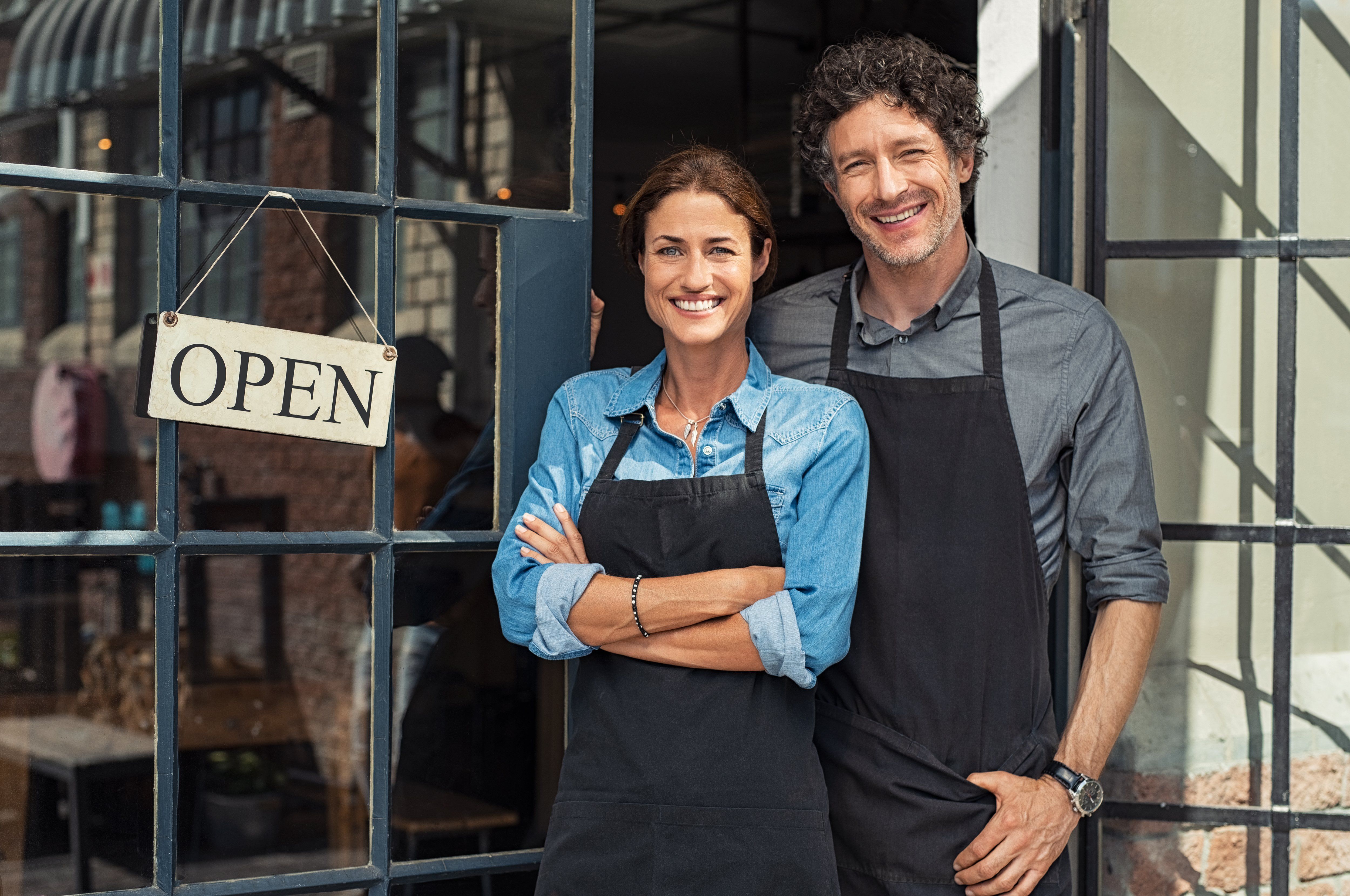 Best business checking accounts for entrepreneurs, freelancers and small business owners
Ground Picture / Shutterstock
🗓️
Updated: July 14, 2023
We adhere to strict standards of editorial integrity to help you make decisions with confidence. Please be aware that some (or all) products and services linked in this article are from our sponsors.
We adhere to strict standards of editorial integrity to help you make decisions with confidence. Please be aware that some (or all) products and services linked in this article are from our sponsors.
When it comes to choosing a business bank account, there are hundreds of options. We've put together a list of some of the best business checking accounts for 2023. You should carefully consider your choices before deciding, but our list of best banks is a solid starting point.
What is a business checking account?
A business checking account is a banking product available to businesses. At face value, it looks quite similar to personal checking accounts and comes with debit cards, bill pay, and other services. Business checking accounts often come with additional features such as invoicing capabilities and access to other small business tools. In many cases, these accounts also come with additional fees.
Keep reading to learn more about the best business checking accounts for small business owners, entrepreneurs and freelancers.
Best business checking accounts for freelancers
As a freelancer, having a business checking account is vital to keep track of your earnings and better manage your finances. But how do you choose the right bank account for your freelance business?
There are many institutions and financial services that offer low to no-fee business checking accounts, so you can be sure to find your best match. Some of these include:
1. Lili – Easy access banking for freelancers
Our score: 4/5
There are no fees to open an account.
With Lili you can track your expenses and create reports, so you know how much income you have. These reports can also double as a resource when you do your taxes, saving you time and money.
Create automatic savings buckets to save for things like taxes and other financial emergencies.
You can possibly get paid two days faster when you use direct deposit from a service provider like PayPal, Shopify, or Square.
Get access to 38,000 MoneyPass ATMs and withdraw money in-network for free.
Lilibank is only available for freelancers who do their taxes with their Social Security number, not an employer tax ID number (EIN).
Sign Up to Lili Bank | Lili Bank Review
2. NorthOne — custom banking for all your business needs
The account works with a single monthly service fee of $10.
There are no hidden fees, no minimum balance requirements and you can cancel your account at any time.
Though NorthOne doesn't offer interest-bearing savings accounts, they compensate through the use of "envelopes." Specifically designed for businesses, these accounts can be created to allocate funds for taxes, payroll, rents, or any other purpose.
Your account comes with a debit card with unlimited usage, as well as free cards for every owner of your business. You'll also have access to over 1 million in-network ATMs.
NorthOne business checking can integrate with popular online business services and apps, like QuickBooks, FreshBooks, ADP, PayPal, Etsy, Amazon, Venmo, Uber, Lyft and Airbnb. This makes it a perfect banking app for freelancers and those working in the gig economy.
Customer service is available through live chat, phone, and email.
Apart from the monthly service fee, there's also a $15 domestic wire transfer fee ($25 for international wires).
Plus, it's one of the few online business banks that let you deposit cash. Other NorthOne features include:
Unlimited transactions
Access to 1 million fee-free ATMs
Budget for expenses with envelopes
Invoice directly from your checking account
And right now you can get three months free as a Moneywise reader.
Sign Up to NorthOne | NorthOne Bank Review
3. Revolut Business — best for freelancers with international clients
Like Lili, Revolut offers business banking services where you can manage all your transactions in one place. When you open a Revolut business account, you'll access the following features:
Send and receive international payments with no hidden fees
Low transfer fees
Access to a debits card you can use to withdraw cash from ATMs
You can link your account with third-party service providers, including Xero, Quickbooks, Zapier and Slack
The low transfer fees and the no hidden fees make Revolut the perfect bank for freelancers. It could also be a perfect add-on to your traditional business account.
4. Mercury — checking and savings for all your freelance needs
The online banking platform includes both a business checking account and a savings account. Unlike many other business bank accounts, opening a Mercury account is fee-free.
Some of the notable features of Mercury banking include:
No transaction fees, no monthly fees, or initial deposit requirements
Access to built-in digital tools that lets you send and receive money, track transactions and monitor spending
Access to virtual debit cards
Access to over 55,000 fee-free ATMs
FDIC insured
5. PayPal Business — quickly send and receive money
While it's not a bank, PayPal offers business solutions to millions of people worldwide, including freelancers. PayPal business operates as a business checking account. The only difference is, it's named under a company rather than an individual.
With a PayPal business account, you can:
Send and receive money quickly
Create invoices and pay merchants
Get a debit card you can use at any bank account
Typically, everything you do with your traditional bank accounts can be done using your business PayPal account.
Best business checking accounts for small business owners
As a small business owner, learning to properly manage finances is key to your future success, and choosing the right bank can help. First off, you'll need to open a business checking account to keep up with all your transactions.
Finding the right bank for your business isn't a walk in the park, especially if you want your finances organized. Luckily, we've compiled a list of the best checking accounts for small business owners. Here are some of our top picks:
LendingClub Bank — tailored checking
Our score: 3.5/5
It may be the perfect business account because it provides fee-free unlimited transactions.
You'll have access to 24/7 online and mobile banking, complete with digital invoicing capabilities.
The account also comes with a debit card that provides unlimited 1% cashback, which may be a welcome discount on business-related purchases. The cashback applies to both online and signature-based credit transactions made with the card.
LendingClub also pays unlimited rebates on ATM fees charged by other banks.
But the account also pays interest of 0.10% APY on balances of $5,000 or more. There's a $10 monthly service charge which is waived with a balance of at least $5,000.
You can open an account online in a matter of minutes. Although you'll need $100 to open the account, there's no minimum balance requirement after.
I actually use LendingClub Tailored Checking for one of my business accounts. I like that it pays interest on certain balances. Some of the standout benefits that make LendingClub the best bank for small business include:
Earns interest on balances of at least $5,000
ATM fee refunds
Unlimited free transactions
No minimum balance requirement
Sign Up to LendingClub Bank | LendingClub Bank review
Novo — powerful and simple business banking
Our score: 4/5
It comes complete with online and mobile banking.
There are no monthly fees or minimum balance requirements, although you will need $50 to open an account.
The account also provides free transfers, mailed checks, and incoming wires. Plus, you can apply for an account in under 10 minutes.
You'll be provided with a Novo debit MasterCard that can be used for online or point-of-sale purchases, and to access cash at in-network ATMs. The bank will provide unlimited reimbursement of fees charged by ATM owners.
The account connects with various popular business apps, including QuickBooks, Slack, Xero, Stripe and Shopify.
Perhaps best of all,Novo's fee schedule shows a lot of zeros.In fact, the only charge they have is a $27 fee for insufficient funds or uncollected funds returned. Along with Bluevine, it may be the closest thing to a true no-fee business checking account.
Some of the standout benefits of banking with Novo include:
No minimum balance requirement
No monthly maintenance fees
ATM fee refunds
Access to business tools like Slack, TransferWise, Xero, and Zapier
Free incoming wire transfers
Ability to mail paper checks free
Axos Basic Business Checking — scale up your business
It has two primary checking accounts for small businesses. Their basic business checking account has no monthly fees or minimum balance requirements. Plus, they offer unlimited domestic ATM fee reimbursements.
Some of the standout features that make Axos the best bank for small businesses include:
Business owners get up to $100 welcome bonus!*
Choose smarter business banking by June 30 and enjoy up to $100.* Just use promo code SBIZ100 on your application.
Zero opening deposit and cash deposits accepted
Zero minimum monthly balance requirements
Two domestic wire reimbursements monthly
Unlimited domestic ATM fee reimbursements
Enhanced Visa benefits and first 50 checks free
Dedicated relationship manager and more
If you want to earn interest on your account, you'll want to opt for a business interest checking account. This option allows you to earn up to 1.01% APY on your balance. However, you will need to maintain a $5,000 minimum average daily balance. Additionally, Axos Bank is FDIC insured.
Huntington Bank — unlimited business checking
Our score: 4/5
This ranks as one of the best small business checking accounts because of its unlimited free monthly transactions, as well as some of its resources for small business owners. Here are some of the main perks associated with this business checking account:
Remote deposit
Unlimited monthly transactions
Bonus tools, including a discount on payroll services
Best business checking accounts for entrepreneurs
2.

Bluevine — Earn Interest on Your Business Account

3.

Citizens Bank — Clearly Better Business Checking
Whether you're just starting out or have been an entrepreneur for several years, having a business checking account is crucial. With many accounts to choose from, it can be overwhelming to find one that best fits your needs. Here are some of the best banks to choose from:
Chase — Chase Business Complete BankingSM
Our score: 3.3/5
If you're looking for one of the "big guys," Chase offers a solid small business checking account product. Some of the perks that come with this best business bank account include:
In-person access to almost 5,000 branches
Wide ATM network
Unlimited electronic deposits
Waived fee if you maintain a $1,500 minimum daily balance
The monthly fee for this account is $15, but it's relatively easy to avoid the fee if you can keep $1,500 in your business account. Plus, you can see a reduced fee if you enroll in paperless statements.
Chase Business Complete BankingSM Review
Bluevine — Bluevine Business Checking
Our score: 4/5
One of the best features of Bluevine is that you can earn 2.00% interest on your balance up to $250,000. Plus, there are no monthly maintenance fees, no account minimum, and no NSF fees.
No maintenance fees
Earn 2.00% interest on balances up to $250,000
Get a debit Mastercard
Pay vendors and bills by ACH, wire, or check with Bluevine Bill Pay
Create up to five sub accounts to help manage and budget for expenses
Get access to 38,000 ATM locations nationwide
Cash deposit at 90,000+ Green Dot locations
Citizens Bank — Clearly Better Business Checking
This is a solid checking account that adds the benefit of more than 1,000 branches, so you can speak with someone in person, depending on your location. However, it's also possible to manage your account online. Some of the benefits of the Citizens Bank business account include:
No monthly maintenance fee
No minimum balance requirement
You can grant controlled access to a trusted accountant or bookkeeper
200 monthly transactions free
What's great about Citizens Bank is that it is mostly fee-free. However, you do need to be aware that if you have a lot of transactions, you could start seeing a charge.
Why do you need a business checking account as a freelancer?
Unless you're running a hobby business, you should have a dedicated business bank account. There are many benefits of having a business account, including:
1. Separation of business and personal financial activity
It's much easier to keep track of your business-related income and expenses in a dedicated account. When you separate business and personal expenses in dedicated accounts, year-end income tax preparation is much easier.
Having a bank account where only business transactions happen makes tracking your profit and losses easier. It allows you to see problems quicker and helps you make profit adjustments earlier rather than later. Novo is one fintech company that focuses on business banking, and you might find its checking account helpful for organizing your transactions. You'll also be able to see all business-related fees, memberships, and subscriptions in one place.
Remember, business fees and memberships/subscriptions qualify as tax-deductible business expenses. But of course, you'll have to be able to prove it through proper and organized record keeping.
2. Additional flexibility
Having a business bank account allows you to accept more types of payments from clients. Especially if you do business online and/or have international clients. With a business account, you can accept credit cards and payments via PayPal, Stripe, and TransferWise. You can also sign up for merchant account ACH bank-to-bank transfers. This is something you can't do with a personal checking or savings account.
A business account allows for future business structure expansion. You may decide to grow your business and add a partner. Or you may take on employees. Or move from a sole proprietorship to a different structure. If so, you'll need to have a business bank account.
3. Unique business banking services
Business bank accounts offer certain business-related services that are not available with personal accounts. Examples include the ability to integrate the account with third-party service providers and processing large numbers of transactions.
Also, having a separate business bank account allows you to stay accountable to other aspects of your business. For instance:
Give an accountant or bookkeeper access to help you manage and double-check your business finances. (This means you don't have to give them access to your personal transactions.)
Know what's going on with your business financials each quarter. See how the business is doing overall, so you can adjust for future growth.
Manage your business budget each month.
Know what's going on with your business, where the money is coming from, and where it is going.
Keep track of all sources of income, expenses, merchants, and clients. This makes tax time more manageable for you and your accountant.
4. A dedicated business bank account looks more professional
When a client, customer or vendor sees transactions from a business account, your business will seem more legitimate than if you transact business through your personal account.
A business bank account will give you the professional credibility that a personal bank account can't. It doesn't matter what type of business you run, whether it's an LLC (limited liability company), incorporated company, sole proprietorship, or a side hustle.
A business account legitimizes your company and gives you professional credibility when it comes to writing checks, accepting payments, and sending invoices because the account is in your legal business name.
5. Legal separation between you and your business
Certain business formations such as corporations, S-corporations, and limited liability companies (LLCs) are established to limit your personal liability in business affairs. A dedicated business bank account will further strengthen that distinction.
The IRS guidelines for small businesses state that owners may keep any records necessary that best suit their business. They need to show any income and expenses clearly. The best way to do that is to make sure your personal transactions are kept as far away from your business transactions as possible. You'll thank yourself if there's ever an audit.
For some small businesses just starting out (and for some side-hustle businesses), there is the question of whether it's considered a hobby or business. According to the IRS publication, if you are keeping things organized with a business account and can prove you are making a profit, you shouldn't have a problem.
What are the different financial needs of freelancers and entrepreneurs?
While freelancers and entrepreneurs might have similar financial needs, freelancers have a few different financial needs. For one, each freelancer approaches their time and money in a different way.
A freelancer typically gets paid for hours worked, usually by acquiring different projects from clients to build a steady income. On the other hand, entrepreneurs build a business that can eventually generate income continuously. While they are both businesses, an entrepreneur tends to have a more structured company and might even have employees or plan to have employees in the future. Freelancers usually just complete work on their own and do not have employees.
Simply put, freelancers must work continuously not only to earn money but also to build a clientele, while entrepreneurs can earn unlimited income once their business grows.
Special needs for small business owners
There are business checking accounts that best fit small business owners but not freelancers. While both professionals need to have separate business accounts to better manage their finances, many banks allow small businesses to choose accounts that suit the financial needs of different stages of business.
Although these accounts are great for small business owners, they may not be suitable for freelancers with fluctuating incomes. The assumption that several of these accounts hold is that there will be regular money coming in, and therefore a consistent balance. That is why some small business accounts can have hefty fees.
The bottom line is that small business can manage the fees and maintain the balance, which may not be the case for freelancers.
What do you need to open a business checking account?
Most business checking accounts will let you get started online. In many cases, you may need the following documentation to move forward:
1.

Articles of organization or certificate from your state showing you're a registered business

2.

Employer Identification Number (EIN) from the IRS

3.

Address and phone number of the business

4.

Personal information (Social Security number, address, birth date, etc.)
Read more about the requirements in our guide about how to open a business bank account.
Key factors to choose a business checking account
While we've provided some solid choices for some of the best business bank accounts, it's important to do your own research and choose a bank that works for you. Some of the things to consider when choosing a business bank account include:
Fees
Many banks come with various fees. Some of these are fairly obvious, like monthly maintenance fees, but others may be a little harder to see, like transaction fees. For business accounts, you might see between 100 and 500 free transactions before they begin charging.
Exactly what fees will be charged with a business bank account will depend on the bank and the checking account product they offer.
Typical fees charged on business bank accounts include:
A monthly service fee: This can range from $5 to $50 or more, but you'll naturally want to favor a bank account that either doesn't charge a monthly fee or has a way for it to be waived.
ATM fees: Some banks charge a fee each time you access an ATM. This charge is typically for the use of your debit card at out-of-network ATMs. If a business checking account is mostly online, find out if they reimburse you for ATM fees. This can make a big difference down the road.
Transaction fees: Traditional banks typically allow a certain number of free transactions, after which you'll be charged a fee of anywhere from $0.30 to $1 per transaction.
Cash deposit fees: Once again, this is more typical of traditional banks. They may charge you a fee of 2% or 3% of each deposit beyond a specific limit. That limit may be $5,000 or $10,000 per month.
Wire transfer fees: Wire transfers are common in certain businesses, and the fees can add up. Banks often charge fees based on incoming or outgoing wires, as well as domestic and international transactions. These fees can range from a low of $15 to as much as $50 per wire.
Penalty fees: These are fees that can vary between $5 and $35 per item for nonsufficient funds, returned deposited items, or overdraft charges.
Unlimited free monthly transactions – If you have a lot of transactions each month, it might make sense to choose an account that offers unlimited free monthly transactions, even if there's a monthly maintenance fee. Compare the potential costs. Additionally, many accounts that charge monthly maintenance fees also waive those fees if you meet certain requirements.
The above are the basic fees you should expect to see in a business bank account. But each bank may have a slightly different format, charging for some activities but not for others. Before you sign up, look at the bank's most recent fee disclosure to learn exactly what you'll be paying.
In the end, there will probably be a fee somewhere along the line. Consider all your business needs so you can minimize the fees you pay.
Benefits and perks
Don't forget to consider the benefits and perks that come with an account. Some banks offer access to accounting tools like Xero or provide free cash flow analysis. If you have a bookkeeper that you want to have access to your account, you may be able to give them limited access (just to see the transactions).
Think carefully about what business tools and resources you most likely need and use. Depending on the bank, you may be able to avoid paying for some tools, just because the bank includes access.
If your business relies heavily on credit or if you transact much of your business internationally, working with a large commercial bank will likely be a good match. If you're running a sole proprietorship or working as a freelancer, an online bank will likely provide all the services you need, as well as low fees to help preserve your bottom line.
Another benefit to consider is personal checks. While checks are becoming less important every year, they are still a common payment method for some businesses. Since not all business bank accounts provide paper checks, you may need to narrow your list to those that do.
Integration
you may want a business bank account that integrates with popular financial applications and software like QuickBooks and PayPal. This will be an important feature for small businesses in particular. Integrating your bank account with other financial services will save you time and money while giving your small business the appearance of a large, well-oiled financial machine.
Customer service
Sometimes that personal touch matters more than anything else. Check to see what type of customer service options you have. Is there someone you can talk to if needed? Is there an in-app chat? Maybe you prefer to go to a physical branch.
If your business runs outside the normal Monday through Friday, 9-to-5 timeframe, you'll need an account that features 24/7 online and mobile banking. This will be even more important if you frequently travel for your business or for personal reasons.
Figure out what matters most to you in a banking relationship and prioritize those items as you evaluate different best small business checking account options.
The bottom line
You can open a business bank account at any commercial bank. However, you'll often find those banks that offer accounts that are packed with fees. The most notorious are transaction fees; a commercial bank will typically charge a per-transaction fee once you get beyond a certain limit. Others charge percentage-based fees if your deposits exceed a certain dollar threshold.
FAQ