Is it cheaper to rent?
Climbing mortgage rates are blocking young Americans from getting on the housing ladder. In October, the average rate on a 30-year fixed mortgage hit 8% for the first time in nearly two decades.
On top of those extortionate borrowing costs, house prices are so high today that prospective buyers need an annual income of almost $115,000 just to afford a median-priced U.S. home. That is almost $40,000 more than what the typical household earns.
The WSJ worked out that someone taking out a new 30-year mortgage on a $430,000 home, with a 10% down payment, would have to pay $3,200 every month — a shocking 60% more than if they'd bought the exact same house three years ago.
Apartment rents have only gone up by 22% over the same period. The nationwide median rent currently sits at $1,353 per month, according to November rental market data from Apartment List.
On average, apartments across the country are slightly cheaper now than they were one year ago, but the median rent is still around $250 per month more expensive than it was just three years ago.
"It's just really challenging to figure out what to do when you have somebody who's telling you: 'Oh, you need to buy,' but at the same time, you're like: 'I don't know how I could possibly be able to do that,'" says Dunlap.
These dynamics are posing serious financial challenges for young Americans — even for those who technically earn enough money to buy their first home.
Stop overpaying for home insurance
Home insurance is an essential expense – one that can often be pricey. You can lower your monthly recurring expenses by finding a more economical alternative for home insurance.
SmartFinancial can help you do just that. SmartFinancial's online marketplace of vetted home insurance providers allows you to quickly shop around for rates from the country's top insurance companies, and ensure you're paying the lowest price possible for your home insurance.
Explore better rates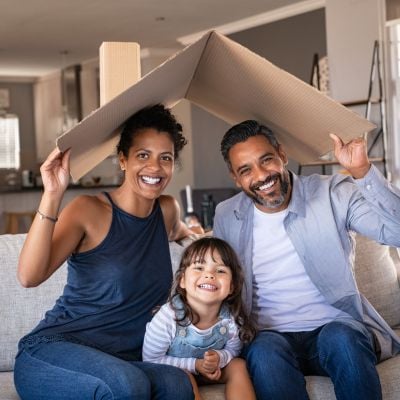 Rich people who rent
According to a 2023 RentCafe report that used the latest Census data, the portion of renters earning more than $150,000 ballooned by 82% from 2015 to 2020 — the most significant increase among all income groups during that period. This was attributed to higher home prices and opportunities for more flexibility and smart investing.
For Dunlap's part, her career took off in her early twenties, to the extent that her "well-intentioned parents" encouraged her to buy property at the age of 22, because they thought "renting is throwing money down the drain."
The only property she could afford at the time was a small condo, located an hour outside of Seattle and a good distance away from her friends. She put an offer in but backed out at the eleventh hour — a move she now describes as "one of the best decisions I've ever made."
"I was not emotionally ready to be a homeowner," she says, now aged 29. "I was not in the place of my life … I was 22, I wanted to be in a city, I wanted to hang out with my friends, I wanted to do things, I didn't want to hang at home on the weekends."
Importantly, Dunlap thinks she may not have built her financial education platform, "Her First $100K" in the same way had she bought that condo. And now she uses that business to help other young Americans understand that "sometimes the mathematically correct financial decision is not the decision that you actually should make."
For Dunlap, there are some "luxuries" to renting that are taken away with the hassles of homeownership. She likes "being able to call a landlord when something breaks or something happens." But most of all, she likes the financial freedom she's kept by not locking a huge portion of her money into real estate.
"As a financial expert, I still get the: 'Why don't you buy a house? That seems pretty stupid. Why are you renting?' For me, personally, I use money to be able to rent. Other people might use money to be able to buy a house or to buy rental properties," she says.
"When you have money, you have the option to rent (it's not a forced choice) and you have the option to buy a home. It's not you having to rent because you can't own a home."
What about real estate as an investment?
Dunlap is not against homeownership by any means. She's certainly not in the same camp as prolific real estate investor Grant Cardone, who says buying a home is a "fantasy," a "trap" and a "terrible investment."
Rather, she's more in line with fellow personal finance personality Ramit Sethi — a millionaire who rents because "it fits the season of [his] life."
And he's not the only one. According to the RentCafe report, the number of millionaire renters in the U.S. tripled over that same five-year period, with 36% of that seven-figure club belonging to the Gen Z and millennial generations.
The rich young renters are more interested in building a strong financial platform — through sensible money management and strategic investing — before making the biggest financial commitment of their lives.
"It can be a really incredible wealth building tool," Dunlap notes — but only if homeownership is actually what you want, you're ready to take on the responsibility and the math checks out.
If you're not quite in that situation — either you don't have the financial resources to buy, or you don't want to deal with owning and managing a property — there are simpler ways to invest in real estate, including online platforms that will let you get started with as little as $100.
Sponsored
Follow These Steps if you Want to Retire Early
Secure your financial future with a tailored plan to maximize investments, navigate taxes, and retire comfortably.
Zoe Financial is an online platform that can match you with a network of vetted fiduciary advisors who are evaluated based on their credentials, education, experience, and pricing. The best part? - there is no fee to find an advisor.