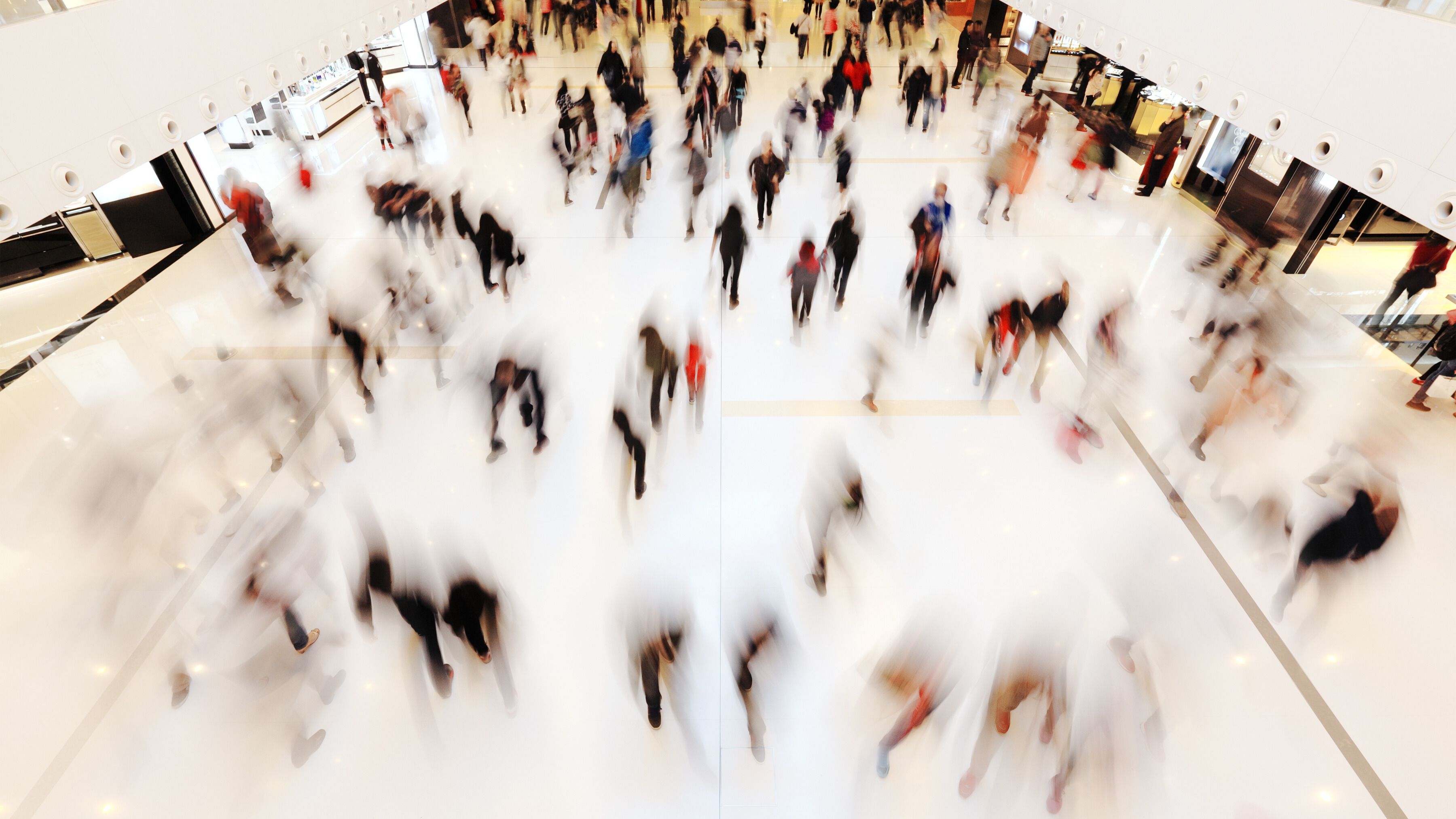 First National Realty Partners review
estherpoon / Shutterstock
We adhere to strict standards of editorial integrity to help you make decisions with confidence. Please be aware that some (or all) products and services linked in this article are from our sponsors.
We adhere to strict standards of editorial integrity to help you make decisions with confidence. Please be aware that some (or all) products and services linked in this article are from our sponsors.
Pros
Promising track record
Wide number of individual deals available as well as one fund
FNRP holds webinars to learn more about available deals
Investors can receive quarterly distributions and lump sum distributions
Cons
Only available to accredited investors
There's a $50,000 minimum investment requirement
No secondary marketplace to sell shares
What is First National Realty Partners?
First National Realty Partners is a private equity firm and commercial real estate investing platform that's available to accredited investors. But unlike real estate crowdfunding sites that focus on multi family homes, office buildings, and apartments, FNRP focuses on grocery-anchored retail and other essential needs-anchored properties.
In other words, First National Realty Partners invests in assets that are stable and can provide long-term, predictable cash flow. This also means it works with many nationwide corporations for its tenants, including the likes of:
CVS
Kroger
Publix
Starbucks
Walmart
Whole Foods
This type of real estate investing is appealing if you're looking for fixed-income and even to hedge against inflation. After all, regardless of economic conditions, investors can take some comfort knowing that FNRP's tenants are massive corporations that offer essential services, like groceries and pharmacy products.
Additionally, First National Realty Partners is a private equity firm that's vertically integrated. It has its own internal teams of leasing agents, property managers, accountants, and real estate agents. This means its deal cycle is entirely run within the company, so it's not working with third-party sponsors and management companies like most crowdfunding platforms do in comparison.
What does it offer?
For accredited investors, FNRP has two offerings: individual deals and its main fund that lets you diversify your investment across all its assets. It also offers quarterly distributions for investors and has its own unique process for sourcing and closing deals.
Individual commercial real estate deals
As mentioned, grocery-anchored real estate is what First National Realty Partner specializes in. At the time of writing, there's over two dozen of these individual properties that you can invest in. These are generally shopping centers that can accommodate several or even a dozen or more tenants.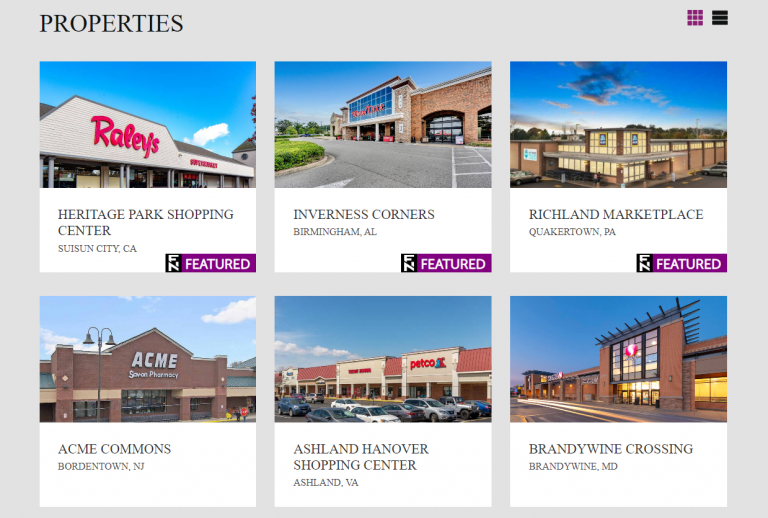 Each listing provides a breakdown of the current tenants and the number of openings. FNRP also provides flyers that highlight factors that make the property valuable and some general information about the area, like the average population and income level.
There's not too much information on each listing page. However, once you reserve a position to invest in a property, you can attend a 20- to 30-minute deal webinar to learn more about the property. In this webinar, First National Realty Partners team explains more about why they're investing and even field questions from investors.
Granted, First National Realty Partners has a $50,000 investment minimum, so this level of interaction with potential investors is important. And once you find a deal you're interested in, you can invest through FNRP's secure online platform. From there, you can collect quarterly cash distributions from Q1 after closing from the property's net positive cash flow. You can also view performance reports, lease updates, and other updates from your investor dashboard.
Opportunity fund
Another way to invest with First National Realty Partners is to invest with its Opportunity Fund. With this fund, you can own shares in all of FNRP's individual deals, creating a more diverse portfolio of commercial real estate holdings.
The main advantage of this fund is that you're not putting all your eggs in a single basket with one piece of commercial real estate. And according to FNRP, you guarantee placements in its deal, which isn't always possible since deals can fund rather quickly.
It's a $50 million fund, and there's a $50,000 minimum investment requirement as with individual deals. FNRP has an ambitious 12-18% target annual return and 8% targeted annual cash distribution. You can choose to reinvest dividends as well.
Acquisition process & tenant-focused philosophy
FNRP specializes in grocery-anchored real estate, and this is its unique selling point versus many crowdfunding platforms and certain types of REITs. But it's important to understand how the company goes about sourcing deals before you become an investor.
According to its website, First National Realty Partners uses a "volume-based approach to find the best possible commercial real estate opportunities in the United States."
Essentially, it uses its own technology and analysis to vet a large number of potential commercial real estate assets. It calls this the Dragnet Acquisitions Model, and it's how FNRP vets a large number of potential properties and slowly narrows down the best candidates.
Being tenant-centric as FNRP describes itself is also important here. Since FNRP works with such massive companies for its tenants, it maintains close relationships with them and can look for properties that suit specific tenant needs.
This is also why FNRP has its own in-house leasing team to ensure properties are rented quickly and that tenants are happy with the process. Overall, its network of massive tenants helps make FNRP a more attractive investment opportunity.
Quarterly distributions
As an investor, you receive quarterly distributions from FNRP's properties. How much you earn depends on several factors, including rental income, operating expenses, insurance, maintenance, and property taxes.
However, there are two types of distributions you can receive:
Periodic distributions: These distributions occur regularly and are quarterly for most FNRP offerings.
Lump sum distributions: These are larger, one-time distributions that are generally paid for two reasons. The first occurs if the property increases in value and debt is refinanced to withdraw cash. The second instant occurs when the property is sold for a profit.
According to FNRP, lump sum distributions are where most real estate gains are made. This makes commercial real estate a better long-term investment than short-term investment despite the fact that you often earn quarterly distributions.
What are the drawbacks?
Despite the range of offerings and deal vetting process, there are some downsides and risks investors should consider.
Only open to accredited investors
As mentioned, you need to be an accredited investor to invest with FNRP. This means having a net worth of at least $1 million or annual income of at least $200,000 (or $300,000 with a spouse.)
There are plenty of crowdfunding sites for non-accredited investors, or some that at least have entry-level funds. Unfortunately, this is a high barrier-to-entry for FNRP. But it's a private equity firm specializing in a more niche class of real estate, so it's not for every investor.
High investment minimums
If you want to invest in real estate without much money, First National Realty Partners isn't for you. You have to invest $50,000 to get in on the action, and there's no smaller fund you can begin with.
First National Realty Partners' fees
FNRP doesn't have a set fee schedule since fees vary depending on the property. Typically, sponsors charge an annual asset management fee of 1-2% for this type of commercial real estate deals. Other fees can include acquisition fees, disposition fees upon sale, and ongoing property management fees.
You can view a fee breakdown in each offering document from First National Realty Partners.
Historical performance
At the time of writing, FNRP holds 50 properties with a total purchase value of $1.15 billion and has almost 1,750 investors. It targets 12-18% average annual returns for investors and 6-9% in targeted average annual cash distributions.
To date, only four properties have reached the disposition stage. The internal rates of returns (after fees) for each asset are as follows:
23.73%
45.01%
13.50%
13.88%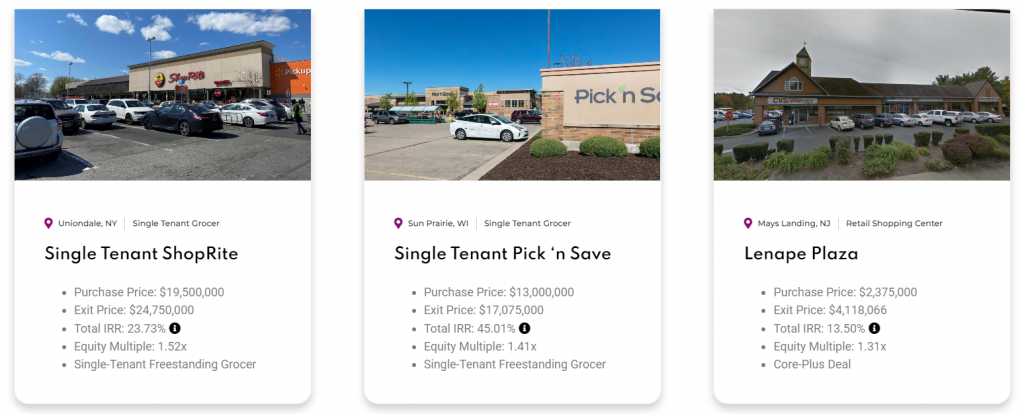 This is a very promising track record, albeit for a small number of assets. And, as FNRP explains, the most returns in its process come from dispositions and lump-sum payments, not cash distributions. This means successful exits are critical for hitting return goals. But so far, FNRP's results are solid.
Liquidity and risks
Traditionally, real estate is a fairly illiquid investment. Fractional real estate investing is changing this fact, and some crowdfunding platforms have introduced secondary marketplaces to let investors buy and sell shares more easily.
Unfortunately, FNRP doesn't have a secondary marketplace. It has a target holding period of three to seven years for properties, but there's no guarantee when an exit might occur. This lack of liquidity is one of the main risks of investing with First National Realty Partners.
Tenant defaults and vacancies are other risks to consider. Thankfully, since FNRP generally rents to large companies and in more recession-proof, essential sectors, this risk is lower than other types of real estate. But no real estate investment is without risk, and returns aren't guaranteed.
How do I contact First National Realty Partners
You can contact FNRP by calling 800-605-4966 or by emailing info@fnrpusa.com. There's also a contact form you can submit your questions with on its website.
Best alternatives
FNRP caters to the accredited investor world who want to deploy serious capital in real estate. If this is you, its track record has been promising so far, and the fact it prioritizes more stable assets is appealing.
That said, there are alternatives for accredited and non-accredited investors alike that you can consider.
Fundrise is one of our favorite platforms for beginner investors due to its low minimum investment requirement and low fees. But even more seasoned investors might enjoy the range of eREITs it offers. As for RealtyMogul, it also offers a mix of individual commercial real estate deals and, more recently, REITs.
Origin Investments is one of the closest alternatives to First National Realty Partners since it also offers private real estate investments to accredited investors. The main difference is that it offers four funds you can invest in, like its income or growth fund, whereas FNRP has individual deals and just one fund.
This is a testimonial in partnership with Fundrise. We earn a commission from partner links on Moneywise. All opinions are our own.
Bottom line
If you want to diversify your portfolio with real estate, you have more options than ever these days with the rise of crowdfunding platforms and private equity companies specializing in real estate. And when it comes to grocery-anchored real estate, FNRP certainly has an exciting track record and bright future.
It's certainly not for every investor due to the accreditation and $50,000 minimum investment requirements. But if you belong to this more niche class of real estate investor, you should keep First National Realty Partners on your radar. And if you're interested, you can always attend an investment webinar to ask questions and learn more about available deals.