How much is enough?
Travis and Natalie are doing everything you're supposed to do financially speaking. They live well within their means, saving 29% of Travis's income, and have a diversified portfolio of investments, savings and rental properties. Their only debt is $401,000 in mortgages on those rental properties. This has earned them a net worth of almost six figures. And yet they're tapping their savings to pay for groceries and feel as though they lack the funds to live comfortably.
What more can they do?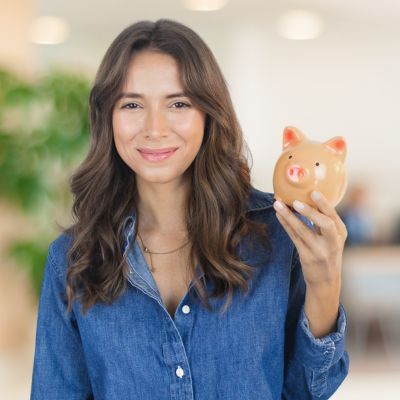 Don't let your money idle in low-interest accounts! Savvy savers are earning up to 10x more interest by keeping their hard-earned cash in a high-yield savings account. Find some of the best options here.
Get Started
Save less, spend more
The answer, it turned out, stared them in the face, but was so contrary to the advice propagated by most financial experts that they couldn't see it: Travis and Natalie need to save less so they can spend more.
That's right. For once, the smart financial move is to spend more — in an intentional way, of course — to cast off their "not enough" mindset.
The challenge so many people face with money revolves around a lack of understanding of its psychology, Sethi says. Adhering to the nuts and bolts of common sense spending is key to living a rich life. But it's also crucial to understand how you approach money as a whole.
"The way you feel about money is highly uncorrelated with the amount that you have," Sethi says.
Travis and Natalie are the quintessential example: On paper, they have more than enough but don't feel they do, so they continue to sock away nearly a third of Travis' income rather than use some of it to live their rich life today.
"When it comes to money, we stop listening to our intuition and start thinking, 'First I'll invest, later I'll enjoy it,'" Sethi says, but notes this is the wrong way to look at it. You don't know what "later" will bring, for starters. You or your spouse could get sick. Or you may need to help care for aging loved ones.
Enjoy your life now, responsibly
The lesson here is clear: You can't wait until some future time to start enjoying your life. The trouble for some of us, just like Travis and Natalie, is that learning to embrace the present will require a fundamental shift away from a miserly, misguided psychology.
What's more, grinding your whole life rarely means spontaneously stopping one day. But that need not be a bad thing. As Sethi told Travis, the grind is part of who he is. You don't need to change that so much as add another layer to your personality that allows for present enjoyment.
"I want you to live your rich life today and tomorrow," Sethi says.
So yes, saving less can indeed mean more, if it allows you to spend on the things and experiences you love today.
Sponsored
Streamline your debt repayment
Having a single loan to pay off makes it easier to manage your payments, and you can often get a better interest rate than what you might be paying on credit cards and car loans.
Credible is an online marketplace offering personalized loan options based on your unique financial situation.
When you consolidate your debt with a personal loan through Credible, you can roll your payments into one monthly installment. Find a lower interest rate and pay down your debt faster with Credible today.