What Cardone says is wrong with buying a home
Dissing homeownership is bold coming from a man who made his millions by investing in real estate — but Cardone has his reasons, which were revealed in a video attached to that Instagram post.
He gave the example of spending $576,000 on a home that you keep for 10 years. On top of that huge total, Cardone said you'd also have to pay the following fees over a decade:
12%, or $69,120, in broker fees;
10%, or $57,600, in maintenance fees;
20%, or $115,200, in property taxes; and
70%, or $403,200, to the bank
Those amounts add up to $645,120 — and when added to the original price of the home ($576,000), would bring the total to a staggering $1,221,120.
"A $576,000 home will have to be sold for $1.2 million in 10 years," Cardone said. "You're not going to sell it for that, to break even."
He described the exercise as "dead money" — a term used for an investment that has shown little increase in value or is locked up for a long time with little yield.
"And you had to put $100,000 down to do this deal," he adds — referring to a 20% down payment (the percentage lenders historically required from buyers to purchase a home without mortgage insurance, although some have relaxed that stance.
"They're serving a master," Cardone said. "They'll borrow money from the Bank of America. And then if they can get some more money, they'll have a little retirement account — that funds Wall Street. This is a big game."
Stop overpaying for home insurance
Home insurance is an essential expense – one that can often be pricey. You can lower your monthly recurring expenses by finding a more economical alternative for home insurance.
SmartFinancial can help you do just that. SmartFinancial's online marketplace of vetted home insurance providers allows you to quickly shop around for rates from the country's top insurance companies, and ensure you're paying the lowest price possible for your home insurance.
Explore better rates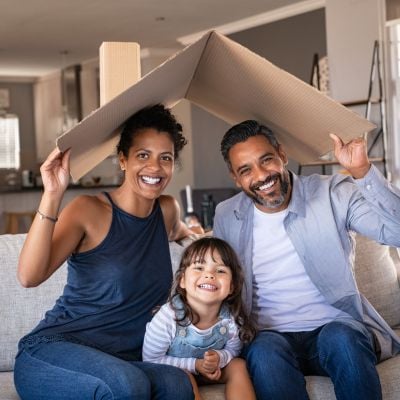 What Cardone thinks you should do instead
Rather than buy a house, Cardone says you should rent where you live and use the money you've saved for a down payment to instead invest in real estate that generates passive income.
He advocates for residential real estate, which appears to have remained strong through the economic turmoil of recent years, while other parts of the commercial real estate sector — like offices, hotels and retail — have struggled.
These days, you don't even need to buy a rental property outright or deal with the hassles of being a landlord to invest in real estate. Instead you can invest in a residential real estate investment trust (REIT), which are publicly traded companies that collect rent from tenants and pass that rent to shareholders in the form of dividend payments.
You may also consider crowdfunding platforms — a process championed by Cardone — that allow everyday investors to pool their money to purchase property (or a share of property) as a group.
Whatever route you take, Cardone says the priority is to generate cash flow, which you can invest and grow over time until you have enough money to get on the housing ladder and face fewer financial challenges.
"I just don't need to own a home on the way up. I need to own assets that pay me on the way up," he said. "And once I have enough cash flow from the assets, then if I want to go buy a house or a watch or a car, I buy it out of the passive income."
It's important, however, to take advice from such financial experts with a grain of salt — especially if they promote specific products as Cardone has been known to do. Cardone has been the subject of litigation in recent years over allegations of misleading investors.
Cardone has denied the allegations, writing on LinkedIn it is a "tragedy our system is so litigious and people are encouraged to sue others in order to hold a company doing great things hostage."
As with all personal finance advice, ultimately, what works best for you is down to your personal needs and circumstances.
Sponsored
Follow These Steps if you Want to Retire Early
Secure your financial future with a tailored plan to maximize investments, navigate taxes, and retire comfortably.
Zoe Financial is an online platform that can match you with a network of vetted fiduciary advisors who are evaluated based on their credentials, education, experience, and pricing. The best part? - there is no fee to find an advisor.