Time is on your side
A common complaint among younger generations is that they're financially worse off than their parents.
This is because millennial and Gen Z Americans are saddled with student debt, they can't afford real estate, and their cost of living has increased dramatically.
But it's not all bad news.
"Their priority is their youth, their priority is time," Orman says. "If there's anything the younger generation needs to understand, it's that the key ingredient to any financial freedom recipe is compounding."
She explains how $100 a month can grow into a huge pile of money over a long period of time.
If you start saving $100 every month from the ages of 25 to 65, you would stash away $48,000 ($1,200 x 40 years = $48,000) — and that total would grow depending on the APY the bank offers, your balance and how often your interest compounds.
But if you put that money into a Roth individual retirement account (IRA) — as Orman suggests — and you invest (and reinvest) your savings to benefit from compound growth, you can make a lot more money.
"With a 12% annual average rate of return — the markets can do that for you — you'd have a million dollars," she explains.
Most banks and brokerage firms offer Roth IRAs and they're easy to open. Your contributions are taxed upfront so that your withdrawals are tax-free in retirement — and you can invest your money in many ways, including in stocks, bonds, ETFs and mutual funds.
In 2023, the maximum amount you can contribute to a Roth IRA is $6,500 (or $7,500 if you're age 50 or older).
There are certain rules and limitations tied to Roth IRAs. For instance, if your income is too high — over $153,000 for single filers or $228,000 for married or joint filers — you cannot contribute at all.
But for young people at the start of their careers who may not have that higher salary yet, this can be a solid saving option.
Read more: Here's the annual income you need to fall in America's lower, middle, and upper class — plus 3 simple tips to boost you up the ladder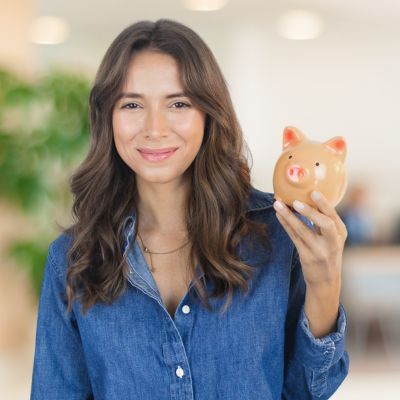 Don't let your money idle in low-interest accounts! Savvy savers are earning up to 10x more interest by keeping their hard-earned cash in a high-yield savings account. Find some of the best options here.
Get Started
Change your mindset
It can be hard for young people to understand why it's important to save for retirement when they are most likely decades away from that stage of their life.
The problem, according to Orman, is that too many Gen Z and millennials think: "I'm still young. I like going out. What difference can $100 a month make?"
If you start saving $100 every month at the age of 35 rather than 25 — with a 12% annual average rate of return — you'd only have $300,000 by the age of 65, Orman explains.
"Those 10 years [would] cost you $700,000," she says.
While a 12% annual average rate of return may seem far-fetched, Orman says it could even be conservative.
The financial guru says you could earn up to a 25% rate of return on your money by making the most of employer matches in tax-friendly retirement savings vehicles like 401(k)s, IRAs and emergency savings accounts.
If you commit to this process month in and month out — and you do it for a long period of time — "the amount of money [you] could have would be astronomical," Orman says.
Keep it simple
Growing your money does not need to be complicated. If you can save and invest "small amounts" of money every month, it will do the heavy lifting for you, according to Orman.
But it can be hard to hear through the noise and determine which financial products, services and savings vehicles are right for you.
Devin Miller, CEO of SecureSave — an emergency savings platform he co-founded alongside Orman — says young people have "one disadvantage" compared to their parents.
"... the variation in products and services, the types of credit cards and loans, it is so much more complicated than it was in prior generations," he says. "It's really hard to work your way through and understand what's a good product, what's a bad product, and how to think about it."
Watch now: Full interview: Suze Orman and Devin Miller delve into why so many Americans aren't prepared for their next financial emergency
Miller supports Orman's advice to "keep it simple" by using employer-sponsored savings vehicles, adding: "Very easy things that have existed for a long time are typically the best places to go."
And if you're not confident making investment decisions yourself to help your money grow, there are investing apps and online platforms that will do most of the work for you.
And for young Americans at the start of their investing journey, there are other accessible platforms that don't require a big investment to get started and some let you use your spare cash to build your portfolio.
Sponsored
Kiss Your Credit Card Debt Goodbye
Millions of Americans are struggling to crawl out of debt in the face of record-high interest rates. A personal loan offers lower interest rates and fixed payments, making it a smart choice to consolidate high-interest credit card debt. It helps save money, simplifies payments, and accelerates debt payoff. Credible is a free online service that shows you the best lending options to pay off your credit card debt fast — and save a ton in interest.